December, 1, 2015
Dec 1
9:22
PM PT
Bill Streicher/USA TODAY SportsKobe Bryant brushed off Kevin Durant's recent comments that the media has treated the Lakers star unfairly. "I sincerely appreciate the bad as much as I do the good," Bryant said Tuesday.
PHILADELPHIA -- While Oklahoma City star Kevin Durant believes the media has covered Kobe Bryant unfairly, Bryant disagrees.
"Listen, I don't budge on that stuff," Bryant said Tuesday after his Los Angeles Lakers lost to the Philadelphia 76ers 103-91 at Wells Fargo Center. "I appreciate the good stuff, I appreciate the bad stuff. I would never whine, 'Oh, you're being too hard on me, please stop.' That wouldn't even sound like me.
Bryant added, "I sincerely appreciate the bad as much as I do the good, and hopefully the players coming up now understand that -- understand that it's a journey, it's a cycle, you can't take things personal. You've got to roll with it. It's all good."
December, 1, 2015
Dec 1
6:58
PM PT
Associated Press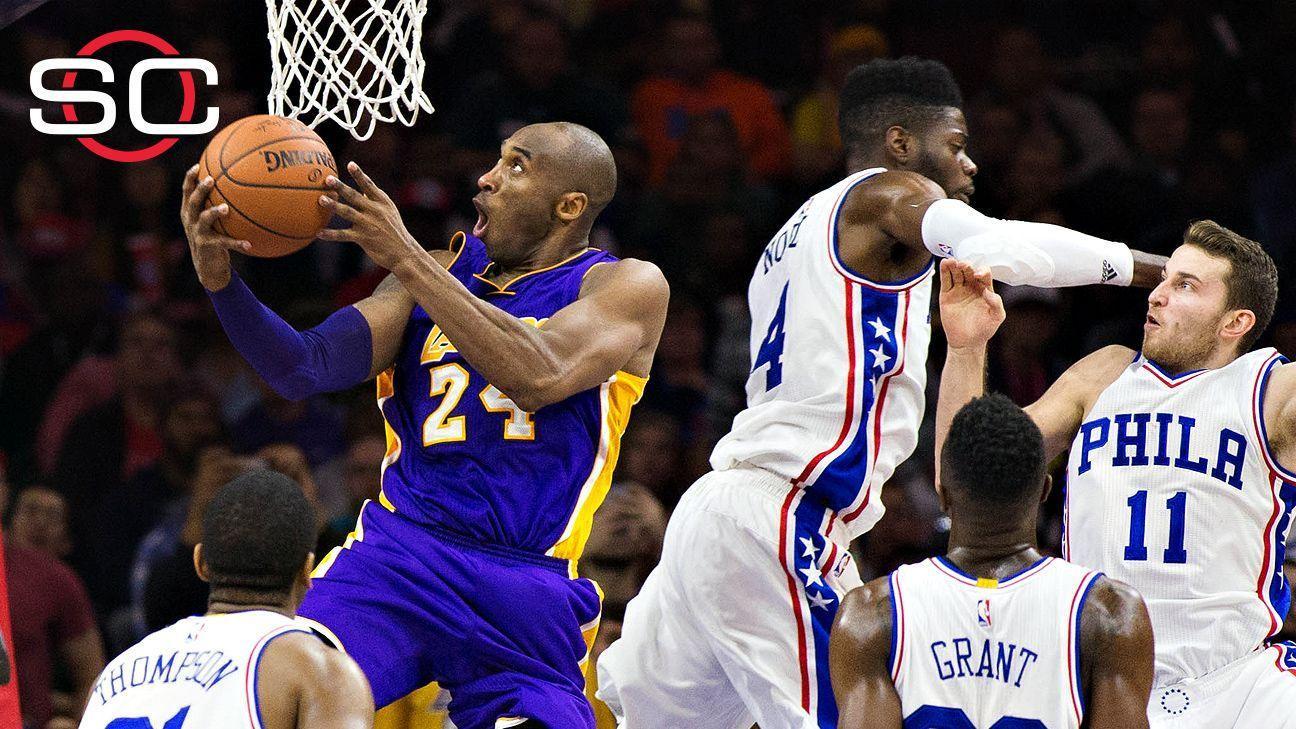 PHILADELPHIA -- The Philadelphia 76ers ended the longest losing streak in the history of major professional sports in the United States by topping the Los Angeles Lakers 103-91 on Tuesday night to snap a 28-game skid.
The Sixers had lost their first 18 games of this season, which matched the record for worst start in NBA history. They had dropped 28 straight dating to last season, which set the mark for longest losing streak among the four major U.S. sports leagues.
Against the Lakers, the Sixers won for the first time since March 25, 2015.
Robert Covington scored 23 points, and Jerami Grant and Nerlens Noel each contributed 14.
Lakers star Kobe Bryant scored 20 points on 7-of-26 shooting in the final game of his career in his hometown. He walked off to a standing ovation and chants of "Kobe! Kobe!"
December, 1, 2015
Dec 1
6:07
PM PT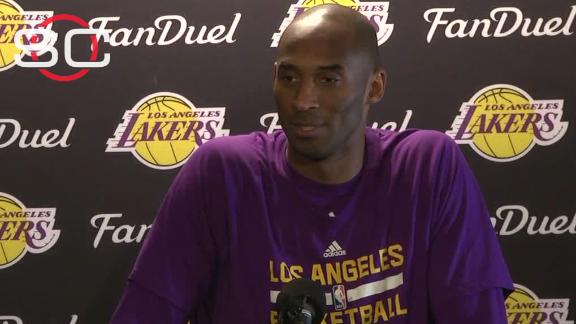 PHILADELPHIA -- Kobe Bryant has spent 20 seasons in purple and gold, but before embarking on a Hall of Fame career with the Los Angeles Lakers, he envisioned himself playing for his hometown Philadelphia 76ers.
"When I was in high school, I hoped to be a Sixer," Bryant said before his team's 103-91 loss to the 76ers on Tuesday at the Wells Fargo Center. "I was always hoping that. But at the time, [Allen] Iverson was such a, such a force ... but it was always a dream of mine to play in Philadelphia.
"But once that didn't happen, my childhood ambitions of being a Los Angeles Laker was actual reality -- this can actually happen. Once I became a Laker, I was never going to look back. But in high school, I was like, 'Philadelphia is struggling. There's a chance I could play for the Sixers.' But it never happened, so I had to settle for my childhood dream, which was to be a Laker."
Bryant's father, Joe Bryant, played for the 76ers, and Kobe Bryant attended Lower Merion High School in suburban Philadelphia. One of his five NBA championships came against the Sixers in 2001.
Bryant had a message for the Philly fans ahead of his final NBA game in the city: "Thank you for everything. It's such a beautiful thing. I was just driving around last night, going to all the parks I used to play in, just driving by them. You see so many familiar faces, and you just kind of think about how fast time went. I'm very appreciative and very thankful for everyone -- those who supported, those who didn't. It was all just part of the entire journey."
December, 1, 2015
Dec 1
6:01
PM PT
December, 1, 2015
Dec 1
4:41
PM PT
Early on in Kobe Bryant's career, longtime Los Angeles Lakers broadcaster Chick Hearn sat down with the future legend for an interview.
And then Hearn predicted the future. But not with a bold declaration. Just a casual aside, saying Bryant had "19 or 20 years to play with the Lakers."
Bryant is retiring after his 20th year with the team.
Now, it's hard to tell exactly when this is, but it's certainly an old clip. And, sadly, it has to be before August 2002, when Hearn died at the age of 85.
No matter when it was, it's still quite the call by Hearn. Is it any wonder he's known as one of the greatest basketball broadcasters ever?
H/T Reddit