November, 24, 2015
Nov 24
1:55
PM PT

By Baxter Holmes
ESPNLosAngeles.com
Archive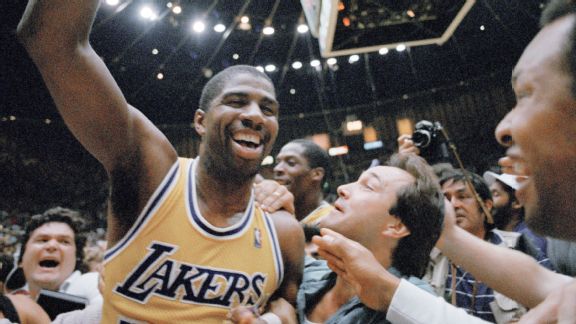 AP Photo/Reed SaxonLakers coach Byron Scott believes the Lakers of the 1980s, led by 6-foot-9 point guard Magic Johnson, would have presented matchup problems for this season's unbeaten Golden State Warriors.
SAN FRANCISCO -- The 2-11 Los Angeles Lakers face an incredibly tall task in trying to slow down, much less stop, the Golden State Warriors on Tuesday night -- especially with the Warriors looking to improve to 16-0, setting an NBA record for the best start to a season.
But Lakers coach Byron Scott believes the "Showtime" Lakers of the 1980s could beat these Warriors. Of course, Scott played for the Lakers during that era, winning three NBA titles, so perhaps he's a bit biased.
Even still, he said that in a seven-game series, the "Showtime" Lakers would "absolutely" win.
"It would be interesting," Scott admitted after the team's morning shoot-around at a local club here in advance of the game in Oakland.
"The one thing I think this [Golden State Warriors] team couldn't do on a daily basis against us that they're doing against everybody else is go small. You have Magic [Johnson] and James [Worthy] and Kareem [Abdul-Jabbar] as post-up players that demand a double-team. It would be a whole lot harder [for the Warriors]. [Warriors forward] Draymond [Green] is a great defender and I have a lot of respect for him, but guarding James Worthy? Or guarding Kareem? That wouldn't happen. It would be interesting. It would be very interesting."
How would the modern-day Lakers fare in a seven-game series against the Warriors?
"I think they would probably win that series right now," Scott said with a smile. "Let's just say that."
With regards to the matchup, Lakers star Kobe Bryant said this week that he's seen "stranger things happen."
"He's right," Scott said. "Stranger things have happened."
Scott then referenced Game 1 of the 1995 Eastern Conference semifinals between the Indiana Pacers and New York Knicks.
Scott was a guard with the Pacers then, and he watched fellow Pacer Reggie Miller score eight points in 8.9 seconds to help the Pacers pull off a historic comeback and win 107-105 at Madison Square Garden after trailing by 6 with 18.7 seconds left.
"So things can happen," Scott said. "All the stars have to be aligned correctly as well. Obviously, we've got to play our best game of the season against the best team in the league. It's obviously not a very easy task."
Scott also said of the Warriors, "It's easy say [stop them]. I think there are 15 other teams that have tried it, too, and it hasn't worked. We can go back to the NBA Finals, where they won the last three games as well. Right now, they're just playing at an unbelievable level and I think their confidence is probably at an all-time high. Everybody says the same thing -- you've got to take away their threes and layups and make them a mid-range type shooting team. That's easy to say."