January, 28, 2015
Jan 28
1:47
PM PT
EL SEGUNDO, Calif. -- Shoulder surgery performed Wednesday morning is expected to end Kobe Bryant's season, but Lakers coach Byron Scott emphasized that he expects the 36-year-old to return next season.
"In my mind right now, he's coming back next year, unless he tells me something different," Scott said.
The injury, which Bryant suffered last week in a road loss to the
New Orleans Pelicans
, will almost certainly mark Bryant's third consecutive season-ending injury. Bryant, now in his 19th season, has seen his past two seasons cut short by Achilles and knee injuries.
Scott said he communicated with Bryant on Tuesday night after the Lakers' loss to the
Washington Wizards
, which marked the team's ninth straight defeat -- their longest losing streak since they lost 10 straight in April 1994.
"He didn't seem to be struggling at all. He was calling me to console me, which is Kobe," Scott said with a laugh.
"He's texting me, talking about, 'Are you OK?' He's the one going into surgery ... not me. But that's just him and that's basically our relationship."
Of Bryant's impending rehabilitation, Scott said, "It's pretty painful from what I've heard and the rehab is long."
Bryant will make a league-high $25 million in 2015-16, the final year of a two-year contract extension he signed last December. Scott is already envisioning how he'll use the star shooting guard.
"For Kobe, play him at mid-to-low 20s minute-wise," Scott said, a stark difference from the team-high 35.4 minutes per game that Bryant played during the Lakers' first 27 games this season.
But Scott said future plans involving Bryant greatly depend on this summer.
"I got to wait until August until we have a good idea of what we've brought in and who we bring back," he said, alluding to free agency and the draft. "Then, we go from there."
Scott said he also expects Bryant to be active in recruiting free agents.
"But I think the biggest thing with Kobe, as long as [the media is] saying that he's done, he's going to come back," Scott said. "I think he proved his point this year that he still has a lot left in the tank. He's still one of the best players in the league."
Bryant, who was voted in by fans as a Western Conference All-Star starter last week for a record 17th consecutive year, played 35 games with the Lakers this season, averaging 22.3 points on a career-low 37.3 percent shooting.
January, 27, 2015
Jan 27
9:53
PM PT
Associated Press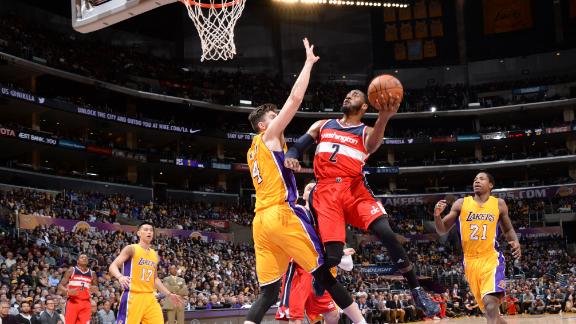 LOS ANGELES -- John Wall had 21 points, 13 assists and nine rebounds, and the Washington Wizards rallied from a 19-point deficit to send the Los Angeles Lakers to their ninth straight loss, 98-92 on Tuesday night.
Bradley Beal scored 19 points for the Wizards, who won their fifth straight over the Lakers with a tenacious fourth quarter after falling far behind in the first half of their third stop on a four-game West Coast trip.
Wayne Ellington scored a career-high 28 points and rookie Jordan Clarkson had a career-high 18 for the Lakers, who are on their longest skid since April 1994.
The Lakers' inexperienced starting backcourt still played exceptionally well against the Wizards' star duo, with Ellington and Clarkson combining for 33 points in the first half.
Wall said after the game that he also has been dealing with a migraine but thinks he'll be able to play Wednesday against the Phoenix Suns.
ESPN's J.A. Adande and The Associated Press contributed to this report.
January, 27, 2015
Jan 27
9:50
PM PT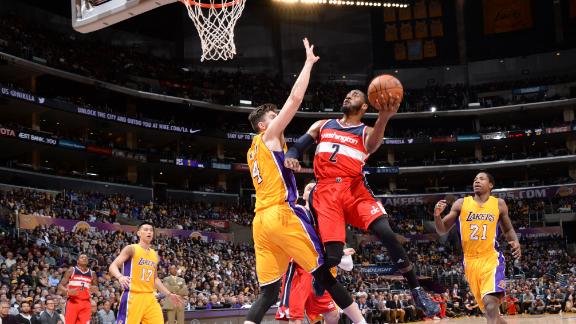 LOS ANGELES -- The
Lakers
haven't been on a skid like this in nearly two decades.
They lost their ninth consecutive game Tuesday, blowing a 19-point lead before falling 98-92 to the
Washington Wizards
at Staples Center. Their record dropped to 12-34.
It marks the Lakers' longest such streak since they lost 10 straight in April 1994. The Lakers' coach then? Magic Johnson.
Turning point:
The Lakers held an 11-point halftime lead but were outscored by 10 in the third quarter. Then the Wizards just leaned on their superior talent to carry them home in the fourth. Though the Lakers led big early, it never really felt like they had the horses to bring home a win.
Player of the game:
John Wall
had a sneaky quiet all-around game, finishing with 21 points, 13 assists and 9 rebounds. The Wizards star point guard made 8 of 12 shots.
Rookie impact:
Lakers first-year guard
Jordan Clarkson
played with a lot of confidence and had his best game yet, scoring a career-high 18 points on 8-of-18 shooting.
Top Lakers scorer:
Wayne Ellington
started at shooting guard -- a position that will be open the rest of the season with
Kobe Bryant
sidelined -- and picked up the scoring slack by pouring in a career-high 28 points.
Swaggy P update:
Nick Young
missed the game with a sprained right ankle that he suffered in Monday's practice. Lakers coach Byron Scott said Young was slated to get some tests done on that ankle, but Scott already had doubts Young will be ready to play Thursday as the Lakers host the
Chicago Bulls
at Staples Center.
High praise:
Wizards coach Randy Wittman joined the ever-growing list of those around the league to praise Bryant, who is expected to miss the rest of the season with a torn rotator cuff in his right shoulder. "Players like him come around once in a lifetime," Wittman said. "You're not going to see another one probably like him, as gifted as he was, as competitive as he is, to do the things he's doing. What he did this year coming off the injuries that he had was remarkable. You cherish players like him, even as an opposing coach."
Metta!
Former Laker
Metta World Peace
was in the building and spent much of the first half shaking hands and giving hugs to pretty much everyone in sight, including Jeanie Buss. He also received some hearty cheers from Lakers fans when he was shown on the JumboTron.
January, 27, 2015
Jan 27
8:57
PM PT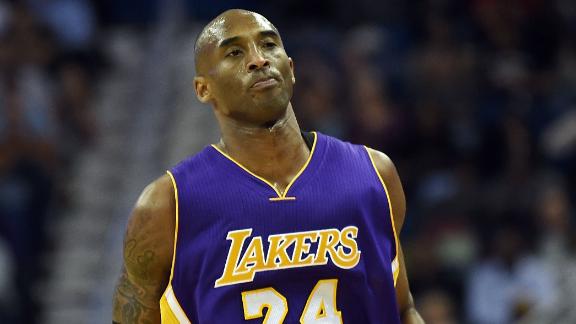 LOS ANGELES -- They battled for championships on opposite sides of the NBA's most storied rivalry.
Paul Pierce's Boston Celtics won the first round in 2008. Kobe Bryant's Los Angeles Lakers won the rematch two years later.
Pierce on Tuesday lamented Bryant's latest injury, a torn rotator cuff in his right shoulder that will require surgery and is expected to keep Bryant sidelined for the remainder of the 2014-15 season.
"It always saddens me, knowing that Kobe, who is one of my NBA brothers, we lose [him] due to injury," Pierce said during shootaround before the Washington Wizards beat the Lakers 98-92 at Staples Center. "It always saddens me."
Their trash talk hasn't been as fierce of late, with 36-year-old Bryant's Lakers in rebuilding mode and 37-year-old Pierce now playing for the Wizards.
But the connection remains.
"A lot of fans around the league pay to watch Kobe, a lot of fans around the world," Pierce said. "Regardless of how the Lakers are doing or not, he's an icon. He's a player who defined his generation. A lot of people that come out here to see him."
Bryant recently raved about how much he enjoyed on-court banter with Pierce, even at this late stage in their careers.
January, 26, 2015
Jan 26
3:23
PM PT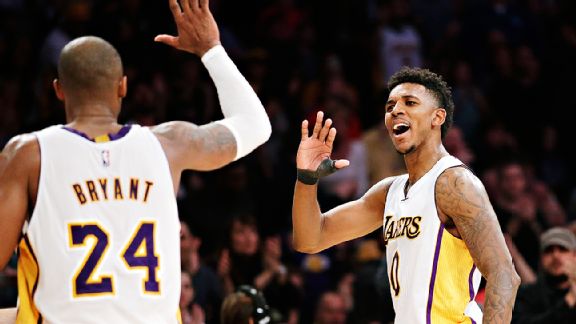 AP Photo/Jae C. HongKobe Bryant may be done for the season, but Nick Young is more than ready to take the reins.
EL SEGUNDO, Calif. -- What will the Lakers do without
Kobe Bryant
?
Don't worry.
They still have
Nick Young
.
"Just give me the ball and get out of the way," the outspoken reserve guard said with a laugh after practice Monday, not long after the team announced that
Bryant will have surgery Wednesday morning
to repair a torn rotator cuff in his right shoulder.
A timetable for Bryant's recovery won't be known until after the procedure, but Lakers coach Byron Scott said that "we know Kobe is probably not going to play" again this season.
While Scott said he has "no idea" who will step up to help fill the void left by Bryant, and didn't mention who would start in place of Bryant, no doubt more is expected of Young, who averages 14.1 points per game, second among Lakers players to Bryant's 22.3.
"It's a big responsibility," Young said. "I've got to go out there and play to the best of my abilities every night."
Young spoke after apparently suffering a sprained ankle during practice when guard
Jordan Clarkson
stepped on his foot. Young said his ankle was "throbbing, but I'll be all right." He said he wasn't sure if he'd play Tuesday against the
Washington Wizards
.
However, Young's mention of "responsibility" came at an interesting time. The Lakers guard was benched in the second half of Sunday's loss to the
Houston Rockets
for what Scott described as a lack of effort.
"The message I was sending [Sunday] night was, 'You basically didn't look like you wanted to play,'" Scott said. "'You weren't defending. You were just standing around.' He was throwing the ball all over the place. So I chose not to play him, because if you look disinterested, with body language and things like that, to me you don't want to play."
Young, who didn't speak to reporters after Sunday's game, discounted the notion that he didn't want to be out there.
"There ain't a day go by that I don't want to be out there on the court," Young said. "I love being here, love playing basketball. I get a joy out of playing and seeing the fans, hearing them chant 'Swaggy P.' That's what drives me. [Scott] sees what he sees. I'm not in no situation to go back and forth with the coach because I would never play. That's his judgment."
On being benched, Young said, "It was very frustrating. It just brought back some old memories, like being a rookie. It happens. I guess [Scott] wants the best for me. I came in [Monday] with the mindset of not having no negative energy. ... I think I'll be all right."
Young also admitted that the Lakers' losing ways have affected him. The team has lost a season-high eight straight games, their longest losing streak since losing eight in a row in March 2005.
"We've only won 12 games this year," Young said. "Losing can catch up to you. I'm still a human being. I'm still going out there trying to fight. At the same time, you get tired of getting beat up."
Young said he and Scott talked about his demeanor, and Young stressed that he has to do a better job when being double-teamed by defenders, which he said he expects even more now that Bryant is out.
"It's tough, but we've got to go out there and still fight," Young said. "We've still got to give fans a show. It's a chance for other people to step up now. There's a lot of players with contracts. Even though it's tough for Kobe, it's a blessing in disguise for other people out there to get a chance. They've just got to take full advantage of it."
January, 26, 2015
Jan 26
2:49
PM PT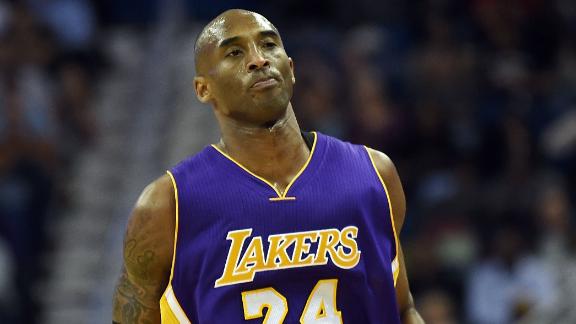 EL SEGUNDO, Calif. -- Lakers coach Byron Scott said he spoke to Kobe Bryant on Monday morning, before Bryant had his injured right shoulder examined.
Scott told Bryant that he would pray for him.
"He sounded good," Scott said. "I probably sounded worse than he did."
Not long after, it was announced that the 36-year-old Bryant would
have surgery Wednesday morning to repair a torn rotator cuff
that he suffered last week in a loss to New Orleans. A timetable for the 19-year veteran's recovery won't be known until after the procedure, though ESPN reported Friday that Bryant is expected to miss the remainder of the season.
Either way, Scott isn't holding his breath.
"Basically what we've been doing the last couple games is what we're probably going to be doing for the rest of the year, now that we know Kobe is probably not going to play," Scott said.
But Scott firmly believes that Bryant, who has one year left on his contract with the Lakers, will be back.
"I don't see Kobe as the type of guy that wants to leave his legacy on these terms," Scott said. "I think he wants to go out on his own terms."
Lakers forward Carlos Boozer agreed.
"If anybody can come back from it, it's Kobe," Boozer said. "He attacks his rehab. He's a monster with a work ethic. That's why we all know he's the player he is. I don't expect anything different from Kobe."
Lakers guard Nick Young recalled the game at New Orleans when Bryant apparently suffered his injury on a third-quarter driving baseline two-handed dunk.
Bryant then played almost entirely left-handed for the rest of the night.
"I knew something was wrong with him," Young said. "He was doing everything with his left hand, shooting shots, fadeaways.
"At the same time, I thought it was Kobe being Kobe. I didn't think he was going to have a tear or something. We'll see what happens."
Knowing that Bryant almost certainly won't be back this season, Scott reflected on what Bryant achieved during the 2014-15 campaign after coming back from Achilles and knee injuries that ended his previous two seasons, respectively.
"I think he's done everything that you can possibly do in this league," Scott said. "I think at times we don't appreciate all the stuff that he's been able to accomplish, how tough he is and all the injuries that he's played with, to be able to come back the way he's come back."
Boozer recalled training camp and how Bryant ran "suicide" running drills with the team every day and helped veterans and rookies alike.
"He had a great year," Boozer said. "Was coming out real aggressive to start. Then he started trusting us more and getting us involved. That's the thing about Kobe: He can play different styles. He can score 81, or he can have 17 assists. That's the great thing about his game. He can adjust. He's that good, especially at this level.
"I think he had a great season. We didn't get many wins this season. I don't know if it's over, but with the surgery, it's probably over for this year. ... I feel bad for him."
January, 26, 2015
Jan 26
4:30
PM PT

By Tim MacMahon
ESPNLosAngeles.com
Archive
DALLAS -- "Kobe time," long a favorite to watch for a certain 7-foot German NBA fan, has been canceled for the rest of the season.
Countless times throughout his career,
Dirk Nowitzki
has arrived at his home after a game at the American Airlines Center, plopped down on the couch and scrolled through the television listings to find the
Los Angeles Lakers
game in time to watch
Kobe Bryant
perform in crunch time.
That won't be possible again until next season. The Lakers announced Monday afternoon that, as expected, Bryant will undergo surgery to repair a torn rotator cuff in his right shoulder.
"Disappointing," Nowitzki said of the news that a serious injury will end Bryant's season prematurely for the third consecutive campaign. "I think he worked extremely hard to get back to the point where he's fun to watch again. After an Achilles tear, kind of everybody said they're not sure if he's going to come back, and he worked his butt off like he has his entire career and gets to a point where he scores again and is fun to watch. And now another injury happens.
"It's tough, but he's a fighter. He'll probably be back from that as well."
As Bryant's body betrays him, it's hard not to wonder about Nowitzki's basketball mortality.
They are a couple of NBA legends, separated by four spots on the all-time scoring list and 2 months of age, who are in their golden years. Bryant is one of only three active players who has logged more career minutes than Nowitzki.
Nowitzki has been fortunate in his fight against Father Time. He's managed to avoid major injuries throughout his career. The only instance of Nowitzki missing extended time occurred in 2012-13, when he sat out most of the first two months of the season after undergoing relatively minor arthroscopic knee surgery in October.
Nowitzki's good health isn't all due to luck. There's a lot of work that goes into it, by Nowitzki and the Mavs' medical and conditioning staffs. The Mavs have made managing his minutes a priority for several years, trimming them to under 30 per game this season, significantly fewer than Bryant was logging for the Lakers. Dallas also has managed to reduce the stress of Nowitzki's minutes, surrounding him with players who are capable of lessening the burden on him, something the Lakers failed to do for Bryant last summer.
And Nowitzki's game is certainly better-suited for success at an advanced age.
"You don't see Dirk doing a whole lot of reverse jams," Mavs owner Mark Cuban said. "Dirk doesn't go up for an alley-oop. He goes up for an alley-under and worries about tripping over the line."
Nevertheless, Bryant's problems are a painful reminder of how difficult it is for even the greatest to keep going into their mid-30s and beyond.
"You can't take anything for granted in this league as you get older," Nowitzki said. "You want to compete every night. You want to have fun doing it. You don't want to get up every morning and have to fight to go to work, fight to stay out there. That's not how I ever looked at basketball. As long as I feel good and I don't have to take a bunch of pills to play … That's not how I look at the game. It's supposed to be fun."
Kind of like sitting on the couch for Kobe time.
January, 25, 2015
Jan 25
11:46
PM PT
LOS ANGELES --
Houston Rockets
coach Kevin McHale says he has loads of respect for
Los Angeles Lakers
star
Kobe Bryant
.
But McHale didn't seem so sure the 36-year-old Bryant would be able to rebound from another potential season-ending injury, this time a torn rotator cuff in Bryant's right shoulder suffered last week in a loss at New Orleans.
"Eventually, this catches up to you, man," McHale said Sunday before the Rockets beat the Lakers 99-87 at Staples Center. "Kobe's a great player, but I've seen other great players. When your time's up, your time's up, man. It's too bad, but it happens to everybody.
"I wish him all the best. I've always admired him. I think he's a hell of a competitor, but everything comes to an end. In my case, my body just said, 'You weren't playing anymore,' and I said, 'OK.' "
Bryant was expected to decide as early as Monday whether to have shoulder surgery. If it causes him to miss the rest of the season, it will mark his third straight season ended early by injuries. Achilles and knee injuries ended his previous two seasons prematurely.
January, 26, 2015
Jan 26
12:28
PM PT
Associated Press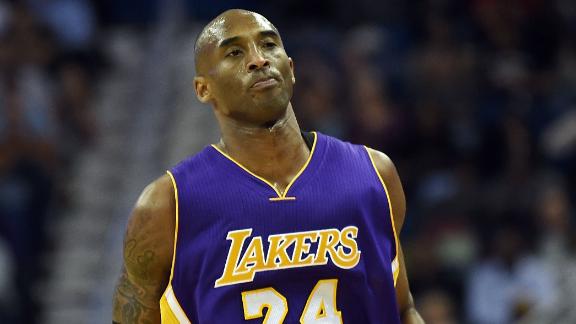 EL SEGUNDO, Calif. -- Kobe Bryant will have surgery Wednesday on his torn right rotator cuff, likely ending his 19th season with the Los Angeles Lakers.
Bryant seriously aggravated a lingering shoulder ache while dunking last week in New Orleans. The star guard and the Lakers decided Monday on surgery, which typically requires several months of rehabilitation.
"I feel like I just returned a 100 yard kickoff in the last two minutes of the Super Bowl to win it all only to have my run called back by a flag on the play," Bryant said in a statement released by The Players' Tribune.
The Lakers will announce a timetable for Bryant's recovery after surgery, but coach Byron Scott anticipates losing the third-leading scorer in NBA history for the rest of the year.
"Kobe is probably not going to play" again this season, Scott said.
"We all know how tough he is," Scott added after Monday's practice. "He's a trooper, so we pray for him that his return will be sooner rather than later."
The 36-year-old Bryant's torn rotator cuff is likely his third straight season-ending injury. He missed the 2013 playoffs with a torn Achilles tendon, and he played just six games last season before breaking a bone near his left knee. His famously resilient body has finally worn down from the accumulated grind of nearly two decades and several lengthy postseasons with the Lakers, including five NBA title runs.
After returning at nearly full strength in training camp, Bryant sat out eight games to rest in the past month and played on a strict minutes limit. He still dealt with assorted aches and setbacks before he injured his shoulder.
Bryant met with Neal ElAttrache of the Kerlan Jobe Orthopaedic Clinic on Monday, determining his injury's extent and deciding on surgery. He is averaging 22.3 points, 5.7 rebounds and 5.6 assists in 35 games this season, but shooting a career-worst 37.3 percent in a wildly inconsistent season.
The Lakers reacted to the news with disappointment and respect for Bryant, who was selected to the All-Star Game for the 17th time last week.
"Kobe is a warrior," Lakers forward Carlos Boozer
January, 26, 2015
Jan 26
10:16
AM PT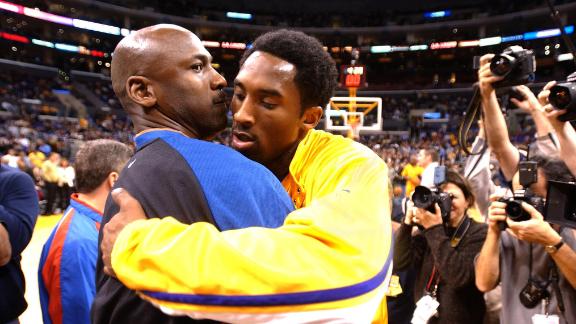 Kobe Bryant has long idolized Michael Jordan, the player to whom he has been compared throughout his career. Years ago, he had plans to play alongside his mentor.
According to a Washington Post report on Monday, Bryant more than a decade ago wanted to leave the Los Angeles Lakers and play for Washington Wizards, where Jordan was winding down his career.
"That's true," Bryant told the Post. "A long time ago? Yeah."
Said Bryant, "I've always been very big on having mentors, on having muses, and I've been really, really big on that, being around guys who have done it before and done it at a high level and always tried to pick their brains and always tried to absorb knowledge. Obviously, being in that situation [with the Wizards], it would've helped having to be around him every day and so on."
A Bryant-Jordan scenario as teammates all fell apart when then-Wizards owner Abe Pollin parted ways with Jordan in 2003, a year before Bryant became a free agent.
"We would've put together a great team and we would've won championships," Bryant told The Post.
Bryant also said a key reason he wanted to leave L.A. was his well-known feud with then-teammate Shaquille O'Neal, a three-time Finals MVP from 2000-02.
January, 25, 2015
Jan 25
10:34
PM PT
LOS ANGELES --
Jeremy Lin
was just happy to be out there again.
"I'm thankful I played," the
Los Angeles Lakers
reserve point guard said Sunday after a 99-87 loss to the
Houston Rockets
at Staples Center.
"A DNP will change your perspective on things."
Lin was referring to Friday, when he was a DNP-CD (did not play - coach's decision) in a road loss to the
San Antonio Spurs
, his first healthy scratch since Feb. 2, 2012, even before "Linsanity."
[+] Enlarge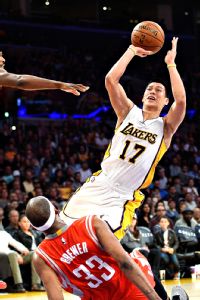 Harry How/Getty ImagesJeremy Lin had 14 points and six assists Sunday against the Rockets in his first game since being benched.
He entered Sunday's game late in the first quarter to cheers from the fans and finished with 14 points in 28 minutes against the Rockets, making just 2-of-9 shots but sinking 10-of-14 from the free-throw line. He added six assists against his former team.
Both before the game and after, Lin reflected on his roller-coaster season and more.
"In terms of my career, the only thing that's really been consistent is the amount of inconsistency that I've had in my life," Lin said. "I've gone from getting cut to the D-League to starting to playing heavy minutes -- a different role every week, it seems like. I've just got to keep trying to stay aggressive when I get out there -- if I get out there."
His healthy scratch in San Antonio was disheartening, of course.
"I'm human," he said. "I've got emotions, too. I show up and do my best to play and work hard and stuff, but it definitely hurts. It's discouraging sometimes. It's disappointing. All those emotions."
Lin and Lakers coach Byron Scott chatted Sunday morning about Lin's role, and it was the same message Scott has said all season: He wants consistency.
"The effort has been great," Scott said. "That hasn't been a problem with Jeremy. It's just a matter of being consistent each and every night, trying to get into a flow each and every night. That's what we talked about again today."
Lin has gone up and down more than an elevator since joining the Lakers.
He has been a constant target of praise and criticism from Scott and
Kobe Bryant
.
He has been moved from the starting unit to the bench.
He has gone from second-string point guard to third-string point guard, behind
Ronnie Price
and rookie
Jordan Clarkson
And he has gone from playing heavy minutes to not playing at all, such as Friday.
"The only thing that you can really get used to is the fact that you don't know what's coming next," Lin said. "That's kind of been true this whole season."
None of it is fun, mind you, and Lin hasn't looked happy much if at all this season, even though he has done his best to present himself as upbeat.
Is Lin trying to use his minutes to make his case that he deserves more?
"No, we've been down this road before," he said with a laugh. "[Sunday night], I was just enjoying the game."
He repeated that message a few times.
"I was out there having fun just attacking and really just enjoying the experience of getting to play team basketball -- try to get everybody involved and do the best we can," he said. "It was fun. Losing is not fun, but just playing again is fun."
And that's what the season has been reduced to for Jeremy Lin.
He's just trying to have fun in a situation, and in a season, that is anything but fun.
January, 25, 2015
Jan 25
9:00
PM PT
LOS ANGELES -- No
Kobe Bryant
? Bummer. No
Dwight Howard
? Even worse. A complete blowout from the start? OK, let's just change the channel.
Yes, Staples Center offered pretty much nothing worth watching Sunday night in a 99-87 victory by the
Houston Rockets
. Even Rockets fans probably tuned out after their team had doubled up the
Los Angeles Lakers
after the first quarter (30-15).
Then again, even the Rockets looked bored most of the night, just watching and waiting for the seconds to tick away in a game that they led by as many as 25 points.
The Lakers suffered their season-high eighth straight loss, their longest skid since they dropped eight in a row from March 14 to 27 in 2005. They sit at 12-33.
Bryant was absent with a torn rotator cuff in his right shoulder, and Howard was out with a sprained ankle, which meant no scuffles between the ex-teammates who had a sour relationship at best.
Player of the game:
L.A. native
James Harden
barbecued the Lakers, though some of his shots were more well-contested during pregame warm-ups than in the actual game. The Rockets' star guard finished with 37 points, 8 rebounds and 5 assists, and though he technically broke a sweat, it seemed like he wasn't trying that hard all night.
Lin in action:
Jeremy Lin
came off the bench in the first quarter, his first action after receiving a DNP-CD (did not play -- coach's decision) Friday at San Antonio, his first healthy scratch since Feb. 2, 2012. He finished with 14 points on 2-of-9 shooting to go along with six assists in 28 minutes.
Swaggy P in the doghouse:
Lakers coach Byron Scott benched
Nick Young
in the second half. Young played just nine scoreless minutes all told, missing both of his field goal attempts.
Lone bright spot:
Carlos Boozer
provided 18 points and 11 rebounds off the bench for the Lakers. There wasn't much else that the Lakers did worth mentioning.