February, 9, 2016
Feb 9
7:40
AM PT
ESPN.com news services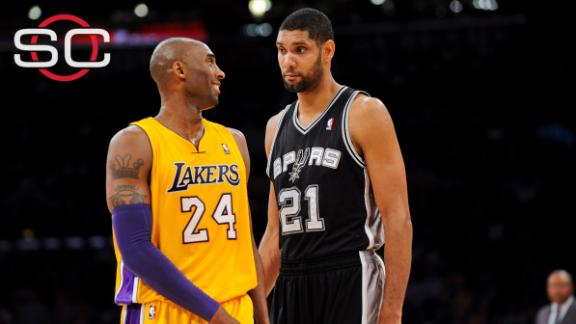 Kobe Bryant and Tim Duncan have achieved so much during their remarkable NBA careers, winning a total of 10 championships between them. But if you had to choose, who would you say has had the better career?
Hall of Famer Kareem Abdul-Jabbar -- a Los Angeles Lakers legend whose statue stands outside the Staples Center -- is going with "The Big Fundamental" based on his health and overall, sustained success with the San Antonio Spurs.
"Jeez, I would say that Tim Duncan has had a better career just because they've been able to win more consistently, and they didn't have to rely on Tim all the time," Abdul-Jabbar said during a recent "Conversations with Tyler" interview with Tyler Cowen at George Mason University.
Another Lakers legend and Hall of Famer, however, disagrees with Abdul-Jabbar's choice.
"Kareem can have his opinion," Magic Johnson told SportsCenter on Tuesday. "Both of them won the same amount of championships. I'm always going to be partial to a Laker because I love Kobe, I know him as a man and a person. What he did for the city and for basketball fans all over the world ... he was a guy who made these young players work out harder, do more, because he was working out so hard. LeBron, all those guys, followed Kobe Bryant. And he's been a guy who's said, 'Hey guys, this is how you do it,' and guys have followed."