July, 1, 2015
Jul 1
1:33
AM PT
ESPN.com news services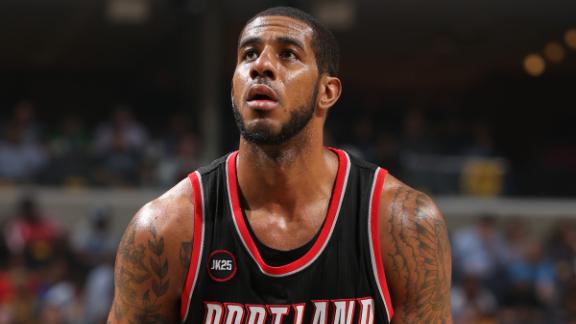 The Los Angeles Lakers were the first to sit down with LaMarcus Aldridge when free agency opened Tuesday night, and their meeting lasted nearly two hours, sources told ESPN.com.
The meeting went "really well," a source who was in the room for the Lakers' presentation told ESPN.com's Ramona Shelburne.
"LaMarcus seemed completely focused," a source told Shelburne.
The Lakers' contingent included Kobe Bryant, president Jeanie Buss and general manager Mitch Kupchak.
The Houston Rockets met with Aldridge after the Lakers.
Aldridge also will meet with the San Antonio Spurs, Dallas Mavericks, Phoenix Suns and Toronto Raptors on Wednesday and with the New York Knicks on Thursday, league sources told ESPN.com.
According to one source, the chance of Aldridge staying with the Portland Trail Blazers is "very unlikely."
ESPN.com reported in May that the Spurs and Mavericks strongly believe they'll have a great shot to lure Aldridge back to his home state of Texas. But sources said last week that Aldridge is actually thinking more and more about a free-agent jump to the Lakers.
June, 30, 2015
Jun 30
8:52
PM PT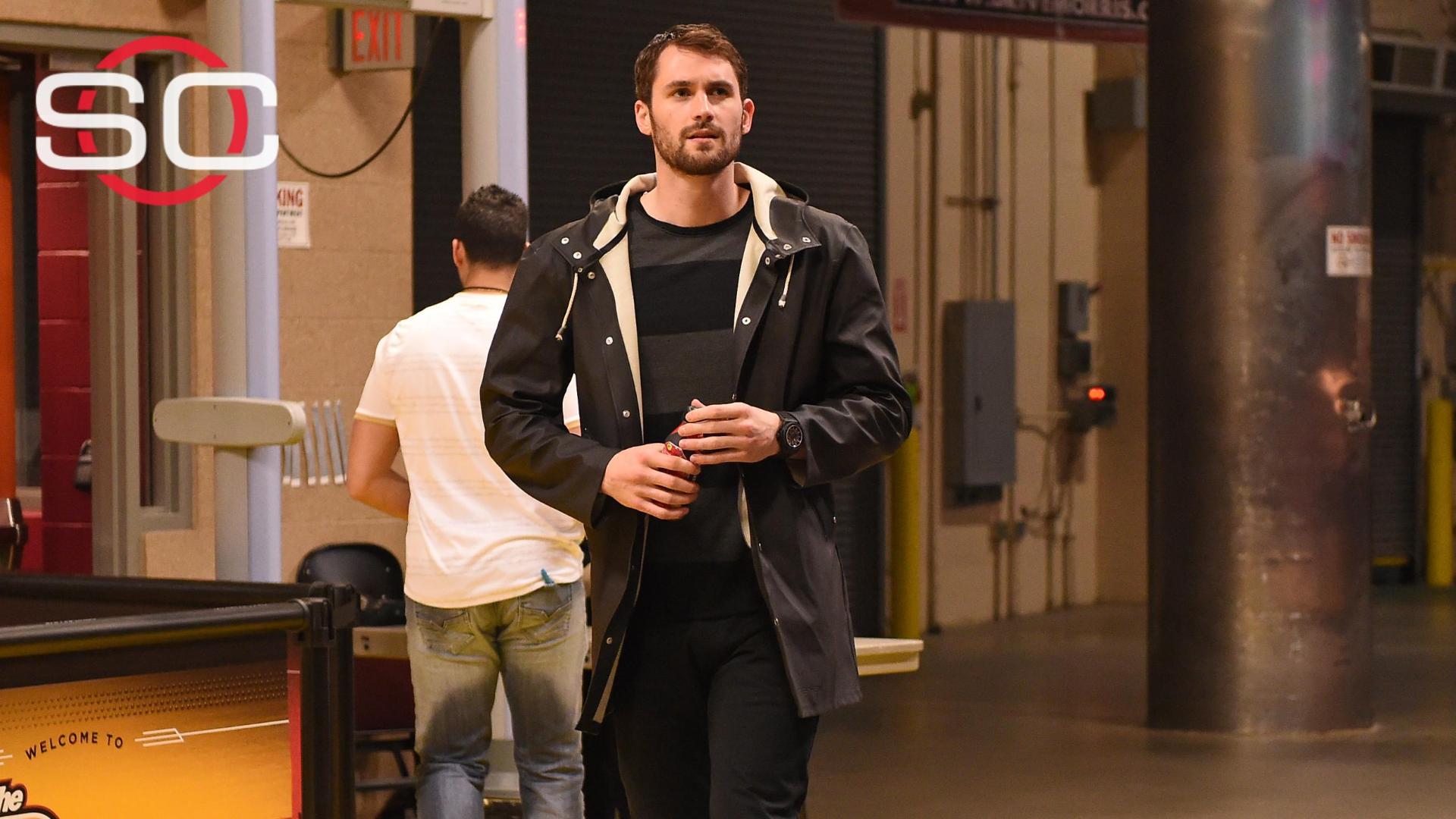 The Los Angeles Lakers will meet with free agent Kevin Love later this week, according to league sources.
One source said the Lakers have heard Love is likely to re-sign with the Cleveland Cavaliers, but they still want to sit down with him. The meeting will be part of a busy week for the Lakers, who also will meet with LaMarcus Aldridge, DeAndre Jordan and Greg Monroe.
Besides securing a top-flight power forward in Aldridge or Love, the Lakers hope to add a center. In addition to Jordan and Monroe, the Lakers have interest in Tyson Chandler and Robin Lopez, Aldridge's teammate in Portland the past two seasons, sources said.
The Lakers also will place a call to Marc Gasol, though the All-Star center is widely expected to re-sign with Memphis.
The Lakers cannot clear enough cap room to sign two max-salaried players.
The Lakers also have interest in Dwyane Wade and Tobias Harris, although filling out their front line is the club's top priority.
For most of the past season, executives around the NBA believed Love would leave the Cavaliers to sign with the Lakers.
June, 30, 2015
Jun 30
3:18
PM PT

By Baxter Holmes
ESPNLosAngeles.com
Archive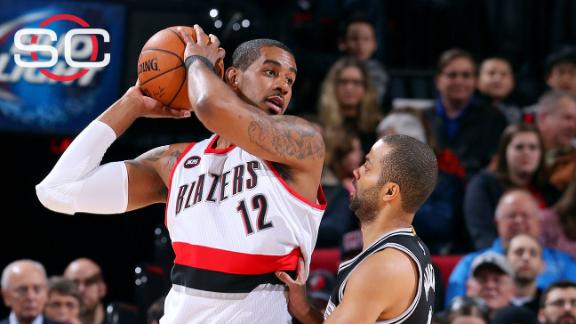 D'Angelo Russell has been a member of the Los Angeles Lakers for less than a week, but already the No. 2 overall draft pick is playing the role of recruiter.
In a radio appearance with Jim Rome on Tuesday, Russell, the ex-Ohio State standout guard, was asked to make a pitch for free-agent All-Star forward LaMarcus Aldridge to join the Lakers.
"Man, who doesn't want to be in L.A., starting with that," Russell said. "The franchise is on the come up, they've been so spoiled with winning around here, losing is not an option.
"I mean Portland, he played well, they played well as a team, they made some strides. But L.A., just me being out here for these few days, these few months I was before, there's nothing like it. A lot of guys want to be here, a lot of guys live here in the summer, so many faces here that you play on the Lakers you are already at the top of the crop of all the people that live here."
Aldridge is expected to meet with seven teams -- including the Lakers -- as he considers where he will sign as the free agency period begins at 9 p.m. PT Tuesday. Reports indicate he is likely to leave the Portland Trail Blazers, where he has played for the past nine seasons.
June, 30, 2015
Jun 30
3:22
PM PT
By Micah Adams, ESPN Stats & Information
ESPNLosAngeles.com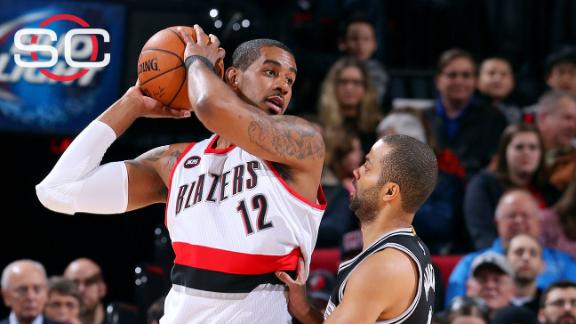 Free agent LaMarcus Aldridge is scheduled to meet with seven teams as he considers where he will sign, and reports are he is likely to leave the Portland Trail Blazers.
Here's a statistical look at how Aldridge fits with each of the seven teams, presented in the order he is meeting with them:
Los Angeles Lakers
Aldridge is a devastating force on the offensive block, ranking second in the NBA last season in points per game on post-ups.
He would give the Lakers a sorely needed post scorer; they ranked 12th in post-up scoring last season. Aldridge alone nearly averaged as many post-up points per game (8.4) as the entire Lakers team (8.7).
The Lakers' numbers likely would have been higher had they had the services of Julius Randle, the seventh pick in the 2014 NBA draft, who broke a leg in the season opener.




Should Aldridge sign with the Lakers, he arguably would be the best big man Kobe Bryant has played with since an in-his-prime Pau Gasol.
Last season, Aldridge was the same age as Gasol was in the 2009-10 season, when the Lakers last won the NBA title. Their player efficiency ratings from those seasons were nearly identical.
Although Aldridge posted gaudier scoring numbers, he did it while shouldering a heavier burden as evidenced by a usage percentage nearly nine points higher than Gasol's. Aldridge averaged more points per play in both post-up and pick-and pop situations last season than Gasol did in 2009-10.
Houston Rockets
Aldridge is not only a monster on the block, but he's also the NBA's most dangerous midrange player and one of the best pick-and-pop big men in the NBA.
He's one of three players – DeMarcus Cousins and Blake Griffin are the other two – in the top 10 in points per game on post-up plays and pick-and-pops a season ago.
The Rockets had essentially zero pick-and-pop presence last season, averaging less than one attempt per game. Twenty-eight of the other 29 NBA teams had at least twice as many pick-and-pop attempts in 2014-15. Aldridge would provide James Harden a different type of pick-and-roll partner than the rim-crashing Dwight Howard.
ESPN Stats & Information/Second SpectrumRockets took the fewest midrange shots in the NBA last season.
Thanks in part to an analytics-informed front office, Houston has essentially shunned midrange shots. The Rockets averaged fewer than nine midrange shots and scored fewer than six points on midrange shots, both last in the NBA by a considerable amount.
Over the past 20 years, two teams have averaged fewer than 10 midrange shots per game. Those teams? The 2013-14 Rockets and 2014-15 Rockets.
Signing Aldridge would be a shift in philosophy. He has led the NBA in points on midrange shots each of the past three seasons and has outscored the next-closest player, Dirk Nowitzki, by 360 points over that span.
San Antonio Spurs
Aldridge is the only player in the NBA who averaged 23 points and 10 rebounds in each of the last two seasons. Aldridge would be the best big man Tim Duncan has played with since David Robinson, who was the last teammate of Duncan's to average 20 points and 10 rebounds, doing so in Duncan's rookie season in 1997-98.




Although Duncan was an All-NBA selection at the age of 38 -- something only Kareem Abdul-Jabbar has achieved -- Duncan can't do it every night. On the second night of back-to-back games last season, Duncan averaged 12.5 points and 8.1 rebounds and played just less than 27 minutes.
Aldridge averaged 22 points and almost 10 rebounds in 35 minutes a game on no day's rest. Signing Aldridge would allow the Spurs to rest Duncan more, keeping him fresher for a postseason run while suffering no drop-off in production.
Phoenix Suns
If the Suns were to sign Aldridge, he would give them a post presence they've lacked since Amar'e Stoudemire left for the New York Knicks.
Phoenix ranked among the bottom 10 last season in post-up points and attempts. Aldridge wouldn't have to play center, as the Suns have 7-foot-1 Alex Len, the fifth pick in the 2013 draft, whose block rate and defensive rebound rate jumped last season.
For a team that's likely to deploy two point guards at once in Eric Bledsoe and Brandon Knight, the Suns lack big men who can help in the pick-and-roll game. Phoenix ranked 26th last season in points per game by big men in the pick-and-roll. Among teams that missed the playoffs, only the Philadelphia 76ers received less production from its big men in the pick-and-roll department.
Dallas Mavericks
In San Antonio, Aldridge would be going to a team where, it could be argued, Kawhi Leonard has been given the reins as the franchise's next cornerstorne.
In Dallas, Aldridge would be that guy as Nowitzki enters his 18th season and has hinted as recently as this past spring that he would be willing to accept a sixth-man role.
Although not the three-point shooter that Nowitzki has been throughout his career, Aldridge would step into a system that has featured a player (Nowitzki) who has made his bread and butter in that midrange, where Aldridge excels.
Since Rick Carlisle took over as coach in 2008-09, three teams have scored more points on midrange shots than the Mavericks. Over that same span, no player has averaged more points per game on midrange shots than Nowitzki. Next on that list? Aldrige.
With Nowitzki's help, could Aldridge continue to add the 3-pointer to his arsenal? After taking no more than 15 3-point shots in any of the previous three seasons, Aldridge last season took 105 of them and shot 35 percent, a career high.
As Nowitzki has climbed in age, the Mavericks have dropped in post scoring. Four seasons removed from ranking eighth in points per game on post-ups, the Mavericks ranked 22nd this past season. Adding Aldridge would certainly provide a boost on the block.
Toronto Raptors
The Raptors, driven by an All-Star backcourt of Kyle Lowry and DeMar DeRozan along with reigning Sixth Man of the Year Lou Williams, would be an interesting fit. Lowry and DeRozan are on the books for at least another two seasons, whereas Williams is an unrestricted free agent.
Toronto's starting power forwards combined to average 9.6 points and 6.0 rebounds per game last season, and they have struggled since Chris Bosh left for Miami in the summer of 2010. The 9.6 points per game ranked 26th in the NBA, last among all playoff teams.
Like in Phoenix, Aldridge wouldn't have to play center, as the Raptors have Jonas Valanciunas, the No. 5 draft selection in 2011. Toronto is similar to Houston in that it could use Aldridge's help in the pick-and-pop game. Only the Rockets scored fewer points in pick-and-pop situations than the Raptors last season.
New York Knicks
The final team Aldridge is scheduled to meet with is the Knicks. During the draft, ESPN analyst Jalen Rose listed the Knicks' team needs as "everything."
An accomplished low-post scorer would be a great place to start as the Knicks averaged 33.4 points in the paint, last in the NBA and the fewest the Knicks have averaged in a season in more than a decade. New York shot 50.2 percent on shots in the paint, better than only the 76ers, Charlotte Hornets and Detroit Pistons.
The Knicks didn't get much help on the glass from their front line, either, as their starting power forwards and centers combined for 11.3 rebounds per game, last in the NBA.
June, 30, 2015
Jun 30
9:45
AM PT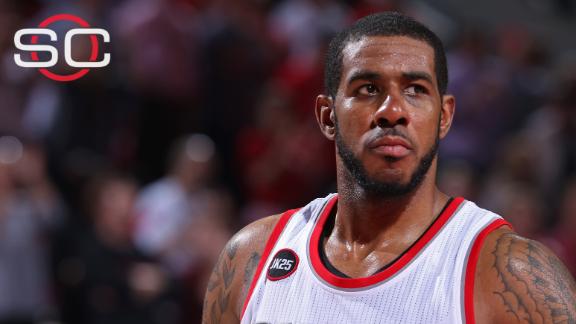 In the summer of 1996, the Los Angeles Lakers went to work on their annual offseason tradition: hunting big game.
Unlike most teams, the Lakers weren't just after a quality player. As usual, they were searching for a landscape-shifting star who could deliver titles on his way to the Hall of Fame.
Their target: Shaquille O'Neal.
The 7-foot-1 center was the most coveted free agent on the market, a 24-year-old who had been named an All-Star in each of his four seasons with the Orlando Magic.
O'Neal initially had no desire to leave the Magic, with whom he had reached the NBA Finals and Eastern Conference finals the prior two seasons. But the Lakers swooped in, offering O'Neal a seven-year deal worth a staggering $120 million. The icing on the cake was the Lakers' tradition and connection to Hollywood, which catered to O'Neal's interests in rap music and filmmaking.
"It came down to the aura of Los Angeles," said Magic executive Pat Williams, according to the book "The Show: The Inside Story of the Spectacular Los Angeles Lakers."
For decades, the Lakers and their city swayed the NBA's biggest stars. Despite increasingly constrictive rules making it harder for big-market teams to operate, they still offered a total package that other teams couldn't quite match.
But the Lakers have struck out in free agency the past two summers, not only failing to acquire any big names but losing their own: star big men Dwight Howard and Pau Gasol fled in consecutive summers, joining other squads for less money.
Now, after the two worst seasons in franchise history, the Lakers are entering one of the most crucial Julys in their history.
June, 30, 2015
Jun 30
9:26
AM PT
Associated Press
[+] Enlarge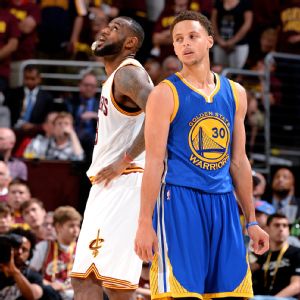 Andrew D. Bernstein/NBAE/Getty ImagesStephen Curry has passed LeBron James atop the NBA's most popular jersey list.
OAKLAND, Calif. -- Stephen Curry has surpassed LeBron James for the most popular jersey in the NBA.
The Golden State Warriors star and league MVP topped the list of jersey sales in the NBA for the first time Tuesday. With teammates Klay Thompson ranking fifth and Draymond Green at No. 15, the Warriors also led the team merchandise sales list during the playoffs.
James, who held the top spot at the end of the regular season, dropped to second. Derrick Rose is third and Cavaliers guard Kyrie Irving is fourth.
June, 30, 2015
Jun 30
9:26
AM PT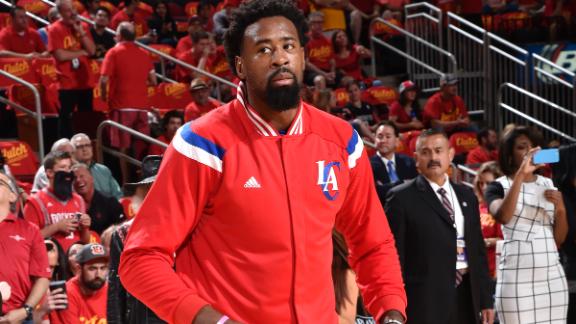 Free agent DeAndre Jordan is likely looking to sign a four-year deal that allows him to opt out after three seasons, which would nullify the Los Angeles Clippers' advantage in keeping the center, sources told ESPN on Tuesday.
The Clippers could offer Jordan a deal that includes a fifth year worth $27 million and are "hopeful" about their chances of retaining the center's services, sources told ESPN's Ramona Shelburne.
Sources, though, told ESPN that Jordan wants a bigger role in the offense and is tired of being a third wheel behind Chris Paul and Blake Griffin with the team.
Jordan will meet with the Los Angeles Lakers, Dallas Mavericks, New York Knicks and the Clippers once free agency begins Wednesday at 12:01 a.m. ET, sources told ESPN.
Sources had told ESPN.com earlier this week that the Mavericks are considered the likeliest team to persuade Jordan to leave the Clippers, and a source close to the situation told ESPN on Tuesday that it's "50/50" between the two teams.
If Jordan does opt for Dallas, the Clippers will look to do a sign-and-trade with the Mavs for their own free-agent center, Tyson Chandler, sources told Shelburne.
Jordan finished first in the league in field goal percentage (.710) and rebounds per game (15.0) in 2014-15. He was the first player to do so in back-to-back seasons since Wilt Chamberlain
June, 30, 2015
Jun 30
8:24
AM PT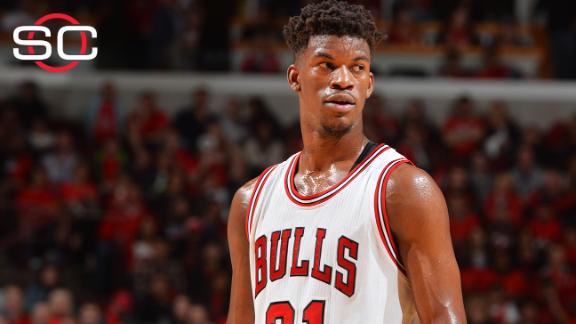 The Chicago Bulls offered Jimmy Butler a maximum five-year, $90 million contract Monday, leading the restricted free agent to postpone meetings with several other teams as he decides how many years to re-sign with the Bulls for, sources said.
Butler could do a four-year deal with a player option after three years to capitalize on new salary-cap money. The Bulls also offered him a one-year qualifying offer of $4.5 million, sources said.
Under rules of the collective bargaining agreement, the Bulls' two offers mean if Butler were inclined to sign with another team, the minimum length of that contract would be three years.
After receiving the max offer Monday, Butler postponed meetings with the Los Angeles Lakers, Boston Celtics, Philadelphia 76ers and Dallas Mavericks, sources said.
Butler had one of the biggest breakout seasons in recent memory this past season for the Bulls, becoming an All-Star for the first time, while averaging 20.0 points, 5.8 rebounds and 3.3 assists a game. He became one of the best two-way players in the game and guarded the opposition's best perimeter player on a nightly basis.
Bulls executive vice president John Paxson was already on record as saying the team would match any offer sheet Butler would sign this summer, but the hope within the organization was that it could work out a deal beforehand.
Free agency starts Wednesday.
ESPN.com's Nick Friedell contributed to this report.
June, 29, 2015
Jun 29
8:33
PM PT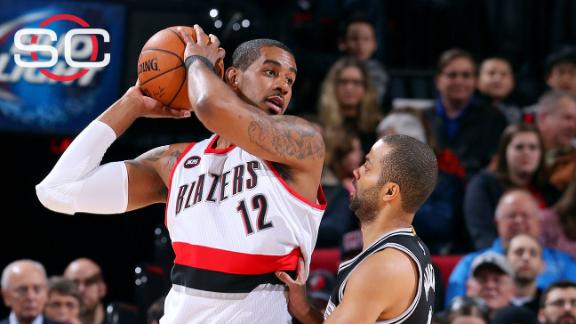 The Los Angeles Lakers and Houston Rockets will get the first opportunities to meet with LaMarcus Aldridge shortly after the free-agency period officially begins at 12:01 a.m. ET Wednesday.
Aldridge also will meet with the San Antonio Spurs, Dallas Mavericks, Phoenix Suns and Toronto Raptors on Wednesday and with the New York Knicks on Thursday, league sources told ESPN.com.
According to one source, the chance of Aldridge staying with the Portland Trail Blazers is "very unlikely."
Knicks star Carmelo Anthony has already called Aldridge, sources told ESPN The Magazine's Chris Broussard.
The Knicks will emphasize that in the Eastern Conference, the road to becoming an All-Star and a playoff team is much less clogged than in the West.
ESPN.com reported in May that the Spurs and Mavericks strongly believe they'll have a great shot to lure Aldridge back to his home state of Texas. But sources said last week that Aldridge is actually thinking more and more about a free-agent jump to the Lakers.
The Lakers, sources added, firmly believe they will now be in the Aldridge hunt. And there is a rising sentiment, sources said, that the Lakers have edged past the Mavericks on Aldridge's wish list even though he was a high school star in Dallas.
The Spurs, sources say, continue to be Aldridge's most likely destination if he goes through with the idea of leaving the Blazers to start anew. The contingent for San Antonio's pitch to Aldridge is expected to include Tim Duncan
June, 29, 2015
Jun 29
6:50
PM PT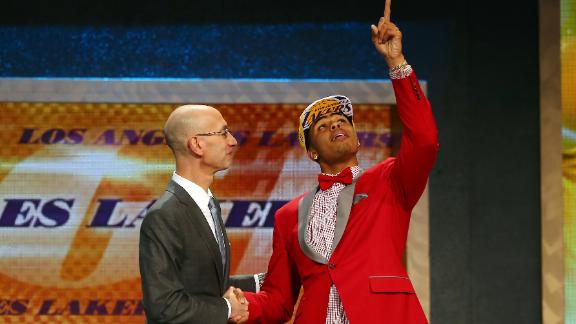 EL SEGUNDO, Calif. -- A half hour before D'Angelo Russell was introduced to local media at the Los Angeles Lakers' practice facility here Monday, the team's No. 2 overall pick in last week's draft stood in the second-floor office of team president Jeanie Buss.
There, the former Ohio State standout marveled at the 10 Larry O'Brien Championship trophies lining her window that overlooks the practice court, each one from a title the organization has won since it moved to Los Angeles.
The promising 19-year-old guard stared at them, touched them and posed for pictures alongside them, at one point stretching his nearly 6-foot-10 wingspan across seven of the glistening gold trophies as he smiled for the cameras.
"I've never seen the trophy," he told ESPN.com. "The big guy that everybody wants to play for, I've never seen it. Never touched it. So I wanted to take advantage of it. It's something that I definitely want to be apart of -- getting a new one up there. There's room."
Winning a title is an annual expectation for the storied franchise, and there are already equally enormous expectations for Russell, the team's highest draft pick since taking James Worthy No. 1 overall in 1982.
When Russell was drafted, Lakers coach Byron Scott said Russell had the potential to be a "superstar" and mentioned him in the same breath as Magic Johnson (whom Scott played alongside) and Chris Paul (whom Scott has coached).
And when Lakers general manager Mitch Kupchak called Russell on the night he was drafted, Kupchak referenced the retired jerseys hanging in the Lakers' facility and said he hoped Russell would one day join them.
Indeed, there's pressure on Russell to not only live up to the hype but to help the franchise rebound after missing the playoffs each of the last two seasons and finishing a franchise-worst 21-61 last season.
Russell, the team's most dynamic point guard since Johnson, feels the pressure, too.
"Definitely," he said. "It's a whirlwind. These guys aren't used to losing, so for them to pick me and pick these other guys, you know they're ready to start the rebuilding process over. We don't know how much Kobe [Bryant] has left in the tank, but he's a part of it. He's a leader of it. For us to learn under him and all these young guys we have, it's something that can really get going quick."
Russell comprises a young core that includes fellow first-round pick Larry Nance Jr.
June, 29, 2015
Jun 29
4:15
PM PT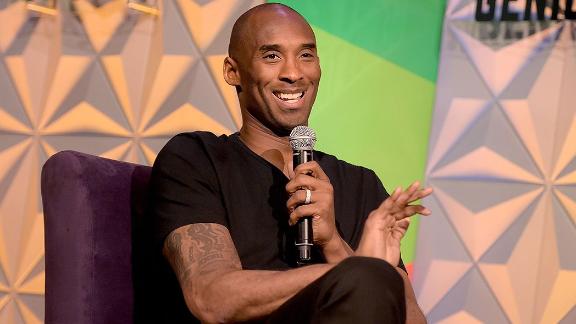 EL SEGUNDO, Calif. -- Los Angeles Lakers first-round draft pick Larry Nance Jr. said he was "terrified" of his new teammate Kobe Bryant's potential reaction to a tweet Nance sent in 2012 that referred to a sexual assault case involving Bryant.
"You hear all the stories about how Kobe, or Mr. Bryant, is so intense and just always on edge," Nance said when he and the team's other draft picks were introduced at the Lakers' practice facility on Monday.
"I was nervous to send him a long message and then just get an 'Okay,' or not a response at all. I'm just so, so glad he handled that in the manner he did. I still could be up here with a stomach in my knot, or a knot in my stomach. But he did a terrific job and I can't thank him enough for forgiving me."
Speaking at the BET Experience at the Nokia Theater in Los Angeles on Saturday night during a sit-down interview with ESPN's Jemele Hill, Bryant said "there's no need" for any further discussion about the matter with Nance, the Lakers' 27th overall pick out of the University of Wyoming.
"The kid figured it out himself," Bryant said. "He's a kid, man. He actually sent me a great message [Friday], which is really funny. I looked at it [the message], and it was like, 'This is when you know it's about time to hang these things up, when your teammate writes you, Hi, Mr. Bryant.'
June, 29, 2015
Jun 29
3:57
PM PT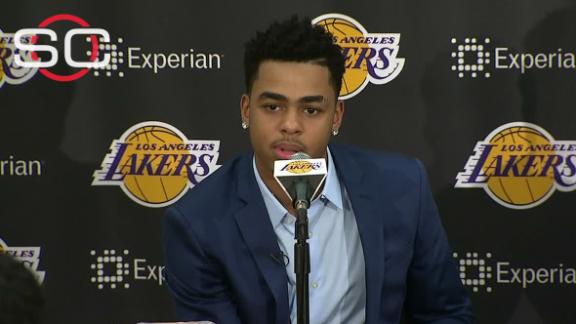 EL SEGUNDO, Calif. -- Monday afternoon, four days after D'Angelo Russell was drafted by the Los Angeles Lakers, minutes after he held up his gold No. 1 jersey in front of the Lakers-logoed backdrop to provide all the tangible evidence he needed, Russell still said he was "shocked" that the whole thing happened at all.
We were shocked too, shocked that the Lakers would stray from history and pass up a big man like Jahlil Okafor to take a point guard. Except it shouldn't be shocking. Not at all. The Lakers' history of winning with big men, from Mikan to Wilt to Kareem to Shaq to Pau, is the very reason they needed to grab a great point guard.
Supreme centers have been easy to come by for this franchise. Point guards have been more elusive. Here's the list of everyone who has spent time as the Lakers' primary point guard for at least one season since Earvin "Magic" Johnson retired on Nov. 7, 1991:
• Sedale Threatt • Nick Van Exel • Derek Harper • Derek Fisher • Ron Harper • Lindsey Hunter • Gary Payton • Chucky Atkins • Smush Parker • Steve Nash • Kendall Marshall • Jordan Clarkson
That averages out to a new point guard every couple of years. Yes, Payton is in the Hall of Fame and Nash is on his way, but their time in Lakerland was much like Smokey Robinson and Patti LaBelle on the mike at Sunday's BET Awards show: more of an acknowledgment for what they'd done in the past than a recognition of current contributions. Fisher had the longest and most productive time of those on the list, contributing to five championship teams. His success also came in the triangle offensive scheme that did not emphasize point guards.
No point guard has represented the Lakers in an All-Star Game since Van Exel in 1998. Shaquille O'Neal, Pau Gasol