May, 29, 2015
May 29
3:17
PM PT
The Lakers have completed a deal to buy a five-acre El Segundo, Calif., property worth $80 million that, among other things, will house a new, independently-owned practice facility, the team announced Friday. Construction is expected to be finished by the spring of 2017.
Currently, the Lakers practice at the Toyota Sports Center, which they share with the NHL's Los Angeles Kings, but their new facility, located at the northwest corner of Mariposa Avenue and Douglas Street, will also be the home of the team's new corporate headquarters, featuring a 750-seat exhibition court and offices on the property, as part of the Elevon at Campus El Segundo development.
"With its proximity to the airport and beaches, clean air, diverse businesses, and wonderful community, El Segundo is the perfect place for us to be," said Lakers president and co-owner Jeanie Buss. "We've been here for the past 15 years with great success, and we're thrilled to secure the perfect spot to expand on that success and remain for many years as a part of this vibrant and growing area."
The new facility will also be home to the Los Angeles D-Fenders of the NBA's Development League, where the team will play their home games on the exhibition court.
May, 29, 2015
May 29
4:20
PM PT
By Matt Walks, ESPN.com
ESPNLosAngeles.com
Archive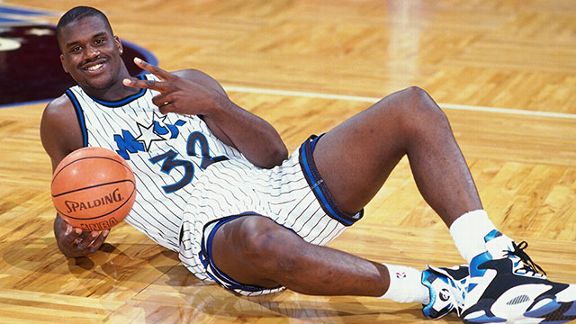 Barry Gossage/NBAE/Getty Images
From ESPN Stats & Info comes this gem:
Every championship team for the last three decades has featured a player who has spent time on a roster with Shaquille O'Neal.
The Diesel played for six different teams over his long career, and to find the last title-winning team that didn't have a player who was at some point a teammate with Shaq, you would have to go back to the 1982-1983 Philadelphia Sixers, led by Dr. J.
For instance, Danny Green -- a member of last year's champion Spurs -- was Shaq's teammate in Cleveland during his rookie season. The furthest connection is Greg Kite, a backup center for the champion 1983-84 Celtics.
In addition to the titles he himself helped the Lakers win, he also shares a link to three of the Lakers' 1980s championships by virtue of sharing a roster with Byron Scott for a brief time after he left Orlando for Los Angeles.
More from S&I:
"The only playoffs outlier between this season's Cavaliers or Warriors and the last non-Shaq-related champs was the 2010-11 Dallas Mavericks. Sasha Pavlovic started 6 games for those Mavericks during 2010-11 but was let go during the season. After a brief stop in New Orleans, he joined Shaq in Boston. (The guard was also one of three players on Mark Cuban's title team -- with Caron Butler and Shawn Marion -- who were part of the three trades that involved O'Neal throughout his career.)"
And yes, the streak will continue into 2016. Shaq played with the Cavs' LeBron James, Kendrick Perkins and Anderson Varejao, as well as the Warriors' Leandro Barbosa.
May, 27, 2015
May 27
9:50
PM PT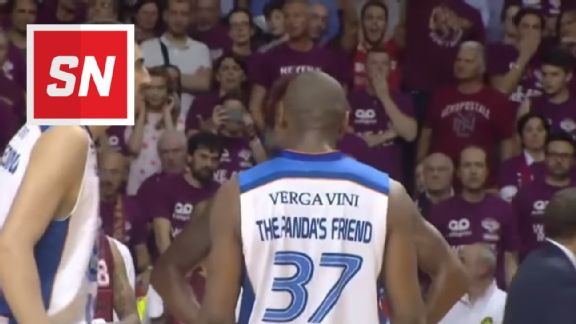 Pallacanestro Cantu Basketballnull

The basketball player formerly known as Ron Artest got an unceremonious exit from the Italian league's playoffs.

May, 28, 2015
May 28
9:56
AM PT
While our historically unlikely Finals showdown begins its massive buildup, the Los Angeles Lakers' braintrust, led by longtime general manager Mitch Kupchak, is plotting for a crucial offseason. Los Angeles is reeling from an unprecendented level of futility for the franchise.
The 61 losses last season set a franchise mark that was but one season old. The two-year total of 116 defeats is 22 more than any other two-season stretch of Lakers basketball. In missing the playoffs in back-to-back years, the current Lakers accomplished something never before seen in the franchise's 67-year history.
You get the point: The Lakers have never been this bad. However, rather than wallowing in the type of gloom and uncertainty that marked our offseason plan of the New York Knicks last week, the Lakers can revel in the prospect of brighter days ahead.
Let's take a peek at turns the Lakers' offseason might take as the NBA's glamour franchise tries to climb back to the peak of a league it's owned for so long.
May, 27, 2015
May 27
4:52
PM PT
May, 27, 2015
May 27
3:33
PM PT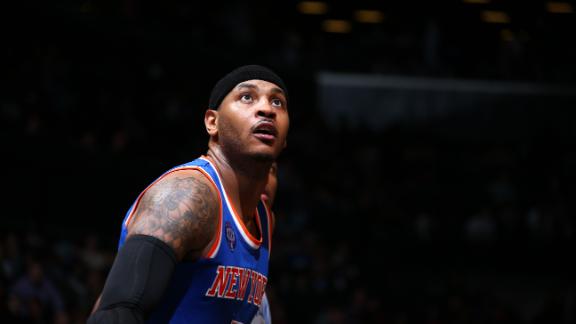 Milwaukee Bucks forward Jared Dudley said Kobe Bryant's refusal to defer to his Los Angeles Lakers teammates at this late stage in his career is why "most guys don't want to play with Kobe."
As a comparison, Dudley referenced the final years of Michael Jordan's career with the Washington Wizards.
"If you saw Jordan when he played with the Wizards, he started toning it down a little bit," Dudley said in a radio appearance with ESPN's Colin Cowherd. "He knew he didn't have it. Kobe is the opposite. He wants to show everyone so much. I remember seeing Kobe, I think it was 70 games in [this past season] and he had out-shot the whole Lakers team by like 100 shots. C'mon now. We love you, Kobe, but c'mon. It's, like, it's now time to start giving up. Most guys don't want to play with Kobe."
Bryant in fact led the Lakers by 10 shots with 70 games to play, though Carlos Boozer, who had attempted the second-most on the team at that point, had played in 31 more games than Bryant. Bryant finished the season third on the Lakers in total shots attempts (713) in 2014-15 despite playing in only 35 games; Jordan Hill led the team with 777.
Jordan had a 36.0 usage rate in his first season in Washington, the second-highest mark of his career, but that number dropped the next season, his final one in the NBA, to a career-low 28.7. Bryant had a 34.9 usage rate in 35 games with the Lakers last season, the fourth-highest mark of his 19-year career.
Cowherd mentioned that Bryant lacks the ability to tone down his style of play.
"Right," Dudley said. "And that's tough for guys and for him, obviously, being one of the greats. Also, the worst thing about it is, he can. Remember, Kobe gets in this thing where he doesn't pass and then he over-passes and he's trying to get triple-doubles every night.
"So we know you have [the ability to defer], it's just not something he wants to do, and that's why I think it'll be a while before the Lakers can get good, because no stars -- I mean, [Kevin] Love -- I'll be surprised if Love wanted to go there."
Love can opt out of his contract with the Cleveland Cavaliers this summer and become an unrestricted free agent.
Dudley's assertion that Bryant's presence is a potential obstacle for the Lakers in acquiring certain free agents isn't exactly new. Lakers general manager Mitch Kupchak recently addressed that notion on the radio.
"If there is a player out there like that, that won't come here for that reason, then we don't want them," Kupchak told Sirius XM NBA Radio. "Every great player is demanding and focused, and if you don't want to play for a guy like him that's driven to do nothing but win championships and work hard, then you shouldn't be here. You should go someplace else."
May, 26, 2015
May 26
2:06
PM PT
EL SEGUNDO, Calif. -- The Lakers invited their first group of potential draftees to their practice facility for pre-draft workouts Tuesday, beginning a weekslong evaluation process involving dozens of prospects leading up to the June 25 draft.
Six prospects went through a battery of drills, interviews and more with Lakers staffers and coaches, though none of the prospects were big-name players whom the Lakers were considering taking with the No. 2 overall pick.
Those players -- expected to include Duke center Jahlil Okafor and Kentucky center Karl-Anthony Towns -- are expected to work out with the team in the coming weeks.
For now, the Lakers are taking a look at players they might consider drafting with the No. 27 pick in the first round or their 34th overall pick in the second round.
Tuesday's crop included Arizona guard T.J. McConnell, Iowa State guard Bryce Dejean-Jones, Gonzaga guard Kevin Pangos, Maryland swingman Dez Wells, Northern Iowa forward Seth Tuttle and Minnesota forward Maurice Walker.
[+] Enlarge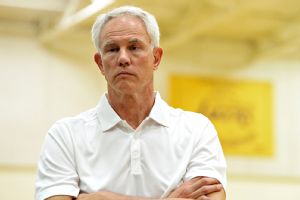 Jayne Kamin-Oncea/USA TODAY SportsMitch Kupchak and the Lakers have begun working out draft prospects at the team's practice facility.
Lakers general manager Mitch Kupchak said the team would like to bring in at least four and potentially as many as eight players it would consider drafting at No. 2.
"We'll probably bring in as many as the [players'] representatives will allow us to bring in," Kupchak said. "If the representative feels that we're not genuine in considering that player at No. 2, they probably wouldn't send them in. So we'd like to bring in as many as possible. There's a conception that there are four players there [as top-two candidates]. I think there may be more. There are European players that might not be done playing and get time to come over here and work out."
The pre-draft workout process simply provides more information -- some of which is more useful if the Lakers haven't seen much of a young talent who's only been in college for a year before going pro.
"For kids that have been [in college] for three or four years, we know them," Kupchak said. "We know their coaches. We talk to their coaches. There's a lot about them on the Internet. We talk to players who played with them. You get various levels of information, but the interview is one more piece to the puzzle."
Is there a chance the Lakers could trade the No. 2 pick?
"Nothing's really taking place in that regard," Kupchak said. "It would have to be a heck of an opportunity for us to consider doing something like that.
"You have to weigh it against who you think you'll get with the second pick. We're a little bit impatient, so if you came across something that would make your team better quicker -- it would probably be a veteran -- that's something you would consider.
"But there's something to be said about having the No. 2 pick in terms of building going forward. You know you're going to get a really good player. You know you're going to get a player under a contract that you can control for at least five years for a reasonable amount before you have to consider an extension. So those are pluses in addition to getting a heck of a talent."
The Lakers have many needs, Kupchak said, and it appears that after a franchise-worst 21-61 season, the roster will be completely rebuilt.
"We have a lot of players that were on one-year deals this year," he said. "We have players that have options, whether it's a team option or a player option. So those questions remain unanswered. We have a lot of roster spots.
"Assuming we pick three players and keep them on the roster for next year, that takes up three roster spots, and that gives less opportunity to somebody else. But we don't know if we're going to draft three players. We don't know if we're going to have three picks. We may draft a player that you might have to wait a year or two for in Europe. We don't know yet. But our roster looks better, clearly, after getting the pick in the lottery last Tuesday."
May, 26, 2015
May 26
1:54
PM PT
By ESPN Stats & Information
ESPNLosAngeles.com
Archive
The Los Angeles Lakers rank 31st of 333 international teams surveyed in an ESPN/SportingIntelligence report revealing the sports franchises that spend the most on their players. That ranks 13th among NBA teams.
The Lakers' average player salary is $4.8 million. The total payroll of $72 million ranks 101st.
May, 22, 2015
May 22
12:09
PM PT
Getty Images
Late last season, Los Angeles Lakers coach Byron Scott spoke of Lakers rookie guard Jordan Clarkson in the same breath as Oklahoma City star guard Russell Westbrook, saying that while Clarkson wasn't on the same level, he did at least play a similar style and have similar athleticism.
Now Lakers general manager Mitch Kupchak is making the same argument.
"If there's a player in the league that plays like him, it's Russell Westbrook," Kupchak said during a Thursday radio appearance with ESPN's Colin Cowherd. "Now, I'm not saying for a second that Jordan Clarkson is the next Russell Westbrook, but he's that kind of a ball-handling guard.
The Lakers acquired Clarkson with the 46th pick in the 2014 draft, and he earned considerable playing time last season with injuries decimating the roster.
In 38 games as a starter, many of them at point guard, Clarkson averaged 15.8 points per game on 45.8 percent shooting, with 5.0 assists and 4.2 rebounds.
Clarkson was recently named to the All-Rookie first team. But it's hard to say if the Lakers believe they're ready to give the reigns of the offense over to Clarkson next season.
"We drafted him [46th overall]; didn't know he was going to have that kind of year," Kupchak said. "But he played a lot of minutes on a team that wasn't very good. So we're very encouraged, but the jury is still out on him."
There are questions about whether Clarkson is a point guard or a shooting guard, but Kupchak said he's a blend of the two positions, much like Westbrook.
"He looks to attack the rim," Kupchak said. "He's aggressive offensively. He's not going to walk the ball up the court, make an entry pass and cut through. He's going to push the ball, look for a crack and try to get to the rim, try to make a play. When he comes off a pick, he'll look to shoot. He'll pass the ball, but I would agree -- he's not the typical, prototype, ball-handling point guard."
May, 22, 2015
May 22
9:44
AM PT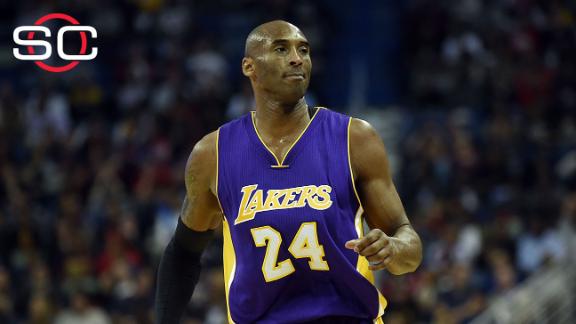 Los Angeles Lakers general manager Mitch Kupchak said star guard Kobe Bryant has told the GM that the 2015-16 season will be Bryant's last with the Lakers.
"He has indicated to me that this is it," Kupchak said Thursday in a radio appearance with SiriusXM NBA Radio.
Bryant is scheduled to make a league-high $25 million in his final contract season -- his 20th -- with the Lakers. But there's speculation that Bryant could play beyond next season, and Bryant said he hasn't ruled out that possibility.
"I think first and foremost, he's on the last year of a deal," Kupchak told SiriusXM NBA Radio. "There have been no discussions about anything going forward. I don't think there will be."
Bryant will be 37 years old when next season begins, and his past three seasons have ended early because of injury. He played only 35 games last season before suffering a season-ending shoulder injury.
"A year from now, if there's something different to discuss, then it will be discussed then," Kupchak said of Bryant potentially playing beyond next season. "I talk to him from time to time ... and he is recovering. He's running. He's getting movement and strength in the shoulder. We expect a full recovery, but yeah, he's much closer to the end than to the beginning."
Bryant took to Twitter on Friday afternoon to say nothing has changed in regards to his plans for the future.
Because of the uncertainty about Bryant's future, Kupchak said he's unsure if there will be a farewell tour next season.
"It's kind of up to the player, if they want to do something like that," Kupchak said. "And it also may take away some options a year from now and put a player in an awkward position, but he will be recognized appropriately with great gratitude when it is time."
May, 22, 2015
May 22
8:49
AM PT
ESPN Insider's Chad Ford and Kevin Pelton return to provide the kind of discussions that are happening in front offices around the NBA -- where scouts and statistical experts are breaking down NBA draft prospects using their "eyes, ears and numbers."
Following Tuesday's NBA draft lottery, we finally have the official order for the 2015 draft. Both Chad and Kevin have their own Big Boards and now it's time for them to play general manager, weighing in on the best fits for teams making the first four picks: the Timberwolves, Lakers, 76ers and Knicks.
First up: the Minnesota Timberwolves
---
If you were drafting for the Timberwolves, whom would you take No. 1?
To continue reading this article you must be an Insider