March, 3, 2015
Mar 3
12:58
PM PT
Associated Press
[+] Enlarge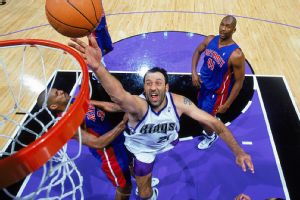 Rocky Widner/NBAE/Getty ImagesVlade Divac spent six seasons with the Kings and became a fan favorite.
SACRAMENTO, Calif. -- Former fan favorite Vlade Divac has rejoined the Sacramento Kings as vice president of basketball and franchise operations, a job that will include advising the front office and coaching staff.
The team announced Tuesday that Divac would assist in global and fan outreach initiatives and oversee the player-development programs. Divac, 47, will take a lead in talent evaluation and develop relationships between the team and European players.
Divac retired from professional basketball in 2007 and was named president of the Serbian Olympic Committee three years later.
He averaged 11.8 points, 8.2 rebounds, 3.1 assists and 1.4 blocks per game over 1,134 career NBA games with the Lakers, Charlotte and Sacramento. Divac is only one of four players in league history with at least 13,000 points, 9,000 rebounds, 3,000 assists, 1,200 steals and 1,600 blocked shots, joining Kareem Abdul-Jabbar, Hakeem Olajuwon and Kevin Garnett.
March, 1, 2015
Mar 1
6:14
PM PT

By Jovan Buha
ESPNLosAngeles.com
Archive
LOS ANGELES -- As the season drags out, Lakers Nation is divided.
Do the Los Angeles Lakers' fans want to the team to keep losing and improve its chances of keeping its first-round draft pick? Or do they want to win regardless of the draft implications?
There is no consensus either way, but Lakers head coach Byron Scott offered his perspective on what he felt the fans want.
"I think the majority of them ..." Scott said before pausing and rethinking his answer. "Let's say half and half. Half of them want us to lose, and half of them want us to win."
Does that line of thinking from loyal fans bother Scott?
"The half that want us to lose? That bothers me a lot," Scott said.
Well, Scott was clearly bothered on Sunday as those on Team Tank got their wish. The Lakers, riding the momentum of a three-game win streak, fell 108-101 to an undermanned
Oklahoma City Thunder
squad playing without
Kevin Durant
,
Russell Westbrook
and
Steven Adams
.
After holding the
Utah Jazz
and
Milwaukee Bucks
to sub-28 percent shooting in the fourth quarters of consecutive games, the Lakers were still effective against the Thunder in the final frame (OKC shot just 39.1 percent), but were never able to pull closer than six points.
Jeremy Lin
led all scorers with 20 points, while also adding six rebounds, eight assists and three steals.
Jordan Hill
claimed 14 points and 12 rebounds, and
Jordan Clarkson
and
Wayne Ellington
each scored 12 points.
Disappearing act:
What happen to the Lakers' vaunted defense over the past three games? With Durant and Westbrook out of the lineup, the Thunder had no singular offensive force capable of taking over the game, but they found a way to hurt the Lakers in transition (plus-6), from beyond the arc (plus-6) and at the free-throw line (plus-5). The Lakers were too often late on their rotations to corner 3-point shooters and gave up too many uncontested baskets at the rim when they were forced to help the helper. The Thunder may have shot only 41.2 percent, but they still put up 108 points and had plenty of good looks.
Second-unit spark:
Los Angeles' bench outperforming its starters is nothing new this season, but today's disparity was particularly jarring. No Lakers starter registered a positive plus-minus; all four bench players did. Lin was the player of the game, and Hill and
Ed Davis
palpably outplayed starters
Carlos Boozer
and
Robert Sacre
, which made it somewhat confusing as to why the bench didn't play more than they did.
Up next:
The Lakers embark on a three-game road trip and face the
Charlotte Hornets
on Tuesday.
March, 1, 2015
Mar 1
6:07
PM PT
Associated Press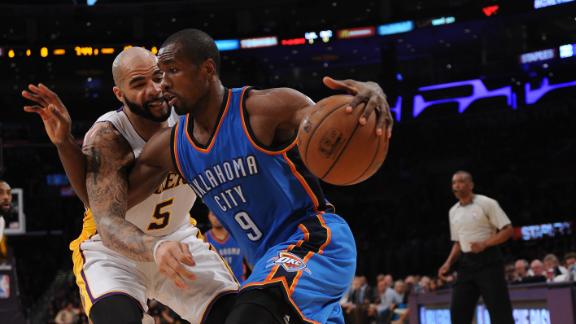 LOS ANGELES -- Serge Ibaka had 18 points and 14 rebounds, D.J. Augustin added 18 points and nine rebounds, and the Oklahoma City Thunder beat the Los Angeles Lakers 108-101 Sunday night without Kevin Durant and Russell Westbrook.
Enes Kanter had 16 points and 15 rebounds as the Thunder's supporting cast snapped a two-game skid with no help from its superstar duo. Durant is out with a foot injury, and Westbrook underwent surgery on his right cheek Saturday in his native Los Angeles.
Yet the Thunder's role players, backups and newcomers never trailed against the 14th-place Lakers, whose three-game winning streak ended meekly.
Jeremy Lin had 20 points, eight assists and six rebounds for Los Angeles, which got at least eight points from eight players, but couldn't win its season-high fourth straight.
February, 28, 2015
Feb 28
4:13
PM PT

By Jovan Buha
Special to ESPNLosAngeles.com
Archive
EL SEGUNDO, Calif. -- The 2014-15
Los Angeles Lakers
are in unfamiliar territory.
Not only are they riding a surprising three-game win streak, but perhaps more impressive, they're doing so because of their defense, which has been a historic weakness at times this season.
"We're just changing out defense a lot," coach Byron Scott said at practice Saturday. "We're going to our full-court press, we're going to our zone, we're going to our man. We're just trying to keep them off balance as much as possible. We're in scramble situations where we feel we have to make that second and third effort, and our guys are doing that. ... I'm happy with the progress."
The numbers bear that out.
The Lakers are allowing 108.0 points per 100 possessions this season, which is the second-worst mark in the NBA, according to NBA.com/Stats, but have trimmed that figure down to just 97.5 points per 100 possessions during their three wins over the
Boston Celtics
,
Utah Jazz
and
Milwaukee Bucks
-- the 10th-best defense over that span.
"[The coaching staff] told us our fourth-quarter numbers today, and the last two games have been good in terms of limiting Utah and Milwaukee's field-goal percentage," point guard
Jeremy Lin
said. "So I think that's the foundation of it all. We got stops and then we come down, spread the ball, and take what the defensive gives us."
Los Angeles held the Bucks to just 21 points on 21.1 percent shooting in the fourth quarter on Friday, and the Jazz to only 19 points on 27.3 percent shooting in the fourth on Wednesday.
Lin agrees with Scott that the unpredictability of the team's new defensive coverages -- Scott dubbed their zone as a "Spider" defense on Monday -- have made opposing offenses uncomfortable.
"It keeps them off balance," Lin said. "Scott has been able to mix in stuff -- some three-quarter court stuff, some traps, some zones, some matchup zones, some man. He's really switching it up, and I think it doesn't allow the offense to necessarily get too comfortable when we're switching things up."
The streak has Scott, who has had little to smile about this season, grinning from cheek to cheek.
"I was very happy with the way our guys played," Scott said. "We competed. The last three games defensively we've been great, especially in the fourth quarter. I'm just happy with the progress that our guys are making. The process is going well. So there's no reason not to smile."
The good vibes may not last long, though, because the
Oklahoma City Thunder
are in town on Sunday.
Even without
Russell Westbrook
, who underwent facial surgery after injuring his right cheek Saturday, the Thunder (32-27) are by far the best team the Lakers (16-41) have faced during this stretch.
"We're not used to that, but it feels good," Scott said of the pressures of maintaining a winning streak. "I think our guys are hungry to try to see if we can get four."
February, 27, 2015
Feb 27
11:35
PM PT

By Justin Verrier
ESPN.com
Archive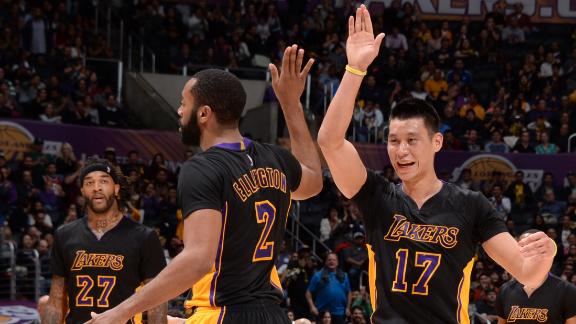 LOS ANGELES --
Jordan Clarkson
is listed at 185 pounds, which is super nice of whoever comes up these sort of things.
On the court against the spidery
Michael Carter-Williams
on Friday, it looked as though the Bucks' point guard could wrap his 6-foot-8 wingspan around the Lakers' guard and touch his own shoulders. Among a particularly hairy starting lineup of
Carlos Boozer
,
Wayne Ellington
,
Ryan Kelly
and
Robert Sacre
, the just-about-baby-faced rookie seemed no more than half of his 22 years.
There's something innocent about the Missouri product. Hopeful even. And amid a season that has seen
Kobe Bryant
sidelined by injury (again), as many wins as championships lining Jeanie Buss' office window, and a commitment to black alternate jerseys with sleeves, hope, in any form, is greeted with an MCW-sized bear hug.
Three straight wins will certainly lift spirits. Especially when said rookie -- the only one left standing of the team's two-man 2014 draft class -- leads the team in scoring two games in a row.
A fourth-quarter surge from Ellington, in which the journeyman guard rectified an 0-for-6 start with all 14 of his points, ultimately toppled the
Milwaukee Bucks
, 101-93, and lifted the Lakers to their second three-game winning streak of the season. But it's Clarkson's game-high 16 points on 7-for-9 shooting and 5-to-1 assist-to-turnover ratio, one game after scoring a career-high 20, that will linger long after Staples Center goes cold and quiet in a season destined to finish without a trip to the postseason for a second straight year.
"I'm just feeling more comfortable," said Clarkson, who after the game sported a T-shirt with the mug shot of a young Elvis Presley.
As banal as that sounds, that's important.
The Lakers have historically relied on their big, swinging legacy rather than the draft, often leveraging all those sunny days, all those titles and all those Hall of Famers to great effect; this is the same franchise that less than three years ago turned Andrew Bynum and a few party favors into
Dwight Howard
, then the best center on the planet. Their
mixed opinions on analytics
may be to their determent, but even quants concede there are inherent advantages sewn into those purple and gold jerseys. "I don't know that the Lakers
need
to be at the forefront of analytics usage," one analytics official told ESPN's Baxter Holmes, before noting the advantages even a big-market team can glean from those spreadsheets.
But as one of five teams with a loss column already north of 40, it behooves the Lakers to turn to the future. Even if Clarkson, the 46th overall pick last June, isn't in the long-term plans, developing seedlings like him could ultimately produce the type of young assets that can be flipped for the next big-money superstar in the team's long lineage.
Byron Scott, in his own way, appears to agree.
When asked what the biggest difference has been for Clarkson since the beginning of the season, the Lakers' coach replied, "Yeah, playing."
He's not wrong. After seeing his playing time yo-yo throughout the first three months of the season, Clarkson has averaged 27.1 minutes during February. And while Scott kept the rookie out of crunch time against the Bucks, he has stuck with him in the starting lineup, even as
Jeremy Lin
has averaged a team-best 16.3 points and shot 50 percent since the All-Star break.
"He's playing much better now," Scott said. "He's playing with better pace, he's not as frantic out there as he was earlier in the season. He's reading the defenses better, even though he still has a lot to learn. Defensively, he's gotten better and he's still got a long way to go. [But] his overall game has improved from training camp to this particular point."
The production from said court time, outside of the past two games, won't exactly blow you away: Clarkson is averaging 13.6 points, 3.6 rebounds and 3.9 assists per game in February while shooting 45 percent from the field and 32 percent from 3. His PER on the season is a solid 14.95, his true shooting percentage a nice 51.
But it's something. And in a season like this one, something is more than enough.
February, 27, 2015
Feb 27
10:06
PM PT
Associated Press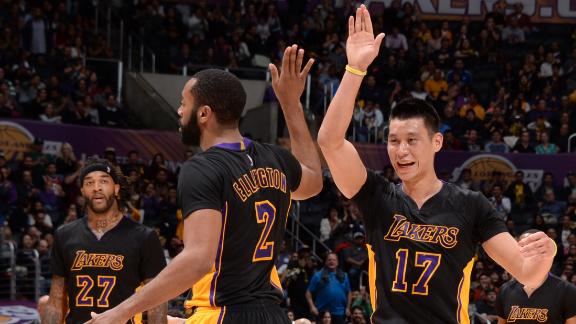 February, 27, 2015
Feb 27
9:59
PM PT

By Justin Verrier
ESPNLosAngeles.com
Archive
LOS ANGELES -- Big Game
Wayne Ellington
?
After missing all six of his attempts from the field through the first three quarters, the journeyman guard came alive in the fourth, shooting 6-for-7 and scoring all 14 of his points to rally the
Los Angeles Lakers
past the
Milwaukee Bucks
, 101-93, at Staples Center on Friday night.
The victory is the third in a row for the 16-41 Lakers, who have strung together three consecutive wins one other time this season and two or more wins in a row only four other times.
Down seven points after three quarters, the Lakers stormed back midway through the fourth, ultimately pulling ahead on an Ellington driving layup with 6:01 to play.
The Bucks threatened late, pulling to within one with just under five minutes to play, but a big Ellington 3-pointer stretched the lead to four and the Lakers never looked back.
Ellington also finished the game with six rebounds, five assists and two steals.
Jordan Hill
and
Jeremy Lin
each chipped in 14 points, and
Ed Davis
had a near-double-double (eight points, nine rebounds).
Clarkson still schoolin' (because Clarkson is also a college, you see):
Jordan Clarkson
continued to provide a glimmer of hope in an otherwise morose Lakers season. One game after scoring a career-high 22 points to lift the Lakers over the
Utah Jazz
, the rookie guard finished with a team-high 16 points on 7-for-9 shooting, five assists and four rebounds in 30 minutes, most of which coming through the first three quarters.
Swag out:
Nick Young
missed his second consecutive game because of a left knee injury. Young, who is shooting a career-low 36.6 percent from the field this season, noticed swelling in the knee the morning after Sunday's jubilation-inducing home victory over the
Boston Celtics
. He was originally listed as questionable heading into Friday's game but was ultimately unable to go.
Up next:
The Lakers stay at Staples Center for a nationally televised date with the surging
Oklahoma City Thunder
, winners of nine of their 11 games in February heading into Friday's games, on Sunday (3:30 p.m. PT, ESPN).
February, 26, 2015
Feb 26
12:00
AM PT
By ESPNLosAngeles.com
ESPNLosAngeles.com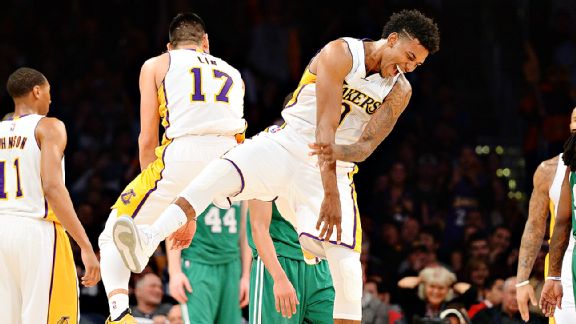 Jayne Kamin-Oncea/USA TODAY SportsThe Lakers were happy to beat the Celtics, but a postgame celebration rubbed some the wrong way.
---
Each week, ESPN.com Lakers beat writer Baxter Holmes, along with ESPN.com NBA writers Ramona Shelburne and Arash Markazi, will weigh in on three questions that are on the minds of Los Angeles Lakers followers.
1. Are Kobe Bryant and Byron Scott right to criticize the Lakers' postgame celebration against the Celtics?
Holmes:
Absolutely. Even though the Lakers haven't had much to celebrate this season, some of them acted like clowns after that game, hence all the reaction once footage of said reaction went viral. I know times are tough and it was a hard-fought overtime win against their biggest rival, but they're still professionals. Act like you've been there.

Shelburne:
Yes. Everyone gets that it has been a tough season and they were excited about getting a win. But it's just not a good look for guys on a team this bad to be celebrating as if they won something meaningful. This isn't some young team like the 76ers. This is a team with veteran players who have been around in the NBA and should know better.
Markazi:
Yes. I didn't see any problem with it, but Kobe and Byron have won multiple championships with the Lakers, and if they thought it was embarrassing, then they have every right to say so. I see where they are coming from. You've lost seven straight and 16 of 17 -- don't act as if you've won a championship after beating a below-.500 team at home in overtime.
---
2. Kobe told Bill Simmons he's not planning to retire after next season. If that happens, do you think he'll remain with the Lakers?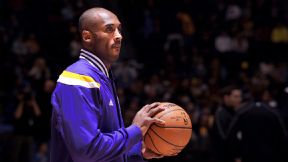 Bart Young/NBAE/Getty ImagesIf Kobe Bryant decides to keep playing after next season, will it be with the Lakers?
Holmes:
I can't imagine Kobe playing anywhere else. I think he'll be a Laker for life. The more interesting question to me is what happens if Kobe decides he wants to play beyond next season. Would the Lakers ever tell him no thanks or ask him to take less money? It'll be interesting, no doubt.
Shelburne:
Yes. And I don't think that's exactly what he told Bill Simmons. He just refuted that he'd made a decision about retiring next year, as was being erroneously interpreted by some people. He could still retire after next season, he just hasn't decided yet.
Markazi:
Yes. I think he retires with the Lakers. I think Kobe will eventually decide to retire after next season, but he's not ready to make that decision yet and isn't looking for a Derek Jeter-like farewell tour.
---
3. Which Laker are you most excited to see develop the rest of the season?
Holmes:
Jordan Clarkson
is the only one who really comes to mind. With
Ronnie Price
out for the season following elbow surgery, the Lakers' point guard depth is slimmed even further, so it comes down to Clarkson and
Jeremy Lin
to fill that role. Clarkson has looked more and more comfortable with time, and he should get plenty of it down the stretch.
Shelburne:
It's a toss-up between Clarkson and
Tarik Black
. I don't know how good either player is yet. Are they future starters in the NBA or future bench players? Could they be even better than that? I also want to see how
Ryan Kelly
develops. He has a chance to be a good stretch-4 in this league, but I think we've concluded he can't really be effective as a small forward.
Markazi:
Clarkson. He might not be the long-term solution at point guard, but he has shown he can be a solid role player and reserve on a contending team.