February, 10, 2016
Feb 10
7:12
AM PT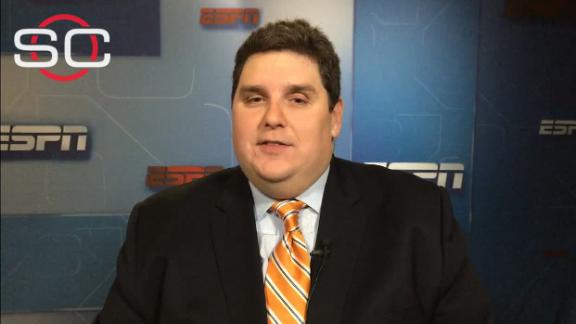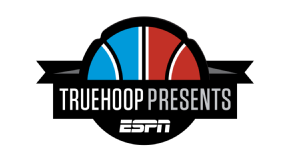 Kobe Bryant and LeBron James play each other Wednesday night, Bryant's final game in Cleveland.
Their matchup over the years has been one of cross-conference shadow boxing; injury and circumstance have kept them from ever having an epic playoff showdown. One or the other played in every NBA Finals from 2007 to 2015, but never against each other.
There is another piece of history the two share, one mostly hidden until now. According to multiple sources with direct knowledge of the event, the Lakers once contacted the Cavs to investigate whether Cleveland would make James available in a possible Bryant trade.
In the summer of 2007, Bryant was 28 years old and coming off a season where he averaged 32 points a game and shot 46 percent from the field. He had three rings and would win his first Most Valuable Player award the following season.
Bryant was under contract for two more seasons, but was frustrated with the Lakers after three consecutive subpar seasons following the Shaquille O'Neal trade.
"At that time, the Lakers had to do something. I was just losing faith in what they were trying to do. It was like I was a meal ticket," Bryant told ESPN's Baxter Holmes this week. "You come out and score 40, 50 points, fill the seats, we're going to keep the payroll at a minimum, generate revenue. It's like, look, listen, I am not with that, dude. I have to win without Shaq. I've got to do it. We've got to do something."
Bryant famously agitated for change, and as the rhetoric reached a fever pitch in the media, for a period some kind of blockbuster trade seemed almost likely.
February, 10, 2016
Feb 10
7:03
AM PT
By ESPN.com
ESPNLosAngeles.com

How Kobe Bryant's relationship with LeBron James evolved: The two stars laughed with each other as LeBron James bantered along with Kobe Bryant by the scorer's table. Bryant later teased James at center-court moments after he bricked an alley oop. Once the buzzer sounded, Bryant and James hugged each other and offered encouraging words. -- Los Angeles Daily News
Julius Randle pleases Byron Scott with improvement: The pouting Julius Randle showed as he went to bench left Lakers coach Byron Scott questioning the 21-year-old's maturity. Randle's inconsistency with his jump shot prompted Scott to express skepticism whether he could fix it before this summer. An injury to Larry Nance Jr. still left Scott in doubt as to whether Randle could reclaim his starting spot. -- Los Angeles Daily News
Lakers' Julius Randle continues on upswing as a starter: Someone had to try to grab all the wacky caroms off the Lakers' many misses. Julius Randle was up for it. The 19 rebounds he took Monday in a duck-and-cover loss to Indiana were emblematic of a young career bouncing the right way lately. -- Los Angeles Times
Lakers' TV, radio analysts face tricky role in assessing Byron Scott: James Worthy steeled himself, then offered a blunt assessment. The Lakers, in the midst of a losing season, had reached their nadir with a 48-point loss to the Clippers. The Hall of Famer glared into the camera and did what many other analysts would have. -- The Orange County Register
Kobe Bryant's sudden resurgence is weird, yet wonderful: He's got that skip to his dribble-drive again. The clean, confident follow-through on his shot is back. Somehow, Kobe Bryant has reassembled his game. In five games since being inactive on Jan. 29, Bryant has averaged 31 minutes and 26 points a game. He is having a comeback within the context of a comeback season. -- The Orange County Register
February, 9, 2016
Feb 9
5:05
PM PT

By Dave McMenamin
ESPNLosAngeles.com
Archive
INDEPENDENCE, Ohio -- Many years have passed since Tyronn Lue started his playing career as a teammate of Kobe Bryant's on the Los Angeles Lakers from 1998-2001. Yet you would have thought it was just yesterday that Lue and Bryant were donning the purple and gold together from the detail that Lue provided when sharing his favorite "Black Mamba" memory.
"We're playing 5-on-5 one day and it was the gold team against the white team," Lue recalled Tuesday after the Cleveland Cavaliers' practice before Bryant and the Lakers come to town Wednesday. "It was myself, Devean George, Brian Shaw, Mark Madsen and I want to say Slava Medvedenko, playing against the first unit -- against Fish (Derek Fisher), Kob', Shaq (Shaquille O'Neal).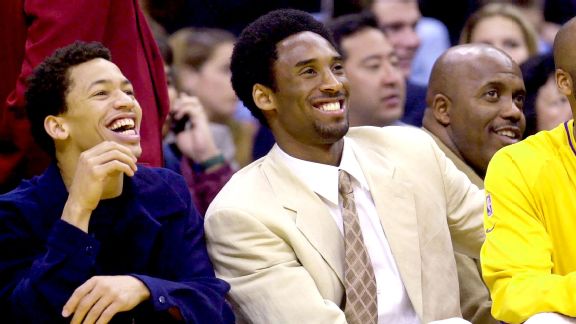 AP Photo/Kevork Djansezian)Tyronn Lue and Kobe Bryant played together on the Lakers from 1998 to 2001.
"Long story short is, it was a game point and [Bryant] drove baseline and I was at the elbow. And he drove baseline and I went down the lane and I pinned his dunk against the glass. He tried to dunk it and I blocked it against the glass. We came down, Devean George made a layup for game and Brian Shaw went, 'Ahhh, he blocked you!' He went crazy. Kobe wanted to fight me at first and then, second, he wanted to play one-on-one after practice.
"'We going to play one-on-one, me and you.' I said, 'No, I'm not playing you one-on-one.' He was so mad and then, after that, it was just, every day we stepped onto the court, he just went after me every single day. It was crazy. And then, like other stories, just playing one-on-one every day, every time we acquired a new guy, he would play those guys one-on-one after every practice just to show them, like, 'I'm the man, I'm the man.' Did the same thing with Glen Rice. Just his competitive nature, man, it was just unbelievable."
Lue was in a reminiscing mood on the occasion of Bryant playing his final game of his 20-year career in Cleveland. They've both come a long way since that scrimmage showdown in Lue's second season. Lue, 38, has gone on to become a head coach in the league just like fellow Bryant teammates in Shaw (49) and Luke Walton (35), while the 37-year-old Bryant is still lacing them up.
"It just makes me feel old," Lue said. "It shows his greatness, how long he's been able to play and sustain it for so long, it's just a tribute to him."
Lue said he has not spoken to Bryant since taking over as Cavs coach after David Blatt was fired. In fact, the last time he got in touch with Bryant was to ask him to send him an autographed No. 24 uniform for a friend. But Lue expects a warm greeting with him Wednesday.
"You talk to Kobe when you get a chance, but you don't want to wear your relationship out with him," Lue said. "Whenever I see him, whenever I call him or need to talk to him, he's always there. He always picks up and I know [Wednesday] he'll come over probably give me a hug before the game and talk to me say congratulations … [It's] such a great bond that I have with him, playing in L.A. for three years, winning two championships. It's just a bond that can't be broken."
That bond seems contrary to Bryant's "Friends Hang Sometimes, Banners Hang Forever" catchphrase he recently trademarked. Lue explained that Bryant's message was, in his opinion, the importance of prioritizing winning. It's the same reason why Bryant and LeBron James did not have much of a relationship for years.
"When you have a guy like Kobe, who is a competitor the way that he is, and then the being the No. 1 at the top of the game for so long, he's went through a lot of generations where it was the Tracy McGrady and Kobe comparison, then it was the Vince Carter and Kobe comparison," Lue said. "He kind of took that challenge and still was always No. 1. It was kind of the same thing with LeBron. [Since he came] into the league, he's always had that situation where he had to be the best, every single night. LeBron's withstood a lot of guys also. So Kobe, knowing LeBron's coming in to try to take his spot, he's not going to open up to him and give him any leeway or give him any reason to try to come in and take his spot is what he was thinking. I'm glad they have a great relationship [now] because, as far as I've been in the league, those two guys have carried the league for a long time."
Watching Bryant from afar this season, Lue sees his former teammate enjoying the game and opening up more than he ever has in the past. He wants the same for James someday, when "The King" faces his own basketball mortality.
"I know there's a lot of media pressure and lot of pressure to win championships, but just for LeBron, I hope he's able to enjoy it," Lue said. "You know, sit back and just take it all in and enjoy the game and enjoy the success he's had. I think that will be good for him like it is for Kobe right now."
February, 9, 2016
Feb 9
8:34
AM PT
February, 9, 2016
Feb 9
7:40
AM PT
ESPN.com news services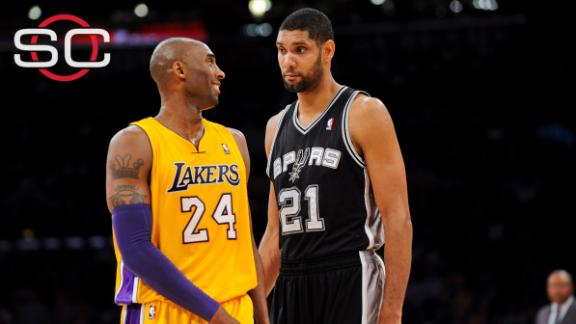 Kobe Bryant and Tim Duncan have achieved so much during their remarkable NBA careers, winning a total of 10 championships between them. But if you had to choose, who would you say has had the better career?
Hall of Famer Kareem Abdul-Jabbar -- a Los Angeles Lakers legend whose statue stands outside the Staples Center -- is going with "The Big Fundamental" based on his health and overall, sustained success with the San Antonio Spurs.
"Jeez, I would say that Tim Duncan has had a better career just because they've been able to win more consistently, and they didn't have to rely on Tim all the time," Abdul-Jabbar said during a recent "Conversations with Tyler" interview with Tyler Cowen at George Mason University.
Another Lakers legend and Hall of Famer, however, disagrees with Abdul-Jabbar's choice.
"Kareem can have his opinion," Magic Johnson told SportsCenter on Tuesday. "Both of them won the same amount of championships. I'm always going to be partial to a Laker because I love Kobe, I know him as a man and a person. What he did for the city and for basketball fans all over the world ... he was a guy who made these young players work out harder, do more, because he was working out so hard. LeBron, all those guys, followed Kobe Bryant. And he's been a guy who's said, 'Hey guys, this is how you do it,' and guys have followed."