December, 22, 2014
Dec 22
5:37
PM PT
[+] Enlarge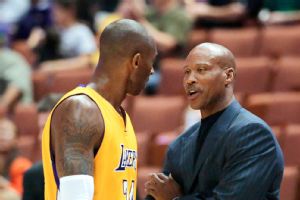 AP Photo/Jae C. HongByron Scott vowed to create a plan to reduce Kobe Bryant's burden that enables Bryant to play at full strength while on the court.
EL SEGUNDO, Calif. -- Byron Scott knows that Kobe Bryant can't play as many minutes as he's been playing and that Bryant can't handle the offensive workload he's been trying to handle.
But Scott, the Los Angeles Lakers head coach, has not come up with a firm plan of how to rein in his 36-year-old shooting guard, who routinely talks about feeling more and more fatigued yet continues to push himself as if he's at least a decade younger.
"You know him," Scott said after practice at the Lakers' facility on Monday, which Bryant sat out to rest. "It's real difficult. He's such a competitor. He wants to go out there and play every minute that he can. The mind is willing, but sometimes the body is not."
Bryant had one of his worst performances of the season Sunday night against the Sacramento Kings, finishing with more turnovers (nine) than made field goals (eight). He scored 25 points, but it took 30 shots, and the Lakers lost 108-101.
Scott told reporters after that game he is considering holding Bryant out of games to rest, and Bryant didn't seem to argue too much, saying, "There's probably not much of an option ... it might make sense."
December, 22, 2014
Dec 22
3:27
PM PT
EL SEGUNDO, Calif. -- Christmas came early for Los Angeles Lakers guard Nick Young, who received a surprise present from his girlfriend/singer Iggy Azalea: a blue 1962 Chevrolet Impala.
The classic car was waiting for Young outside the Lakers' practice facility here Monday, and it featured a large red bow and a note:
"To: Swaggy P. From: Iggy"
December, 21, 2014
Dec 21
5:44
PM PT
Associated Press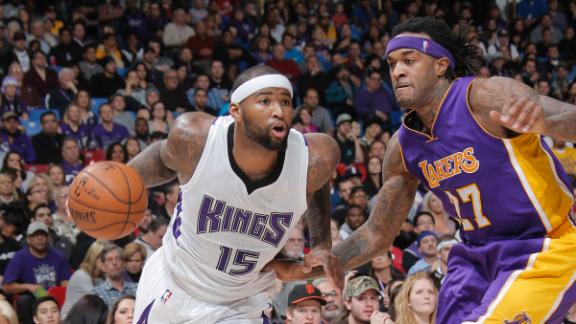 SACRAMENTO, Calif. -- DeMarcus Cousins had 29 points and 14 rebounds in his second start since returning from a serious illness, and the Sacramento Kings snapped a five-game losing streak with a 108-101 victory over the Los Angeles Lakers on Sunday.
Rudy Gay scored 24 points, and Ben McLemore added 23 points and eight rebounds to help the Kings pull away late. Sacramento had lost 10 of 12 games -- going 2-8 while Cousins recovered from viral meningitis -- and fired coach Michael Malone last week.
Tyrone Corbin won for the first time in three games as Sacramento's interim coach.
Nick Young scored 26 points, and Kobe Bryant had 25 for the Lakers, who have lost six of eight. Bryant shot just 8 of 30 and had five rebounds and three assists.
December, 20, 2014
Dec 20
1:00
PM PT

By Tim MacMahon
ESPNLosAngeles.com
Archive
Count
Los Angeles Lakers
legend
Kobe Bryant
among those impressed by the Dallas Mavericks' deal for his breakfast buddy,
Rajon Rondo
.

"It obviously makes them a much, much better team," Bryant told reporters in Los Angeles via ESPN.com's Baxter Holmes. "On top of [being] a great distributor [and] an orchestrator, he's a phenomenal defensive player as well. Makes them even more lethal."
The Mavs are 19-8 despite
Jameer Nelson
's struggles as their starting point guard. Does dealing for Rondo make Dallas a legitimate title contender?
"Yeah, probably," Bryant said. "I would say something nice, but I'll refrain from saying something nice because of Mark Cuban. So I'll bite my tongue."
December, 20, 2014
Dec 20
11:53
AM PT

By J.A. Adande
ESPNLosAngeles.com
Archive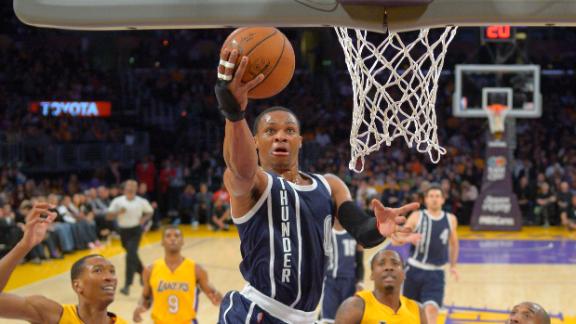 Notes and observations from working the Thunder-Lakers game Friday night:
Kevin Durant
feared the worst. When he stepped on Marreese Speights' ankle while driving to the basket near the end of that scintillating first half in Oakland Thursday night his first thought was that he had bent or broken the screw that was inserted into his right foot during his October surgery.
X-rays showed that the screw was intact. That was the big relief. But on Friday morning the ankle still felt too sore to play in that night's game against the
Los Angeles Lakers
. Durant took a few set shots about an hour before tipoff, then gingerly walked over and took a seat on the sideline. I asked him if he would be able to play in the Thunder's game against the
New Orleans Pelicans
in Oklahoma City on Sunday and he said he wasn't sure. The expression on his face could best be classified as "questionable."
Given the Thunder's penchant for caution when it comes to dealing with injuries, I would guess he'll sit out again. The Thunder didn't rush him back from surgery even while the losses mounted. They tried to limit his workload when he first returned after missing the first 17 games of the season following the surgery; he didn't play more than 30 minutes in any of his first seven games back. But he played 35 minutes against the
Sacramento Kings
Tuesday night, and was on pace for 38 minutes Thursday against the Warriors. He also was on pace for 60 points, hitting 10 of 13 shots, playing so well that coach Scott Brooks was reluctant to take him out at all.
"I was on my way," said Durant, who scored a career-high 54 points the previous time he played the Warriors.
Durant said it as he was on his way back to the locker room, where he remained for the game Friday night. He couldn't watch the Thunder beat the Lakers from the bench because he didn't have a suit or sport coat with him, so he couldn't be dress code-compliant. (You try last-minute shopping to find a jacket to fit a 6-10 guy with outlandishly long arms). Maybe it's time to re-evaluate the dress code. Would it really be so bad to see Durant on the bench cheering on his teammates, even if he were dressed as outlandishly as
Russell Westbrook
?
LAKER LETHARGY:
Something looked off with
Kobe Bryant
throughout the game. When he was on the bench his head was down and he sucked in air like a Shop-Vac. On the court he kept squinting, as if his eyes had trouble focusing. I asked three members of the Lakers organization -- two who were seated on the Lakers bench and one who was in the locker room at halftime -- if Bryant was sick and they all said no.
Bryant told reporters after the game that he was fatigued, and he and Byron Scott wondered if practicing Wednesday had taken his legs from him. Maybe the Lakers need to adopt the Dallas Cowboys' Tony Romo plan and hold him out of Wednesday practices from here on out.
The troubling thing for the Lakers is that Bryant's fatigue seemed to drag some of his teammates down with him. In a timeout midway through the third quarter Scott implored his players to "suck it up" for the rest of the game, and he spent most of our interview after the third quarter discussing his concern about their lack of energy.
The flip side is that the Lakers' reserves showed plenty of energy in the fourth quarter -- even after their scoring and spiritual leader
Nick Young
was kicked out for a flagrant two foul. The lineup of
Wesley Johnson
,
Jeremy Lin
,
Carlos Boozer
,
Wayne Ellington
and
Robert Sacre
took the Lakers from an eight-point deficit to a three-point lead, which the Lakers couldn't hold when starters Bryant and
Ed Davis
returned.
Boozer has responded the best way possible since Scott moved Davis into his starting role on Dec. 7. In the six games he's played as a reserve Boozer has scored in double figures each time (he never hit double-digits in more than five consecutive games as a starter this season). He's averaging 15 points and 9.5 rebounds and shooting 54 percent off the bench, compared to 12.6 points and 6.6 rebounds and 50 percent shooting as a starter.
To go from a starter on a playoff team in Chicago last season to a backup on a losing team can be jarring. But Boozer has remained engaged. His behavior in the huddle is telling. Sometimes players who aren't in the game spend timeouts hang out on the fringes, checking out the crowd or the dance team. Boozer spent a third-quarter timeout hovering over Scott's shoulder, listening intently, staring at the play Scott drew up even though Boozer wouldn't be on the court to execute it.
Small bits of professionalism like that are reasons the Lakers' season hasn't tumbled into a freefall. But the heavy legs of their highest-volume shooter, Bryant, are among the reasons they won't leap into the playoffs.
December, 20, 2014
Dec 20
1:18
AM PT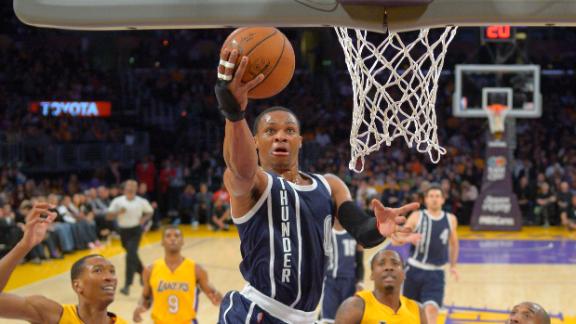 LOS ANGELES -- You know the scenario. Everyone does. We've seen it unfold so many times for so many years that to expect it to unfold any other way feels sacrilegious.
The
Los Angeles Lakers
have a chance to win on the game's final play -- and, of course, the ball goes to
Kobe Bryant
.
It happened again Friday, as the crowd again rose to its feet at Staples Center, anticipating the Lakers' star guard burying a game-winning buzzer-beater, another clip for the highlight reel.
With his team down one with 6.3 seconds left, Bryant followed the age-old script and went isolation against
Oklahoma City Thunder
swingman
Andre Roberson
.
Roberson had contested all of Bryant's jumpers to that point, and he was effective: Bryant had missed 11 of his 14 attempts before that final play.
Roberson was in position, and he contested Bryant's last jumper, too. Bryant pump-faked, trying to draw contact, then fired from 17 feet ... and missed. The Lakers lost 104-103 and fell to 8-18.
"It was the shot I wanted to get," Bryant said following his nine-point performance on 3-of-15 shooting. He also had eight assists and eight rebounds in 35 minutes.
"I was trying to figure out if I had time to draw contact. It just threw me off a little bit."
[+] Enlarge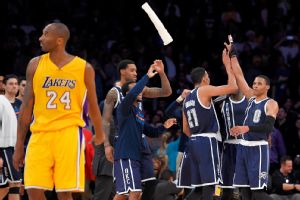 AP Photo/Mark J. TerrillKobe Bryant's shot at redemption came up short.
The 36-year-old Bryant looked tired during the game and admitted as much afterward, which he has done several times throughout his 19th NBA season.
"Yeah, I didn't have my legs," he said. "Pretty frustrating. I've got to figure it out."
Bryant shot 1-of-5 in the fourth quarter.
Jeremy Lin
, meanwhile, shot 3-of-5. Why did Lakers coach Byron Scott go to a weary Bryant instead of to Lin's hot hand?
"32,000-plus points," Scott said, ball-parking Bryant's career total.
Lin gave a somewhat diplomatic response when asked about Bryant's final shot.
"How many game winners has he hit like that?" Lin asked, referencing Bryant. "I'm obviously rooting for him to hit that shot. I thought it was a good look. It was a very, very hittable shot. That's just a matter of time before he starts hitting those game winners."
Then Lin added, "I like game winners too. I would love to shoot some. But I get it. That guy is kind of the king of game winners. He's going to hit that shot. He'll figure it out. That's why he is who he is."
Lin indeed gets it -- Bryant gets the last shot in Lakerland, no matter what.
Bryant has now missed 12 consecutive potential tying or go-ahead shots in the final five seconds of the fourth quarter or overtime, which ties for the longest such streak in his career; he also missed a dozen such shots in a row between 2005 and 2006.
Some would argue that Bryant isn't as "clutch" as many believe, a point that advanced statistics has made all but indisputable.
Others would argue that, generally speaking, it's just not all that wise to have a 36-year-old who has had consistent fatigue problems take the final shot, especially when said player hasn't really made anything all night long anyway.
That notion has nothing to do with being clutch -- it's just simple logic.
Bryant's legacy is to take those shots, and so he will, but his fatigue is becoming a troubling issue. He said he's still trying to figure out when he has "his legs" and when he doesn't.
"Some games they're there, some games they're not," said Bryant, who's averaging a team-high 35.4 minutes per game this season.
The Lakers had two off days before Friday's game, and Bryant practiced during only one of them -- Wednesday; even then, he practiced only part of that day.
But Scott said he believed Bryant pushed too hard even in that limited practice time.
"He wanted to compete in practice and get guys going," Scott said. "Ultimately, that maybe kind of bit us in the butt a little bit. Maybe I just have to say, let's just take the whole day off, instead of coming out and getting shots or doing some of the things that he did."
Is Scott concerned? He says he is not. Perhaps he might feel differently if his team were playing for anything this season aside from a top lottery pick.
For his part, Bryant said he might have pushed himself too hard Wednesday.
"Maybe," he said. "It's a balancing act, right? Just trying to figure out when to do it, when not to do it. I'm just trying to figure out proper rest and all that other stuff. I'm just trying to get a good system, trying to start getting some consistency in these legs."
Can he judge how his body will react by how he feels when he enters the arena? Or does he change as the game goes along and he catches a second wind?
"It's kind of play to play, actually," Bryant said.
He's already learning that his season will hinge on him figuring out how to keep his body fresh -- if such a thing is even possible at his age, with the minutes that he's playing, with all the minutes that he already has played throughout his career.
"Hopefully I can figure something new out tomorrow," he said. "It's just trial and error."
December, 19, 2014
Dec 19
11:34
PM PT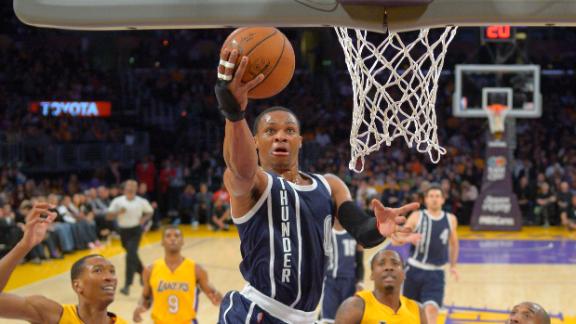 LOS ANGELES -- Lakers guard Nick Young called Steven Adams a "sneaky, dirty player" after an on-court scuffle with the Oklahoma City center led to Young's ejection during the Thunder's 104-103 win Friday night.
The two players got tangled up early in the fourth quarter, and Young threw a forearm into Adams' throat, which led to a flagrant foul 2 and an ejection with 11:03 left.
"I lost my mind a little bit, checked into the crazy house, got back out," said Young, who finished with 10 points in 13 minutes off the bench.
Said Adams, "I just set a screen. They called it an illegal screen, which I didn't think it was. But you know, he just got heated because it was going back and forth and he just got frustrated; that's all that happened."
Lakers coach Byron Scott wasn't happy Young put himself in a position that led to his ejection.
"Adams, that how he is," Scott said. "He's going to grab and hold and do things to irritate you, and Nick definitely overreacted. He's too valuable for us to overreact and get kicked out of the game like that."
Asked whether he's getting used to these situations, Adams laughed.
It's not the first time the notoriously physical Adams has gotten beneath an opposing player's skin. Five players were ejected, suspended or both last season after scuffling with him: Nate Robinson
December, 19, 2014
Dec 19
10:12
PM PT
LOS ANGELES -- Even though the
Oklahoma City Thunder
were without
Kevin Durant
, they still had enough to squeak by the
Los Angeles Lakers
on the second night of a back-to-back road set. And by "enough," we're largely talking about
Russell Westbrook
.
Play of the game:
It was a back-and-forth affair that came down to the final play, and the Lakers had the ball with 6.3 seconds left in the fourth quarter, trailing by one. They called timeout, and everyone in the building knew who was going to take the final shot.
Kobe Bryant
's 17-foot jumper just before the buzzer sounded fell short, dropping the Lakers to 8-18. Bryant finished with 9 points, 8 assists and 8 rebounds, but he shot just 3 of 15 from the field.
Player of the game:
Westbrook carried the Thunder without Durant, who missed the game after spraining his right ankle the night before against the
Golden State Warriors
. Westbrook finished with 31 points on 9-of-22 shooting, hitting all 13 of his attempts from the free throw line. He also added 10 assists and 5 rebounds.
Reserve of the game:
Reggie Jackson
scored 25 off the bench for the Thunder, hitting 9 of 15 from the field.
Hullabaloo of the night:
Stop me if you've heard this one before -- Oklahoma City center
Steven Adams
got under an opposing player's skin and said opposing player retaliated. The latest player to join an ever-growing list of opponents irked by Adams' aggressive style is Lakers guard
Nick Young
. Young was agitated by Adams and threw a forearm into Adams' throat with 11:23 left in the fourth quarter. After a review, Young was tagged with a Flagrant-2 foul and ejected. He finished with 10 points on 4-of-8 shooting in 15 minutes.
December, 19, 2014
Dec 19
10:11
PM PT
Associated Press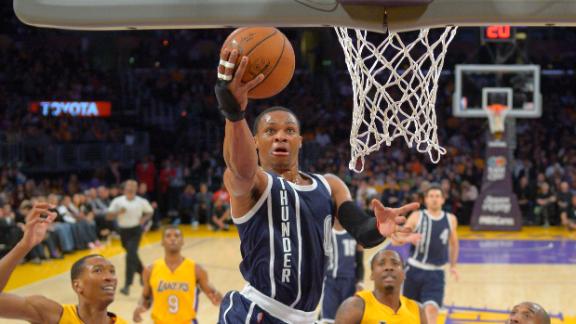 LOS ANGELES -- Russell Westbrook scored 31 points and hit a key jumper with 38 seconds left, and the Oklahoma City Thunder overcame the absence of NBA MVP Kevin Durant for a 104-103 victory over the Los Angeles Lakers on Friday night.
Kobe Bryant missed a 17-foot jumper right before the buzzer for the Lakers, who had won three of four. Bryant had nine points on 3-of-15 shooting, but added eight rebounds and eight assists.
Reggie Jackson scored 25 points and hit the go-ahead free throws with 1:05 left for the Thunder, who persevered down the stretch for their eighth victory in nine games.
Durant sat out after spraining his right ankle in the first half of the Thunder's loss at Golden State on Thursday night.
December, 19, 2014
Dec 19
2:53
PM PT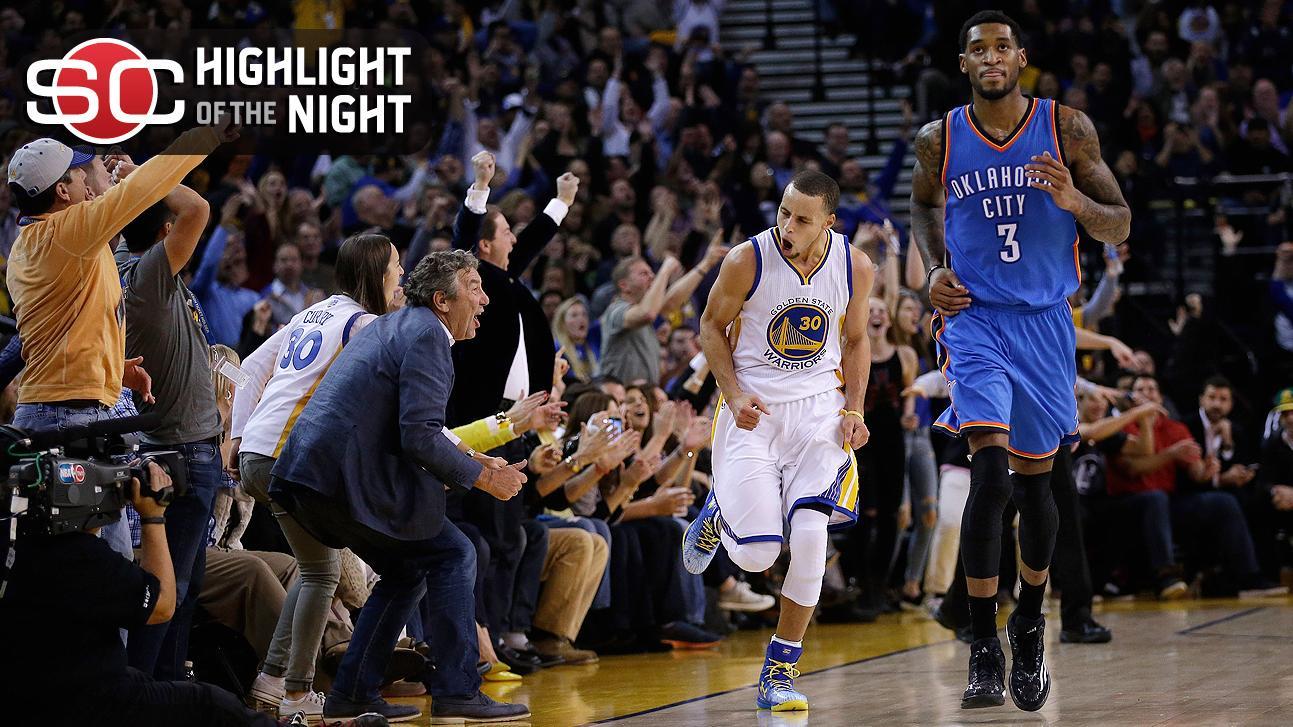 Kevin Durant sat out Friday night's 104-103 win against the Los Angeles Lakers because of a sprained right ankle suffered Thursday against the Golden State Warriors.
Durant will be re-evaluated Saturday and remains day-to-day. The Thunder host the New Orleans Pelicans on Sunday.
He injured his ankle seconds before halftime against the Warriors when he stepped on Marreese Speights' foot on a drive to the basket. Durant, who had scored 30 points in the opening half, did not return to the game. He had X-rays as a precaution, and results were negative.
"I was a little nervous," Durant said after the game. "But I knew when I got up and started walking it felt good. So I just wanted to make sure with the X-rays everything was good."
The injury isn't considered serious, as Durant left the arena Thursday not wearing a walking boot or crutches, with only a mild limp.
Durant underwent surgery to repair a stress fracture in his right foot in October, missing six weeks because of it. He has played in nine games since, all under a minutes restriction that was recently lifted from 30 to 35. He said after the game Thursday that he could have returned but was advised by the team's medical staff to sit.