February, 1, 2015
Feb 1
1:30
PM PT
Associated Press
NEW YORK -- Carmelo Anthony scored 18 of his 31 points in the third quarter and the New York Knicks beat the Los Angeles Lakers 92-80 Sunday.
With Kobe Bryant out for the season and both teams among the worst in the NBA, it was anything but a Super Sunday in New York, where the national TV audience that was originally scheduled to see it missed the Lakers shooting 35.5 percent from the field.
Anthony stood out above the ugliness, soaring to dunk an alley-oop pass in the second quarter before turning mostly to his jumper in the third to help New York pull away. He shot 13 of 25 and grabbed eight rebounds.
January, 30, 2015
Jan 30
5:19
PM PT

By Jovan Buha
ESPNLosAngeles.com
Archive
EL SEGUNDO, Calif. --
Los Angeles Lakers
coach Byron Scott faced a difficult decision down the stretch of Thursday's 123-118 double-overtime victory over the
Chicago Bulls
: Stick with the veteran point guard
Jeremy Lin
, or insert guard
Jordan Clarkson
and test the rookie's mettle against an Eastern Conference juggernaut.
Scott chose the latter option, and his gamble paid off. Upon re-entering the game with 4:03 remaining in the fourth quarter, Clarkson reasserted himself after some shaky early play, scoring 9 points (2-of-5 FGs, 5-of-5 FTs) and withstanding the immense ball pressure and trapping the Bulls' defense applied on him over the final 14 minutes.
"You gotta learn," Scott said. "Sometimes you have to throw a guy in the fire and see what he's made of. I thought Jordan kind of fell on his face for a few minutes, but obviously kept his composure, gathered himself and played really well in the second overtime."
[+] Enlarge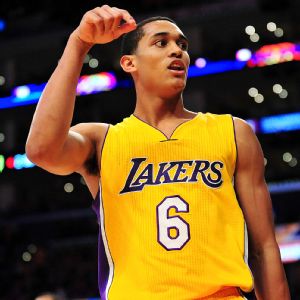 Gary A. Vasquez/USA TODAY SportsJordan Clarkson embraced the chance to direct the Lakers to a late win.
Clarkson finished with 18 points (6-of-15 FGs), 4 rebounds, 4 assists, 2 steals, 2 blocks and 3 turnovers against the Bulls. The explosive, athletic second-round pick has been inconsistent -- but solid overall -- in his brief time as a starter, averaging 13.8 points on 40.4 percent shooting, 2.5 rebounds, 3.3 assists, 1.0 steal, 0.5 blocks and 2.5 turnovers through four games.
As his teammates are quick to point out, it takes time for a rookie point guard to learn new plays and reads, figure out teammate tendencies, and serve as an extension of the coach on the floor. But stretches like Thursday's crunch-time performance show how Clarkson is rapidly improving at a rate even Scott couldn't predict.
"I think we have a pretty good basketball player in this young kid," Scott said. "When he falls on his face, he gets right back up. He wants to get better; he works his butt off every single day. If you look at his first game [starting] against San Antonio, and his last game last night, he's shown improvement.
"That's all you want from a young point guard. He's developing nicely, and I think he'll continue to do that."
Perhaps the secret to Clarkson's success has been a recent meeting with teammate and former MVP point guard
Steve Nash
, who is back around the team, according to general manager Mitch Kupchak. Nash is taking on a mentorship role with Clarkson, and the two met and spoke in-depth for the first time on Wednesday.
So, what did they work on?
"Just a little bit of everything," Clarkson said. "We did a lot of film work; just reading plays, just slowing down and reads and stuff to look at. That's really it right now. We'll see. I'm going to meet with him again soon."
Did Nash's insight help Clarkson against the fierce Bulls defense?
"Yeah," Clarkson said. "I tried to implement some of that stuff. It's hard to do it off one day of work, but it's just going to continue to grow. It's just putting one brick down at a time."
Clarkson says the biggest thing he's tried to take away from Nash's game is his "pace." Nash was the ultimate floor general in his heyday, and the stubborn, competitive Clarkson is trying to learn that finding his teammates can be just as effective as attacking himself.
"I'm just playing at different speeds," Clarkson. "At the same time, trying to get two defenders to commit so I can get somebody else a shot. … I don't have to beat the trap with the ball. I can just pass it and get it out of my hands and let my teammates make a play.
"Just learning that. Just being thrown into it -- it's a good learning experience for me."
Practice Notes:
January, 30, 2015
Jan 30
10:58
AM PT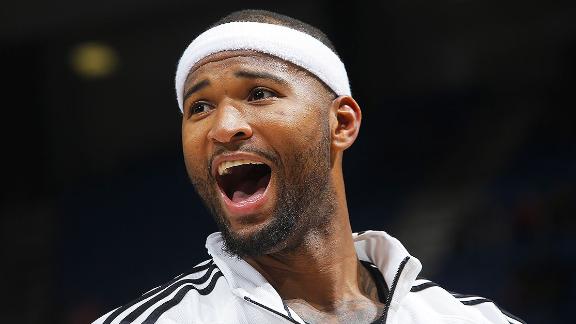 Sacramento Kings center DeMarcus Cousins will replace injured Los Angeles Lakers star Kobe Bryant at the 2015 NBA All-Star Game, commissioner Adam Silver announced Friday.
"Kobe's a legend, we all know that," Cousins said before the Kings' game against the Cleveland Cavaliers on Friday. "Filling his shoes in the All-Star Game, it speaks a lot. So, I'm honored."
Cousins, who said he did not watch the TNT telecast Thursday night announcing the All-Star reserves, said he had resigned to the fact that he wasn't going to make the team, going as far as texting Portland Trail Blazers guard Damian Lillard and suggesting he should be Bryant's injury replacement. He was told he made the team Friday afternoon in a phone call from Kings general manager Pete D'Alessandro.
"Honestly, I really didn't expect myself to make it," Cousins said. "I mean, the West was so tough this year and there are so many talented guys in the West. But the crazy thing is, me and Dame were texting after the results came out and I was telling him, 'Man, you know you're going to make this team, like, it's nothing.' It's just kind of crazy how things worked out."
It is the first All-Star appearance for Cousins, who ranks fifth in the NBA in scoring (23.8 points per game) and third in rebounding (12.3 rebounds per game).
January, 29, 2015
Jan 29
11:55
PM PT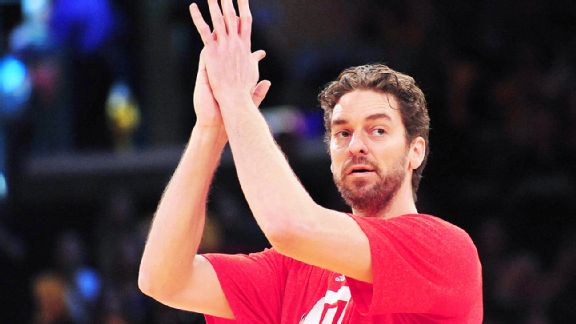 Gary A. Vasquez/USA TODAY Sports Pau Gasol received a standing ovation from the Staples Center crowd before Thursday's game.
LOS ANGELES -- In a Los Angeles Lakers franchise so stocked with legends it's difficult to single out individuals for superlatives, finding a description for Pau Gasol is remarkably simple. He's the best Lakers acquisition of the 21st century.
The flip side is that letting him leave without receiving anything in return is the Lakers' biggest mistake of the century.
First, Pau's place in Laker lore. There's no easy answer for greatest Laker of all-time when Magic Johnson, Kobe Bryant, Jerry West and Elgin Baylor are among the nominees. And good luck picking a starting center between Kareem Abdul-Jabbar, Shaquille O'Neal, Wilt Chamberlain and George Mikan without an argument.
January, 29, 2015
Jan 29
11:32
PM PT
ESPN.com news services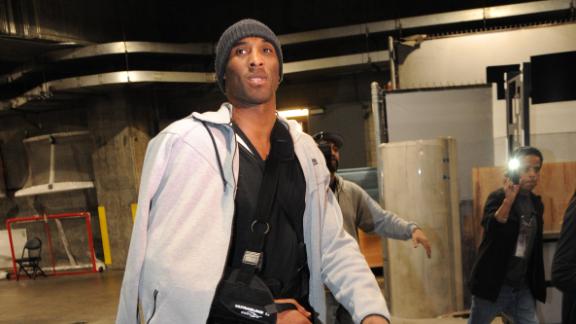 LOS ANGELES -- Kobe Bryant addressed his expectations a day after shoulder surgery Thursday night in a brief interview with ESPN, saying he planned on being ready to play come September for the Los Angeles Lakers' training camp.
"Yeah, that's the plan," he said.
Bryant said his rehab over the next couple of months will involve "a lot of patience."
"Sore, but it's OK," Bryant said of his shoulder.
He said media opinion on whether he should return for a 20th season or retire wouldn't affect his decision.
"I don't really listen much to what people have to say, to be honest with you," Bryant said.
Bryant was back at the Staples Center for a brief visit with former teammate Pau Gasol before the Lakers faced the Chicago Bulls.
The former teammates spoke privately before Bryant left. Bryant said he wasn't feeling well enough, 31 hours after the operation, to go on the court.
Gasol later received a standing ovation from fans before the Lakers' 123-118 double-overtime win as a video tribute played on the big screens at Staples Center.
Bryant is expected to need nine months to recover from his third straight season-ending injury, a torn rotator cuff in his right shoulder suffered last week that he had surgically repaired Wednesday.
January, 29, 2015
Jan 29
10:43
PM PT
LOS ANGELES -- The
Los Angeles Lakers
stood one defeat from tying their longest losing streak in franchise history.
Then they built a 15-point lead over a legitimate title contender.
And they almost let it slip away on several occasions when it was all on the line, but ultimately the Lakers fought back and held on to win a 123-118 double-overtime thriller over the
Chicago Bulls
at Staples Center here Thursday.
The win snaps a nine-game losing streak, the Lakers' longest skid since they dropped a franchise-worst 10 in a row in April 1994.
The Lakers improved to 13-34 while the Bulls fell to 30-18.
Player of the game:
This was a close call, but let's give the honor to Lakers forward
Jordan Hill
. He tied a career high with 26 points on 11-of-22 shooting and added 12 rebounds.
Hill hit a huge 20-foot jumper late in the first overtime that extended the game to another session. He hit another big jumper late in the second overtime and grabbed several clutch rebounds throughout.
Homecoming king:
Lakers coach Byron Scott called for Lakers fans to give Gasol a standing ovation, and they delivered. After a touching tribute video before tipoff, Gasol came to center court as fans rose to their feet and rained down cheers.
Lakers star
Kobe Bryant
was expected to say some pregame remarks on behalf of his former teammate, but the Lakers said he was still in pain and groggy from medication following season-ending shoulder surgery Wednesday. Bryant spoke to Gasol privately before leaving the arena, the Lakers said.
As for the game itself, Gasol finished with 20 points, 10 rebounds and six assists. He also made a huge tip-in basket that tied the score with 11 seconds left in regulation, closing out a 9-0 run that gave the Bulls a chance.
Stat of the night:
Bulls guard
Jimmy Butler
shot 18 free throws; the Lakers as a team shot 25.
Butler made 16 of his attempts at the charity stripe and the Bulls made 26 of 32. Butler scored a game-high 35 points, matching his career high. He scored 27 in the second half. On the flip side,
Derrick Rose
shot 7-of-26 from the field for 17 points and wasn't a factor in either of the overtimes.
Factoid:
Thursday marked the Lakers' first double-overtime game since April 22, 2012 versus Oklahoma City.
Loose balls:
Lakers guard
Nick Young
(sprained ankle) missed his second consecutive game.
January, 29, 2015
Jan 29
10:42
PM PT
Associated Press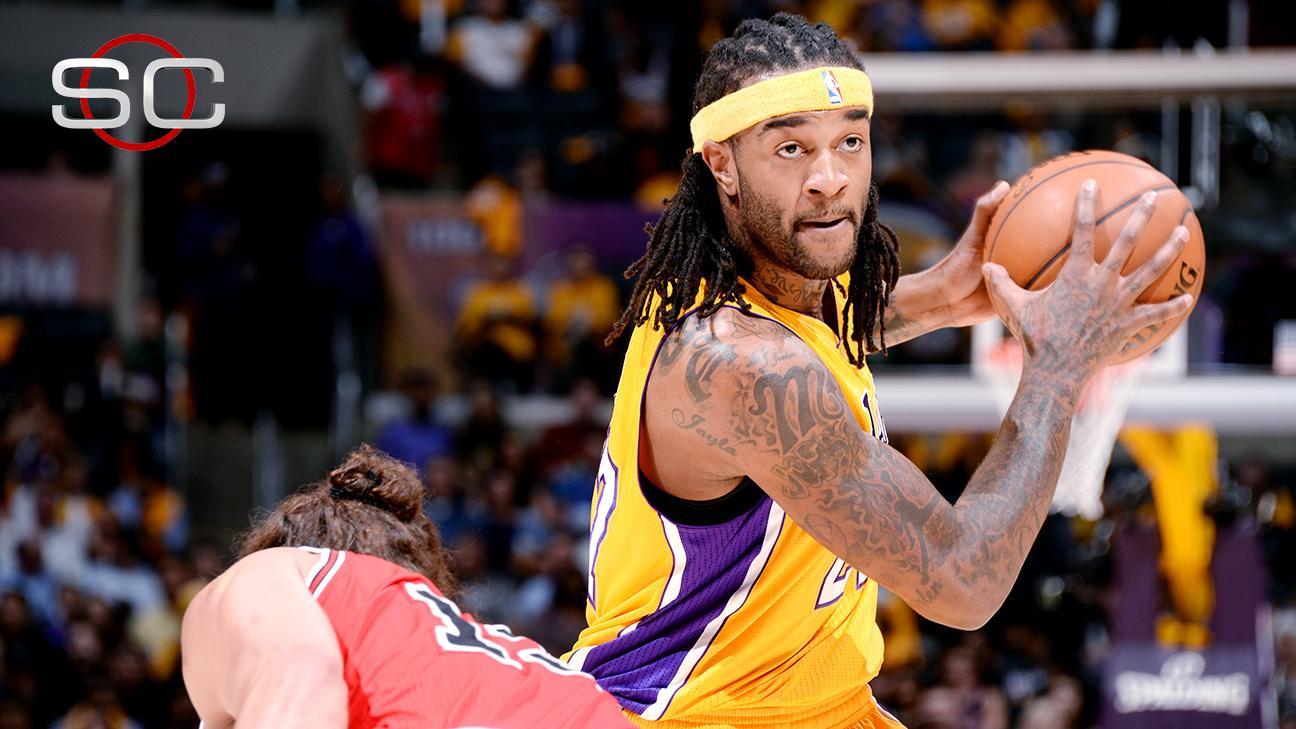 LOS ANGELES -- Jordan Hill scored 26 points and forced the second overtime with a clutch jumper, and the Los Angeles Lakers snapped their nine-game losing streak in thrilling fashion with a 123-118 victory over the Chicago Bulls on Thursday night.
Wayne Ellington scored 23 points and rookie Jordan Clarkson added 18 for the Lakers, who held off the Bulls for their first victory since Jan. 9.
With big late baskets from everybody in their patchwork lineup, the Lakers avoided matching the 1994 squad coached by Magic Johnson for the longest skid in the 16-time champion franchise's history.
All-Star Jimmy Butler matched his career high with 35 points for the Bulls, who rallied from a nine-point deficit in 70 seconds late in regulation.
January, 29, 2015
Jan 29
8:14
PM PT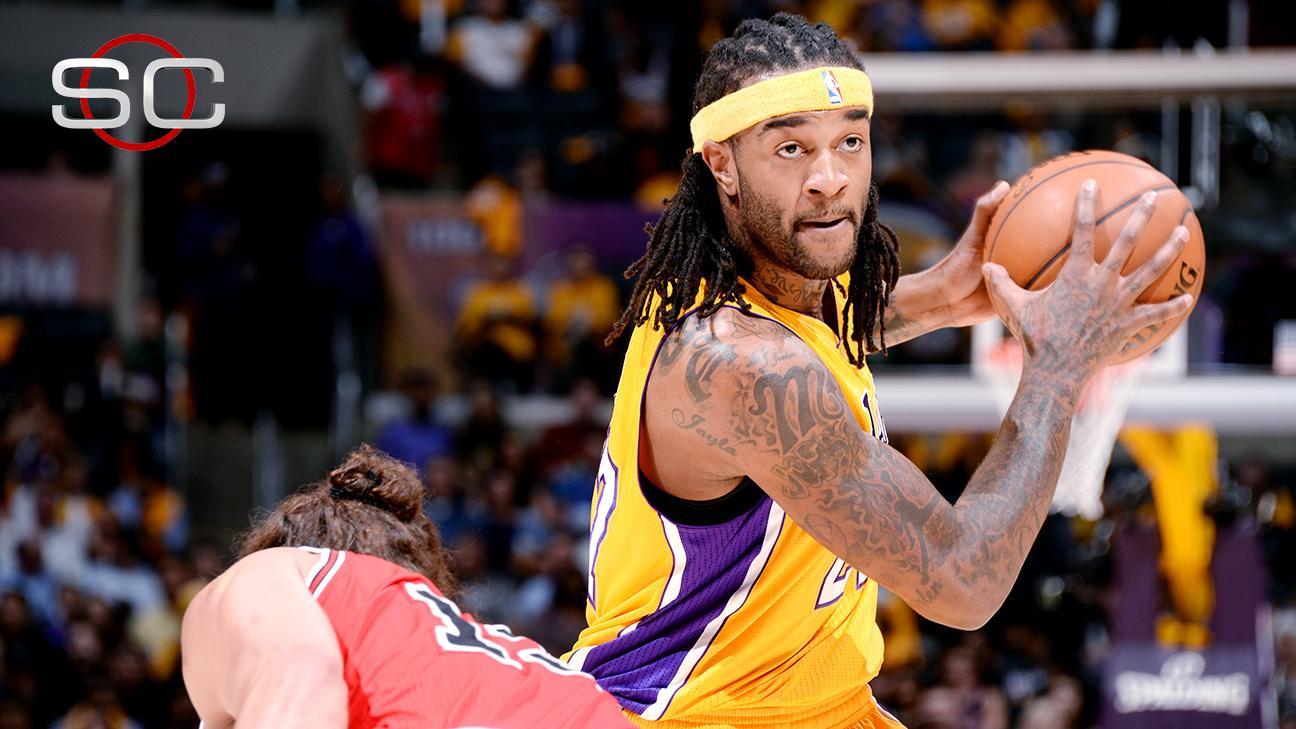 LOS ANGELES -- It was overwhelming at first, the tribute video playing back the memories, the cheers and applause raining down, the fans wearing "Thank Pau" shirts with his accomplishments with the Lakers listed on the back.
"So many emotions -- and that ovation at the start of the game, hard to focus," Pau Gasol said afterward, surrounded by a swarm of reporters who used to cover him daily. "It took me a while to get settled into the game."
Before Gasol's first game back in L.A. against his former team Thursday -- a 123-118 double-overtime loss by the Bulls at Staples Center -- he went to center court and applauded along with fans, showing appreciation for their support after the video played.
But before that, Gasol, who finished with 20 points, 10 rebounds, six assists and four blocks, received a surprise guest in the locker room: Kobe Bryant.
Following season-ending right shoulder surgery to repair a torn rotator cuff, the Lakers' star guard, who won two championships alongside Gasol, visited his former teammate. Gasol left the Lakers last summer after 6 1/2 seasons with the team.
"I really appreciated him coming. I didn't expect it at all," Gasol said. "It was an incredible gesture on his part to want to come and want to say hello. A great unexpected gift."
Not that the two talked all that long.
"He just got surgery," Gasol said. "He was in pain. I told him to go rest, get out of here. ... We're in touch. We talk. I'll see him down the road at one point."
Bryant had been expected to speak to the crowd before the game, but he told ESPN he wasn't feeling well enough, 31 hours after the operation, to go on the court.
This wasn't the first time Gasol entered Staples Center as a member of the Bulls. He also was here Nov. 17 when Chicago faced, and defeated, the Los Angeles Clippers
January, 29, 2015
Jan 29
1:35
PM PT
EL SEGUNDO, Calif. -- Lakers guard
Steve Nash
has basically been a ghost since October, when he was declared out for the season because of back injuries.
Nash hasn't been a visible presence at games, and while Lakers coach Byron Scott said he has
hoped that Nash would be around
to help mentor younger players, Scott strangely added that he's had consistent trouble reaching Nash by phone.
Lakers general manager Mitch Kupchak has a different view.
"He's around," Kupchak said after shootaround at the Lakers' practice facility Thursday. "I've had multiple meetings with Steve. We have breakfast once a month. He will work with some of our players. He may have already started doing that. He's not going to go out and advertise [but] he's doing it. ... As the season progresses, he'll be more engaged."
Health troubles sidelined the 40-year-old Nash for all but 15 games last season. And because of back, knee and hamstring issues, the two-time MVP played in just 65 of a possible 164 regular-season games the past two seasons with the Lakers.
"We always had concerns about Steve Nash, of his inability to make it through the season," Kupchak said. "So I was not that surprised that Steve couldn't make it through the season."
Nash decided not to retire this offseason and instead returned to the Lakers, who will pay him about $9.7 million in the final year of a three-year, $28 million deal. Nash said this past summer that he believes this season -- his 19th -- will be his last.
"We're forgetting the career that Steve Nash had and the decision he had to make back in October," Kupchak said. "Very emotional and difficult decision. We supported it 100 percent."
January, 29, 2015
Jan 29
1:27
PM PT
EL SEGUNDO, Calif. -- Lakers general manager Mitch Kupchak said the team was "as aggressive as we could be" this past offseason, yet the Lakers struck out on marquee free agents, including
LeBron James
and
Carmelo Anthony
.
They also lost
Pau Gasol
, who took less money for a fresh start with the
Chicago Bulls
, one summer after losing
Dwight Howard
, who took less money and joined the
Houston Rockets
.
In terms of building the team going forward, Kupchak, speaking Thursday after the Lakers' shootaround, first mentioned the Feb. 19 trade deadline. Then Kupchak mentioned the June 25 draft, though the Lakers will lose their first-round pick to the
Phoenix Suns
if it falls outside the top five.
"Our coaches and players have been instructed to win games," Kupchak said when essentially asked about the notion of tanking games to make sure they keep that pick.
Kupchak later added, "A top-five pick is always a good thing."
Once the draft is over, Kupchak said, "We'll look at the free-agent market and see what our needs are and what's realistic. We do have an awful lot of financial flexibility."
The Lakers should be in position to sign one max-level free agent, and several big names are available, including
Marc Gasol
,
LaMarcus Aldridge
and
Goran Dragic
.
Kevin Love
could also opt out of the final year of his contract.
In the meantime, Kupchak said the Lakers will look to develop and evaluate players.
"We want [Lakers coach] Byron [Scott] to establish and maintain a culture that he's comfortable with," Kupchak said. "And the players have to adhere to that culture, which [is], clearly, play hard, play to win, work before practice, work after practice, work before games, show high character under adverse conditions. That's what we're going to look at going forward."