December, 19, 2014
Dec 19
11:30
PM PT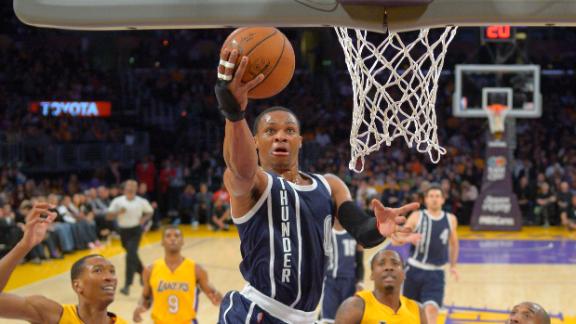 LOS ANGELES -- Lakers guard Nick Young called Steven Adams a "sneaky, dirty player" after an on-court scuffle with the Oklahoma City center led to Young's ejection during the Thunder's 104-103 win Friday night.
The two players got tangled up early in the fourth quarter, and Young threw a forearm into Adams' throat, which led to a flagrant foul 2 and an ejection with 11:03 left.
"I lost my mind a little bit, checked into the crazy house, got back out," said Young, who finished with 10 points in 13 minutes off the bench.
Said Adams, "I just set a screen. They called it an illegal screen, which I didn't think it was. But you know, he just got heated because it was going back and forth and he just got frustrated; that's all that happened."
Lakers coach Byron Scott wasn't happy Young put himself in a position that led to his ejection.
"Adams, that how he is," Scott said. "He's going to grab and hold and do things to irritate you, and Nick definitely overreacted. He's too valuable for us to overreact and get kicked out of the game like that."
Asked whether he's getting used to these situations, Adams laughed.
December, 19, 2014
Dec 19
10:12
PM PT
LOS ANGELES -- Even though the
Oklahoma City Thunder
were without
Kevin Durant
, they still had enough to squeak by the
Los Angeles Lakers
on the second night of a back-to-back road set. And by "enough," we're largely talking about
Russell Westbrook
.
Play of the game:
It was a back-and-forth affair that came down to the final play, and the Lakers had the ball with 6.3 seconds left in the fourth quarter, trailing by one. They called timeout, and everyone in the building knew who was going to take the final shot.
Kobe Bryant
's 17-foot jumper just before the buzzer sounded fell short, dropping the Lakers to 8-18. Bryant finished with 9 points, 8 assists and 8 rebounds, but he shot just 3 of 15 from the field.
Player of the game:
Westbrook carried the Thunder without Durant, who missed the game after spraining his right ankle the night before against the
Golden State Warriors
. Westbrook finished with 31 points on 9-of-22 shooting, hitting all 13 of his attempts from the free throw line. He also added 10 assists and 5 rebounds.
Reserve of the game:
Reggie Jackson
scored 25 off the bench for the Thunder, hitting 9 of 15 from the field.
Hullabaloo of the night:
Stop me if you've heard this one before -- Oklahoma City center
Steven Adams
got under an opposing player's skin and said opposing player retaliated. The latest player to join an ever-growing list of opponents irked by Adams' aggressive style is Lakers guard
Nick Young
. Young was agitated by Adams and threw a forearm into Adams' throat with 11:23 left in the fourth quarter. After a review, Young was tagged with a Flagrant-2 foul and ejected. He finished with 10 points on 4-of-8 shooting in 15 minutes.
December, 19, 2014
Dec 19
10:10
PM PT
Associated Press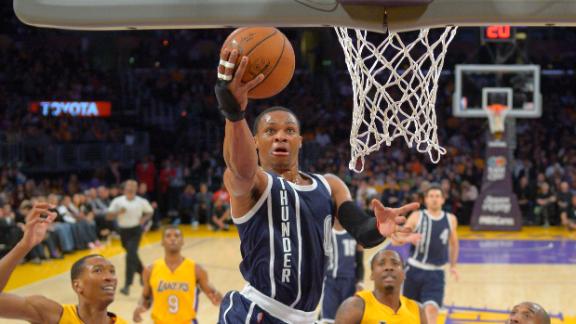 LOS ANGELES -- Russell Westbrook scored 31 points and hit a key jumper with 38 seconds left, and the Oklahoma City Thunder overcame the absence of NBA MVP Kevin Durant for a 104-103 victory over the Los Angeles Lakers on Friday night.
Kobe Bryant missed a 17-foot jumper right before the buzzer for the Lakers, who had won three of four. Bryant had nine points on 3-of-15 shooting, but added eight rebounds and eight assists.
Reggie Jackson scored 25 points and hit the go-ahead free throws with 1:05 left for the Thunder, who persevered down the stretch for their eighth victory in nine games.
Durant sat out after spraining his right ankle in the first half of the Thunder's loss at Golden State on Thursday night.
December, 19, 2014
Dec 19
2:48
PM PT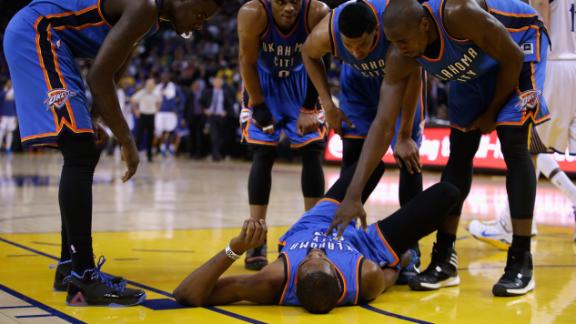 Kevin Durant sat out Friday night's 104-103 win against the Los Angeles Lakers because of a sprained right ankle suffered Thursday against the Golden State Warriors.
Durant will be re-evaluated Saturday and remains day-to-day. The Thunder host the New Orleans Pelicans on Sunday.
He injured his ankle seconds before halftime against the Warriors when he stepped on Marreese Speights' foot on a drive to the basket. Durant, who had scored 30 points in the opening half, did not return to the game. He had X-rays as a precaution, and results were negative.
"I was a little nervous," Durant said after the game. "But I knew when I got up and started walking it felt good. So I just wanted to make sure with the X-rays everything was good."
The injury isn't considered serious, as Durant left the arena Thursday not wearing a walking boot or crutches, with only a mild limp.
Durant underwent surgery to repair a stress fracture in his right foot in October, missing six weeks because of it. He has played in nine games since, all under a minutes restriction that was recently lifted from 30 to 35. He said after the game Thursday that he could have returned but was advised by the team's medical staff to sit.
December, 19, 2014
Dec 19
1:48
PM PT
Recently,
Kobe Bryant
said there's only one other active NBA player whose intensity matches his own:
Russell Westbrook
.
"He just plays with a rage that's not very common," the
Los Angeles Lakers
star guard said of Westbrook this week. "He just plays with a lot of aggression."
The two will face off Friday
(ESPN, 7:30 PT)
when the Lakers (8-17) host
Oklahoma City Thunder
(12-14) at Staples Center.
Like Bryant, Lakers coach Byron Scott is a big fan of Westbrook, who is averaging a team-high 26.9 points, 6.9 assists and 5.6 rebounds per game.
"Everybody talks about Russell being too emotional," Scott said this week. "I would love to have a guy that's too emotional and plays as hard as he plays. I would rather have to try to calm a guy down instead of every game try to make a guy play harder.
"Russell's a unique talent too because he plays every play like it's his last, and you don't have a ton of guys in this league that look at the game that way. He's a special talent too. I love the way he plays. I love his approach to the game."
December, 18, 2014
Dec 18
8:11
PM PT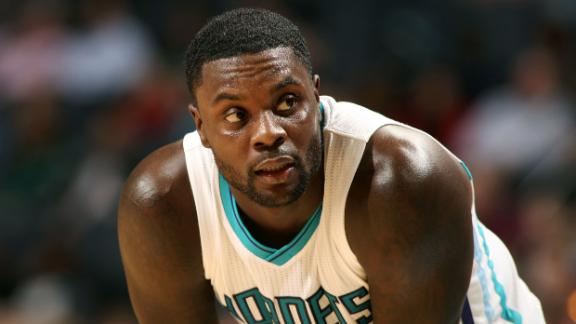 Underwhelmed by the quality of trade offers they've received for Lance Stephenson, the Charlotte Hornets have decided to keep the volatile guard "for now,'' according to league sources.
A stunningly poor start to the season, chemistry issues and Stephenson's sub-par play had led the Hornets (6-19) to explore trade possibilities for their prized offseason acquisition just a few months after signing him to a three-year, $27 million deal.
But while sources say as many as seven teams registered interest, including Miami and Brooklyn, no offers intrigued Charlotte and several teams that called did not make trade proposals.
Another factor in the Hornets' decision to keep Stephenson is their growing belief that a groin injury has hindered him all season and played a significant role in his lack of production. Stephenson is expected to miss the next two games because of the groin and did not travel to Philadelphia for Friday's game against the 76ers.
Charlotte feels the injury has affected Stephenson's movement and conditioning, according to sources, and that just as he was getting healthy, he reinjured the groin Wednesday against Phoenix. The Hornets want to rest Stephenson, let him heal and see if he can either fit in with Charlotte or re-establish his trade value.
December, 18, 2014
Dec 18
4:55
PM PT
EL SEGUNDO, Calif. --
Oklahoma City Thunder
forward
Kevin Durant
has openly praised
Kobe Bryant
, saying he'd love to play with the
Los Angeles Lakers
shooting guard.
And while Bryant said he hasn't yet recruited Durant, who is set to become a free agent in 2016, Bryant didn't rule out trying to lure last season's MVP to the Lakers either.
"No, I think we know each other pretty well," Bryant said Thursday at the Lakers' practice facility here, leading into Friday's game between the Thunder (12-13) and Lakers (8-17) at Staples Center.
[+] Enlarge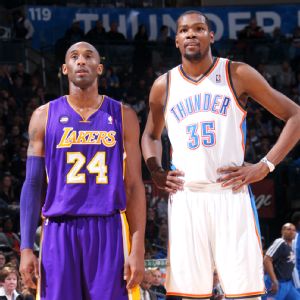 Layne Murdoch Jr./NBAE/Getty Images"He's a constant learner like myself," Kobe Bryant said of Kevin Durant.
"I don't think it's a discussion that you have in terms of coming here. But I think it's more of an understanding how to play with each other."
Said Bryant, "If the opportunity came up, then that's the time to have that discussion."
It's no secret that the Lakers are among many teams that plan to pursue Durant when he hits free agency.
Durant recently told USA Today that he wouldn't mind playing alongside Bryant, even if it has been reported that Bryant's dominating presence alone is a hindrance for the Lakers as they try to recruit top-flight players.
"Excuse my language, but that's [expletive]," Durant told the newspaper. "I want to play with a winner every single night, especially somebody who wants to win that bad, who works that hard, who demands a lot, who raises up your level. I'd want to play with a guy like that every day. ... [His style] may make people uncomfortable, how he acts and just how he approaches the game, but I love that type of stuff. I think [the accusation] is B.S."
Said Bryant: "I greatly appreciate" Durant's comments.
Bryant added, "As players, we play for each other. We play to have the respect from one another. So to hear those comments coming from your peers, it means a lot."
The two played together on the U.S. Olympic team in 2012 and Durant has said that Bryant has offered him plenty of advice through the years.
"He's a constant learner like myself," Bryant said of Durant. "He's not afraid or embarrassed to ask questions about certain things just like Michael [Jordan] has done for me and other great players have done for me growing up. I'm more than happy to share what I know."
Lakers coach Byron Scott said Bryant and Durant are more similar than they might appear.
"I think they both have the killer instinct in them, but Kobe's is a whole lot more visible [and] Durant's is more quiet," Scott said. "But he's a guy that, I remember [coaching] against him and the ball got knocked out of bounds toward the bench and I was standing and he said, 'Coach, if I get it, you know I'm going to make it.' So he has a world of confidence in himself too. There's no doubt about that. You don't get to be that good if you don't."
Scott predicted that Durant, who at 26 is the second youngest player to score 15,000 points (
LeBron James
is the youngest), would one-day join the 30,000-point club.
"He's a unique basketball player," Scott said. "There's not a whole lot of guys that you can put on him that can stop him, because if you put somebody on him that's 6-11, they're probably a lot slower and a lot bigger. If you put somebody smaller on him, he's just going to shoot over him."
Bryant praised how much Durant has changed his game since joining the NBA.
"When he first came into the league, he was more of a perimeter player," Bryant said. "He's since evolved his game to now being a great post player, a great passer out of double teams, a great mid-range game. His evolution as a basketball player just keeps getting better and better."
Bryant was asked if adding Durant -- or any star -- would entice him to extend his career beyond next season, when his two-year extension worth $48.5 million is set to expire.
"I don't know. Maybe," Bryant said. "But it's really my call, man. If I want to play, I'll play. If I don't, I don't. If I don't want to play anymore and go through the process of getting my body ready day in and day out, I'm not going to play."
December, 18, 2014
Dec 18
7:00
AM PT
By ESPNLosAngeles.com
ESPNLosAngeles.com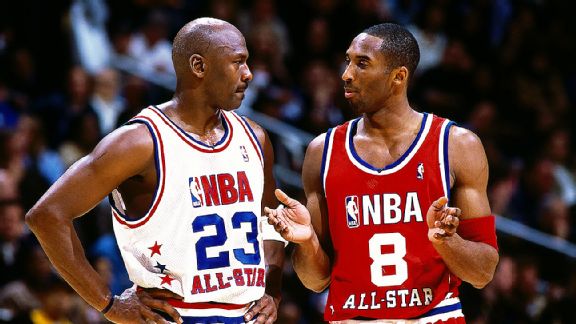 Andrew D. Bernstein/NBAE/Getty ImagesMichael Jordan and Kobe Bryant are two of the most competitive players the NBA has seen.
---
Each week, ESPN.com Lakers beat writer Baxter Holmes, along with ESPN.com NBA writers Ramona Shelburne and Arash Markazi, will weigh in on three questions that are on the minds of Los Angeles Lakers followers.
1. Is Michael Jordan really OK with Kobe Bryant passing him on the all-time scoring list?
Holmes:
Remember Jordan's Hall of Fame speech? The one where he torched anyone who he believed possibly slighted him at any point in his life, even if that person really didn't? I'm sure Jordan doesn't like that Kobe passed him, and MJ's statement would've said as much if he were allowed to really speak his mind. But at the end of the day, Jordan has more rings. And to many people, but especially MJ and Kobe, rings are what matter most.

Shelburne:
No. And that's why he's Michael Jordan. He and Kobe are two of the most competitive people on the planet. They are never going to be OK when anyone beats them or passes them for a milestone like that. I do think that Michael respects Kobe more than any other current player in the league, though. Their relationship is real. But I can almost guarantee you that a part of MJ is thinking how many more points he'd have than Kobe if he hadn't gone off to play baseball.
Markazi:
Yes. Of all the accomplishments or records in Jordan's career that he might be protective of, I don't think being third on the all-time scoring list was one. As long as Jordan has more championships and MVPs than Kobe, I think he's just fine.
---
2. Was it fine the way Kobe called out his teammates at practice recently?
Holmes:
It wasn't anything out of the ordinary. Kobe has been doing that for years -- and he's done it more than once this year. But his approach reminds me that there are different ways to skin a cat. He believes in his approach, whereas someone like
Tim Duncan
believes in a much different approach. Both have had great success. A key point: Which method is going to make others want to play with you? And which method is more likely to turn others off? The answer is pretty clear.
[+] Enlarge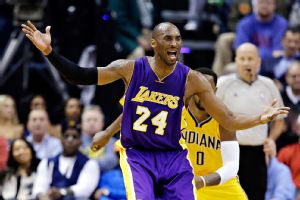 AP Photo/Darron CummingsKobe Bryant has made a habit of calling out teammates in practice throughout his career.
Shelburne:
Yes. That's how he has been his entire career. The only thing different was that he did that in front of the media so the whole world found out about it. But this is how Kobe pushes people. This is how he leads. You may not like it or understand it. Not every player will respond well to that style. But he has five rings that say his way works. He ain't changing now.
Markazi:
I think that was actually a regular occurrence that got more attention because Kobe did it in front of the media. I actually think the Lakers needed some tough love and the fact that they beat the Spurs in San Antonio afterward and won three straight shows it was probably more helpful than divisive.
---
3. Do you believe Jeanie and Jim Buss are on the same page with how to run the Lakers?
Holmes:
Great question. I'm still pretty new here, so I'm really not too sure just yet, but it's perhaps the biggest question surrounding the future of the Lakers. Ramona's excellent Q&A with those two shed light on their relationship, and it appears that while both obviously want to win, I'm not for sure if they're completely on the same page. Their comments sure felt that way to me.
[+] Enlarge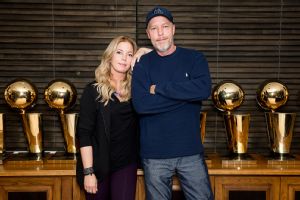 Chris McPhersonJeanie Buss, and brother Jim, are looking to take the Lakers out of their recent doldrums.
Shelburne:
Not yet. I believe they both want to be. They wouldn't have sat for a joint interview for the first time if they weren't committed to trying to run the Lakers together. But it seems as if they still need to improve their communication on certain things. And Jeanie seems to be skeptical of the plan Lakers GM Mitch Kupchak and her brother have to rebuild the current team.
Markazi:
For the most part, yes. I mean ideally Phil Jackson would be in the fold, but they are both committed to getting the Lakers back to championship contention and not tanking. I think they're both also committed to going in a different direction if the Lakers aren't in the Finals within three years.
December, 17, 2014
Dec 17
10:00
AM PT

By Tim MacMahon
ESPNLosAngeles.com
Archive
NEW YORK – Few appreciated
Kobe Bryant
surpassing
Michael Jordan
on the NBA's all-time scoring list as much as the man who is six spots below the
Los Angeles Lakers
legend.
Of course,
Dirk Nowitzki
has always been a big fan of Bryant, who now sits in the No. 3 spot among the league's all-time scoring leaders with 32,331 career points.
"He's probably the greatest player in my generation that I played against," said Nowitzki, who has 27,239 career points and will likely pass Elvin Hayes and Moses Malone over the next few weeks to move up to seventh on the list. "Obviously Shaq was very dominant,
Tim Duncan
was great, but I just loved watching Kobe. I don't think there will ever be another MJ, but he's definitely as close as it gets that we'll ever see.
"He had it all. He's a clutch player, can make shots from anywhere. I've had a blast from watching him during his career very closely. That's a heck of an accomplishment for sure."