March, 6, 2015
Mar 6
7:45
PM PT
Associated Press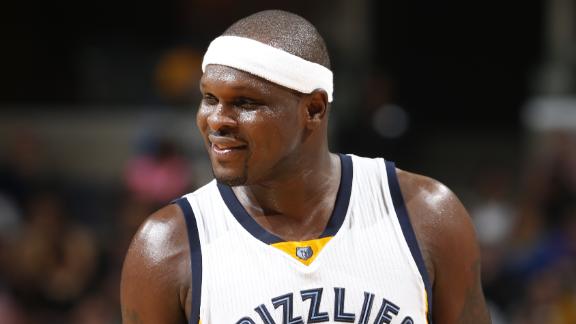 MEMPHIS, Tenn. -- Zach Randolph had 24 points and 13 rebounds, Marc Gasol scored nine of his 18 in the fourth quarter and the Memphis Grizzlies rallied for a 97-90 victory over the Los Angeles Lakers on Friday night.
The Lakers held an 87-84 lead with three minutes left before Memphis closed the game on a 13-3 run, including seven straight to start the rally.
Jeff Green added 16 for Memphis, which won its second straight, and Tony Allen had 15, connecting on all but one of his eight shots in the game. Mike Conley finished with 12 points.
The Lakers, who lost their fourth straight, were led by a career-high 25 points from Jordan Clarkson, who was 12-of-18 shooting. Clarkson also had six assists. Wayne Ellington and Wesley Johnson finished with 14 points each, Jordan Hill added 13 and Ed Davis scored 10, hitting all five of his shots.
March, 6, 2015
Mar 6
12:00
AM PT
By ESPNLosAngeles.com
ESPNLosAngeles.com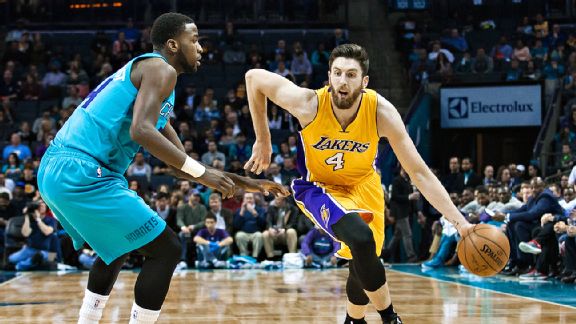 Jeremy Brevard/USA TODAY SportsRyan Kelly has shown flashes of good play, but will he remain with the Lakers going forward?
---
Each week, ESPN.com Lakers beat writer Baxter Holmes, along with ESPN.com NBA writers Ramona Shelburne and Arash Markazi, will weigh in on three questions that are on the minds of Los Angeles Lakers followers.
1. Has Ryan Kelly's development come along enough for the Lakers to consider him part of their rebuilding effort going forward?

Holmes:
I'm not sure there's anyone on the roster who the Lakers should seriously consider as a key part of their future going forward -- if the Lakers are looking to return to contending status, that is. Nobody really jumps out, aside from perhaps
Julius Randle
, who hasn't played all season. Kelly hasn't looked bad, sure, but he hasn't exactly wowed anyone either.
Shelburne:
I think it's clear now that Kelly projects as a power forward, not as a small forward. But he clearly has the skill set and makeup to be a valuable player at the power forward position. With Randle slotted into that spot for the foreseeable future, that probably means Kelly will have to play in a reserve role.
Markazi:
I think he's a piece, but I wouldn't call him a building block or a cornerstone. He's a nice player who can be a valuable role player on a good team.
---
2. With reported issues in Dallas, does it make it any more likely Rajon Rondo lands with the Lakers next season?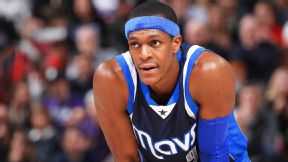 Rocky Widner/NBAE/Getty ImagesRajon Rondo will be a free agent this summer, but will the Lakers come calling?
Holmes:
It sure gives them a strong chance. As ESPNDallas.com's Tim MacMahon has written more and more, the Rondo trade is looking like a mistake for the Mavericks. He doesn't seem to fit in there at all, leading to the growing belief that his time there will be brief. He's expecting max money this summer, but the Lakers have to ask themselves: Is he truly worth it?
Shelburne:
Yes. The Mavs still will have the advantage in re-signing him because they can offer him more years and more money, but Dallas has bigger issues to decide before the Mavs make a call on Rondo.
Monta Ellis
and
Tyson Chandler
are also free agents, and it's going to be tough to keep all three players. Whom do the Mavs prioritize? Whom do they want to invest in? A lot will be determined by how the Mavericks finish this season.
Markazi:
I think so. He's no longer a max player and I don't think he fits in Dallas so the Lakers would make a lot of sense. He can have all the breakfasts he wants with Kobe in Newport Beach.
---
3. Brian Shaw's firing in Denver is another negative mark on Phil Jackson's coaching tree. How surprising is this?
Holmes:
Not surprising. When Jackson rode the triangle to titles, he also had superior talent -- Michael Jordan/Scottie Pippen/Dennis Rodman/et al, Kobe/Shaq or Kobe/Pau. None of his disciples has had that kind of talent or anywhere close. In the end, a system is only as good as the players in it.
Shelburne:
I don't think the Nuggets wanted to fire Shaw. I think things just got so toxic in Denver they basically had no other choice. The comments from Indiana forward
David West
, saying there are "no grown-ups" in that locker room, really shaped the narrative on this firing and salvaged Shaw's reputation.
Markazi:
He was put in an no-win situation at the end in Denver. Shaw is a good coach and really deserves another chance with a more respectable roster and a front office that has its act together.
March, 4, 2015
Mar 4
7:45
PM PT
Associated Press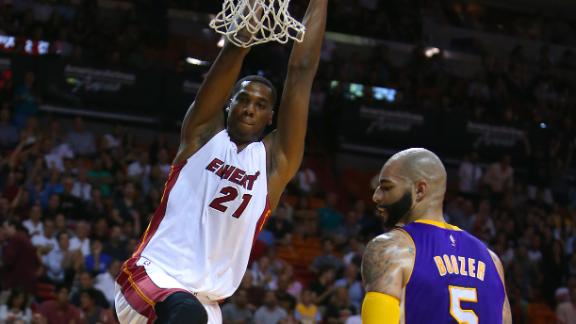 MIAMI -- Dwyane Wade scored 25 points and added six assists, Hassan Whiteside grabbed 25 rebounds and the Miami Heat rallied to beat the Los Angeles Lakers 100-94 on Wednesday night.
Wade's last two assists set up Whiteside for crucial scores in the final moments. The Heat held on to the No. 7 spot in the Eastern Conference playoff race and posted two straight home wins for the first time in more than four months.
Goran Dragic scored 21 points and Whiteside finished with 18 for the Heat, who got 15 from Luol Deng and won for just the fifth time in 26 games when trailing at halftime.
Ed Davis had 14 points and 12 rebounds, Wayne Ellington scored 14 points and Jordan Hill had a 13-point, 10-rebound night for the Lakers.
March, 4, 2015
Mar 4
9:09
AM PT
By Ben Alamar
ESPNLosAngeles.com
Archive
Issac Baldizon/NBAE/Getty ImagesGoran Dragic has been getting to the free throw line more since joining the Heat.
The 4-Point Play looks at the four analytics-based storylines that will make you smarter when watching Wednesday's game between the Los Angeles Lakers (26th in BPI) and the Miami Heat (18th in BPI) at 8PM ET on ESPN. Our BPI gives the Heat a 73 percent chance of winning.
1.
The Miami Heat are projected to win 37 games, have a 60 percent chance of making the playoffs, and have the second-easiest remaining schedule, according to ESPN's BPI.
2.
Goran Dragic
has a career average of 4.2 free throw attempts per 36 minutes, but was getting a career low of 2.9 free throws per 36 minutes this season in Phoenix. Since coming to Miami, he has averaged 6.1 free throws per 36 minutes.
3.
The Lakers will keep their first round pick provided it is in the top 5, otherwise it will belong to Philadelphia. The Lakers have a 74 percent chance of keeping their pick, according to BPI.
4.
Ed Davis
leads the Lakers in scoring efficiency with a true-shooting percentage of 60 percent and is seventh in the league with an offensive rebound percentage of 13 percent. The only 25-year-olds to have seasons at those levels or above since 2000 are
DeAndre Jordan
,
Tyson Chandler
, and
Robin Lopez
.
March, 3, 2015
Mar 3
6:47
PM PT
Associated Press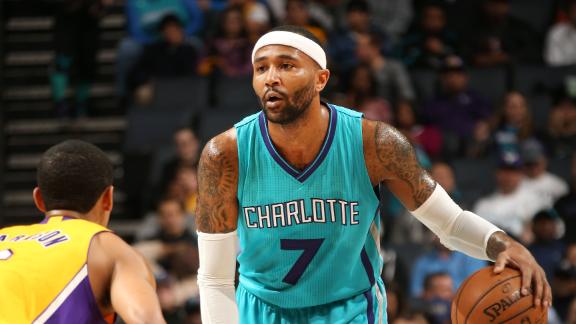 CHARLOTTE, N.C. -- Al Jefferson had 21 points and 16 rebounds, Mo Williams added 20 points and 13 assists and the Charlotte Hornets beat the Los Angeles Lakers 104-103 on Tuesday night for their third win in four games.
Williams, who came in averaging 23.4 points in his first five games since being acquired from Minnesota, had his third double-double with the Hornets.
Williams knocked down a big 3-pointer with a minute to play to push the lead to six and added five free throws in the final 18 seconds to seal the win.
Gerald Henderson added 21 points, including several key baskets late in the fourth quarter. Cody Zeller had 10 points and 11 rebounds as all five Charlotte starters finished in double figures.
Jeremy Lin led the Lakers with 23 points off the bench, while Jordan Clarkson had 19.
March, 3, 2015
Mar 3
1:01
PM PT
Associated Press
[+] Enlarge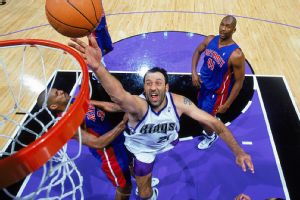 Rocky Widner/NBAE/Getty ImagesVlade Divac spent six seasons with the Kings and became a fan favorite.
SACRAMENTO, Calif. -- Former fan favorite Vlade Divac has rejoined the Sacramento Kings as vice president of basketball and franchise operations, a job that will include advising the front office and coaching staff.
The team announced Tuesday that Divac would assist in global and fan outreach initiatives and oversee the player-development programs. Divac, 47, will take a lead in talent evaluation and develop relationships between the team and European players.
Divac retired from professional basketball in 2007 and was named president of the Serbian Olympic Committee three years later.
He averaged 11.8 points, 8.2 rebounds, 3.1 assists and 1.4 blocks per game over 1,134 career NBA games with the Lakers, Charlotte and Sacramento. Divac is only one of four players in league history with at least 13,000 points, 9,000 rebounds, 3,000 assists, 1,200 steals and 1,600 blocked shots, joining Kareem Abdul-Jabbar, Hakeem Olajuwon and Kevin Garnett.
March, 1, 2015
Mar 1
6:14
PM PT

By Jovan Buha
ESPNLosAngeles.com
Archive
LOS ANGELES -- As the season drags out, Lakers Nation is divided.
Do the Los Angeles Lakers' fans want to the team to keep losing and improve its chances of keeping its first-round draft pick? Or do they want to win regardless of the draft implications?
There is no consensus either way, but Lakers head coach Byron Scott offered his perspective on what he felt the fans want.
"I think the majority of them ..." Scott said before pausing and rethinking his answer. "Let's say half and half. Half of them want us to lose, and half of them want us to win."
Does that line of thinking from loyal fans bother Scott?
"The half that want us to lose? That bothers me a lot," Scott said.
Well, Scott was clearly bothered on Sunday as those on Team Tank got their wish. The Lakers, riding the momentum of a three-game win streak, fell 108-101 to an undermanned
Oklahoma City Thunder
squad playing without
Kevin Durant
,
Russell Westbrook
and
Steven Adams
.
After holding the
Utah Jazz
and
Milwaukee Bucks
to sub-28 percent shooting in the fourth quarters of consecutive games, the Lakers were still effective against the Thunder in the final frame (OKC shot just 39.1 percent), but were never able to pull closer than six points.
Jeremy Lin
led all scorers with 20 points, while also adding six rebounds, eight assists and three steals.
Jordan Hill
claimed 14 points and 12 rebounds, and
Jordan Clarkson
and
Wayne Ellington
each scored 12 points.
Disappearing act:
What happen to the Lakers' vaunted defense over the past three games? With Durant and Westbrook out of the lineup, the Thunder had no singular offensive force capable of taking over the game, but they found a way to hurt the Lakers in transition (plus-6), from beyond the arc (plus-6) and at the free-throw line (plus-5). The Lakers were too often late on their rotations to corner 3-point shooters and gave up too many uncontested baskets at the rim when they were forced to help the helper. The Thunder may have shot only 41.2 percent, but they still put up 108 points and had plenty of good looks.
Second-unit spark:
Los Angeles' bench outperforming its starters is nothing new this season, but today's disparity was particularly jarring. No Lakers starter registered a positive plus-minus; all four bench players did. Lin was the player of the game, and Hill and
Ed Davis
palpably outplayed starters
Carlos Boozer
and
Robert Sacre
, which made it somewhat confusing as to why the bench didn't play more than they did.
Up next:
The Lakers embark on a three-game road trip and face the
Charlotte Hornets
on Tuesday.