July, 26, 2016
Jul 26
12:44
PM PT
ESPN.com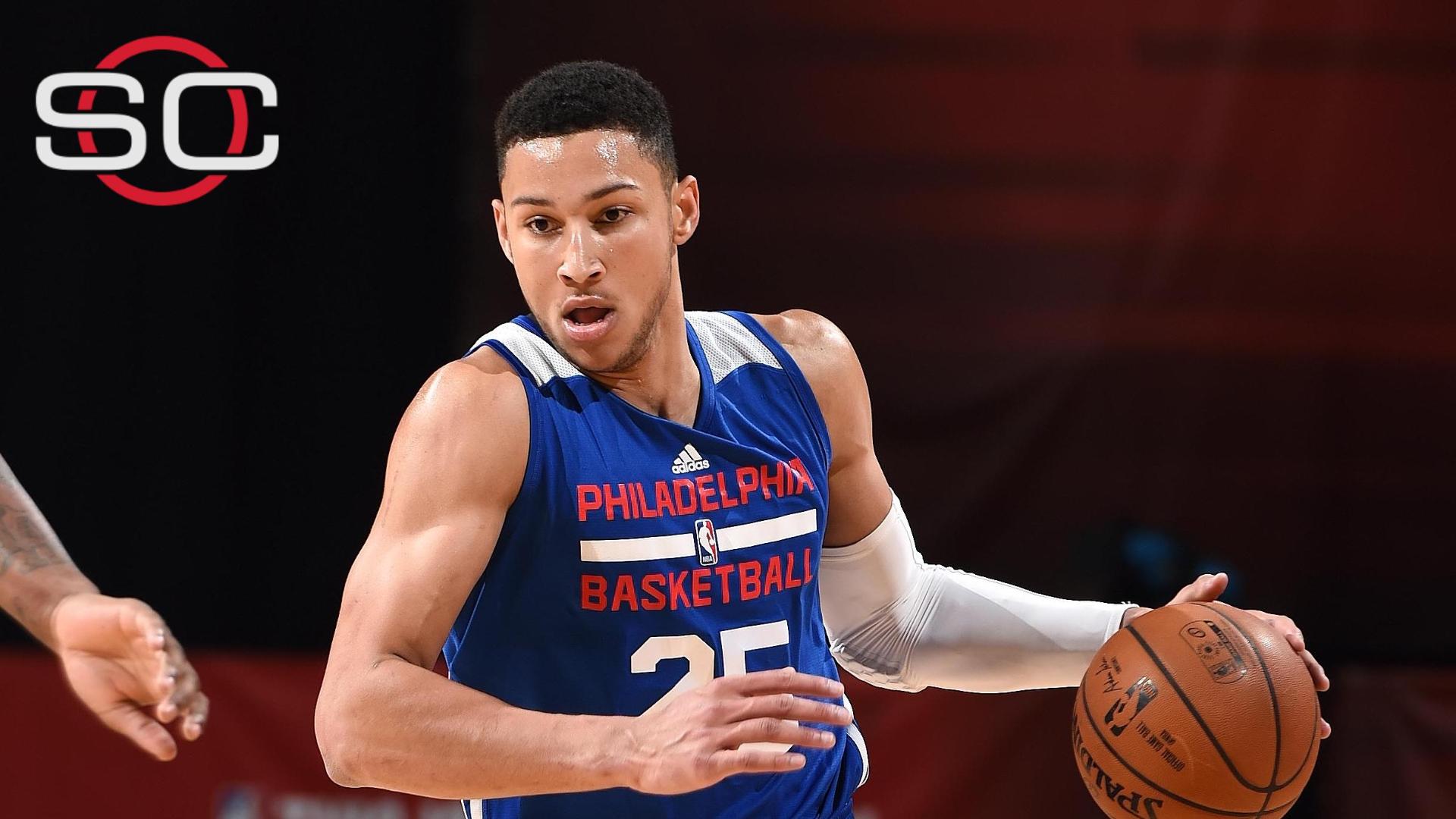 We've covered how each team in the East and West will finish. Now our panel is projecting which first-year player will have the best start to his NBA career.
We asked the ESPN Forecast team to rank its top three choices for the 2016-17 NBA Rookie of the Year, with a first-place vote receiving five points, a second-place vote receiving three and a third-place vote receiving one. (Here's how ESPN Forecast works.)
To participate in the discussion and perhaps get your opinion published on this page, #ESPNForecast is the Twitter hashtag to use.
Rookie of the Year projections
---

1. Ben Simmons

Philadelphia 76ers | SF

First-place votes: 35

Total points: 207
---

2. Kris Dunn

Minnesota Timberwolves | PG

First-place votes: 8

Total points: 89
---

July, 21, 2016
Jul 21
6:07
AM PT
Julius Randle relishing heavy offseason workload: The schedule has appeared full as Julius Randle has blocked out most of his summer with two-a-day sessions. Randle's mind has appeared racing as he charges down the court either to impose his power inside or to show off his developing jump shot. Based on his schedule and his constant energy, it appears the Lakers' third-year forward has plenty of things he wants to accomplish on his bucket list. Some are well known. Randle has practiced this week with the U.S. Men's select team. -- Los Angeles Daily News
Young Clippers and Lakers players thrilled to be practicing against U.S. Olympic team: Forward Brice Johnson had his welcome-to-the-big-leagues moment before he even put on a Clippers uniform. Johnson, chosen 25th by the Clippers from North Carolina in this year's NBA draft, is a member of the USA Basketball Select Team, which has been practicing and scrimmaging against the U.S. Olympic team this week. -- Los Angeles Times
July, 20, 2016
Jul 20
12:08
PM PT
By
Kayla Johnson, ESPN.com editor
AP Photo/John Bazemore
Kobe Bryant retired in April after 20 years in the league, but that doesn't mean he's done with his past.
On Wednesday, Bryant penned an open letter to his 17-year-old self on The Players' Tribune, with particular focus on how to treat friends and family.
"You need to figure out a way to invest in the future of your family and friends," Bryant wrote. "I said INVEST. I did not say GIVE."
Kobe recently vocalized the rocky relationship he shares with his parents after they attempted to auction off his high school memorabilia.
"Our relationship is s---," Kobe said to ESPN's Ramona Shelburne last April. "I say [to them], 'I'm going to buy you a very nice home, and the response is 'That's not good enough'?" Kobe said. "Then you're selling my s---?"
Bryant did somewhat point the finger at himself for allowing his wealth to "[hold his family and friends] back".
"You will come to understand that you were taking care of them because it made YOU feel good," Bryant wrote. "It made YOU happy to see them smiling and without a care in the world -- and that was extremely selfish of you."
Although Bryant mentioned that the process of "weaning them off" leads to "anger, resentment and jealousy from everybody involved," he has also made clear that his two sisters have reconciled with the fact that he has eliminated finance from their relationship.
"They're very smart, college-educated [women]," Bryant wrote. "I'm really proud of them. They were able to get their own jobs, get their own lives, take care of themselves. Now they have a better sense of self, of who they are as people, instead of being resentful because they were relying on me."
Bryant kept his advice to family and finances -- "There's plenty more I could write to you, but at 17, I know you don't have the attention span to sit through 2,000 words," he wrote. And while Bryant was addressing himself, it's clear the letter was meant as a message for all young athletes who get millions before turning 20.
"Trust me," Bryant wrote, "setting things up right from the beginning will avoid a ton of tears and heartache, some of which remains to this day."
Read the full letter here
July, 20, 2016
Jul 20
10:21
AM PT
July, 19, 2016
Jul 19
8:10
PM PT
July, 17, 2016
Jul 17
8:03
PM PT
Stephen R. Sylvanie-USA TODAY SportsThe Finals have concluded and the new season doesn't start for almost four months, but the NBA continues to stay relevant and abuzz.
LAS VEGAS -- Rarely have meaningless games felt so important. The takeaway from this year's Las Vegas NBA Summer League wasn't the winners and losers -- it was the interest. It helped carry the league's momentum forward from a highly watched NBA Finals and another news-heavy free-agency period.
The NBA has dominated the sports landscape for 2 ½ months, ever since the final name was called in the NFL draft at the end of April. Other events pop up and fade away -- golf majors, tennis grand slam events, Major League Baseball's All-Star Game -- and the NBA keeps carving out its spot in the news cycle. It helps that the NBA's summer leagues provide the quickest turnaround from draft-to-action of any sport; Orlando summer league participants were in uniform a mere nine days after commissioner Adam Silver called their names. In addition to filling a gap in the sports schedule, these games serve to "pre-sell" the next season, as Las Vegas league founder Warren LeGarie puts it.
The night of the heavily hyped UFC 200 fight card, which packed 18,202 spectators into the new T-Mobile Arena on the Las Vegas Strip, there were 16,000 NBA fans in the Thomas & Mack Center/Cox Pavilion complex to watch top draft picks Ben Simmons
July, 15, 2016
Jul 15
11:25
PM PT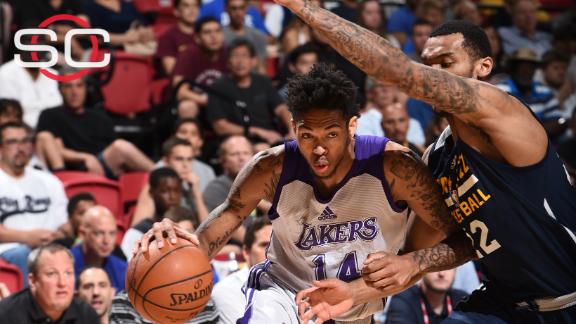 LAS VEGAS -- Los Angeles Lakers fans have shelved their loudest cheers for much of the past three loss-packed seasons, save for a handful of throw-back Kobe Bryant performances (such as his 60-point finale) and the team's near-miracle upset of the mighty Golden State Warriors at Staples Center last season.
But much of their long-dormant jubilation erupted whenever the Lakers took the floor during NBA summer league play here in Las Vegas in recent days, with the purple-and-gold faithful packing the Thomas & Mack Center and hollering like the good old days.
And those fans had reason to be excited, as they witnessed many bright glimpses of promise from key members of the team's core -- young, talented players who, in time, could help lift the team from rebuilding status, while providing plenty of nightly highlights along the way.
Lakers general manager Mitch Kupchak heard those cheers -- whether the crowd was chanting "Lar-ry!" after a Larry Nance Jr. dunk or "Zu!" after one of rookie center Ivica Zubac's many blocks -- and felt encouraged as he looks forward.
July, 15, 2016
Jul 15
3:38
PM PT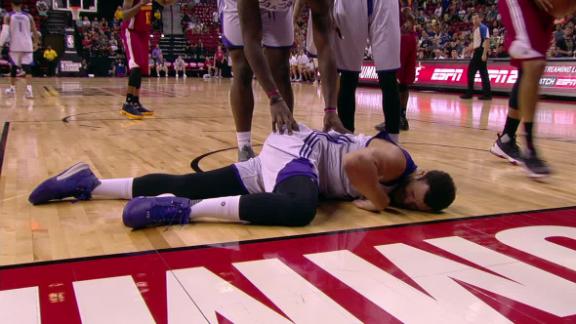 Los Angeles Lakers forward Larry Nance Jr. received good news Friday when an MRI revealed that his injured right wrist is sprained and not fractured, as it was initially feared.
Nance was injured with only seconds remaining in Thursday's 88-80 summer league loss to the Cleveland Cavaliers. The Lakers said after the game that X-rays taken showed a "probable fracture.''
In a statement, the Lakers announced Nance's status and said the second-year former Wyoming standout is day to day and won't play in his team's summer league finale Friday night versus the Utah Jazz.
Nance, who has been one of the Lakers' most promising players throughout summer league, suffered the injury during a fourth-quarter drive to the basket when a Cavaliers player drew a charge, causing Nance to hit the floor hard and apparently land on his wrist.
Nance returned to Los Angeles and was seen by Lakers team physician Dr. Steve Lombardo and hand specialist Dr. Steve Shin of the Kerlan-Jobe Orthopaedic Clinic, the Lakers announced. Along with there being no fracture, Nance also didn't suffer any ligament damage in his wrist, the Lakers said.
Information from ESPN's Baxter Holmes and The Associated Press was used in this report.