January, 29, 2015
Jan 29
11:56
PM PT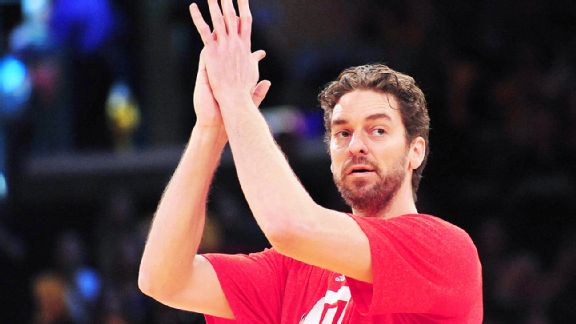 Gary A. Vasquez/USA TODAY Sports Pau Gasol received a standing ovation from the Staples Center crowd before Thursday's game.
LOS ANGELES -- In a Los Angeles Lakers franchise so stocked with legends it's difficult to single out individuals for superlatives, finding a description for Pau Gasol is remarkably simple. He's the best Lakers acquisition of the 21st century.
The flip side is that letting him leave without receiving anything in return is the Lakers' biggest mistake of the century.
First, Pau's place in Laker lore. There's no easy answer for greatest Laker of all-time when Magic Johnson, Kobe Bryant, Jerry West and Elgin Baylor are among the nominees. And good luck picking a starting center between Kareem Abdul-Jabbar, Shaquille O'Neal, Wilt Chamberlain and George Mikan without an argument.
January, 29, 2015
Jan 29
11:35
PM PT
ESPN.com news services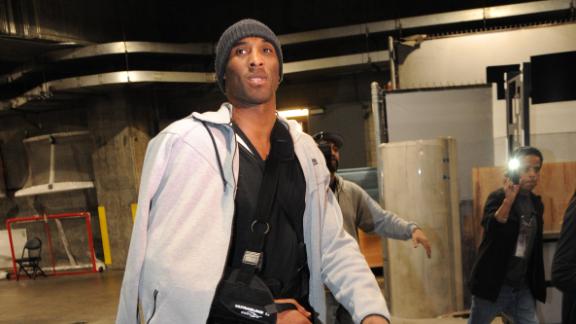 LOS ANGELES -- Kobe Bryant addressed his expectations a day after shoulder surgery Thursday night in a brief interview with ESPN, saying he planned on being ready to play come September for the Los Angeles Lakers' training camp.
"Yeah, that's the plan," he said.
Bryant said his rehab over the next couple of months will involve "a lot of patience."
"Sore, but it's OK," Bryant said of his shoulder.
He said media opinion on whether he should return for a 20th season or retire wouldn't affect his decision.
"I don't really listen much to what people have to say, to be honest with you," Bryant said.
Bryant was back at the Staples Center for a brief visit with former teammate Pau Gasol before the Lakers faced the Chicago Bulls.
The former teammates spoke privately before Bryant left. Bryant said he wasn't feeling well enough, 31 hours after the operation, to go on the court.
Gasol later received a standing ovation from fans before the Lakers' 123-118 double-overtime win as a video tribute played on the big screens at Staples Center.
Bryant is expected to need nine months to recover from his third straight season-ending injury, a torn rotator cuff in his right shoulder suffered last week that he had surgically repaired Wednesday.
January, 29, 2015
Jan 29
10:43
PM PT
LOS ANGELES -- The
Los Angeles Lakers
stood one defeat from tying their longest losing streak in franchise history.
Then they built a 15-point lead over a legitimate title contender.
And they almost let it slip away on several occasions when it was all on the line, but ultimately the Lakers fought back and held on to win a 123-118 double-overtime thriller over the
Chicago Bulls
at Staples Center here Thursday.
The win snaps a nine-game losing streak, the Lakers' longest skid since they dropped a franchise-worst 10 in a row in April 1994.
The Lakers improved to 13-34 while the Bulls fell to 30-18.
Player of the game:
This was a close call, but let's give the honor to Lakers forward
Jordan Hill
. He tied a career high with 26 points on 11-of-22 shooting and added 12 rebounds.
Hill hit a huge 20-foot jumper late in the first overtime that extended the game to another session. He hit another big jumper late in the second overtime and grabbed several clutch rebounds throughout.
Homecoming king:
Lakers coach Byron Scott called for Lakers fans to give Gasol a standing ovation, and they delivered. After a touching tribute video before tipoff, Gasol came to center court as fans rose to their feet and rained down cheers.
Lakers star
Kobe Bryant
was expected to say some pregame remarks on behalf of his former teammate, but the Lakers said he was still in pain and groggy from medication following season-ending shoulder surgery Wednesday. Bryant spoke to Gasol privately before leaving the arena, the Lakers said.
As for the game itself, Gasol finished with 20 points, 10 rebounds and six assists. He also made a huge tip-in basket that tied the score with 11 seconds left in regulation, closing out a 9-0 run that gave the Bulls a chance.
Stat of the night:
Bulls guard
Jimmy Butler
shot 18 free throws; the Lakers as a team shot 25.
Butler made 16 of his attempts at the charity stripe and the Bulls made 26 of 32. Butler scored a game-high 35 points, matching his career high. He scored 27 in the second half. On the flip side,
Derrick Rose
shot 7-of-26 from the field for 17 points and wasn't a factor in either of the overtimes.
Factoid:
Thursday marked the Lakers' first double-overtime game since April 22, 2012 versus Oklahoma City.
Loose balls:
Lakers guard
Nick Young
(sprained ankle) missed his second consecutive game.
January, 29, 2015
Jan 29
10:41
PM PT
Associated Press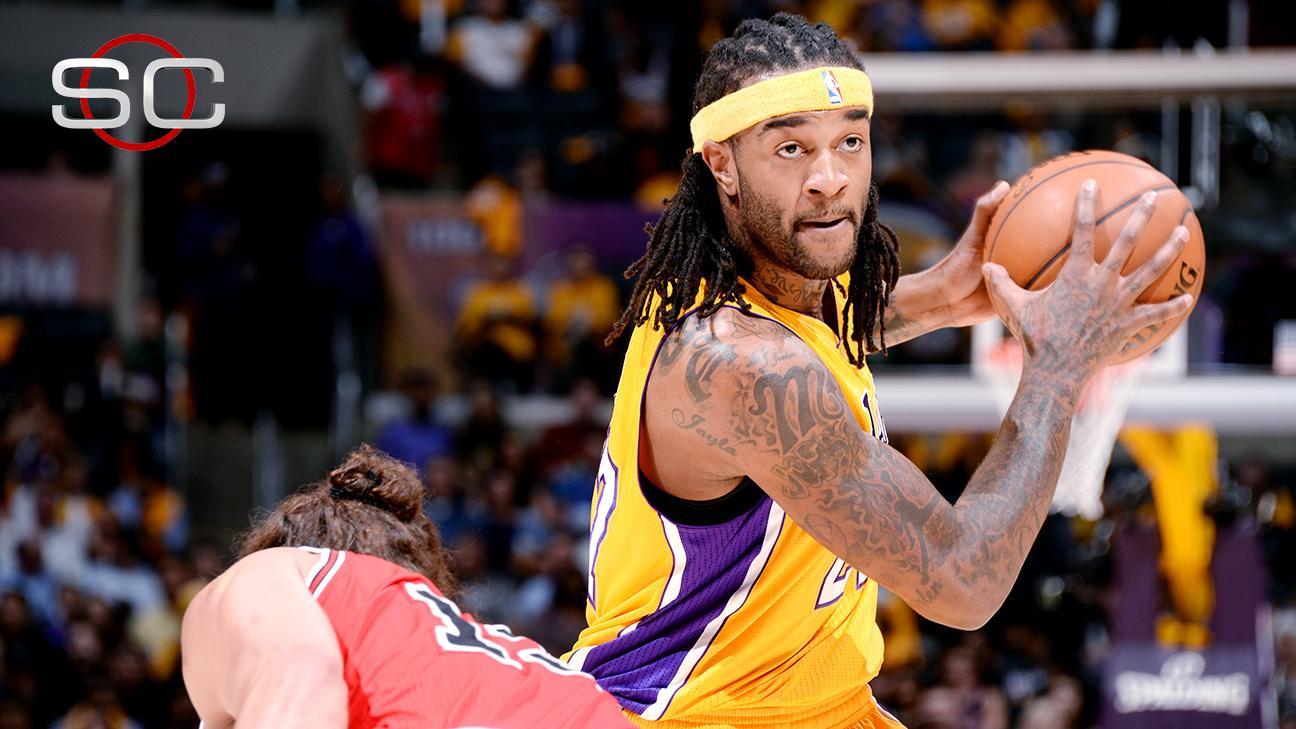 LOS ANGELES -- Jordan Hill scored 26 points and forced the second overtime with a clutch jumper, and the Los Angeles Lakers snapped their nine-game losing streak in thrilling fashion with a 123-118 victory over the Chicago Bulls on Thursday night.
Wayne Ellington scored 23 points and rookie Jordan Clarkson added 18 for the Lakers, who held off the Bulls for their first victory since Jan. 9.
With big late baskets from everybody in their patchwork lineup, the Lakers avoided matching the 1994 squad coached by Magic Johnson for the longest skid in the 16-time champion franchise's history.
All-Star Jimmy Butler matched his career high with 35 points for the Bulls, who rallied from a nine-point deficit in 70 seconds late in regulation.
January, 29, 2015
Jan 29
8:10
PM PT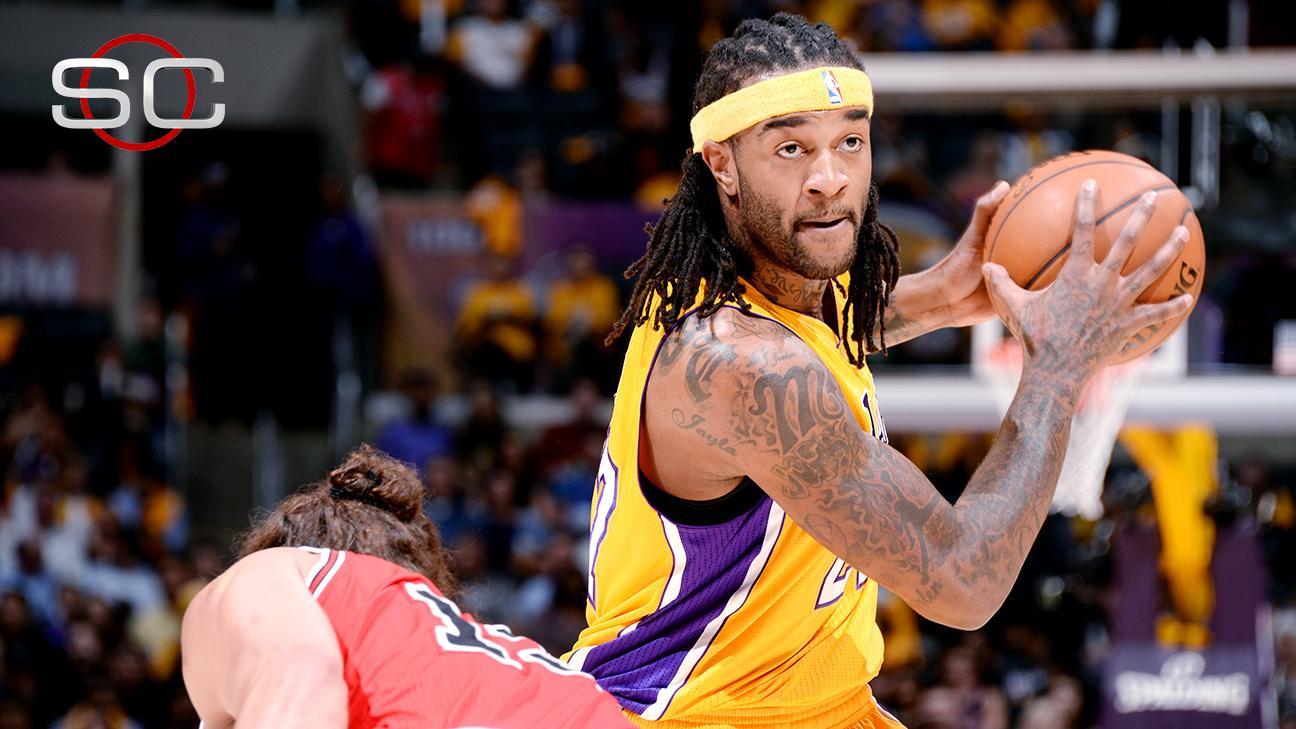 LOS ANGELES -- It was overwhelming at first, the tribute video playing back the memories, the cheers and applause raining down, the fans wearing "Thank Pau" shirts with his accomplishments with the Lakers listed on the back.
"So many emotions -- and that ovation at the start of the game, hard to focus," Pau Gasol said afterward, surrounded by a swarm of reporters who used to cover him daily. "It took me a while to get settled into the game."
Before Gasol's first game back in L.A. against his former team Thursday -- a 123-118 double-overtime loss by the Bulls at Staples Center -- he went to center court and applauded along with fans, showing appreciation for their support after the video played.
But before that, Gasol, who finished with 20 points, 10 rebounds, six assists and four blocks, received a surprise guest in the locker room: Kobe Bryant.
Following season-ending right shoulder surgery to repair a torn rotator cuff, the Lakers' star guard, who won two championships alongside Gasol, visited his former teammate. Gasol left the Lakers last summer after 6 1/2 seasons with the team.
"I really appreciated him coming. I didn't expect it at all," Gasol said. "It was an incredible gesture on his part to want to come and want to say hello. A great unexpected gift."
Not that the two talked all that long.
"He just got surgery," Gasol said. "He was in pain. I told him to go rest, get out of here. ... We're in touch. We talk. I'll see him down the road at one point."
Bryant had been expected to speak to the crowd before the game, but he told ESPN he wasn't feeling well enough, 31 hours after the operation, to go on the court.
This wasn't the first time Gasol entered Staples Center as a member of the Bulls. He also was here Nov. 17 when Chicago faced, and defeated, the Los Angeles Clippers
January, 29, 2015
Jan 29
1:35
PM PT
EL SEGUNDO, Calif. -- Lakers guard
Steve Nash
has basically been a ghost since October, when he was declared out for the season because of back injuries.
Nash hasn't been a visible presence at games, and while Lakers coach Byron Scott said he has
hoped that Nash would be around
to help mentor younger players, Scott strangely added that he's had consistent trouble reaching Nash by phone.
Lakers general manager Mitch Kupchak has a different view.
"He's around," Kupchak said after shootaround at the Lakers' practice facility Thursday. "I've had multiple meetings with Steve. We have breakfast once a month. He will work with some of our players. He may have already started doing that. He's not going to go out and advertise [but] he's doing it. ... As the season progresses, he'll be more engaged."
Health troubles sidelined the 40-year-old Nash for all but 15 games last season. And because of back, knee and hamstring issues, the two-time MVP played in just 65 of a possible 164 regular-season games the past two seasons with the Lakers.
"We always had concerns about Steve Nash, of his inability to make it through the season," Kupchak said. "So I was not that surprised that Steve couldn't make it through the season."
Nash decided not to retire this offseason and instead returned to the Lakers, who will pay him about $9.7 million in the final year of a three-year, $28 million deal. Nash said this past summer that he believes this season -- his 19th -- will be his last.
"We're forgetting the career that Steve Nash had and the decision he had to make back in October," Kupchak said. "Very emotional and difficult decision. We supported it 100 percent."
January, 29, 2015
Jan 29
1:27
PM PT
EL SEGUNDO, Calif. -- Lakers general manager Mitch Kupchak said the team was "as aggressive as we could be" this past offseason, yet the Lakers struck out on marquee free agents, including
LeBron James
and
Carmelo Anthony
.
They also lost
Pau Gasol
, who took less money for a fresh start with the
Chicago Bulls
, one summer after losing
Dwight Howard
, who took less money and joined the
Houston Rockets
.
In terms of building the team going forward, Kupchak, speaking Thursday after the Lakers' shootaround, first mentioned the Feb. 19 trade deadline. Then Kupchak mentioned the June 25 draft, though the Lakers will lose their first-round pick to the
Phoenix Suns
if it falls outside the top five.
"Our coaches and players have been instructed to win games," Kupchak said when essentially asked about the notion of tanking games to make sure they keep that pick.
Kupchak later added, "A top-five pick is always a good thing."
Once the draft is over, Kupchak said, "We'll look at the free-agent market and see what our needs are and what's realistic. We do have an awful lot of financial flexibility."
The Lakers should be in position to sign one max-level free agent, and several big names are available, including
Marc Gasol
,
LaMarcus Aldridge
and
Goran Dragic
.
Kevin Love
could also opt out of the final year of his contract.
In the meantime, Kupchak said the Lakers will look to develop and evaluate players.
"We want [Lakers coach] Byron [Scott] to establish and maintain a culture that he's comfortable with," Kupchak said. "And the players have to adhere to that culture, which [is], clearly, play hard, play to win, work before practice, work after practice, work before games, show high character under adverse conditions. That's what we're going to look at going forward."
January, 29, 2015
Jan 29
1:19
PM PT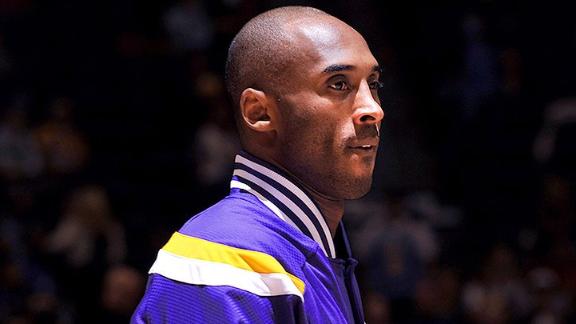 EL SEGUNDO, Calif. -- Lakers general manager Mitch Kupchak said he fully expects Kobe Bryant to play next season after the Lakers star suffered a recent season-ending shoulder injury.
"I don't think he's retiring," Kupchak said Thursday after the Lakers' shootaround. "He said he's looking forward to training camp. That's what we expect."
Bryant is expected to need nine months to recover from his third straight season-ending injury, a torn rotator cuff in his right shoulder suffered last week that he had surgically repaired Wednesday. If Bryant meets that timetable, he could return to basketball shortly before the start of the 2015-16 season, the final year of his contract with the Lakers.
Bryant, who will be 37 this summer, is the NBA's highest-paid player at $23.5 million this season. He is under contract for $25 million next year, which would be his 20th NBA season.
Kupchak shot down the notion that Bryant's heavy minutes load earlier in the season -- he played a team-high 35.4 minutes per game through the team's first 27 games -- led to his injury.
"I don't think that had anything to do with anything [and] certainly not the injury," Kupchak said.
And when asked what the Lakers could do to help Bryant play out the final year of his contract, Kupchak said, "I think a big key will be [that] we have to improve the talent level on the team."
He added, "As you get older and you experience injuries in this league -- and he's played what will be 20 years -- it's difficult to play when you're going to lose three or four games or five games.
January, 29, 2015
Jan 29
11:33
AM PT
[+] Enlarge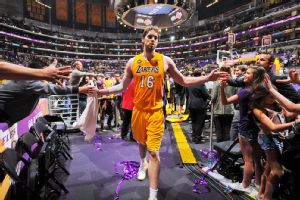 Andrew D. Bernstein/NBAE/Getty ImagesPau Gasol spent 6½ seasons in a Lakers uniform.
LOS ANGELES -- Pau Gasol knows Thursday night's game against the Los Angeles Lakers will be different. After spending six and a half years with the Lakers, the veteran big man decided to sign with the Chicago Bulls last summer, a decision that looks very wise given how poorly the Lakers have been playing.
Even so, Gasol knows that facing off against his old team will be a different experience for him.
"It's going to be emotional," he said recently. "It's going to be special for sure. A lot of thoughts and emotions and memories will come back at that time. So I'll just try to contain them as much as I can and try to focus on playing my game and helping my team win."
The Bulls visit the Lakers a couple of nights after their most impressive win of the season, 113-111 in overtime over the Golden State Warriors. Gasol had 18 points, 16 rebounds and eight assists in the win.
January, 29, 2015
Jan 29
12:00
AM PT
By ESPNLosAngeles.com
ESPNLosAngeles.com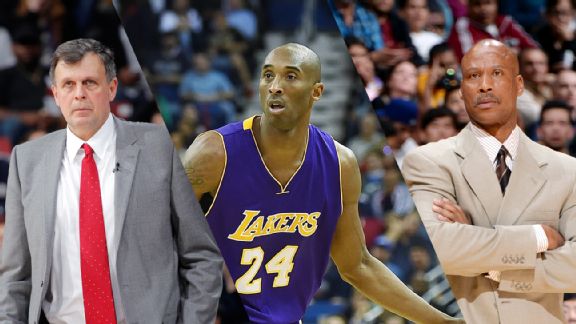 Getty ImagesWhen it comes to Kobe Bryant's future, who's closer to the truth, Kevin McHale or Byron Scott?
---
Each week, ESPN.com Lakers beat writer Baxter Holmes, along with ESPN.com NBA writers Ramona Shelburne and Arash Markazi, will weigh in on three questions that are on the minds of Los Angeles Lakers followers.
1. Kevin McHale says he isn't sure Kobe Bryant can rebound from his latest injury. Byron Scott says he doesn't see Kobe leaving his legacy on these terms. Who is closer to the reality?
Holmes:
Byron is right. Kobe doesn't want to go out like this and he won't. He'll rehab and come back. What will he look like then? Hard to say. But he'll at least be out there on his own two legs at the end, which at this point is good enough considering all his body has gone through lately.

Shelburne:
I think Kobe has one last comeback in him, if only because going out on a note this sour is so distasteful. But this is going to be a tough one. Not as tough as the Achilles' injury, but still very painful and frustrating nonetheless. The first few months, he won't be able to work out much at all, which is maddening for a competitor like Kobe. But after that, he should be able to train as maniacally as he usually does and come into training camp in fantastic shape. It'll all be a lot easier if there's a decent team to come back to. But that'll be up to the Lakers' front office to deliver this summer.
Markazi:
Scott. There's no doubt in my mind that Kobe will be back next season. Recovery time for his surgery was thought to be five to six months, though Lakers officials said it would be nine, but he'll still be back in time for the start of training camp. Playing 20 seasons for the Lakers and walking off the court on his terms is important to him and his legacy, and he's committed to making it happen.
---
2. Will the recent second-half benching of Nick Young be a positive for him?
[+] Enlarge
Mark J. Rebilas/USA TODAY SportsNick Young will have to respond after his recent benching now that Kobe Bryant is out.
Holmes:
The hopeful answer here is yes, but Young can get down on himself and struggle with bouncing back from that, so it's hard to say. Young also mentioned that all the losses have been affecting him, in that "you get tired of getting beat up." The very least he can do is show some effort on defense. If not, he deserves to stay on the bench.
Shelburne:
Hard to say. So much of Young's success is dependent on his confidence, err, swag. How do you have swagger when you've been benched? At some point, however, every athlete has to deal with failure. How they bounce back and respond to it is what determines how long and successful of a career they have in this league. That's Young's challenge now.
Markazi:
That's the hope. Sometimes tough love is the best love, and for Young, who laughs off everything, perhaps a benching was the best way to get through to him.
---
3. Should Lakers fans care that Kobe admitted he wanted to play with Michael Jordan at one time?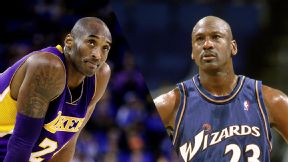 Getty ImagesKobe Bryant admitted recently he wanted to play with Michael Jordan in Washington.
Holmes:
Lakers fans shouldn't sweat it, because Kobe ultimately stayed in L.A. and helped bring the city more championships. Besides, it would've been pretty cool to see him team up with Jordan, even if it was in Jordan's later years. If anything, the fact that Kobe almost left underscores just how sour his relationship was with Shaquille O'Neal at that point.
Shelburne:
Yes, but not in an emotional way. This wasn't a rejection of the Lakers, as some are making it out to be. This was an admission of how much Kobe really did look up to Jordan. For years, Kobe denied that he measured himself against MJ. But this year when he passed him on the all-time scoring list, he acknowledged how much Jordan inspired him. I loved that this story finally came out, as it humanizes two of the most competitive people on the planet.
Markazi:
Not really. Who knows how much of that is revisionist history anyway. Either way, the fact that Kobe considered playing with Jordan in Washington or for the Clippers a decade ago doesn't really mean anything now.