January, 26, 2015
Jan 26
3:23
PM PT

By Baxter Holmes
ESPNLosAngeles.com
Archive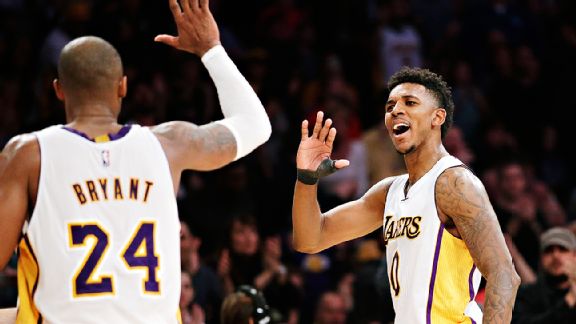 AP Photo/Jae C. HongKobe Bryant may be done for the season, but Nick Young is more than ready to take the reins.
EL SEGUNDO, Calif. -- What will the Lakers do without
Kobe Bryant
?
Don't worry.
They still have
Nick Young
.
"Just give me the ball and get out of the way," the outspoken reserve guard said with a laugh after practice Monday, not long after the team announced that
Bryant will have surgery Wednesday morning
to repair a torn rotator cuff in his right shoulder.
A timetable for Bryant's recovery won't be known until after the procedure, but Lakers coach Byron Scott said that "we know Kobe is probably not going to play" again this season.
While Scott said he has "no idea" who will step up to help fill the void left by Bryant, and didn't mention who would start in place of Bryant, no doubt more is expected of Young, who averages 14.1 points per game, second among Lakers players to Bryant's 22.3.
"It's a big responsibility," Young said. "I've got to go out there and play to the best of my abilities every night."
Young spoke after apparently suffering a sprained ankle during practice when guard
Jordan Clarkson
stepped on his foot. Young said his ankle was "throbbing, but I'll be all right." He said he wasn't sure if he'd play Tuesday against the
Washington Wizards
.
However, Young's mention of "responsibility" came at an interesting time. The Lakers guard was benched in the second half of Sunday's loss to the
Houston Rockets
for what Scott described as a lack of effort.
"The message I was sending [Sunday] night was, 'You basically didn't look like you wanted to play,'" Scott said. "'You weren't defending. You were just standing around.' He was throwing the ball all over the place. So I chose not to play him, because if you look disinterested, with body language and things like that, to me you don't want to play."
Young, who didn't speak to reporters after Sunday's game, discounted the notion that he didn't want to be out there.
"There ain't a day go by that I don't want to be out there on the court," Young said. "I love being here, love playing basketball. I get a joy out of playing and seeing the fans, hearing them chant 'Swaggy P.' That's what drives me. [Scott] sees what he sees. I'm not in no situation to go back and forth with the coach because I would never play. That's his judgment."
On being benched, Young said, "It was very frustrating. It just brought back some old memories, like being a rookie. It happens. I guess [Scott] wants the best for me. I came in [Monday] with the mindset of not having no negative energy. ... I think I'll be all right."
Young also admitted that the Lakers' losing ways have affected him. The team has lost a season-high eight straight games, their longest losing streak since losing eight in a row in March 2005.
"We've only won 12 games this year," Young said. "Losing can catch up to you. I'm still a human being. I'm still going out there trying to fight. At the same time, you get tired of getting beat up."
Young said he and Scott talked about his demeanor, and Young stressed that he has to do a better job when being double-teamed by defenders, which he said he expects even more now that Bryant is out.
"It's tough, but we've got to go out there and still fight," Young said. "We've still got to give fans a show. It's a chance for other people to step up now. There's a lot of players with contracts. Even though it's tough for Kobe, it's a blessing in disguise for other people out there to get a chance. They've just got to take full advantage of it."