February, 12, 2016
Feb 12
6:48
AM PT
February, 12, 2016
Feb 12
7:34
AM PT
By ESPN.com
ESPNLosAngeles.com

Kobe Bryant wants to relish his final NBA All-Star game: The noise became louder with every move Kobe Bryant made. He stood up from a press table and groaned. Bryant moved his feet and winced. Bryant then uttered "Oh God," before stepping from the platform to the ground. He then walked gingerly after sitting for almost 12 minutes. -- Los Angeles Daily News
Lakers' D'Angelo Russell, Jordan Clarkson embracing NBA All-Star weekend: Plenty of their teammates will rest. Their head coach will vacation in Mexico. But for Kobe Bryant, D'Angelo Russell and Jordan Clarkson, the NBA All-Star break actually just means more work. -- Los Angeles Daily News
What will Kobe Bryant do in his final NBA All-Star game?: As Kobe Bryant's farewell tour alternately limps and lopes into its final lap, the strangest thing is happening. -- Los Angeles Times
Lakers' Jordan Clarkson, D'Angelo Russell plan to soak up the All-Star experience: A year ago, Jordan Clarkson's All-Star weekend was spent in the gym. He proudly watched as his high school number was retired in San Antonio, then he returned to Los Angeles for the first of several workouts with then-Lakers guard Steve Nash. That was when he was just trying to make an impression in the league. -- The Orange County Register
NBA All-Star Game no longer centers around big men: They are big, sometimes burly and almost always a force in the paint. Yet when it comes to All-Star voting, NBA centers are losing their footing. For a third consecutive season, the All-Star Game is light on big men, the result of a change in fan voting rules. No centers cracked the list of the 10 players who will start Sunday in Toronto. -- The Orange County Register
February, 11, 2016
Feb 11
7:39
PM PT
ESPN.com news services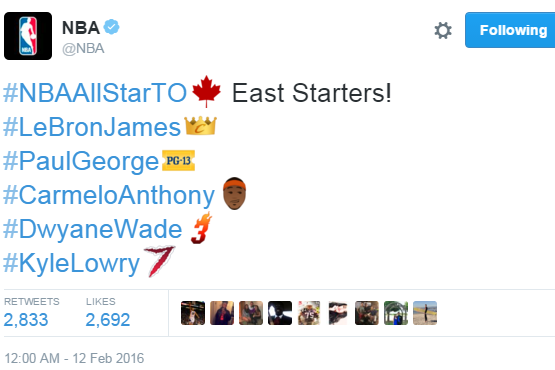 @NBA/Twitter
TORONTO -- Voting for the NBA All-Star Game MVP will include Twitter -- using emojis.
That's right.
Fans can vote for a black snake (Kobe Bryant), a king's crown (LeBron James), or an eyebrow (Anthony Davis).
The NBA announced Thursday that emojis had been created for all 24 players in Sunday's game by using a hashtag and their full name. Beginning in the fourth quarter, fans can vote by using #KiaAllStarMVP and #firstnamelastname in the same tweet. Retweets will count up to 100 times and the fan vote winner will account for 25 percent of the overall vote.
Bryant, nicknamed the Black Mamba, has won the MVP award four times. King James, as the Cleveland superstar is known, has won twice.
Emojis were also created for the TNT crew, including a doughnut for Charles Barkley, who took it in stride.
"That's funny,'' Barkley said. "You can't take yourself too serious.''
February, 11, 2016
Feb 11
5:12
PM PT
Associated Press
Steve Babineau/NBAE/Getty ImagesShaquille O'Neal, who ended his career in Boston in 2011, says he wishes he had been healthy enough to play one more season to say goodbye to the fans and teams in each city.
TORONTO -- Shaquille O'Neal says he wishes he could have had a farewell tour at the end of his career similar to the one former teammate Kobe Bryant is enjoying now.
O'Neal held court in Toronto before TNT's popular "Inside The NBA" television show Thursday night as the NBA prepared to kick off its All-Star weekend. He reminisced about his time with Bryant, the Lakers star who is retiring at the end of the season.
O'Neal was forced to retire in 2011 at age 37 after tearing his Achilles. He says he would have enjoyed being able to say goodbye to the fans and teams in each city, but he wasn't healthy enough to play the one more season on which he had he planned.
Bryant was voted a starter for the West team for Sunday's game.
February, 11, 2016
Feb 11
7:38
AM PT
February, 11, 2016
Feb 11
3:15
AM PT

By Dave McMenamin
ESPNLosAngeles.com
Archive
CLEVELAND -- When Phil Jackson arranged for his former pupil and Kobe Bryant's idol, Michael Jordan, to meet the brash, young Los Angeles Lakers phenom for the first time, there was one nugget of knowledge Jordan imparted to Bryant.
Of course, Jordan had to listen to the kid brag about how he could beat him one-on-one before he passed on the message to Bryant, but here's what one scorer at heart told to another as the secret to unlocking all the NBA buckets you could ever ask for: Develop a one-dribble pull-up jump shot.
Years later, it was Bryant's turn to talk to Kyrie Irving -- coached by Bryant's USA Basketball coach, Mike Krzyzewski, at Duke and then starting his career under Bryant's former teammate, Byron Scott, in Cleveland.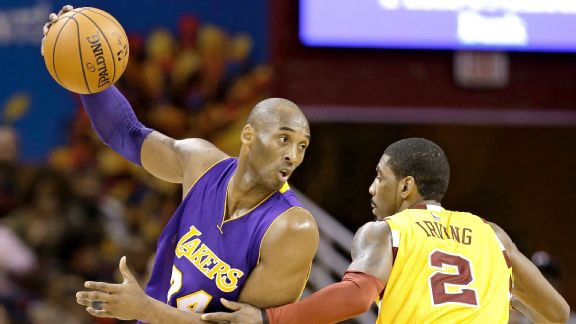 AP Photo/Tony DejakKyrie Irving scored a game-high 35 points in the matchup against his mentor Kobe Bryant.
And just like Bryant's fadeaway mimicked MJ's, and his gait mimicked MJ's, and his celebrations mimicked MJ's and even the inflection of his voice mimicked MJ's, so too did the advice he chose to bestow upon Irving.
"When he first came into the league, we talked about the importance of a pull-up jump shot," Bryant said after the Lakers' 120-111 loss to the Cleveland Cavaliers on Wednesday. "We talked about that a lot. And being able to stop on a dime and shoot. A player of his caliber that can shoot the 3 and get all the way to the rim, it's important to keep the defense off balance with one-, two-, three-dribble pull-ups."
As much as Wednesday's game was built up to be about Bryant versus LeBron James for what would be the first of their final three meetings before Bryant retires (Sunday's All-Star Game and another regular-season game in March), it really meant maybe even more to Irving.
You see, Bryant, with his 20 seasons and five rings under his belt, has nothing left to take from the game. Between now and mid-April, when he laces them up for the final time in what's sure to be a surreal night at Staples Center, he is opening himself up.
"I think it's important to share whatever knowledge that I've gained throughout the years so hopefully they can pass it on to the generation after," Bryant said.
Everyone from Nike to the league office tried to peg Bryant and James against one another as rivals, but the reality is that Bryant was already a seven-year veteran when James entered the league.
"To me LeBron is still young," Bryant said Wednesday, openly guessing that James was in his 10th season and then reacting as if he was blown away when informed that it's indeed season No. 13 for James.
James, with 13 seasons and two rings to his resume, still wants more out of the game. Namely championships. But at the same time, the way he is setting himself up to get there is by feeding the 23-year-old Irving.
As a five-year vet, there is so much more that Irving sees as his rightful bounty from basketball. James already suggested this season that Irving will win an MVP someday. Scott called him the most talented point guard he has ever coached -- and his former players include the likes of Jason Kidd and Chris Paul. And Bryant sounded like he was describing himself when detailing Irving's game.
"He has a killer mentality," Bryant said. "He can shoot the long ball. His midrange game is excellent. And he can finish at the rim. So, he has all the tools there. It's just a matter of continuing to work and get into rhythm where he can start doing that on a consistent basis. But the way he played tonight, he can do this pretty much every night."
Wednesday's game got mildly competitive in the fourth quarter when Bryant broke out some of his old magic to score seven points in two minutes late in the quarter to bring the Lakers within eight after once trailing by 22. But Irving closed things out with eight fourth-quarter points of his own en route to 35 points.
It was a game-high total and a season-high total for Irving, more than James' 29 and more than doubling Bryant's 17. While all the postgame cameras flooded Bryant and James to capture their embrace after the final buzzer, Irving and Bryant had a hug of their own that went comparatively unnoticed.
In Bryant's final game against Jordan, he smoked him for 55 points, including 42 in the first half. Irving told ESPN.com that he was going for the same sort of statement game against Bryant. As much as it could come off as cutthroat, it's just as much about reverence and respect, almost like a kid inviting his parents to his talent show competition because he wants them to be proud.
"Oh yeah, for sure," Irving said. "Going against your mentor, one of the guys that you want to prove something to every time you go out and play, there was definitely some added incentive going in there."
And so, some of basketball's brightest aligned for one night. A dimming star, a brilliant one and one just beginning to burn. All sharing the same sky. All connected as a constellation.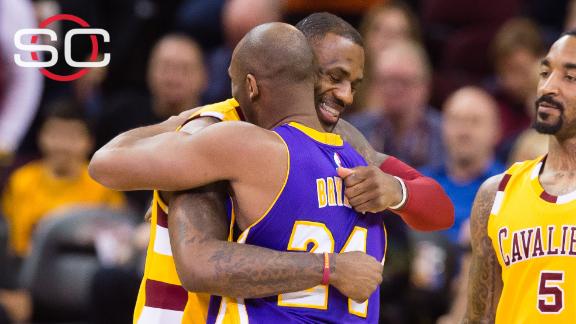 February, 10, 2016
Feb 10
10:38
PM PT

By Baxter Holmes
ESPNLosAngeles.com
Archive
CLEVELAND -- Late in the third quarter of Wednesday's 120-111 Cleveland Cavaliers win over the Los Angeles Lakers at Quicken Loans Arena, Cavaliers star LeBron James threw a two-handed bullet pass toward a teammate in the right corner, and Lakers rookie point guard D'Angelo Russell jumped up to deflect it.
Video clips of what happened next went viral immediately.
James' pass nailed Russell, the No. 2 overall draft pick in 2015, square in the groin, and the crowd immediately gasped as Russell quickly collapsed, lying face-down on the court, where he remained for a few minutes.
Russell's teammates and the Lakers' training staff encircled the former Ohio State standout while three replays of the incident were shown on the arena videoboard, each one drawing a pained groan from the fans.
"The way the crowd sounded, it seemed pretty obvious that it hit him right in the spot," Lakers coach Byron Scott said. "I felt for him."
Russell rose to his feet and was helped off the court while several of his teammates couldn't help but laugh. He later returned to the game and said he was all right.
"It was tough. Every guy knows the feeling," said Russell, who finished with 15 points on 5-of-11 shooting in 28 minutes. "Laugh about it now and then two months from now, somebody else will have something else to laugh about."
Said Russell's teammate, Kobe Bryant, "It was hilarious. It was so funny. Once I knew he was OK, the jokes write themselves. That was a good time."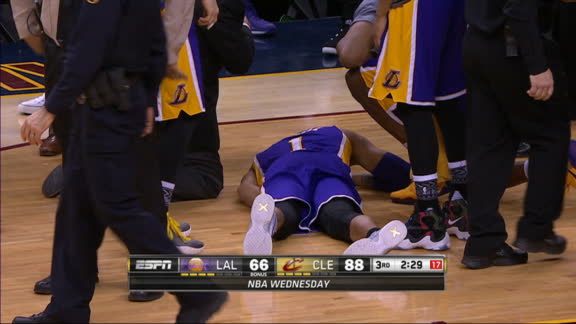 February, 10, 2016
Feb 10
10:00
PM PT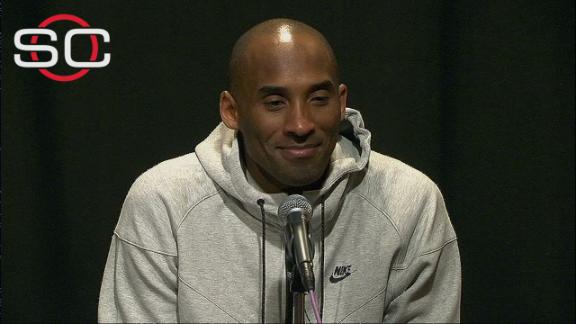 CLEVELAND -- Lakers star Kobe Bryant didn't mince words about the state of his oft-injured 37-year-old body entering the All-Star break.
"[I] feel horrible," he said Wednesday after playing his final game in Cleveland, a 120-111 loss to the Cavaliers at Quicken Loans Arena. "My ankles, knees, everything. This stretch couldn't come at a better time. My ankles hurt. My knees hurt. So I'm looking forward to having a complete week where I just do nothing."
Bryant scored 17 points on 5-of-16 shooting in 33 minutes against the Cavaliers.
Later, when Bryant rose from his chair after a postgame news conference, he groaned, "Oh my god." He then gingerly walked toward a nearby door after sitting for nearly 12 straight minutes.
Bryant, whose past three seasons have all been cut short by injury, announced his plans to retire this summer after his 20th NBA season.
He was selected by fans to start for the Western Conference in the 2016 NBA All-Star Game in Toronto on Sunday. It was Bryant's 18th selection to the All-Star Game, the second-most behind fellow Laker legend Kareem Abdul-Jabbar's 19.
Bryant is expected to have a busy schedule leading up to the game, considering it's his last All-Star Game, but he said he'll work to manage his time carefully to help preserve his body.
"It is busy, but it's also very selective," he said. "There's certain things that we'll do that's short bursts of appearances, but nothing too long, nothing where I'm on my feet for long periods of time. It's also the last one, so I try to enjoy it as much as I can. But it's no running, it's no pounding, it's none of that stuff. It's rest with plenty of ice baths in between."
Lakers coach Byron Scott said he has spoken to Bryant about getting some rest during the break.
"It's going to be almost 24-7 [for him]," Scott said. "I'll probably go to bed at night wondering if he's getting any sleep at all and how he's going to feel for the next day."
Scott said he trusts San Antonio Spurs
February, 10, 2016
Feb 10
9:47
PM PT

By Baxter Holmes
ESPNLosAngeles.com
Archive
CLEVELAND – After shootaround Wednesday, Los Angeles Lakers coach Byron Scott once again discussed his relationship with rookie point guard D'Angelo Russell, a hot-button issue throughout the season, as Scott has continually criticized the 2015 No. 2 draft pick with backhanded remarks on a near-daily basis.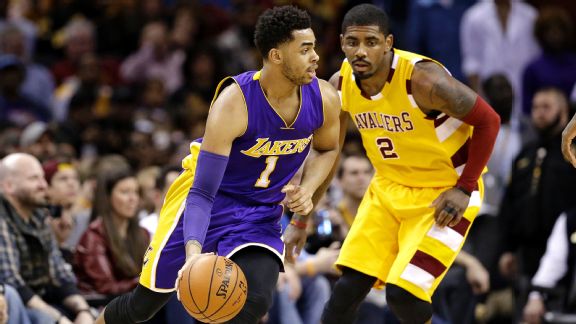 AP Photo/Tony DejakD'Angelo Russell, left, isn't as far along as Kyrie Irving, right, was as a rookie, according to Lakers coach Byron Scott, who coached Irving in Cleveland in 2011-12.
"I haven't been the easiest man on him in the world," Scott said hours before his Lakers fell to the Cleveland Cavaliers 120-111 at Quicken Loans Arena. "But I always seem to go back to thinking -- after I've been so hard on him on certain occasions -- that he's 19 years old, and he's just a kid playing in a man's world. I know the potential is there. He's just got to keep working at it. I'm going to stay on him because I think he has a chance to be a very good basketball player."
Later Wednesday, Scott further critiqued Russell by saying the former Ohio State standout is not as mature as other top-flight rookie point guards Scott coached, such as Kyrie Irving in Cleveland and Chris Paul in New Orleans.
"[Irving] was just a little bit more mature," Scott said. "At 19, he was a little bit more businesslike at practice and games. D'Angelo still has a playfulness about him. Sometimes in practice he's joking around and losing a little bit of focus. But he's 19. I understand that. Chris Paul was probably like 23 years old by the time he came into the league in his mental capacity. But like I said, each point guard, each guy I have, is different."
Scott was then asked if he meant Russell's "playfulness" was a negative trait.
"I didn't say it was a bad thing, but it is a bad thing at times," Scott said. "There's always a time to be serious, and there's always a time to joke around. So I'm not saying it's a bad thing -- I'm saying he's 19. I understand it. I'm not saying it's bad or good, but Chris Paul wasn't like that, and Kyrie was a little bit, but not that much. But like I said, again, they're all different, and I accept that."
Scott reiterated that Russell isn't as developed as Irving at that age.
"Kyrie was a lot farther along," Scott said. "Kyrie, offensively, there was no weaknesses, and I haven't seen that in a 19-year-old since. And he's probably the first. He was more prepared from an offensive standpoint than Chris Paul was his rookie year, and I think I said that as well. Kyrie was just so much more advanced -- on the defensive end was a different story -- but offensively, he's just gifted. Very mature, very smart, so it was a lot easier. This is a totally different situation.
"Each point guard that I've had is a totally different situation. D'Angelo is in a situation that is totally different from Kyrie and Chris Paul and Jason Kidd and other guys I've had. I treat them according to what they bring to the table. Like I said with D'Angelo, I know he's going to get there."