October, 24, 2014
Oct 24
10:45
PM PT
Associated Press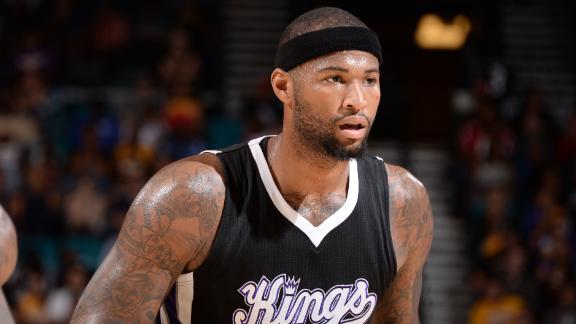 LAS VEGAS -- Ray McCallum's putback at the buzzer gave the Sacramento Kings a 93-92 victory over the Los Angeles Lakers on Friday night in the preseason finale for both teams.
The Kings overcame a 13-point deficit in the final 4 minutes.
McCallum missed a right-side jumper with 3 seconds left, Reggie Evans caught the ball behind the left side of the glass and put up a desperation shot that McCallum grabbed in front of the rim and dropped in the basket.
DeMarcus Cousins led Sacramento (2-5) with 21 points and 10 rebounds. Derrick Williams added 14 points, Ramon Sessions had 13 points and eight assists, Evans finished with 16 rebounds.
Jeremy Lin led Los Angeles (3-5) with 19 points and seven assists.
October, 24, 2014
Oct 24
9:51
PM PT

By Arash Markazi
ESPNLosAngeles.com
Archive
The news that
Steve Nash
, the
Los Angeles Lakers
' 40-year old point guard, would be out this season with recurring back problems has inspired many around the league to reminisce about his Hall of Fame-worthy career.
"He's one of the best,"
Los Angeles Clippers
coach Doc Rivers said. "He reminds me a lot of Isiah [Thomas] and [John] Stockton, those smaller point guards that had big hearts and did a lot of stuff. The back-to-back MVPs; at his size, just amazing."
Nash won MVP awards in 2005 and 2006 as he led the
Phoenix Suns
' high-powered offense and was an eight-time All-Star Game selection, including during his final season with Phoenix in 2011-12.
"I think he did a lot of things for the game," Rivers said. "I think the great ones, to me, they make the game different. Nash did that with his movement, being an aggressive scorer but also a facilitator, finishing under the rim. He just made the game different.
"Then when you watch people come after him, start trying to do that, play like him; that means he was special. He was a special player for us all to watch.
As much as Rivers would like to see Nash continue playing, the coach chuckled after confirming Nash's age. Rivers retired from the NBA at 34 and was a head coach before he was 40.
"It's really sad," Rivers said. "I guess. He's 40 years old; what the hell does he expect? I looked at it that way, too. But he's had a great career, obviously a first-ballot Hall-of-Fame career. So that's how we should look at him."
The Clippers' Chris Paul also offered impressions on his fellow L.A. point guard.
"Unbelievable. That was probably one of the most unfortunate things I've heard, to hear about Steve [Nash]," Paul said. "Not only is he a two-time MVP, one of the best point guards to ever play the game, but he's also a great guy. A guy that, when I was in college, I used to watch all the time.
"I'll never forget when I came into the NBA, he was the guy that I was coming after. He was the guy. I remember the night before I played him for the first time, I couldn't sleep. I wanted to play against him so bad. So it's unfortunate, and I wish him the best."
ESPN.com's Kevin Arnovitz contributed to this article.
October, 24, 2014
Oct 24
9:27
PM PT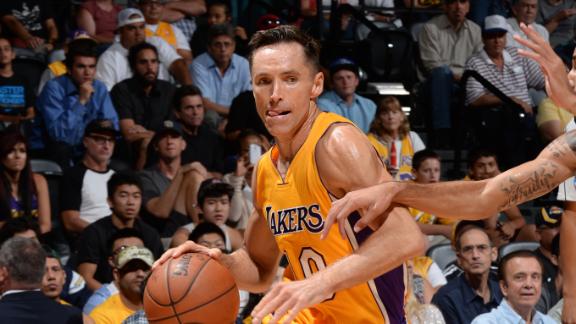 LAS VEGAS -- Kobe Bryant said Steve Nash can go to sleep at night knowing he did everything he could in order to return this season.
Bryant also said that if he was in Nash's position, he would accept his fate as well.
"You can control what you can control," Bryant said before the Lakers' final preseason game, a 93-92 loss to the Sacramento Kings on Friday night. "He did everything to get back and play at a high level. From that standpoint he should be able to sleep at night. I know I would. I can only think about that in my situation; I just tried to do everything possible to be ready, and if it wasn't in the cards, if I couldn't get back to being at that level, you just have to accept it and when you lay your head down you know that you did absolutely everything possible."
Bryant found out that Nash would be sidelined for the season Thursday when Lakers general manager Mitch Kupchak called to inform him.
"It's tough," said Bryant, who later talked to the two-time MVP about the injury and his future. "I just asked him if he was in good spirits and he said, 'Yeah.' It kind of is what it is at this point. ... He struggled with his back even when he was in his prime. I really don't think it's an age thing, it's an injury thing. He's had to deal with it his entire career, and it just caught up with him now."
Kupchak first talked with Nash and his agent, Bill Duffy, about this decision Monday.
October, 24, 2014
Oct 24
2:12
PM PT
[+] Enlarge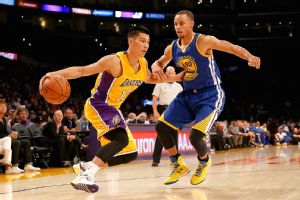 Jeff Gross/Getty ImagesWith Steve Nash done for the season, Lakers point guard Jeremy Lin has a chance to play a larger role.
LAS VEGAS -- Less than a day after Steve Nash was ruled out for the season with recurring back problems, Lakers coach Byron Scott said he did not address the injury with the team outside of naming Ronnie Price the starting point guard for Friday night's preseason game, and he said he has yet to talk to the two-time MVP.
"We didn't bring it up in practice, and we haven't talked about it at all," Scott said. "I think most of the guys who have been in the league for a while and are professionals know this is part of life in the NBA. You send out your well wishes and you move on. Obviously he'll be missed. Unfortunately for me, I didn't get a chance to coach him. He has always been one of my favorite people in the league because he's such a professional and such a gentleman. I'm going to miss out on that opportunity, but just like everyone else, I'm wishing him all the best."
October, 23, 2014
Oct 23
8:47
PM PT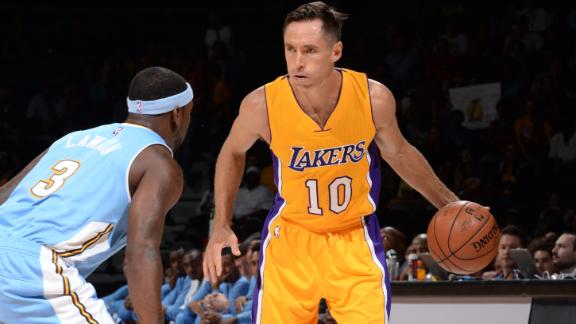 Steve Nash has back and nerve problems that will sideline him for the 2014-15 season, and now Kobe Bryant's contract is no longer a leading candidate for What's Wrong With The Lakers.
Bryant looks as if he can still drop 20 points a night this season. That might not be commensurate with the production expected from the highest salary in the league ($23.5 million), but the cost/stats ratio won't be as bad as the steady stream of blank numbers that will accompany Nash's $9.7 million. Nash will make more than Pau Gasol ($7 million), Shaun Livingston ($5 million) and Spencer Hawes ($5 million) and the same as Luol Deng, to name just a few free agents who moved this season. Any of them would have been more helpful than even the 2012-13 version of Nash.
So Nash's salary looms as the bigger albatross, unless ... the Lakers use his expiring contract as a trade chip. That could turn Nash's contract from a detriment into a referendum on the mindset of the Lakers.
Teams seek expiring contracts only when they want to move long-term commitments that no longer appeal to them. For the Lakers to take two years or more of a contract back, it would imply they were no longer committed to clearing as much cap space as possible in 2016. It might even mean they acknowledged they no longer view themselves as the top shoppers who can have their choice of free agents.
October, 23, 2014
Oct 23
5:24
PM PT
ESPN.com news services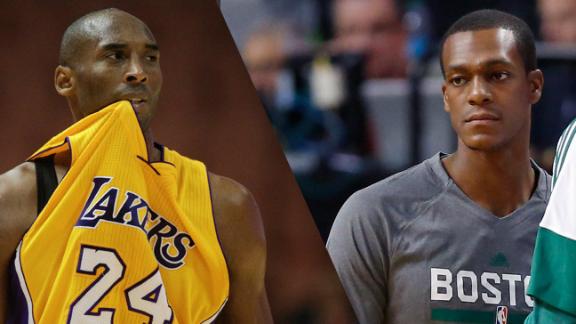 LOS ANGELES -- Steve Nash hoped for one more chance to show off his playmaking skills after fighting injuries and time for two miserable years with the Los Angeles Lakers.
Instead, Nash couldn't even make it to opening night in the 19th season of his remarkable career.
Nash will miss the entire season because of a back injury, the Lakers announced Thursday, putting the two-time NBA MVP point guard's career in doubt.
The Lakers and the 40-year-old Nash announced their joint decision less than a week before the start of the regular season. He played in only 15 games last season with nerve root irritation but hoped for a comeback season after several months of rehabilitation.
The Canadian star played in just three preseason games, feeling more back pain in the second outing. He then strained his back while carrying travel bags several days ago.
"Being on the court this season has been my top priority, and it is disappointing to not be able to do that right now," Nash said. "I work very hard to stay healthy, and unfortunately my recent setback makes performing at full capacity difficult. I will continue to support my team during this period of rest and will focus on my long-term health."
Nash will "focus on rest and rehabilitation," according to the team's news release. He is in the final season of his three-year contract with the Lakers, but the club's announcement made no mention of possible retirement.
Nash has played in only 65 games since the Lakers traded four draft picks for him in 2012 in a spectacularly failed attempt to assemble a title contender built around Kobe Bryant
October, 23, 2014
Oct 23
8:39
AM PT
ESPN.com news services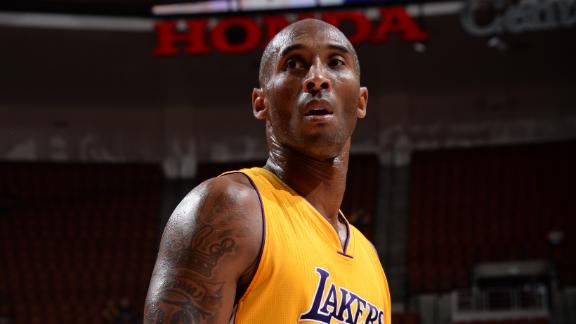 Lakers president Jeanie Buss has a message for any player who doesn't want to play with Kobe Bryant: good riddance.
"Any free agent that would be afraid to play with Kobe Bryant is probably a loser, and I'm glad they wouldn't come to the team," Buss said during a "SportsCenter" interview Thursday.
Buss was asked to comment on an ESPN The Magazine feature published earlier in the week, in which several agents and NBA personnel -- including Lakers insiders -- said that L.A. has been unable to attract top talent in free agency because players don't want to work with Bryant.
"I read the story," Buss said Thursday. "I don't agree with any of it. If there is somebody that's on our payroll who is saying things like that, I'll soon get to the bottom of it, and they won't be working for us anymore."
In fact, Buss has a warning for all of Bryant's detractors: "I have no doubt that Kobe will make people regret ever saying" those comments, she said.
The Lakers have won five championships with Bryant, though they haven't made a trip to The Finals since 2010 and missed the playoffs entirely last season as Bryant appeared in just six games because of injuries.
Bryant, now 36, signed a two-year extension with the Lakers last year worth $48.5 million. He is the league's highest-paid player.