December, 18, 2014
Dec 18
7:00
AM PT
By ESPNLosAngeles.com
ESPNLosAngeles.com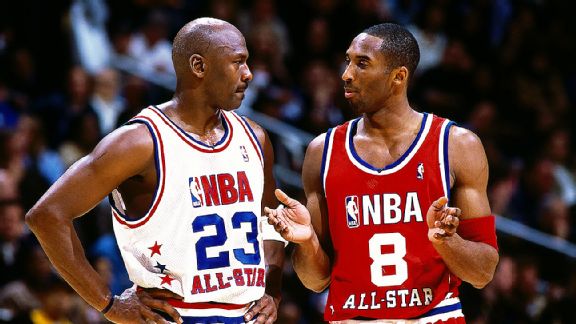 Andrew D. Bernstein/NBAE/Getty ImagesMichael Jordan and Kobe Bryant are two of the most competitive players the NBA has seen.
---
Each week, ESPN.com Lakers beat writer Baxter Holmes, along with ESPN.com NBA writers Ramona Shelburne and Arash Markazi, will weigh in on three questions that are on the minds of Los Angeles Lakers followers.
1. Is Michael Jordan really OK with Kobe Bryant passing him on the all-time scoring list?
Holmes:
Remember Jordan's Hall of Fame speech? The one where he torched anyone who he believed possibly slighted him at any point in his life, even if that person really didn't? I'm sure Jordan doesn't like that Kobe passed him, and MJ's statement would've said as much if he were allowed to really speak his mind. But at the end of the day, Jordan has more rings. And to many people, but especially MJ and Kobe, rings are what matter most.

Shelburne:
No. And that's why he's Michael Jordan. He and Kobe are two of the most competitive people on the planet. They are never going to be OK when anyone beats them or passes them for a milestone like that. I do think that Michael respects Kobe more than any other current player in the league, though. Their relationship is real. But I can almost guarantee you that a part of MJ is thinking how many more points he'd have than Kobe if he hadn't gone off to play baseball.
Markazi:
Yes. Of all the accomplishments or records in Jordan's career that he might be protective of, I don't think being third on the all-time scoring list was one. As long as Jordan has more championships and MVPs than Kobe, I think he's just fine.
---
2. Was it fine the way Kobe called out his teammates at practice recently?
Holmes:
It wasn't anything out of the ordinary. Kobe has been doing that for years -- and he's done it more than once this year. But his approach reminds me that there are different ways to skin a cat. He believes in his approach, whereas someone like
Tim Duncan
believes in a much different approach. Both have had great success. A key point: Which method is going to make others want to play with you? And which method is more likely to turn others off? The answer is pretty clear.
[+] Enlarge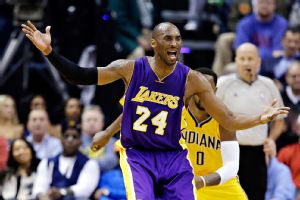 AP Photo/Darron CummingsKobe Bryant has made a habit of calling out teammates in practice throughout his career.
Shelburne:
Yes. That's how he has been his entire career. The only thing different was that he did that in front of the media so the whole world found out about it. But this is how Kobe pushes people. This is how he leads. You may not like it or understand it. Not every player will respond well to that style. But he has five rings that say his way works. He ain't changing now.
Markazi:
I think that was actually a regular occurrence that got more attention because Kobe did it in front of the media. I actually think the Lakers needed some tough love and the fact that they beat the Spurs in San Antonio afterward and won three straight shows it was probably more helpful than divisive.
---
3. Do you believe Jeanie and Jim Buss are on the same page with how to run the Lakers?
Holmes:
Great question. I'm still pretty new here, so I'm really not too sure just yet, but it's perhaps the biggest question surrounding the future of the Lakers. Ramona's excellent Q&A with those two shed light on their relationship, and it appears that while both obviously want to win, I'm not for sure if they're completely on the same page. Their comments sure felt that way to me.
[+] Enlarge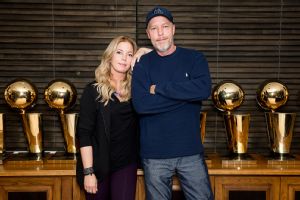 Chris McPhersonJeanie Buss, and brother Jim, are looking to take the Lakers out of their recent doldrums.
Shelburne:
Not yet. I believe they both want to be. They wouldn't have sat for a joint interview for the first time if they weren't committed to trying to run the Lakers together. But it seems as if they still need to improve their communication on certain things. And Jeanie seems to be skeptical of the plan Lakers GM Mitch Kupchak and her brother have to rebuild the current team.
Markazi:
For the most part, yes. I mean ideally Phil Jackson would be in the fold, but they are both committed to getting the Lakers back to championship contention and not tanking. I think they're both also committed to going in a different direction if the Lakers aren't in the Finals within three years.
December, 17, 2014
Dec 17
10:00
AM PT

By Tim MacMahon
ESPNLosAngeles.com
Archive
NEW YORK – Few appreciated
Kobe Bryant
surpassing
Michael Jordan
on the NBA's all-time scoring list as much as the man who is six spots below the
Los Angeles Lakers
legend.
Of course,
Dirk Nowitzki
has always been a big fan of Bryant, who now sits in the No. 3 spot among the league's all-time scoring leaders with 32,331 career points.
"He's probably the greatest player in my generation that I played against," said Nowitzki, who has 27,239 career points and will likely pass Elvin Hayes and Moses Malone over the next few weeks to move up to seventh on the list. "Obviously Shaq was very dominant,
Tim Duncan
was great, but I just loved watching Kobe. I don't think there will ever be another MJ, but he's definitely as close as it gets that we'll ever see.
"He had it all. He's a clutch player, can make shots from anywhere. I've had a blast from watching him during his career very closely. That's a heck of an accomplishment for sure."
December, 17, 2014
Dec 17
7:59
AM PT
December, 16, 2014
Dec 16
7:52
PM PT
ESPN.com news services
[+] Enlarge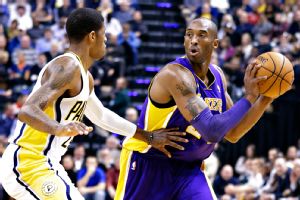 AP Photo/Michael ConroyPaul George says Kobe Bryant was among the first to check in with him after his injury.
Paul George said this week he got encouragement from a unique source to deal with his broken leg earlier this year.
George, who is likely to miss the entire season for the Indiana Pacers, told the Los Angeles News Group in an interview that Bryant called him immediately after the injury, which came during a USA Basketball scrimmage in August. Bryant told George to take advantage of his time on the sidelines.
"What I took away from him reaching out is that you have to become the best teammate, be a student and observe the game," George said. "Being out, you have to take it as a positive and sit back and learn."
"Having been through these types of situations myself, I wanted him to know if he needed some advice on how I tried to work on my game, even though I wasn't playing, to give me a call," Bryant said. "I'd like to talk to him a little bit."
The two did, and have remained in contact. They saw each other earlier this week, when the Pacers routed the Lakers 110-91.
December, 15, 2014
Dec 15
8:18
PM PT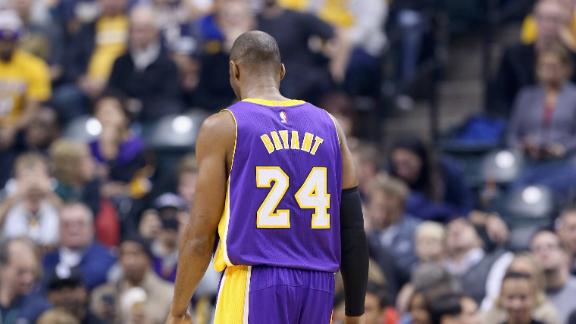 INDIANAPOLIS -- The
Indiana Pacers
had a certain look to them Monday night -- or that's what the ever-quotable
Nick Young
thought, anyway.
"They came out like they ain't had a meal in a long time -- some hungry dogs," the
Los Angeles Lakers
reserve guard said.
Meanwhile, the Lakers came out like they were hungover -- emotionally, at least. However, from how miserable they looked, one can never assume other factors weren't at play.
The Lakers trailed by as much as 39 points en route to a 110-91 blowout that wasn't nearly that close, dropping them to 8-17 and snapping a three-game winning streak.
[+] Enlarge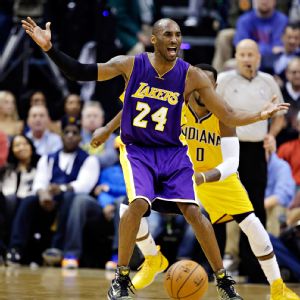 AP Photo/Darron CummingsKobe Bryant's 8-of-26 showing fit right in with the rest of the Lakers, who shot 33 percent from the floor on Monday.
This one was u-g-l-y, as the score would indicate.
The Lakers trailed by 33 at intermission, their biggest halftime deficit since the team moved to Los Angeles in 1960. At halftime, they were four points shy of their fewest points in any half ever.
The turning point: tipoff.
"Sometimes, you gotta pat yourself on the back for such an atrocious job," said Lakers star
Kobe Bryant
, who was indeed atrocious, scoring 21 on 8-of-26 shooting in 30 minutes.
The Lakers were playing their third road game in four nights, and the second of a back-to-back set, so fatigue must be considered.
But players also said there was an emotional hangover from Sunday night in Minneapolis, where Bryant surpassed
Michael Jordan
for third place on the NBA's all-time scoring list.
"I think we probably got comfortable," Young said. "We all saw everything was about Kobe [on Sunday] night, seeing all the cameras, everybody tweeting. It was streaming everywhere. Kind of got into it. [Monday night] it was like, no more cameras around, no NBA TV following us. That could have been a part of it."
Bryant wouldn't admit that it was a factor.
"We didn't have our legs at the start of the ballgame," Bryant said. "Got in late last night. It's a lot of games for us. Everything was short. All the shots were short. Late on rotations. We just couldn't get ourselves activated."
But Bryant did admit that in his NBA career, now in its 19th season, he can't remember any game getting out of hand so quickly.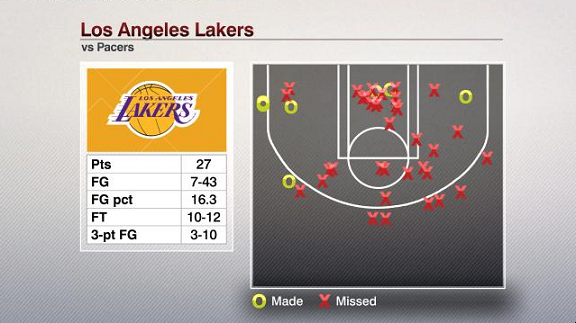 The Lakers' first half was among their worst ever.
"I don't think so," he said. "They jumped out to a quick lead on us, and we just compounded it by the fact that we couldn't throw the ball in the ocean [while] sailing a boat. It was one of those nights."
Lakers coach Byron Scott wasn't pleased with the loss, naturally, but he was happy the Lakers performed well on their recent road trip.
"This was a great road trip for us -- to win two out of three games on this road trip is still a very successful road trip," he said. "We have to keep that in mind."
He didn't deny that the team had an emotional hangover from Sunday, either.
"We could take all that into consideration, but all that is an excuse," Scott said. "We just got outplayed tonight. That's the bottom line."
December, 15, 2014
Dec 15
6:59
PM PT
Associated Press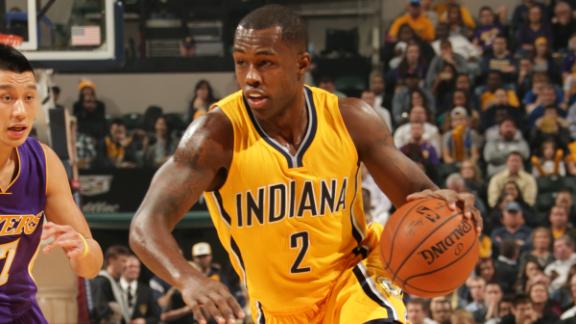 INDIANAPOLIS -- Rodney Stuckey got his second consecutive double-double, scoring 20 points and grabbing 10 rebounds to lead Indiana over the Los Angeles Lakers 110-91 on Monday night. Los Angeles shot 33 percent from the floor and trailed by 39 points during the game.
The Lakers made 3 of 20 shots, shooting 15 percent in the first quarter, when Indiana pulled away. The Pacers led 34-15 at the end of the quarter. Los Angeles scored eight of its 15 points in the first quarter from the foul line. Indiana stretched its lead over Los Angeles to 33 at halftime, 60-27. The Lakers shot 16 percent from the floor for the entire first half.
C.J. Miles scored 20, Roy Hibbert added 10 points, David West and C.J. Watson each scored 12, and Donald Sloan scored 17 points for Indiana. Kobe Bryant led all Lakers in scoring with 21 points, shooting 8 of 26 from the floor.
December, 15, 2014
Dec 15
6:17
PM PT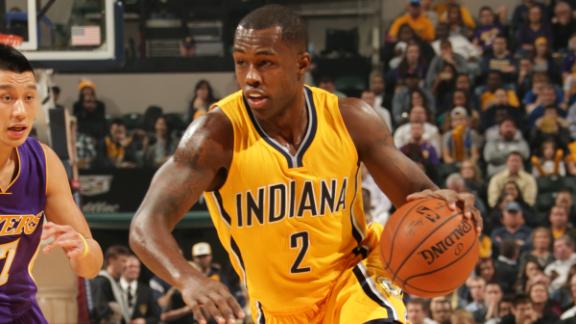 INDIANAPOLIS -- Woof. This wasn't a game. Just a slaughter. The
Los Angeles Lakers
trailed by 33 points at intermission, their worst halftime deficit since the team moved to L.A. in 1960. They were four points shy of setting a franchise record for fewest points in any half (23, set against Denver in 2009). Basically, it was downhill from the start and should've been called off from there, as the
Indiana Pacers
blew out the Lakers 110-91 at Bankers Life Fieldhouse, snapping L.A.'s three-game winning streak.
Turning point:
Tipoff.
Player of the game:
Several Pacers players qualified here. You could pick a name blindfolded and not be wrong. But let's go with
Rodney Stuckey
. He had 20 points, 10 rebounds and seven assists in a crisp 29 minutes. His plus/minus: +31. Not too shabby.
Milestone of the game:
Kobe Bryant
finished with an ugly stat line -- 21 points on 8-of-26 shooting in 30 minutes. But he also made more history, becoming the all-time Lakers franchise leader in fouls. Bryant entered the game just three fouls shy of surpassing Kareem Abdul-Jabbar, who recorded 3,224 fouls in his 14 seasons in purple and gold, and Bryant reached that mark in the second half.
Stat of the game:
There are plenty to choose from. In the first half, Pacers guard C.J. Miles made six field goals, one fewer than the Lakers did as a team.
Final thought:
Call it a hangover from Bryant's historic night in Minneapolis, when he surpassed
Michael Jordan
on the all-time scoring list, but it was still quite a hangover.
December, 15, 2014
Dec 15
4:07
PM PT
December, 15, 2014
Dec 15
2:54
PM PT
A day after passing
Michael Jordan
on the NBA's all-time scoring list,
Los Angeles Lakers
star
Kobe Bryant
shared his thoughts on the milestone in a
first-person essay
for The Players' Tribune.
Bryant, who is now third (32,310 points) on the career scoring list, one spot ahead of Jordan (32,292), recalled nearly giving up basketball when he was 12, before deciding to stick with it because of Jordan.
"I considered maybe just giving up basketball and just focusing on soccer," Bryant wrote. "Here's where my respect and admiration for [Jordan] was forged. I learned that he had been cut from his high school team as a freshman; I learned he knew what it felt like to be embarrassed, to feel like a failure. But he used those emotions to fuel him, make him stronger, he didn't quit.
"So I decided to take on my challenge the same way he did. I would channel my failure as fuel to keep my competitive fire burning. I became obsessed with proving to my family — and more importantly to myself — that I CAN DO THIS.
"It became an obsession. I learned everything about the game, the history, the players, the fundamentals. I wasn't just determined to never have a summer of zero again, I was driven to inflict the same sense of failure on my competition as they unknowingly inflicted on me. My killer instinct to score was born.
"Twenty-four years later, I pass my muse."
Bryant passed Jordan on a pair of free throws in the second quarter of Sunday night's win against the Timberwolves in Minnesota.
He now trails only
Karl Malone
(36,928) and
Kareem Abdul-Jabbar
(38,387) for career NBA points.