April, 1, 2015
Apr 1
10:12
PM PT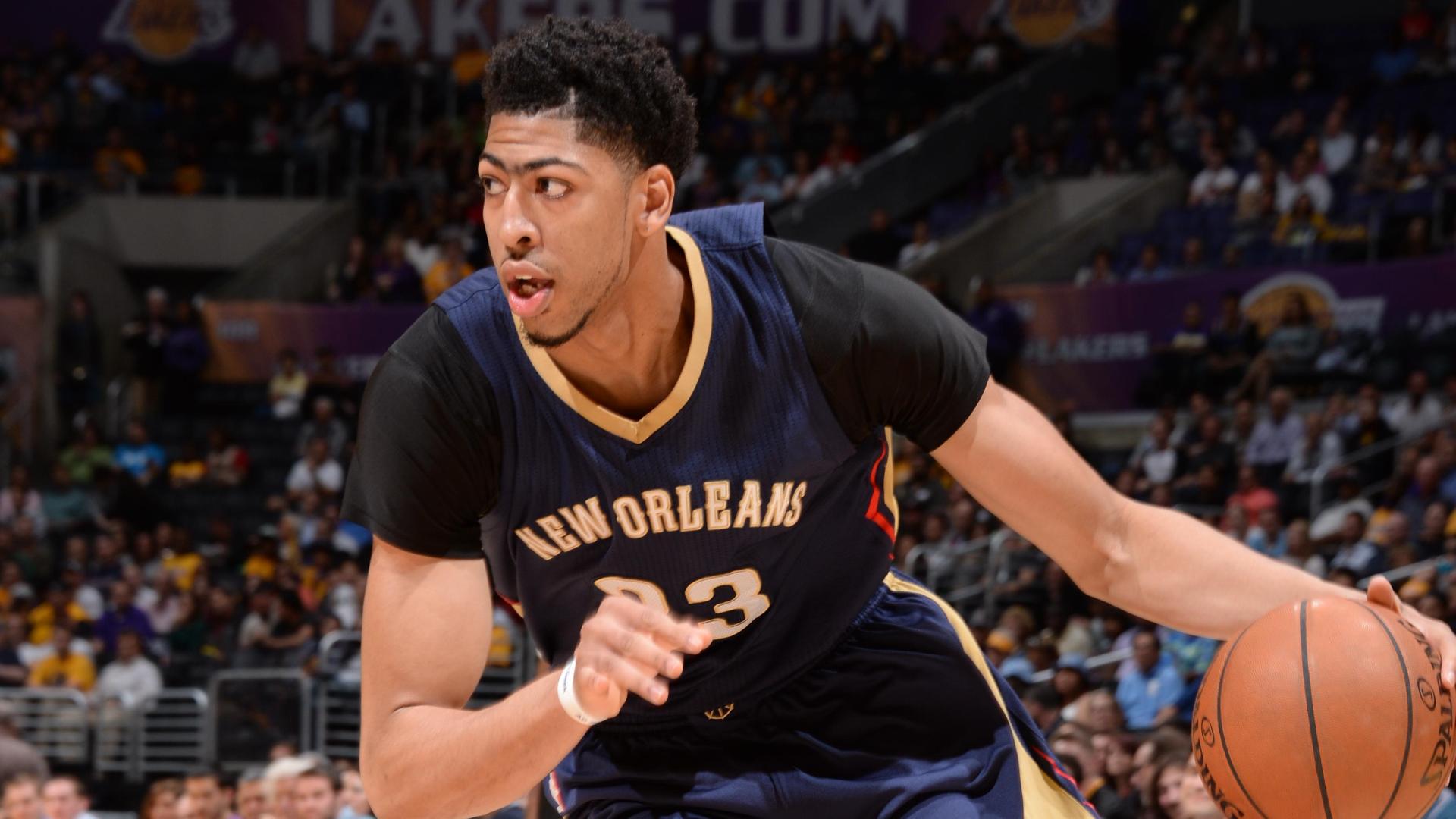 LOS ANGELES -- A loss -- just what the Los Angeles Lakers needed. ... No, really.
They've done enough damage to their draft lottery hopes in the past two weeks with a pair of wins over the lowly Philadelphia 76ers, but the Lakers got back in the loss column Wednesday by dropping a 113-92 decision to the New Orleans Pelicans at Staples Center.
The 20-54 Lakers have the league's fourth-worst record, and if they finish the season in that spot, they'll have an 82.8 percent chance of retaining their top-five protected 2015 first-round pick, which they'd otherwise forfeit to the 76ers.
But if the Lakers fall to the fifth-worst record, those odds take a steep drop to 55.4 percent.
Could the Lakers end up there? It's possible. Their .270 winning percentage isn't all that better than the Orlando Magic (.293), who currently occupy that fifth spot.
The point is, with eight games remaining in this regular season, every loss matters that much more for the Lakers.
And it's no secret that Lakers fans are watching the scoreboard pretty closely right now. They know the stakes, and Lakers coach Byron Scott has heard from them often.
"It's hard to tell somebody to go in and lose that job or don't do well, don't do your best," Scott said before the game. "That's basically what our fans are telling our players. 'Don't go out there and play as hard as you can.'
Scott added, "I think most fans have to put themselves in that position as well and think about our players, and what would they do at their job if they were just going in every day not to do their very best. They probably wouldn't have a job. So it's pretty simple."
Oh, and the Lakers are one loss from tying their most losses in franchise history, a mark they set last season.
Turning point: It was close early on ... until the Pelicans outscored the Lakers 31-18 in the second quarter. It was over after that, with the Pelicans leading by as much as 25.
Player of the game: The Pelicans had six players in double figures, but the player who stood out the most was -- as usual -- Anthony Davis. The star center finished with 20 points on 9-of-15 shooting, 7 rebounds, 6 assists, 4 blocks and a steal. He didn't seem to be trying all that hard, either.
Top Lakers player: The last Lakers rookie to record a triple-double was this fellow named Magic Johnson, who nabbed seven of them during the 1979-80 season. But Jordan Clarkson nearly became the first Lakers rookie to pull off that feat since. He finished with a team-high 18 points, 10 assists and 7 rebounds in 30 minutes.
Clarkson, a second-round pick, was well on his way to a triple-double in the first quarter, when he posted 11 points, 5 assists and 5 rebounds. His night was a bit quieter from that point on.
Notes: Lakers rookie center Tarik Black posted a career-high 16 points, hitting 8-of-10 from the field in 28 minutes. ... After missing 18 games because of an MCL sprain in his right knee, Ryan Anderson returned for the Pelicans, finishing with 17 points on 5-of-11 shooting off the bench.
April, 1, 2015
Apr 1
9:59
PM PT
Associated Press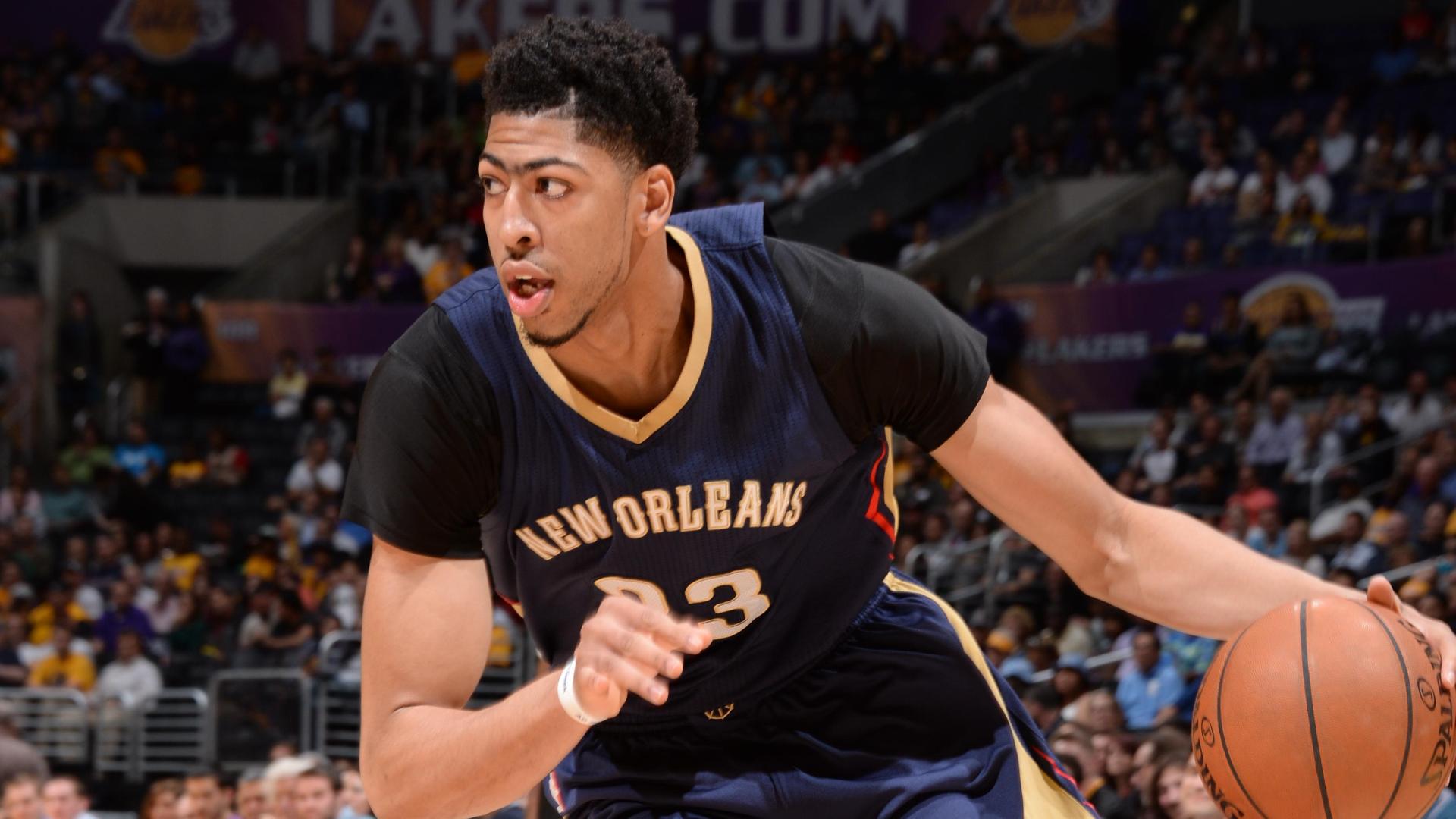 LOS ANGELES -- Anthony Davis scored 20 points and the New Orleans Pelicans inched closer to a possible playoff berth with a 113-92 rout of the Los Angeles Lakers on Wednesday night.
New Orleans' third straight victory, coupled with Oklahoma City's 135-131 loss to Dallas, brought the Pelicans within 1 1/2 games of the Thunder for eighth place in the Western Conference and completed a four-game season sweep of the Lakers.
Six players scored in double digits for New Orleans, including Norris Cole with 17 off the bench. Reserve forward Ryan Anderson played for the first time since Feb. 21, getting 17 points in 22 minutes after missing 18 games because of a sprained right knee.
Jordan Clarkson had 18 points, 10 assists and seven rebounds for the lottery-bound Lakers, who dropped to 11-25 at home and 20-53 overall.
April, 1, 2015
Apr 1
1:33
PM PT

The Lakers waived Steve Nash to make room on the roster to sign rookie guard Jabari Brown.

April, 1, 2015
Apr 1
12:05
PM PT
Steve Nash's tenure with the Los Angeles Lakers is officially over.
The team announced Wednesday that it formally waived the two-time MVP point guard, making room on the roster to sign rookie guard Jabari Brown for the remainder of this season with the possibility that the Lakers keep him around next season as well.
[+] Enlarge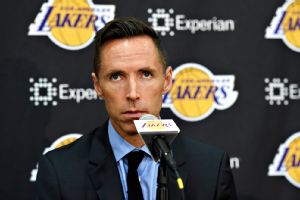 Harry How/Getty ImagesThe Lakers formally waived point guard Steve Nash on Wednesday.
During a pair of 10-day contracts with the Lakers, the second of which expired Monday, Brown appeared in 10 games, averaging 9.4 points on 50 percent shooting in 24.5 minutes per game.
Brown's best NBA performance was a 22-point outburst on 7-of-10 shooting Monday in an overtime win against the Philadelphia 76ers. Brown played at Missouri with fellow Lakers rookie Jordan Clarkson.
As for Nash, the future Hall of Famer formally announced his retirement last week after nearly 19 seasons in the NBA. His tenure in Los Angeles was mostly miserable.
Plagued by injuries, Nash played in in just 65 out of a potential 246 games throughout the three-year, $28 million deal.
The Lakers gave Nash that deal in 2012, mortgaging their future by shipping four draft picks to Phoenix despite Nash having suffered health troubles late in his tenure with the Suns.
April, 1, 2015
Apr 1
6:37
PM PT
By ESPN Stats and Information Group
ESPNLosAngeles.com

Anthony Davis has lead the New Orleans Pelicans on a four-game winning streak vs the Los Angeles Lakers, three of which have come earlier this season. With a win tonight the Pelicans will sweep the regular season series for the first time in franchise history.
Last three games vs Lakers this season:
Davis is averaging 25.7 pts, shooting 69% from the field, 8.7 rebs and 4.0 blks.
April, 1, 2015
Apr 1
2:15
PM PT
The second 10-day contract signed by guard
Jabari Brown
expired on Monday and Wednesday the
Los Angeles Lakers
decided to give him
a rest-of-season contract
, which includes 2015-16 at a non-guaranteed salary. By signing Brown, the Lakers will now have the guard on their summer league roster in July.
April, 1, 2015
Apr 1
9:10
AM PT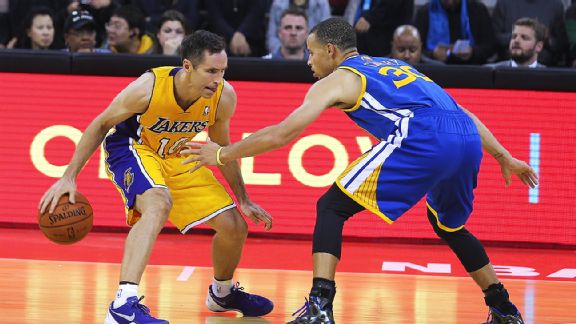 ChinaFotoPress/Getty ImagesAn elite playmaker who can spread the defense? Stephen Curry is Steve Nash 2.0.
This story appears in ESPN The Magazine's April 13 Point Guard Issue. Subscribe today!
We gave the visionary point guard a pen and a mission: Illustrate the theories that drove his game-changing MVP career. Here's the result, straight from the mind of Steve Nash ...
Click here to see the full image.
1. Nash ran the offense that changed the NBA -- and the point guard position -- forever. And when we asked how he saw the game, he began with this sketch. The pre-Nash NBA, you see, was all about overwhelming opponents with mismatches. But Nash's game wasn't about finding spots where great players were guarded by inferior ones; it was about finding spots where good players were guarded by nobody at all. His brain was the supercomputer behind it all, seeking in real time the highest-quality shots, namely: those at the rim and in the corner, where the closer 3-pointers are more likely to go in.
March, 31, 2015
Mar 31
9:00
PM PT
The current crop of NBA point guards is creating a special kind of buzz. Russell Westbrook is the most athletic point guard ever once you factor in his size. Steph Curry is making a push to be the best shooter in league history. John Wall is in incredibly rare air as an elite passer, pure athlete and talented defender. And, of course, Chris Paul is arguably the best overall point guard in the game and a surefire first-ballot Hall of Famer.
Meanwhile, the rookie class of point guards, though it isn't setting the league on fire, has a few guys who have shown the potential to be All-Star caliber players or long-term starters. While it's not likely that any of them will be in the conversation for "best point guard in the league" going forward, it's too early to entirely rule out that possibility. Remember, all of the names mentioned above had their doubters, too.
To continue reading this article you must be an Insider
March, 30, 2015
Mar 30
7:31
PM PT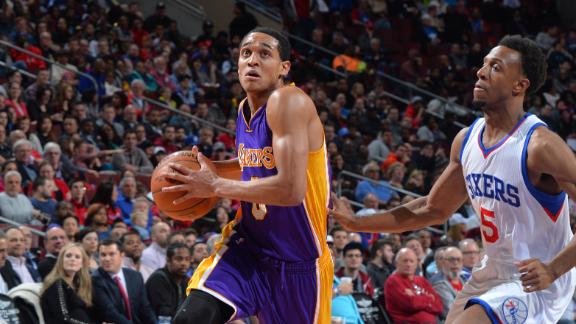 This issue came up last week, when the Los Angeles Lakers beat the Philadelphia 76ers at Staples Center in Los Angeles.
We wrote then that the Lakers' win could come back to haunt them if they end up losing their top-five protected 2015 first-round pick to -- who else? -- the 76ers.
And now, a week later, here we are again.
The Lakers beat the 76ers Monday in Philadelphia, posting a 113-111 overtime road win behind a huge game from rookie point guard Jordan Clarkson (26 points, 11 assists).
However, as was the case last week, it could end up being a costly Lakers win.
For a while now, both the Lakers and 76ers have been contending for the league's third-worst record -- and if the Lakers had finished the regular season in that spot, they'd have had a very strong chance (96 percent) of retaining their top-five pick.
However, after beating the 76ers twice in two weeks, it appears the 20-53 Lakers will finish the regular season with the league's fourth-worst record, meaning they'll have an 82.8 percent chance of retaining that pick.
And as the fine folks at ESPN Stats & Information pointed out, recent history says not to be too confident the Lakers will keep the pick should they enter the lottery in that fourth spot, even though 82.8 percent seems like a solid figure.
Over the past five years, teams that had a pre-lottery position of fourth dropped to sixth on two occasions: the Golden Warriors in 2010 and Washington Wizards in 2011.
In other words, there's a realistic chance the worst season in Lakers franchise history doesn't result in the only possible reward such a season could have brought them -- a top lottery pick and the promising young player who comes with it.
Instead, with their wins over the 76ers in the past two weeks, the Lakers could end up losing that pick to a franchise that's much better at losing when it needs to lose.
March, 30, 2015
Mar 30
7:12
PM PT
Associated Press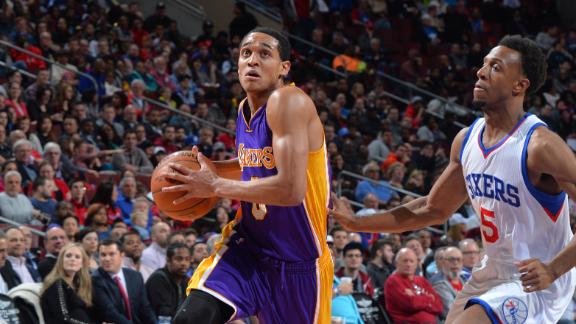 PHILADELPHIA -- Jordan Clarkson scored 26 points and made the tiebreaking basket with 0.7 seconds left in overtime to lift the Los Angeles Lakers past the Philadelphia 76ers, 113-111 on Monday night in a matchup of two of the NBA's worst teams.
Jabari Brown finished with 22 points for the Lakers (20-53). Wayne Ellington added seven of his 20 points in OT, including a 3-pointer that put the Lakers up 111-105 with 1:25 left.
Rookie Nerlens Noel led the 76ers (18-57) with 19 points and 14 rebounds for his ninth double-double of the month. He scored six points in the final minute of overtime to tie the game at 111.