July, 12, 2014
Jul 12
2:40
PM PT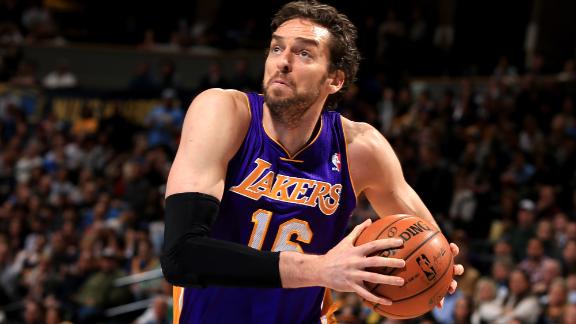 The Chicago Bulls have reached an agreement with free-agent center Pau Gasol on a multiyear deal.
Gasol announced that he had chosen the Bulls on his Twitter feed Saturday.
It hasn't been easy. After meditating it a lot I've chosen to play with the Chicago Bulls. Looking forward to this new chapter of my career

- Pau Gasol (@paugasol) July 12, 2014
Discussions between Chicago and the Los Angeles Lakers on a sign-and-trade deal for Gasol broke down, so the four-time All-Star will sign directly with the Bulls, sources told ESPN.com.
Chicago currently does not have salary-cap space, so it will have to make roster moves to free room to add Gasol.
If the Bulls are unable to work a last-minute trade of Carlos Boozer, it likely means they will have to release him via the amnesty provision and clear the forward's $16.8 million off their salary cap to make room for Gasol. The deadline for such a move is Wednesday.
Boozer then would be placed on waivers and teams with cap space could bid to pick up a portion of his contract. The team with the highest bid would get his services. With so many teams currently owning cap space, it is doubtful Boozer would pass through and become an unrestricted free agent.
The Bulls are also hoping to create additional cap space to sign 2011 first-round draft pick Nikola Mirotic, who reached a buyout agreement with his Spanish team last week with the intention of coming to the NBA. The 6-foot-10 power forward has been seen as an offseason priority for the Bulls as they look to bolster a strong front line that already includes Joakim Noah
July, 12, 2014
Jul 12
12:15
AM PT
ESPN.com news services
Pau Gasol is inching closer to becoming a Chicago Bull, with a source telling ESPN.com's Ramona Shelburne that a deal between the two sides "should be done [Saturday]."
The Spanish newspaper Marca first reported late Friday that the Bulls were closing in on a deal with Gasol despite the absence of a sign-and-trade agreement with the Los Angeles Lakers.
Sources close to the situation told Shelburne late Friday that a sign-and-trade arrangement had not been struck, with the Lakers still looking for draft compensation -- as they received in Friday's earlier trade with the Houston Rockets to take back the contract of Jeremy Lin -- as the primary return for Gasol.
ESPN.com reported earlier Friday that the Bulls and San Antonio Spurs had emerged as the two leading candidates to land Gasol, with San Antonio poised to land the Spaniard if the Bulls and Lakers could not finalize a sign-and-trade deal.
Sources told ESPN.com late Friday that the Bulls were prioritizing their pursuit of Gasol even ahead of their long-running efforts to sign Carmelo Anthony, fearing that Anthony is likely to stay with the New York Knicks.
July, 11, 2014
Jul 11
7:46
PM PT
Free-agent swingman Kent Bazemore has agreed to terms on a new deal with the Atlanta Hawks, according to sources close to the process.
Sources said the in-demand Bazemore -- pursued by the reigning champion San Antonio Spurs and several other teams -- will sign a two-year deal worth a guaranteed $4 million from the Hawks.
After playing sparingly in his first season and a half in the league, Bazemore emerged as a sleeper free agent following a solid finish to the 2013-14 campaign with the Los Angeles Lakers.
Bazemore's representatives were also in contract discussions with the Lakers on Friday, but there was more urgency on Atlanta's end, a league source told ESPNLosAngeles.com's Dave McMenamin.
"Just a timing thing," the source said. "(The Lakers) couldn't agree tonight ... Hawks needed it done."
Bazemore's representatives informed the Lakers of the delicate timing, but L.A. was not ready to move forward and finalize a deal, so Bazemore chose Atlanta.
Traded to L.A. in the deal that sent Steve Blake to Golden State, Bazemore averaged 13.1 points over the season's final 23 games with the Lakers, shooting 45.1 percent from the floor and 37.1 percent from 3-point range.
July, 11, 2014
Jul 11
6:33
PM PT

By Dave McMenamin
ESPNLosAngeles.com
Archive
It was an injury to
Carmelo Anthony
that led to
Jeremy Lin
's meteoric rise to basketball relevance in New York more than two years ago. Now it appears that indecision on Anthony's part could lead to Lin trying to recapture the magic in Los Angeles.
The Lakers still hadn't heard any official word from Anthony on Friday, according to a league source, when they pulled the trigger on a trade with the
Houston Rockets
to acquire Lin and Houston's 2015 first-round pick in exchange for cash considerations and the rights to an undisclosed player stashed overseas.
[+] Enlarge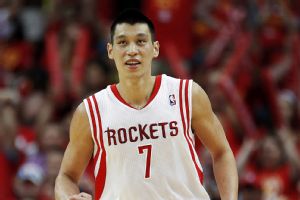 Andrew Richardson/USA TODAY SportsIn addition to providing consistency at point guard, one of Jeremy Lin's biggest assets is his ability to drive to the basket and convert.
While Lin hardly has the reputation now he had back in February 2012 when "Linsanity" reached its height of euphoria thanks to him dropping 38 points on the Lakers of all teams during a Friday night game at Madison Square Garden, it's not as if he's some bum either.
There's no denying that the last we saw of him on the court, Lin struggled. Lin shot just 21.7 percent on 3-pointers in Houston's first-round playoff loss to Portland and was particularly ineffective early in the series, scoring five points on 1-for-5 shooting in Game 2 and four points on 1-for-6 shooting in Game 4 as the Rockets fell behind 3-1 before eventually losing in six games.
But that rough series, combined with the Rockets' preference for Patrick Beverly at the point, ended up clouding the player that Lin really is today.
The fact is, he's a better player than when he was setting the world on fire during that streak with the Knicks. Lin may have averaged fewer points (12.5 compared to 14.6) and assists (4.1 compared to 6.2) last season than he did when he was in New York, but he's more efficient (35.8 percent from 3, up from 32.0 percent, while his attempts have gone from 2.1 to 3.2 per game), more reliable (82.3 percent from the foul line, up from 79.8) and also more in control (2.5 turnovers per game, down from 3.6).
At 6 feet 3, 200 pounds, Lin is a bigger point guard than most think, which perhaps has something to do with his durability. Lin played in 71 games last season and all 82 games the season before that. Having a stable point guard would certainly be a welcome addition for the Lakers after
Steve Nash
,
Steve Blake
and
Jordan Farmar
all missed so many games because of injuries in the last two seasons.
July, 11, 2014
Jul 11
5:36
PM PT
By
Ian Begley
| ESPNNewYork.com
New York Knicks president Phil Jackson has decided to waive veteran Lamar Odom, citing a lack of professionalism.
"Unfortunately, Lamar was unable to uphold the standards to return as an NBA player," Jackson said in a statement. "We found it necessary to free up the roster spot."
The Knicks also re-signed center Cole Aldrich on Friday night.
Odom's release is the latest setback in the 6-foot-10 forward's career. The Knicks signed Odom on April 16 -- the final day of the regular season -- to a two-year contract, with the second year nonguaranteed.
This gave the Knicks the opportunity to monitor Odom over the summer and decide whether he deserved a roster spot. Clearly, Jackson, who coached Odom for five seasons in Los Angeles, wasn't satisfied with Odom's approach during the trial period.
Odom's last stint in the NBA was in 2012-13 with the Los Angeles Clippers.
The Clippers and Lakers had expressed interest in signing Odom at various points of the 2013-14 season after a tumultuous summer off the floor that included his eventual divorce from reality TV star Khloe Kardashian.
During the 2013 offseason, Odom was arrested on a DUI charge and reportedly dealt with substance-abuse issues.
Aldrich was with the Knicks last season, averaging 2.0 points and 2.8 rebounds in 46 games.
July, 11, 2014
Jul 11
5:09
PM PT
The Chicago Bulls and the San Antonio Spurs have emerged as the two leading contenders to land prized free-agent big man Pau Gasol, according to sources close to the process.
Sources told ESPN.com that Gasol is giving strong consideration to signing with defending champion San Antonio -- despite the Spurs' limited financial resources with such a deep roster -- in the event that the Bulls can't strike a sign-and-trade arrangement with the Lakers for Gasol.
The Bulls are making Carlos Boozer widely available in trade discussions, but sources say the Lakers have shown a reluctance in talks with Chicago to take on Boozer's contract unless they also receive a young asset back from the Bulls as well.
Oklahoma City has been pursuing Gasol as hard as anyone, but sources indicated Friday that the Spurs have joined the Bulls ahead of the Thunder in Gasol's pecking order.
The Thunder have a $6.5 million trade exception that expires Friday night at 11:59 p.m., that they hoped to use in their own sign-and-trade with L.A.
The Lakers, meanwhile, appear resigned to seeing Gasol exit after successful six seasons together. Prior to Friday, the Lakers offered Gasol two deals: two years worth $23 million, and three years worth $29 million, a league source told ESPNLosAngeles.com's Dave McMenamin. Gasol turned down both offers, according to the source.
July, 11, 2014
Jul 11
2:57
PM PT
ESPN.com news services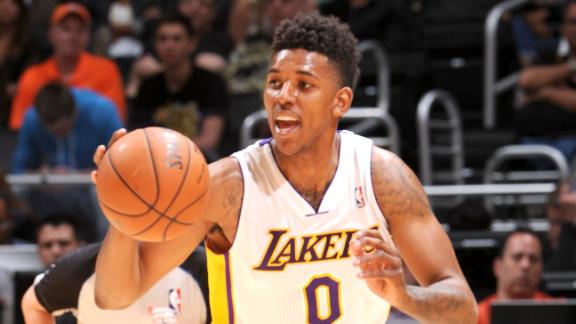 Nick Young is set to return to the Los Angeles Lakers, his agent confirmed to ESPN.com's Jeff Goodman.
Young's deal is for four years, with the fourth year being a player option, agent Mark Bartelstein confirmed. According to a source, the deal is worth $21.5 million.
The Lakers also have re-signed forward Jordan Hill to a two-year deal worth $18 million, a league source confirmed to ESPNLosAngeles.com. The Lakers hold a team option for the second year, the source said.
Young took to Twitter to thank Lakers fans.
Thank you LakerNation for all your support, I'm very happy to say: I'm home! #SwaggyIsBack #GreatThingsToCome for the Lakers.

- Nick Young (@NickSwagyPYoung) July 11, 2014
Young opted out of his contract with the Lakers in June. The 6-foot-6 guard is coming off a career year last season, when he averaged a team-high 17.9 points for a Lakers team that finished 27-55.
"I always wanted to be a Laker, and it will be a dream come true to still be here, but it's crazy," the seven-year veteran said in April. "You never know what happens. Last year they had a whole different team. It's obvious they're going to make some changes."
A Los Angeles native, Young played at USC. After opting out in June, a league source said Young wanted to be made "a priority" by the Lakers over the summer in order to stay.
July, 11, 2014
Jul 11
3:25
PM PT

By Joe Kaiser
ESPNLosAngeles.com
Archive
Linsanity is coming to Los Angeles, according to
Jeff Goodman of ESPN
. Goodman reported on Twitter that Houston will send
Jeremy Lin
along with a first round pick to the Lakers in order to clear the cap space needed to sign
Chris Bosh
and match the offer sheet
Chandler Parsons
signed with Dallas.
Lin could have the chance to put up big numbers in L.A.
July, 11, 2014
Jul 11
11:56
AM PT
ESPN.com news services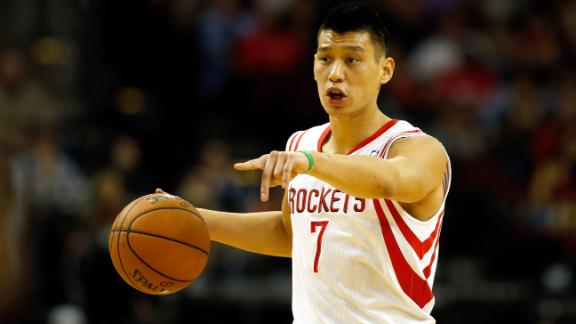 The Houston Rockets have agreed to trade guard Jeremy Lin and a future first-round pick to the Los Angeles Lakers, a league source told ESPN's Jeff Goodman.
The Lakers were amenable to this deal, according to sources, because Lin is only under contract for one more season, thus preserving their cap space next summer. They also covet draft picks, after trading away their first-round picks in 2015 and 2017 to Phoenix and Orlando as part of the Steve Nash and Dwight Howard trades, respectively.
Lin, in the midst of a basketball tour in Asia, will fly from China to Los Angeles, arriving on Saturday to undergo a team physical with the Lakers to make the trade official.
The Lakers had been eyeing Lin for quite some time, according to Lin's agent, Roger Montgomery, after the undrafted guard out of Harvard made his impressive summer league debut in 2010.
"They had interest a few years ago when he was in the summer league and signed with Golden State," Montgomery told ESPNLosAngeles.com's Dave McMenamin on Friday. "The Lakers were one of three teams that we were talking with, so they did have interest then. If you've been following the NBA, you know it's a very fluid league, so Jeremy is still playing, he's played well throughout his tenure thus far and I think that the Lakers, just like a lot of other teams, have interest and have had interest."
Lin will become the fourth point guard on the Lakers' roster along with Steve Nash
July, 11, 2014
Jul 11
11:04
AM PT
ESPN.com news services
July, 11, 2014
Jul 11
10:49
AM PT
ESPN.com news services
Carmelo Anthony has narrowed his options to the New York Knicks and Chicago Bulls, and is no longer considering the Los Angeles Lakers, sources told ESPN's Stephen A. Smith.
Knicks president Phil Jackson said Thursday that he hadn't heard from Anthony in recent days but remained confident the All-Star forward would re-sign with the Knicks. Jackson said the Knicks have made five different contract offers to Anthony, one of which is believed to be a maximum deal of $129 million over five years.
Knicks coach Derek Fisher seems to be on the same page as Jackson.
"I haven't heard anything different than that," Fisher said Friday after the Knicks started Las Vegas Summer League play with a 76-64 victory over the Dallas Mavericks. "We talked all this week about the fact that it's not our decision."
The first-time coach stressed that point.
"Decisions as free agents are never as easy as they seem," he said. "A lot of focus is on the contract size or the amount of money and the years, but oftentimes, guys are thinking on a much larger level.
"It's not just about basketball. Guys have wives, families, kids. Moving is tough."
The Bulls can offer Anthony a contract starting at approximately $17 million. That number can increase if the Bulls acquire Anthony in a sign-and-trade.
However, sources told ESPN.com's Marc Stein late Friday that the Bulls were prioritizing their pursuit of free agent forward Pau Gasol
July, 11, 2014
Jul 11
10:05
AM PT
By D.J. Foster
Special to ESPN.com
Archive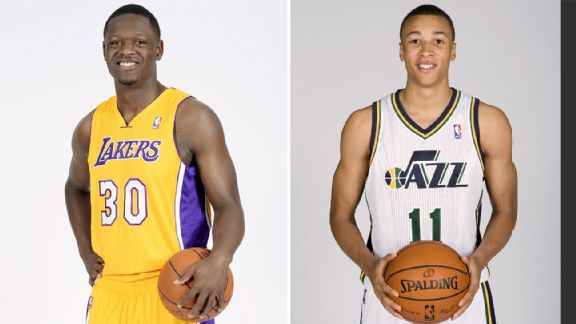 Getty ImagesWelcome to the NBA, rooks. High-profile picks Julius Randle and Dante Exum finally hit the pro stage.
There's something for everyone at Las Vegas Summer League. For all the prized rookies in this year's draft class, it's a chance to get their feet wet. For the prospects who haven't found luck in the league yet, it's an opportunity to jump-start a career. For others, it's simply a shot at getting on the radar.
The following is our annual "back of the envelope" guide to the Las Vegas Summer League teams, highlighting some of the more promising and intriguing prospects who will take the floor. The West guide is below, and the East guide is
here
.
Dallas Mavericks
Gal Mekel:
Perhaps it was a show of confidence in Mekel's abilities that the Mavericks were willing to send both
Jose Calderon
and
Shane Larkin
to New York.
Raymond Felton
may be the worst projected starter at point guard in the league right now, so there's a clear path to playing time for the Israeli point guard. A great summer league could go a long way.
Ricky Ledo:
The mystery is no longer there, but the appeal still will be. Ledo came into Vegas last year without a minute of college or international playing time under his belt, but he's showed glimpses of being a capable wing scorer. He plays with blinders on sometimes and can chuck a bit, but the talent is there.
Ivan Johnson:
He's the only player in Vegas with the distinction of being "banned forever" from the Korean Basketball League, but Johnson can really play despite some dustups over the years. In two seasons for the
Atlanta Hawks
, Johnson averaged a 15.1 PER and was solid on both ends. After playing in China last season, he'd make a nice bodyguard for
Dirk Nowitzki
off the bench.
---
Denver Nuggets
Quincy Miller:
One play he'll look like
Kevin Durant
, the next he'll look like
Austin Daye
. Miller is a 6-foot-10 wing with guard skills and a sweet stroke from deep, but he's a little too slow and a little too soft to really put it all to good use. You'll fall in and out of love with him multiple times over the course of a game.
Gary Harris:
He had one of the more surprising falls on draft night, but the Denver Nuggets were smart to snatch up a young 3-and-D wing for
Arron Afflalo
to mentor. Afflalo, on his second tour in Denver thanks to a pre-draft trade with Orlando, suffered a similar fate on draft night in 2007 despite a strong pedigree, but he turned himself into something much more with his great work ethic. Harris should take notes.
Erick Green:
Last year's second-round pick struggled a bit in Italy last season, and this is still one of the league's deepest rosters. Green has a knack for creating space and finding his own shot, but with Harris and Miller needing to be fed and the Nuggets probably looking for a third point guard, he should focus more on distributing.
---
Golden State Warriors
Travis Bader:
There have been a lot of great shooters in college basketball history, but Bader holds a spot above them all as the NCAA Division I leader in 3-pointers made, with 504. With shooting coming at a premium (here's looking at you,
Jodie Meeks
) in free agency, smart teams may opt for a cheaper, younger specialist like Bader.
Nemanja Nedovic:
Being dubbed the "European Derrick Rose" has been the highlight of Nedovic's career thus far. He couldn't find playing time under Mark Jackson last season, but with Steve Kerr taking over, Nedovic will get a clean slate and a chance to unleash some of the much heralded athleticism.
Rob Loe:
After the Warriors missed out on acquiring
Channing Frye
and shored up the backcourt instead, the big man from Saint Louis might get a long look to fill the Warriors' need for a stretch big man with legitimate size. Although his percentages weren't great in college, Loe's mechanics are literally perfect when he parks himself on the 3-point line.
---
Houston Rockets
Nick Johnson:
Most expected the Rockets to go with an international draft-and-stash candidate in this year's draft to avoid taking on salary, but Daryl Morey and company liked the Arizona guard enough to take the plunge. Early returns have been positive -- Johnson's
nasty throwdown
in Orlando is the early favorite for the dunk of the summer.
Omar Oraby:
Plenty of countries are represented in Vegas every year, but Oraby is looking to become the first player from Egypt to play in the NBA. The USC grad has size on his side (7-foot-2), but he'll need to show he can protect the rim without fouling before warranting any serious consideration.
Isaiah Canaan:
He got a little bit of burn with the Rockets last season, but Canaan was most impressive with the Rio Grande Valley Vipers, the 3-happy D-League affiliate of the big club. Canaan hit a whopping 3.7 3s per game on 38.7 percent shooting with that squad, and after teammate
Troy Daniels
temporarily saved Houston's hide in the playoffs, Canaan could find a role.
---
Los Angeles Clippers
Delonte West:
It's no secret that Doc Rivers has an affinity for veterans and his former players, and West qualifies as both. Since 2010, West has worked for a furniture store, been arrested for carrying guns in a guitar case "Desperado" style, and has played in the D-League, China and the NBA in stints. This would be quite the career revival.
Keith Benson:
The Clippers could probably stand to add some more depth in the frontcourt even after the signing of
Spencer Hawes
, and Benson might fill a need. After seeing what he did with
DeAndre Jordan
, a similar big man in terms of size and athleticism, Rivers may decide to take on another project big man with all the athletic tools and very little polish.
Jon Brockman:
A summer-league tradition like no other. Brockman made his debut way back in 2009, and for years now he's provided dogged offensive rebounding and physical play in the paint in this setting. The proceedings wouldn't feel quite right without him here.
---
Los Angeles Lakers
Julius Randle:
Randle will have a leg up on some of the other post prospects in town, as he'll get a buffet of touches thanks to
Kendall Marshall
. The seventh overall pick should be able to put on a nice show for the always-present Lakers contingency as a magnet for the ball with superior motor and athleticism.
DeAndre Kane:
If you tuned into an Iowa State game last season, it was tough to keep your eyes off Kane. His age (25) and lack of a true position kept him out of the draft, but Kane plays a very similar style to
Lance Stephenson
and can make his impact felt all over the court. He's a serious sleeper.
Kendall Marshall:
Great tweeter, better distributor. Marshall averaged 11 assists per 36 minutes last season for the Lakers, and while some of that is inflated by noted point guard whisperer Mike D'Antoni, Marshall also knocked in 39.9 percent of his shots from beyond the arc. He'll have questions to answer in a new system, but he has staying power.
---
Minnesota Timberwolves
Zach LaVine:
Minnesota is just going to keep acquiring UCLA guys to try and placate
Kevin Love
, apparently, as LaVine is the third Bruin (Shabazz Muhammad, Luc Richard Mbah a Moute) to join the roster in the last year. With a ridiculous 46-inch vertical leap and a stylish flair, the raw singman's dunks should set the internet on fire. Unless there's an up-and-comer out there named Putmeon LaYouTube, La
Vine
is probably the most appropriately named prospect we've ever had.
Shabazz Muhammad:
The Las Vegas native returns for a second run at summer league, this time with a year of NBA experience under his belt. With a new coach in Flip Saunders and a possible youth movement taking place in Minnesota, Muhammad's sturdy under-the-basket post scoring could be an asset. Question is, can he do anything else?
Gorgui Dieng:
One of the lone bright spots in an otherwise lost season, Dieng burst onto the scene late and averaged 12.6 points, 13.2 rebounds and 2.2 blocks per 36 minutes. Although he's stuck behind Love and
Nikola Pekovic
for the time being, Dieng's ability to play out of the high post and protect the rim puts him in pretty exclusive company among fellow big men.
---
New Orleans Pelicans
Josh Howard:
Yes, that Josh Howard. At 34 years old, the former Dallas Mavericks forward is hoping to follow in Rasual Butler's footsteps by performing well in summer league and landing another NBA contract. Injuries have ravaged his career, but given the need in New Orleans for a glue guy at small forward, Howard should get a fair shake if the body is willing.
Russ Smith
: The lightning bug Louisville point guard should perform pretty well here, as he's been blowing by elite opposing point guards for quite some time now. Unlike a few other guards in attendance, the frantic pace Smith played at with Louisville should transfer over nicely.
Patric Young:
The Florida big man is a real grinder, and watching him lock horns with other big bodies in the frontcourt is always a treat. Young has some nice role-player potential behind
Anthony Davis
and
Omer Asik
in New Orleans, even if he's limited offensively.
---
Phoenix Suns
T.J. Warren:
NC State gave him all the possessions he could handle, but it's hard to say how well Warren's high-usage attack will translate to the next level. He's a throwback scorer who lives primarily off the in-between stuff like floaters and below-the-rim finishes, but can he survive as an efficient offensive option without a more reliable jumper and better range?
Alex Len:
It's easy to forget that Phoenix battled for a playoff spot without the fifth pick of the 2013 draft involved, but there's still hope that Len will become the skilled, mobile rim protector the Suns need in the middle. The fight for playing time with
Miles Plumlee
, who isn't on the summer league roster, starts right now.
Tyler Ennis:
Canada can trot out a pretty dangerous Olympic team all of a sudden, can't it? Ennis was a somewhat surprising pick since Phoenix has
Goran Dragic
and
Eric Bledsoe
to run the point, but he has the kind of distributing ability and shake off the dribble that could make him a dangerous player down the line. The point guard rich look like they got richer.
---
Portland Trail Blazers
C.J. McCollum:
If McCollum can stay healthy, it's not hard to imagine him winning a sixth man of the year award in the near future. At the very least he fits the typical profile - a combo guard with the ability to shoot the lights out and create for himself off the dribble. He could be the answer to Portland's bench woes offensively.
Thomas Robinson:
It feels like Robinson should have already moved on from playing in the summer league since he's bounced around so much, but the fifth pick in the 2012 draft is still just 23 years old and raw enough to justify another appearance. He's an elite rebounder, but he needs to bring something else to the table to earn real minutes.
Meyers Leonard:
Do you trust recently signed big man
Chris Kaman
to stay healthy for a full season? Me neither. At some point in the near future, Leonard is going to need to soak up minutes at the 5 for a team with legitimate playoff potential. With that in mind, it would be nice if he didn't float in the background again this summer.
---
Sacramento Kings
Ben McLemore:
It's been a while since an otherwise legitimate prospect has been crippled by tunnel vision this severe. Last year's seventh overall pick seems to be lacking a basic feel for his surroundings, but he's still trouble in transition when he can make straight line drives to the rim. If the jumper starts falling, there's some 3-and-D potential here.
Nik Stauskas:
The problem in Sacramento, as it always seems to be, is that there might not be enough distributors on the roster. We know Stauskas can shoot and shake and bake, but Sacramento may need him to take on more of a creating role, especially if
Darren Collison
: Starting Point Guard, ends up being a real thing.
Sim Bhullar:
Vegas serves as a home for plenty of P.O.U.S (players of unusual size) this time of year, and New Mexico State big man Bhullar is the
biggest of them all
. Don't adjust your screen -- Bhullar is really 7-foot-5 and 360 pounds, and he's a serious threat to crush a cameraman under the basket at some point. If he's going down, I'm yelling timber. Also, I'm so sorry.
---
San Antonio Spurs
Kyle Anderson:
How did the rest of the league let this happen? Allowing a young
Boris Diaw
clone to learn from the real Boris Diaw could have serious consequences for the rest of the league down the line. Yes, Anderson is slower than molasses, but his playmaking, size, ballhandling and intelligence are top notch. This is how the Spurs stay the Spurs.
Deshaun Thomas:
He can get buckets in a hurry. It's a little surprising that Thomas hasn't found a
C.J. Miles
-type role for an NBA team yet, but at 22 years old, there's still plenty of time for that to happen. San Antonio's roster is understandably crowded, but this guy is too good offensively to ignore for much longer.
Vander Blue:
Marquette has a history of pumping out pesky perimeter defenders, and Blue certainly qualifies. If his 3-point stroke finally starts to cooperate, Blue could hold down a steady roster spot. For teams that miss out on
Kent Bazemore
in free agency, Blue should be an option worth considering if his mechanics are cleaned up.
---
Utah Jazz
Dante Exum:
No more chopped up footage from four years ago -- we're finally getting the real thing. The Australian guard and fifth overall pick in this year's draft certainly appears to have all the natural tools you love to have from a lead guard, and he could take on a role in the same vein as someone like Brandon Roy once occupied. That kind of star power is exactly what a franchise like Utah needs.
Trey Burke:
How's the potential backcourt of the future going to co-exist? On paper it seems like a good fit, as both Burke and Exum can swing the ball side-to-side and attack against recovering defenses. This could be the start of a beautiful relationship if the two play off each other instead of simply taking turns, which is always tempting in these types of games.
Rudy Gobert:
After exploding onto the scene last season in Orlando Summer League by showing surprising mobility, good hands and natural shotblocking ability, it's easy to dream on what Gobert might look like with a little more seasoning. Big men typically develop a little slower, but here's hoping he gets unleashed yet again in the Jazz's first ever summer-league appearance in Las Vegas.
D.J. Foster is an NBA contributor for ESPN.com, ClipperBlog and others. Follow him, @fosterdj.