March, 7, 2014
Mar 7
7:38
PM PT
DENVER -- There are few people on this earth who understand the inner workings of the
Los Angeles Lakers
-- both past and present -- as well as
Denver Nuggets
coach Brian Shaw.
After having been a teammate of
Kobe Bryant
's for four seasons and an assistant coach on Phil Jackson's staff for an additional six, Shaw's decade of experience with the franchise makes him uniquely qualified to talk about the pair of Lakers legends.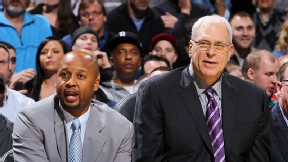 Gary Dineen/NBAE/Getty ImagesBrian Shaw, left, spent many seasons beside Phil Jackson with the Lakers and knows the impact his former boss could have in a front-office role.
Shaw was not surprised to hear about Jackson potentially being linked to a front-office job with the
New York Knicks
, as Jackson would offer up his thoughts on piecing together and managing a team when Shaw was on his coaching staff.
"He did talk about it," Shaw said. "One of the things he's big on, not necessarily the most talented guys -- obviously you want to have talent -- but he liked guys that were winners, and when he looked at guys that were going to be drafted out of college, he wanted guys that came from winning programs and that understood [how to win] as opposed to a guy who maybe was a star of his college team but his college team wasn't very successful and guys that understood and were willing and able to play whatever role it was.
"Because, when you think about it, his teams that he had, in Chicago, he had great players -- two or three on each of those teams. Same way in L.A. -- he had two great players -- but the rest of the guys that were built around those stars that he had, those superstars that he had, were guys that understood their roles and accepted their roles and had very high basketball IQs and bought into what he was trying to do. So, obviously, from the starting point, he had [Michael] Jordan, he had [Scottie] Pippen. In L.A., he had Kobe and Shaq [Shaquille O'Neal]. But the coaches that he took over for had those guys, too, but he was able to do something with them that they weren't able to do. So that kind of goes to his coaching ability and his ability to have everybody play in unison regardless of their personalities and what have you."
While Jackson's 11 championships as a head coach are unmatched in the sport, Shaw says he believes the 68-year old's coaching days are over.
March, 7, 2014
Mar 7
6:39
PM PT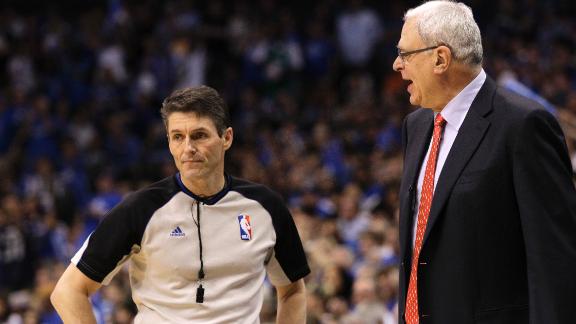 Phil Jackson is "ready to go back to work," a source with knowledge of his thinking told ESPN.com on Friday.
The former Los Angeles Lakers and Chicago Bulls coach has spent the last couple of years working to improve his health -- which included several surgeries and a successful fight against prostate cancer -- and writing a book. But the itch to return to the NBA in some capacity is strong.
While Jackson has made it clear to any team that has approached him that he prefers a front-office role that would allow him to shape and mold a franchise the way Miami Heat president Pat Riley has, he is open to the possibility of coaching for a short period of time if it was necessary in a transition period for a franchise with championship aspirations, the source said.
He would not consider any coaching position that did not have a significant guarantee of personnel power as well, sources said.
Sources previously told ESPN's Stephen A. Smith that New York Knicks president and general manager Steve Mills recently met with Jackson regarding the possibility of him becoming the team's next coach. The sources said Jackson, 68, told the Knicks he was not interested in the position.
A source, meanwhile, confirmed to ESPNNewYork.com's Ian Begley that the Knicks have offered Jackson a front-office position.
The New York Daily News earlier had reported the offer, with a league source telling the newspaper that Jackson is expected to deliver his decision sometime next week.
March, 7, 2014
Mar 7
3:15
PM PT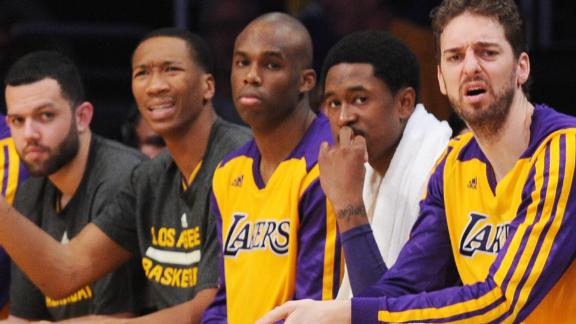 Shortly after a 48-point loss to the Los Angeles Clippers on Thursday night, Los Angeles Lakers general manager Mitch Kupchak met separately with embattled coach Mike D'Antoni and vice president of player personnel Jim Buss to discuss the state of the team, according to sources with knowledge of the situation.
While Lakers management plans to continue to assess the situation, in the short term it is inclined to see how the team responds to the worst loss in franchise history, rather than make an in-season coaching change, sources said.
D'Antoni confirmed the meeting with Kupchak, characterizing it as "normal" before the Lakers played the Denver Nuggets on Friday.
"We just went over stuff and said, 'Well, we didn't play very well,' " D'Antoni said.
The coach did not provide much additional information when asked about specifics of their conversation.
"I don't remember, to be honest with you," D'Antoni said. "It wasn't anything out of the ordinary other than just talking about different performances and that's about it."
D'Antoni also addressed the team on Friday.
"We talked and tried to get guys to understand where we are and what we have to do and they'll respond," D'Antoni said. "Like I said, they're good guys. It's not like you go out and you (overreact). I think everybody lays an egg, and we laid an egg. We just got to push it aside and go forward."
The Lakers play Friday night in the second night of a back-to-back, then host the Oklahoma City Thunder on Sunday afternoon. After that, Los Angeles travels to Oklahoma City and San Antonio for a back-to-back next Thursday and Friday, respectively.
March, 7, 2014
Mar 7
10:38
AM PT
LOS ANGELES -- On Thursday the Clippers beat the Lakers for the seventh time since
Chris Paul
's trade to the Lakers was vetoed by the league.
The nixed deal might be enough to make Lakers fans envious of Clippers fans (even though their team leads the Clips 16-0 in the championship department), but it's doubtful that it makes the players care any more or less.
While talk of a crosstown rivalry makes for a convenient story line, that's just not the reality of today's NBA.
Take the starting point guard match-up between the Lakers and Clippers, for instance.
Kendall Marshall
, who went to University of North Carolina, has known fellow ACC product Chris Paul (Wake Forest) since playing in Paul's summer camp as a high schooler.
"He's kind of been like a big brother to me, honestly," Marshall said after Thursday's shootaround. "He's a guy that I really look up to."
Hardly sounds like the stuff of two competitive rivals.
This isn't meant to pick on Marshall. His relationship with Paul is more the norm in the league than the exception. Just this week,
Paul George
, who lost to
LeBron James
in Game 7 of last season's Eastern Conference Finals and could very well meet James again in the playoffs this spring, said in an interview with BasketballInsiders.com that he would like to pick James' brain, even though the two must compete against one another.
"It would be great to be able to pick his brain, pick his mind and just talk about the game because I think he's a player that can help me get to the next level and continue to keep going to the next level," George said. "I wish some day we have that relationship where he is someone I can talk to -- not during the season because I'm too competitive during the season -- but maybe in the summertime."
Clippers coach Doc Rivers said things have drastically changed from the time he retired in 1995-96 and the time when his son, Austin, became an NBA rookie in 2012-13.
"It's a new league," Rivers said. "But I think it's a new league because of the way they grow up now. We honestly didn't know the opponent. We didn't know guys on the other teams to the point where, when you went west, you literally hadn't seen the team at all. Like, visually, at all if they hadn't been on TV.
"And especially early in my career, there was no TNT so when you played [the] Sacramentos, that was literally the first time you'd ever seen them play and the first time you've ever been on the court with some of the guys. So, it's a different league. AAU has changed that. I know from Austin, he knows everybody and it drives me crazy. But that's just the way the league is. I don't know what the team lines are any more in that regard. I don't know. Don't get me started. I just don't know."
Lakers coach Mike D'Antoni has seen some of the league's best players come together to share their tricks of the trade and bond towards a common goal with this time as an assistant coach for USA Basketball, so he sees the bright side of the interaction.
"I think it's always been kind of a fraternity and when you're in the offseason, I think everybody helps everybody," D'Antoni said. "Especially if they're working out together in Vegas or wherever they're working out -- back in Carolina. I think during the season they probably respect the lines, but in the offseason [that changes]. And it's good. It's good that the older players can show the younger players the ropes."
Rivers was not as keen on the apprenticeship aspect of young players learning from their opponents, but did say he liked the way that familiarity can breed contempt.
"The one thing you do know, the closer you are to somebody, the more you want to beat them," said Rivers. "It's not the other way. So, I don't think that will ever go away -- the competitiveness -- just because they fraternize. Being at Duke during the summer, I saw the Duke and Carolina guys playing in pick-up games all summer. And I always thought, well, that will make that [regular season in-conference] game even better now because they know each other a little bit more. They still don't like each other and I think that's all good."
Player movement can further complicate things. The Lakers have two former Clippers in
Nick Young
and
Chris Kaman
. The Clippers have one former Laker in
Matt Barnes
(two if you count Paul before the trade was revoked).
There's one aspect of the league-wide camaraderie that Rivers supports, actually. With L.A. such a popular offseason destination for so many NBA players, the Clippers smartly open the doors to their Playa Vista practice facility to any league guy who want to get a run in.
"I actually liked that because in the summers, I like to see guys playing," Rivers said. "Doesn't have to be all my guys. I had everybody in the gym and I got to sit and watch. That's not all bad."
The fact that the Clippers beat the Lakers by an average of 42 points in their last two meetings this season is bound to come up in one of those pick-up games this summer.
March, 7, 2014
Mar 7
9:19
AM PT
Laker Grades is a weekly feature that examines the best and the worst of the purple and gold from the last seven days.
L.A. blazes a trail up north to win first game at the Moda Center:


A name change did the Lakers good. After years of frustrating losses playing at the Rose Garden in Portland, the Lakers started off 1-0 at the revamped Moda Center with a 107-106 win over the Trail Blazers last week. L.A. jumped ahead to an early 15-point lead and was able to hold on late thanks to a wonderful Wesley Johnson go-ahead alley-oop layup with 6.9 seconds left, followed by solid defense by Jodie Meeks on Damian Lillard's last-second heave. Even more impressive was the Lakers' 32-9 advantage in fastbreak points against the young and able Blazers.

Xavier Henry rounds into form:


Henry had become the forgotten man in the Lakers' rotation after being sidelined since Dec. 29 with a bone bruise in his right knee, but he quietly had an encouraging comeback week for L.A. The 22-year-old played just five minutes against Portland in his debut, but followed that up by averaging 13.5 points, 3.0 rebounds and 2.5 assists in 16.5 minutes against New Orleans and the Clippers.

Kent Bazemore continues to produce:


As Bazemore's sample size of games played grows with the Lakers, it's becoming harder and harder to deny that the Lakers found themselves a deal in the Steve Blake trade. While Blake's toughness and steady play has been missed by the Lakers' veterans in the locker room, the point guard was set to become a free agent this summer. Rather than potentially see him walk, L.A. traded for an asset in Bazemore while saving $4 million in salary and luxury tax implications in the process. In Bazemore's first eight games with the Lakers the Old Dominion product is averaging 16.5 points, 3.5 rebounds, 3.0 assists and 1.5 steals per game while shooting 46.4 percent from the field and an eye-popping 43.6 percent from 3.

Lakers give up 132 points to lowly Pelicans:


The Lakers had a chance to follow up wins against Sacramento and Portland by beating New Orleans at home to secure the team's first three-game winning streak since November. It was all set up for L.A. too, as the Pelicans came into Staples Center having lost eight straight games. Not so fast. New Orleans shot 59.7 percent from the field and got whatever it wanted on offense against L.A. as Anthony Davis (28 points), Eric Gordon (28 points) and Tyreke Evans (24 points) led the way.

Lakers suffer worst loss in franchise history against the Clippers:


Never before the in 67-year history of the Lakers had the team suffered as bad a loss as it did in Thursday's 142-94 drubbing at the hands of the Clippers. "There's nobody happy over there and everybody knows we're embarrassed and everybody knows that this league does not really care that we're embarrassed," said Lakers coach Mike D'Antoni after the game. It's been quite a fall from grace this season for one of the league's signature franchise. At 21-41 (.339), the Lakers are on pace to have their worst season since moving from Minneapolis, edging out the team's 1974-75 season when it went 30-52 (.366).
March, 7, 2014
Mar 7
8:31
AM PT
The New York Knicks are 18 games below .500, their starting point guard was recently arrested on gun charges and superstar Carmelo Anthony is reportedly being wooed by other stars to get out of town once this season is over.
Given all this information, it's understandable that the Knicks' hysteria has reached levels unseen since the Isiah Thomas era. But just as the Knicks seemingly spiral out of control, so have some of the perceptions of why it's happening. Not all are to be believed.
Here are three myths that need to end.
Myth No. 1: Carmelo Anthony is the problem.

To continue reading this article you must be an Insider
March, 7, 2014
Mar 7
12:53
AM PT

By Ramona Shelburne
ESPNLosAngeles.com
Archive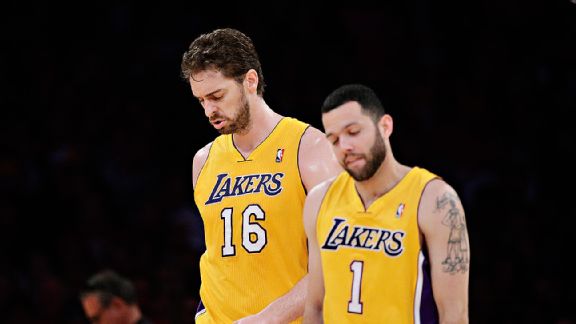 AP Photo/Jae C. HongPau Gasol, Jordan Farmar and the Lakers emerged from the beating with the West's worst record.
LOS ANGELES -- There comes a point when you just want it to stop. All of it. The losing, the injuries, the frustration, the season. The end seems merciful because the present has become that awful.
That's what it felt like for the fans during the worst loss in
Los Angeles Lakers
history Thursday night.
It was pretty bad for the players, too.
Embarrassing, for sure.
But to reach that level of dejection, you have to be deeply invested in something, and the guys currently wearing the purple and gold really don't have much connection to the franchise.
Most won't be here long. Some just got here. The rest are trying to figure out what category they fall into.
"I've never been in a game where a team won by 50," veteran center
Chris Kaman
said.
Never mind that the
Los Angeles Clippers
actually beat the Lakers by 48 points. The part of that statement that's
actually
in doubt is the use of the word "team."
The Lakers are a team because that's what you call a group of guys who wear the same jersey and compete in games together. But this is no team. It's a group of nice guys trying to make the best of an awful situation.
[+] Enlarge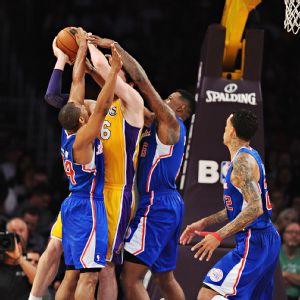 Robyn Beck/AFP/Getty ImagesHounded at times by the Clippers defense, Gasol still managed a Lakers-high 21 points.
Mike D'Antoni is the Lakers coach, and for a while he had his players buying into "team concepts." But when the losses started piling up, it just became so obvious to everyone involved that there's nothing left for the "team" to do this year other than try to be professional and compete.
The Lakers aren't building a culture or molding a young core group of guys. In a way, they're auditioning whoever is left standing for next year. But even a good showing in this last quarter of the season doesn't guarantee anyone anything.
"You have a lot of guys on one-year deals," Kaman said. "There's a lot of guys who are worried about that. It's definitely on the back of everybody's mind. And if it's not, they're not telling the truth. It's hard."
To their credit, the Lakers have been giving a good effort most nights and competing well enough to give the fans a good show.
But every so often there are nights like this, where they absolutely get worked and the best thing for all involved is for it to end quickly.
That's what happened against the Clippers.
The Lakers live and die by the 3-pointer and one-on-one play. All of D'Antoni's offensive concepts have been watered down while they try and fit in newcomers
Kent Bazemore
and
MarShon Brooks
. When those shots don't fall, it creates long rebounds and fast breaks for the other team. A game can get out of hand very quickly.
The Clippers led 29-27 after the first quarter, then the floodgates opened. By halftime it was 73-40. That's right, the Clippers scored 44 points in the second quarter; the Lakers scored 40 in the first half.
It was ugly. Fans didn't even wait for the second half to start before leaving. The teams played the second half, but even the Clippers started taking pity on the Lakers and lifted their starters midway through the third quarter when the margin got to 48.
"This was the worst loss I've been a part of at any level," Lakers guard
Jodie Meeks
said. "Even if it wasn't the Lakers, nobody wants to lose by that much. It's embarrassing. There's not much to say. We didn't, for whatever reason, come to play, and they did."
Ah, but it is the Lakers.
That means something to their millions of fans.
That means something to all the longtime staffers who have seen far, far better days.
Lakers GM Mitch Kupchak looked to be in all states of agony just watching. D'Antoni was enraged for most of the game, then sad.
"They're trying. It's not like they're not trying," D'Antoni said, protective of his players to the end. "When you're a little bit slower than the other team and a lot less athletic, they just carved us up.
"We'll do a lot of things, but just going in and yelling and screaming is not going to help a whole lot."
This loss was so bad, it felt like it could be the one that ends D'Antoni's star-crossed Lakers career. Initially at least, that doesn't appear to be the case.
Kobe Bryant
has been increasingly silent as this awful season winds its way to its eventual end, but even he knew this was a night the people needed to hear something -- anything -- to make them feel like this will all be over someday.
"Misery = Motivation #thanku #urwelcome," Bryant tweeted after the game.
He's not coming back anytime soon to help. Mostly likely, he's not coming back at all this season.
That's a sobering thought. But sometimes you get to the point where you just want it to stop. End and be over. End and never be like this again.
No matter how miserable games get, they do eventually end. So do seasons.
But how do the Lakers make sure the rest of it stops, too? The losing? The frustration? The lack of direction?
They won't be a team again until those questions are answered.
March, 7, 2014
Mar 7
12:00
AM PT
ESPN.com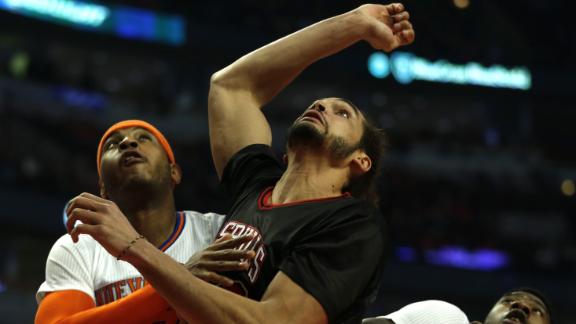 The class of 2014 could be the best in NBA free-agent history -- that is, if the big names opt out. Will they? Our 5-on-5 crew weighs in.
---
1. True or False: LeBron James will become a free agent in 2014.
J.A. Adande, ESPN.com: True. If the Heat are about to look dramatically different, he should give himself the option to leave. And if he wants to head somewhere else, the Cavs and the Lakers present two options for once again becoming the biggest storyline in the NBA.
Chris Broussard, ESPN The Magazine: False. This is pure speculation. I think that, at this moment, LeBron fully intends to opt out. But after viewing the landscape, I think he might decide to spend at least one more year in Miami and put off free agency until 2015, when his options become far more favorable.
Israel Gutierrez, ESPN.com: True. Given a chance to reassess his future, regardless of how this season ends, LeBron will take that opportunity. What others do won't, nor should it, matter to him.
Marc Stein, ESPN.com: True. I would think LeBron, if he's reading any of us media scoundrels regularly, is reading Brian Windhorst, who has been covering LeBron since his high school days in Akron. So let's not completely rule out an audible after this piece starts to circulate. But the reality is that, to this point, there hasn't been much (if any) evidence to suggest LeBron is going to suddenly opt in for the final season of his current contract. So we gotta go with what we know at the moment.
March, 6, 2014
Mar 6
10:30
PM PT

By Ramona Shelburne
ESPNLosAngeles.com
Archive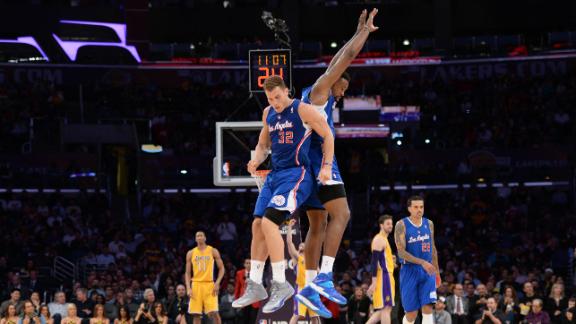 LOS ANGELES -- It really was only 4 1/2 months ago that the
Los Angeles Lakers
drilled the
Los Angeles Clippers
on opening night to stun the NBA.
That night isn't even a memory after the way the Clippers have manhandled their in-city rivals in the two meetings since. The Clippers drilled the Lakers 142-94 Thursday night, the worst loss in Lakers history. The previous worst loss was a 46-point defeat to the
Portland Trail Blazers
in 1995. It was the second consecutive game the Clippers beat the Lakers by more than 35 points -- the Clippers won on Jan. 10 by 36, but this was way, way worse.
All five Clippers starters finished in double figures.
Blake Griffin
would've had a triple-double if he'd played more than 26 minutes. But he settled for 20 points, 11 rebounds, seven assists and one earth-shattering alley–oop dunk that you'll be seeing in highlights for a while.
Darren Collison
led the Clippers with 24 points.
But all of these statistics are basically meaningless in a game that became a farce long before halftime.
How it happened:
This one was close for a quarter. And then it really, really wasn't. The Clippers went on a 29-4 run to open the second to break this one open in embarrassing fashion. It was so over by halftime, large groups of Lakers fans started heading home. Hey, it's Thursday. "Scandal" is on.
What it means:
One look at their records entering the game clued you in on how far apart these franchises are at the moment. Nothing that happened or could've happened Thursday was going to matter in the standings. Still, you can't just lose to your in-city rival by 48 points without it leaving a large welt.
Hits:
Pau Gasol
continues to give the Lakers veteran leadership and solid production since returning from a groin injury two weeks ago. He had 21 points and seven rebounds in 25 minutes Thursday.
Xavier Henry
finished with 15 points in 19 minutes in only his second game back from a knee injury.
Misses:
Um, everyone not named Pau Gasol or Xavier Henry. Those two players shot a combined 13-for-25 from the field (52 percent). The rest of the team shot 21-for-61 (34 percent). We'll have no further comment.
Stat of the game:
44. That's the number of points the Clippers scored in the second quarter of Thursday night's romp. The Lakers scored 40 in the first
half
.
Up next:
The Lakers have one of the worst back-to-backs a Western Conference team can have Friday. They'll fly to Denver after Thursday's game, drive an hour from the airport to their hotel, lose an hour because of the time difference, get to bed around 4 a.m., then try to get a little rest before playing the Nuggets on Friday night at altitude.
March, 6, 2014
Mar 6
10:28
PM PT
ESPN.com news services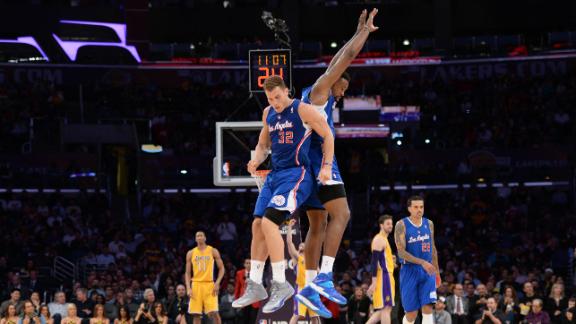 LOS ANGELES -- Blake Griffin had 20 points and 11 rebounds during three thunderous quarters by the Los Angeles Clippers, who routed the Lakers again 142-94 Thursday night to extend their winning streak to a season-best six games.
Darren Collison had a team-high 24 points while starting at shooting guard for the injured Jamal Crawford. Chris Paul added 13 points and 11 assists for the Clippers, who apparently are trying to make up for decades of humiliation at the hands of the Lakers all in one season; they've won the last two meetings by a combined 84 points.
This was the Clippers' largest victory margin over their longtime tormentors, and their sixth victory in the last seven meetings -- including a four-game sweep last season.
The last time the teams met on Jan. 10, the Clips won 123-87.
March, 6, 2014
Mar 6
6:08
PM PT
The Los Angeles Lakers, following a couple seasons that -- to put it mildly -- didn't exactly turn out the way they'd hoped, are positioning themselves to rebuild. Their consolation prize will be a nice pick in a stacked draft, and they will have lots of cap room this summer to dangle in front of free agents. Meanwhile, on the other end of the continent, Carmelo Anthony has experienced a couple similar seasons in New York, and is preparing for free agency.
To continue reading this article you must be an Insider
March, 6, 2014
Mar 6
2:16
PM PT
EL SEGUNDO, Calif. -- In an attempt to bust struggling
Lakers
point guard
Kendall Marshall
out of his slump, coach Mike D'Antoni said he will keep Marshall in the starting lineup when the Lakers host the Clippers on Thursday.
After the Lakers' 132-125 loss to the
New Orleans Pelicans
on Tuesday, a game in which
Jordan Farmar
had 20 points and eight assists in 26 minutes while starting the second half at point guard over Marshall, D'Antoni said he was considering a lineup change, but ultimately decided to stand pat.
"[Farmar] will probably finish the [Clippers] game, maybe, we'll watch it," D'Antoni said after shootaround Thursday. "But we're good."
Marshall has gone scoreless in four out of the Lakers' last five games, going 3-for-24 (12.5 percent) overall during that span.
"He has to get out of his slump, mini-slump, and we think the best way to get out of it is to play out of it," said D'Antoni. "You got to be careful with peoples' egos. It's a tough position anyway, and just because somebody is in a little bit of a slump you don't want to exacerbate the problem. That's one. And Kendall is good about distributing the ball, getting it up and throwing the ball up and getting everybody involved."
Marshall was the last player on the Lakers' practice court Thursday, getting up extra shot attempts.
"You miss shots," Marshall said. "You can't expect to shoot 100 percent all the time. It's a part of the game. You're going to miss shots, you're going to go through a slump, but you got to find a way to get out of it."
Marshall, who has averaged 9.4 points, 11.0 assists and 34.3 minutes in 24 games as a starter with L.A. and 7.2 points, 5.3 assists and 21.0 minutes in nine games off the bench, said that he tries not to worry about a starting role.
"It's all about what you do when you're on the court," Marshall said. "Whether that's six minutes, 20 minutes or 40 minutes, you got to make the most of that time. Jordan has been playing great for us, we've played well when he's on the court and he's a great teammate."
Despite Marshall's shot being off lately, he has still dished out double-digit assists in each of the last three games. It is a rare feat by the second-year player. While Marshall totaled zero points and 10-plus assists in two of the last three games, the rest of the league combined has just three games like that all season, according to ESPN Stats & Info.
"Obviously I'm still able to get my teammates involved," Marshall said. "So, as long as I'm doing that, the scoring is a bonus. But the main thing for me, what I strive in, is getting teammates involved."
Perhaps the matchup with the Clippers'
Chris Paul
will motivate Marshall. Paul, who Marshall said was the best point guard in the league, has become a bit of a mentor to the fellow ACC product (Paul went to Wake Forest, Marshall went to North Carolina) and Marshall even participated in Paul's camp when he was younger.
"He's kind of been like a big brother to me, honestly," Marshall said. "From my time late in high school to throughout college, he was always giving me a word of advice and this summer, even when I went through being waived and stuff, he was there talking to me and everything. So, he's been great for me and he's a guy that I really look up to."
Paul has helped Marshall's confidence grow during his unconventional path in the NBA, from being traded by the team that drafted him (Phoenix) after just one season, to being waived by the
Washington Wizards
to being called up from the Delaware 87ers of the D-League by the Lakers.
"Just telling me that I am a player in this league and guys are going to go through these types of things all the time," Marshall said of Paul's advice. "You just have to find a way to fight through it."
If Marshall doesn't retain his starting spot moving forward, he could soon find himself competing with
Xavier Henry
for back-up point guard minutes. Henry, back on the court this week for the first time since a bone bruise in his right knee sidelined him in late December, will get a chance to run point also.
"We could go bigger which helps a lot of the mismatches," D'Antoni said. "Yes, it's something we want to try. I don't know if we're quite ready yet. But it's something we want to look at in the last 20 games."
Hill out
Lakers forward
Jordan Hill
will not play against the Clippers and is considered day to day because of a sore right knee. Hill had already found himself out of D'Antoni's rotation, collecting two straight Did Not Play – Coach's Decisions in the Lakers' last two games.