December, 26, 2014
Dec 26
11:45
AM PT

By Tim MacMahon
ESPNLosAngeles.com
Archive
UPDATE: Coach Rick Carlisle announced pregame that both players would be active.
DALLAS – The Mavericks might be without their two leading scorers Friday night against the
Los Angeles Lakers
.
Shooting guard
Monta Ellis
and power forward
Dirk Nowitzki
did not participate in the Mavs' morning shootaround because of illnesses.
"Hopefully they'll be OK, but I won't know until game time," coach Rick Carlisle said.
Carlisle said Nowitzki, who is six points shy of passing Elvin Hayes for eighth place on the NBA's all-time scoring list, has been dealing with a stomach issue. Carlisle wasn't certain of the nature of the illness for Ellis, who is averaging a team-high 20.9 points per game.
The Lakers are expected to play without their leading scorer.
Kobe Bryant
has missed the past two games because of general soreness and told reporters on Thursday night that there is a "very slim" chance he plays against the Mavs.
December, 25, 2014
Dec 25
9:44
PM PT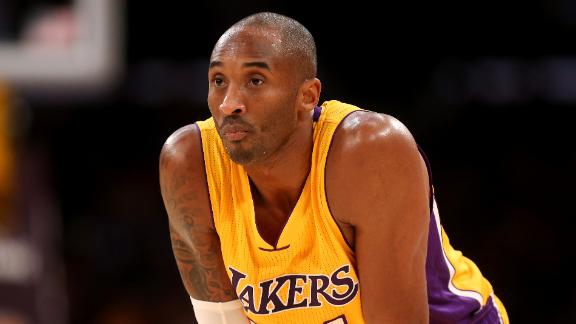 CHICAGO -- Imagine if the
Los Angeles Lakers
had won again without
Kobe Bryant
.
Imagine the reaction.
You had better believe the notion that the Lakers perform better without him –- which is
heavily backed
by advanced statistics -- would've picked up some serious steam.
[+] Enlarge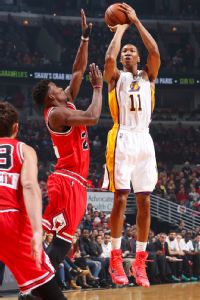 Gary Dineen/NBAE/Getty ImagesWesley Johnson led the Lakers in scoring with 19 points, but the Lakers were doomed by cold shooting.
But the Lakers were unable to duplicate their dominant performance against the NBA-best
Golden State Warriors
and instead fell Thursday to the
Chicago Bulls
113-93 without the services of Bryant,
who sat out
for the second straight game to rest.
Oh, the Lakers still scrapped against the Bulls, cutting a double-digit deficit to two points in the third quarter. But the Lakers were simply outmatched by a team Lakers coach Byron Scott said was the best they've faced in the Eastern Conference.
And Scott had a message for those who say the Lakers are better without Bryant.
"Like I said before, those people are idiots," Scott said. "He's one of the best to ever play the game. You take him off the team, you're going to have nights where you struggle, period. And then you're going to have one night like we had the last game.
"Anybody that really insinuated that we were better without him, they're just ridiculous. We're a much better team when he's on the floor, period."
Entering Thursday, the Lakers' average point differential was 21.4 points higher with Bryant off the court compared to when he is on the floor. They were also 24.4 points per 100 possessions worse with Bryant on the floor than when he's on the bench.
There are more numbers like that, but you get the picture.
Even without Bryant, the Lakers played the Bulls tough, losing because they shot poorly, especially
Nick Young
(1-for-6 with three points), and because they were outrebounded by 18.
Scott told his players after the game that Bryant could miss as much as a week as he tries to recover from soreness that seems to be the culmination of his heavy-minute workload. (The 36-year-old is playing a team-high 35.4 minutes per game.)
Since they don't know when Bryant will be back, the challenge, according to shooting guard
Wayne Ellington
, is "to come together as a group collectively. Nobody can replace Kobe, so we've all got to come together and step our games up."
Ellington added, "We always miss his presence, especially a game like [Thursday] where they load so strong when the ball is on one side. He's great at really manipulating defenses and getting guys open shots. That's an area where we really missed him."
Young also seemed pretty serious on the matter instead of being his usual jovial self.
"We're always going to need Kobe," Young said. "We may joke around, but we're always going to need Kobe out on the floor."
Did the Lakers learn anything about themselves these past two games?
"I think we all knew we could play," Young said. "But honestly, we still need Kobe out on the court, of course. He's still one of the greatest players to ever play this game."
If Bryant is out for an indefinite time period, the rest of the Lakers (along with any casual observers) should get a more definitive answer about how the team truly performs without him versus just seeing it in spurts or a couple games -- a sample size that's still too small.
Bryant, of course, saw Tuesday's game, in which the Lakers smashed the Warriors, leading by as much as 24 points, their biggest lead of the season.
"I thought they played extremely well," he said of his teammates. "They shot the ball very well."
The Lakers shot 51.7 percent, to be exact, and tied their season high with 12 3-pointers. The Lakers also tied their season high with 28 assists.
"The ball moves a lot easier when guys are hitting shots," Bryant said. "When we don't hit shots, I try to take the load on myself and we have a lot of standing around. The games where they hit shots, I sit back and let them hit shots."
Scott has said the Lakers need to find more balance on that end -- that Bryant needs to learn to trust his teammates and be willing to let them fail versus just trying to take over on his own.
And Scott still staunchly defends Bryant, pointing not to how Bryant has played over the course of the season but instead his career body of work.
"We had one great game without Kobe, and now everybody thinks we're a better team or something like that," Scott said before Thursday's game. "That's not the case.
"But as far as all that analogy stuff goes, if I had my choice, I'd rather have him on the court for 48 minutes every time we play. I know we'd have a better chance to win."
December, 25, 2014
Dec 25
9:29
PM PT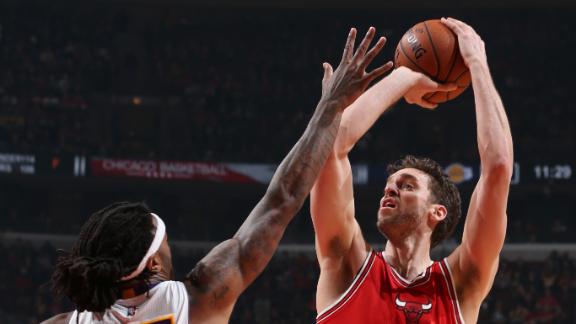 CHICAGO -- Veteran big man Pau Gasol admitted after Thursday night's 113-93 win over the Los Angeles Lakers that it was "weird" facing his former team for the first time since signing with the Chicago Bulls in the summer.
"It's weird," Gasol said after racking up a game high 23 points and 13 rebounds. "Obviously it's an emotional game because you find yourself on the opposite side of a team that you've played for for so many years and you've been through so much [with them]. So it was weird, difficult at first to kind of get going and once you start playing you're just playing the game the best way you can."
Gasol said he spent some time speaking to former teammate Kobe Bryant on Wednesday and was sad that the Laker legend didn't play against the Bulls. Bryant sat the game out with soreness.
"We saw each other for a while," Gasol said. "We sat down for over two hours. Just catching up. It felt good to really to hang out, to talk, spend quality time together. I really enjoyed it. Obviously I miss him, I don't get to see him that much now for obvious reasons, but he's like a brother to me and I wish him the best. I have the utmost respect for who he is and we're always going to support [each other]."
Gasol didn't reveal exactly what was said in the conversation but did note that it had little to do about basketball. He is hopeful that Bryant will be back on the floor soon.
December, 25, 2014
Dec 25
7:41
PM PT
Associated Press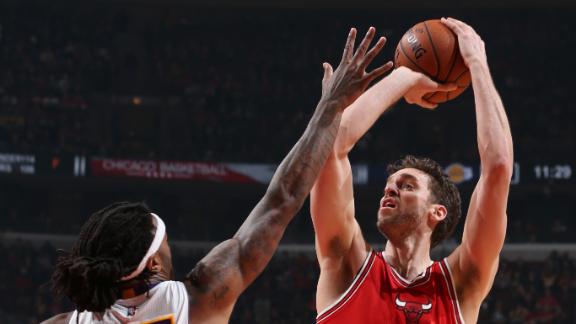 CHICAGO -- Pau Gasol had 23 points and 13 rebounds against his former team and the Chicago Bulls beat Los Angeles 113-93 on Thursday night with Lakers star Kobe Bryant resting his sore body.
Jimmy Butler added 21 points, and Derrick Rose had 20 points and six assists to help the Bulls win their season-high fifth straight.
With Bryant missing his second straight game, the Lakers were unable to pull off another upset. They stunned Golden State on Tuesday night but came up short against the Central division leaders.
The Bulls hung on after a 16-point second-quarter lead dwindled to two in the third. They pulled away in the fourth, sending the Lakers to their fourth loss in five games.
Gasol, a two-time champion in six-plus seasons with the Lakers, was 9 of 14 from the field in his first game against Los Angeles since joining the Bulls in the summer.
December, 25, 2014
Dec 25
7:33
PM PT
CHICAGO -- No
Kobe Bryant
-- and no
Los Angeles Lakers
blowout win, either.
After pummeling the
Golden State Warriors
without Bryant earlier this week, the Lakers scrapped against the
Chicago Bulls
here but came up short after shooting 39 percent from the field.
Bryant sat out again to rest, which was unexpected since it meant missing a nationally-televised Christmas Day matchup, but the Lakers held their own for most of the game, coming to within 2 of the Bulls in the third quarter.
In the end, the Bulls, who led by as much as 22, had too much firepower, dropping the Lakers to 9-20. The Lakers did maintain their balance, with five players scoring in double figures, led by
Wesley Johnson
, who scored 19 points to go along with nine rebounds.
Player of the game:
This one goes to Bulls forward
Pau Gasol
, who scored 22 points on 9-of-14 shooting and grabbed 12 rebounds against his former team.
Not so Swaggy:
Nick Young
struggled for the Lakers, scoring just 3 points on 1-of-6 shooting in 18 minutes off the bench. Without him and Bryant, the Lakers really lacked a scoring punch.
More reunions:
Lakers forward
Carlos Boozer
scored 14 points and grabbed five rebounds off the bench against his former squad.
Up next:
the Lakers head to Dallas to play the Mavericks on Friday. Bryant said there's a "slim" chance that he plays in the game.
December, 25, 2014
Dec 25
3:37
PM PT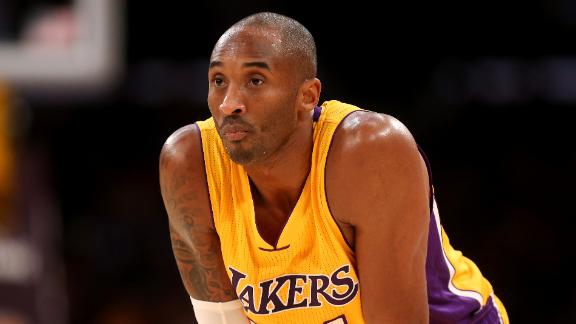 CHICAGO -- Lakers star Kobe Bryant missed Los Angeles' 113-93 loss to the Chicago Bulls on Thursday night.
The 36-year-old Bryant sat out to rest for the second straight game, Lakers coach Byron Scott announced before the game.
"It's extremely difficult, especially playing here, playing on Christmas Day and playing in this city. I love playing here," Bryant said. "The fans have always been great. There's always a lot of energy in the building.
"At the same time, I've just got to try to be smart. It's really going against my nature, but I've got to be smart about this."
When asked if there was any particular injury hampering him, Bryant cited age and soreness.
"Old age. My knees are sore at this stage of the season," he said. "My Achilles are sore -- both of them. My metatarsals are tight, back is tight. I just need to kind of hit the re-set button."
Bryant also said he'll likely play fewer minutes going forward. When asked about the chances that he'd play Friday in Dallas against the Mavericks, Bryant said, they're "slim right now."
Bryant was listed as probable to play in his 16th career Christmas Day game, but Scott said Bryant notified him of general soreness Thursday morning and decided to sit him out. Scott said he didn't get much resistance from Bryant.
Bryant is averaging 24.6 points, 5.1 rebounds and 4.9 assists per game this season.
December, 25, 2014
Dec 25
9:17
AM PT
Associated Press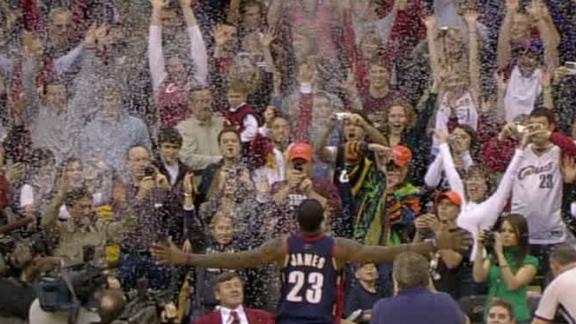 NEW YORK -- Cleveland's LeBron James and Stephen Curry of Golden State are the leading vote-getters in the first returns from NBA All-Star fan voting.
James had about 553,000 votes at the Eastern Conference frontcourt spot, where New York's Carmelo Anthony ranked second and Chicago's Pau Gasol was third in the results released Thursday. Washington's John Wall topped East guards, and No. 2 was James' former Miami teammate, Dwyane Wade.
Curry had more than 549,000 votes to lead second-place Kobe Bryant among West guards. New Orleans' Anthony Davis had the most votes in the West frontcourt, followed by the Clippers' Blake Griffin and Memphis center Marc Gasol.
Voting runs through Jan. 19, and starters for the Feb. 15 game in New York will be announced Jan. 22.
December, 24, 2014
Dec 24
5:34
PM PT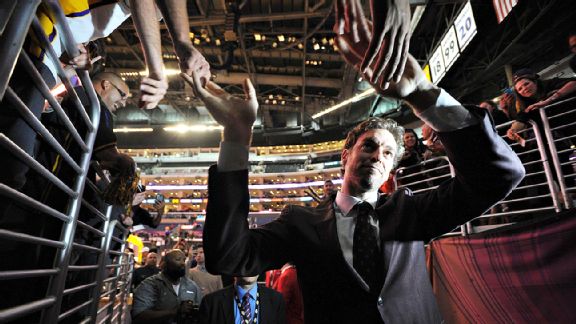 Andrew D. Bernstein/NBAE/Getty ImagesEight months after saying goodbye to L.A. fans, Pau Gasol faces the Lakers for the first time as a Bull.
On the road, against the New Jersey Nets -- that's where it started. Mitch Kupchak can still recall the details, even now. That's the type of impact the Los Angeles Lakers' newest player made on that February night in 2008.
"It was dramatic," recalled Kupchak, the Lakers general manager.
Pau Gasol
joined the Lakers a few days earlier in a trade with the
Memphis Grizzlies
. In his debut in purple and gold, the 7-foot Spaniard started and poured in 24 points on 10-of-15 shooting to go along with 12 rebounds and four assists in 35 minutes against the Nets. The Lakers won that game by 15 points, foreshadowing a river of success that soon followed.
It seems so long ago today, with Gasol having departed the Lakers after six and a half seasons to join the
Chicago Bulls
over the summer. His new team will host his old one on Christmas Day, the first meeting between the two squads since Gasol left Los Angeles.
"It's going to be hyped up," said Lakers reserve guard
Nick Young
, "because Kobe's been talking about this since summertime, when I asked him about Pau."
But as he reminisced about Gasol's initial days with the Lakers, Kupchak gazed up at their past two championship banners gracing the wall of the team's practice facility in El Segundo, California -- the ones from 2008-09 and 2009-10.
"

I knew that I had to move on. I needed something different. I needed to be in a different position where I could be assimilated, where I could be motivated every single day. Where I could be rejuvenated. Where I could win and strive for greatness again.

"

-- Pau Gasol on leaving the Lakers
"We would not have those banners if it wasn't for Pau," Kupchak said.
Nor, he added, would the Lakers have appeared in the NBA Finals at the end of Gasol's first season with the team, when they fell to the
Boston Celtics
in six games.
"From Day 1, he was terrific for this organization," Kupchak said.
Gasol helped turn around a franchise still searching for an identity after Shaquille O'Neal left in 2004 via trade to Miami. In the first three seasons after O'Neal's departure, the Lakers missed the playoffs once and twice failed to reach the second round. After Gasol arrived, they reached three straight NBA Finals.
Beyond that, Kobe Bryant's winning percentage in the three seasons after O'Neal left and before Gasol arrived was .520, but with Gasol by his side, that percentage rose to .689, including 13 playoff series wins.
Gasol proved to be an ideal player for Phil Jackson's triangle offense, a smart, skilled and unselfish big man who was formidable on his own but even more potent once he teamed up with fellow 7-footer Andrew Bynum to form a tough "Twin Towers" tandem.
Yet Gasol's legacy with the Lakers isn't without its complications.
For as great as his early years were in L.A., his latter years were riddled with injuries and mixed results. Ultimately, Gasol took less money for a fresh start, accepting a three-year, $22 million deal from the Bulls while spurning a richer offer from the Lakers and a plea from Bryant to stay.
"As much as I went through what I went through here the last couple of years, it kind of wore me out and drained me in different ways," Gasol told reporters when the Bulls were in Los Angeles last month to face the Clippers.
"And it was still difficult to make that call. Leave the city, the team and a franchise with the fans behind me.
"I had just a gut feeling. I knew that I had to move on. I needed something different. I needed to be in a different position where I could be assimilated, where I could be motivated every single day. Where I could be rejuvenated. Where I could win and strive for greatness again."
Gasol, now in his 13th season, has indeed rejuvenated his career. He's averaging 18 points a game, his best mark since 2010-11, and 11.4 rebounds a game, a career-high. He's also blocking 2.0 shots per game, just shy of his career-high (2.1).
"He felt he needed a rebirth," Kupchak said. "Sometimes that happens to players, especially veteran players, and clearly that's been the case with him. He's playing great. I'm happy for him, for his fresh start, which is what he wanted."
[+] Enlarge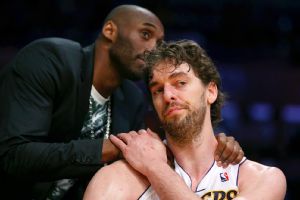 Jeff Gross/Getty ImagesIn six-plus seasons together, Pau Gasol and Kobe Bryant went to three NBA Finals and won two titles.
That was especially true after then-NBA commissioner David Stern vetoed a 2011 three-team trade that would have made
Chris Paul
a Laker and Gasol a Houston Rocket. Gasol was never quite the same after that.
"His last two, three years with us were wrought with rumor and anxiety," Kupchak said. "I think it was really hard on him from that one moment when we had a deal that fell through.
"From that point forward, it was just hard -- and understandably so -- on him. Very hard. He did not want that to continue."
In his book, "Pau Gasol: Life. Vida.," Gasol wrote that he was proud of how he handled the aftermath of that 2011 trade.
"I was able to put everything in perspective and remind myself that I was fortunate to have played for the Lakers, to have won two championships, and to be part of this team," he wrote.
"I've had an incredible career, up to this point, and nobody can take that away from me, regardless of what happens tomorrow."
He also revealed last month that during negotiations the Lakers offered him a no-trade clause, which only six tenured players have, including Bryant.
Kupchak declined to go into specifics about those negotiations, but he added that Gasol "wanted to pick a place and be in that place with some security."
By that point, though, the damage was done -- and Gasol was worn out in L.A.
It still stings for the Lakers to have seen Gasol walk in free agency without them getting anything in return, which happened the summer before with another talented center,
Dwight Howard
.
"Maybe if things would have happened in a different way maybe things would have worked out differently, but I don't know," Gasol said during his visit to L.A. last month. "You've got to stick to what happened and reality, and now I just have to focus on the present."
That's all the Lakers can do, too. They can only appreciate what Gasol brought them -- banners.
December, 24, 2014
Dec 24
7:19
PM PT
By Ryan Feldman
ESPNLosAngeles.com
Archive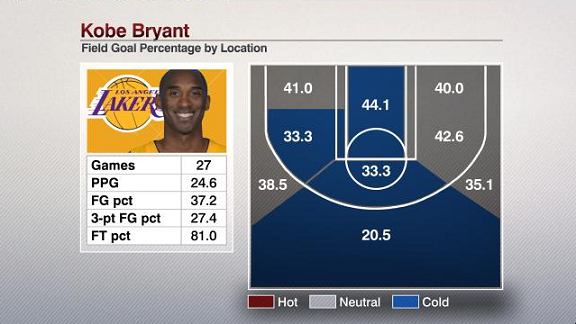 Los Angeles Lakers
guard
Kobe Bryant
is having one of the most inefficient seasons for a high-volume shooter in NBA history.
He's on pace for the worst field goal percentage (37.2 percent) by a player averaging at least 20 field goal attempts per game since Bob Cousy in 1951-52 (36.9%), a time that pre-dates the NBA's 24-second shot clock.
Bryant has attempted 69 "clutch time" shots this season. No other Laker has more than 15 such attempts. All of his teammates combined have only 61 attempts.
Why has Bryant been so inefficient this season?
Too many mid-range shots
Bryant has attempted 272 mid-range shots this season, second-most in the league behind
LaMarcus Aldridge
. (Mid-range shots are 2-pointers outside the paint)
Bryant has more mid-range attempts than the Rockets have as a team (235).
He has the worst mid-range field-goal percentage (37.9 percent) of the 14 players with at least 150 mid-range attempts this season.
Thirty percent of Bryant's shot attempts this season are "long twos" (2-pointers from 16 feet and beyond), which over a full season would be his highest percentage since 2006-07.
His average field goal attempt distance is 15.4 feet this season. That would be the longest average of his career.
Bryant is averaging 10.1 mid-range shot attempts per game this season. He averaged 6.9 before his injury two seasons ago and only 4.7 per game in six games last season.
Bryant is shooting below 40 percent on mid-range shots for the first time since 2007-08. His 37.9 mid-range field goal percentage would be his worst since 2004-05.
He likes low-percentage shots
Ninety three percent of Bryant's mid-range shot attempts this season are contested.
Bryant leads the league in contested mid-range shot attempts this season (9.7 per game).
Of the 112 players to attempt at least 50 contested mid-range jumpers this season, Bryant ranks 76th in field goal percentage at 37 percent. The average for those 112 players is 40 percent.
Kobe leads the league with 53 contested mid-range shot attempts in the fourth quarter this season.
Of the 111 players with at least 10 contested mid-range shot attempts in the 4th quarter this season, Bryant is 86th in field goal percentage at 28 percent. The average for those 111 players is 38 percent.
Kobe has attempted more contested mid-range shots than his three teammates who have taken the next-most combined –
Carlos Boozer
,
Nick Young
and Wes Johnson – but all three of them have a better field goal percentage than Bryant does on those shots.
Not letting others take clutch shots
Bryant is 1-for-7 this season on game-tying/go-ahead shots in the final 24 seconds of the fourth quarter and overtime. The only other Lakers player to take such a shot is Nick Young, who is 1-for-2.
The league average on those shots this season is 27.2 percent.
Only
Kemba Walker
(3-for-11) has attempted more game-tying/go-ahead shots in the final 24 seconds of the fourth quarter/overtime than Kobe this season.
Over the last four seasons (since 2011-12), Kobe is 7-for-30 (23 percent) on game-tying/go-ahead shots in the final 24 seconds of the fourth quarter/overtime. His teammates are 8-for-22 (36 percent).
In "clutch time" (last five minutes of fourth quarter/OT with score within five points), Kobe has attempted by far the most shots in the league this season. He has 69, while no other player has more than 52.
Bryant has the highest usage percentage in clutch time this season among players with at least 25 clutch time minutes, yet he has the worst effective field goal percentage of the top 13 players in that category.
Data on "contested mid-range shots" is courtesy of SportVu/NBA.com player tracking data
December, 24, 2014
Dec 24
5:31
AM PT
ESPN.com news services
Kobe Bryant, having watched Carmelo Anthony and Rajon Rondo not join him in Los Angeles, still firmly believes in the Lakers' hierarchy to come up with a plan to turn it around.
"I really do trust management," Bryant told USA Today Sports in Wednesday's editions. "I mean, I really, really do. They'll get things turned around pretty quickly. I'm not really concerned about that."
Bryant expressed his disappointment at seeing his friend Rondo landing with the Dallas Mavericks after a trade with the Boston Celtics. Rondo, who will be a free agent after the season, met with Bryant over breakfast earlier this season.
"Oh yeah," Bryant told USA Today Sports. "Of course. Of course. But all you can do is control what you can control. We did our part. We did what we could. ... It's not from a lack of effort. It's not from a lack of smarts, so I trust the process. It's hard going through this [expletive], but our management will figure it out."
Part of the team's effort included a pitch to Anthony, who ultimately re-signed with the New York Knicks after a summer free-agency tour.
December, 24, 2014
Dec 24
1:00
AM PT
By ESPNLosAngeles.com
ESPNLosAngeles.com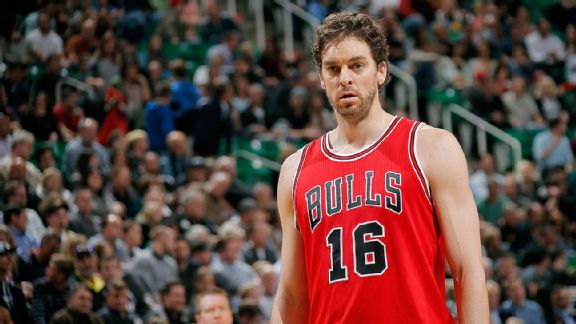 Rocky Widner/NBAE/Getty ImagesPau Gasol has been revitalized in Chicago, where he has a chance to compete for a title.
---
Each week, ESPN.com Lakers beat writer Baxter Holmes, along with ESPN.com NBA writers Ramona Shelburne and Arash Markazi, will weigh in on three questions that are on the minds of Los Angeles Lakers followers.
1. With the Lakers set to face Pau Gasol and the Chicago Bulls, is there any regret to not keeping Gasol?
Holmes:
There's definitely regret that things didn't work out better, because in the end Gasol walked away from a multiyear deal with a no-trade clause (as he revealed recently) and took less money to get a fresh start elsewhere. But just look at how well he's playing this season. He needed that fresh start after everything turned sour in L.A. The Lakers can still be happy for him. They wouldn't have won their past two titles without Gasol.

Shelburne:
Yes. Every day. After years of shopping Gasol, the Lakers let him go for absolutely nothing. You can argue the merits of taking on the salaries and players they would've gotten back from Chicago in a potential sign-and-trade versus keeping all of their cap space intact for this summer. But the fact is the Lakers let a good player go for nothing for the second consecutive summer. That's why they have few assets to use in trades to improve their current roster.
Markazi:
I don't think it was up to the Lakers, to be honest. The Lakers offered Gasol a better deal than the Bulls did, but he wanted to compete for another title at the end of his career and he knew that wasn't going to happen with the Lakers after Kobe signed his extension.
---
2. Is there anything to "figure out," as Kobe Bryant says, when it comes to Bryant's tired legs and keeping his body fresh?
Holmes:
Nope. The only thing to do is accept reality: He can't handle his current minutes load, nor can he continue to try to carry the offense on his own. He has to start relinquishing control on that end, just like
Tim Duncan
has done in his later years in San Antonio, but it's hard to see that happening. Maybe he'll start sitting out games to rest and everything will change (as it did against the Warriors on Tuesday night). But until then ...
[+] Enlarge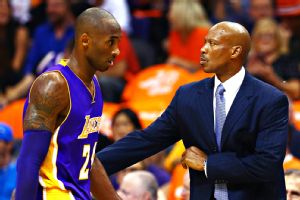 Mark J. Rebilas/USA TODAY SportsIt's up to Byron Scott, right, to manage Kobe Bryant's minutes so he can remain effective.
Shelburne:
Byron Scott needs to reign in Kobe's minutes or he's going to get hurt. It's that simple. However he has to do that, he needs to do that. In the short term, that means taking a night off here and there. But in the long term, it means scaling back Kobe's minutes to a more manageable 30 to 35 a game. We've seen through the first third of the season there are diminishing returns when he plays more than that.
Markazi:
I think the biggest thing to figure out is how will Scott manage Kobe's minutes better. He said during training camp that he would, but that hasn't been the case. Kobe really shouldn't be playing more than 30 minutes this early in the season, and his average should probably be less than 30 minutes per game if he wants to be able to play through the season. He's in danger of hitting a wall at the pace he's on.
---
3. Would it have made sense for the Lakers to have made a harder push to acquire Rajon Rondo?
Holmes:
Not really. The Lakers weren't going to part with their protected top-five pick in 2015, and, for as good as Rondo is, that was the right move because that pick could bring them one heck of a prospect in next year's draft. Besides, they can still go after Rondo in free agency, which they'll certainly try to do.
[+] Enlarge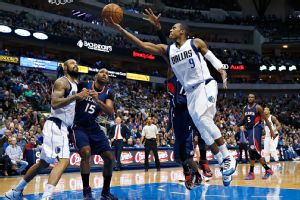 Tom Pennington/Getty ImagesRajon Rondo is playing for the Mavs now, but he could still wind up a Laker in free agency.
Shelburne:
Theoretically, yes. But practically speaking, there was little they could do to sweeten their offer. The Celtics weren't going to trade a player of Rondo's caliber to their archrivals without seeming as if they were swindling them. Trading Rondo is one thing; trading him to the Lakers is another. Boston had to sell this trade to its fans somehow.
Markazi:
Sure, but I don't think the Lakers had much to offer except for expiring contracts. Their first-round pick this season is going to Phoenix if it's outside the top five, and if it's in the top five, they would want to keep it. Rondo is an All-Star and would have been a great addition, but I don't think he's the franchise-saving guard the Lakers need. That'll come down the line in
Russell Westbrook
.