September, 2, 2015
Sep 2
9:21
AM PT
Associated Press
A person with knowledge of situation tells The Associated Press that Excel Sports Management has severed ties with Los Angeles Lakers guard Jordan Clarkson.
The person spoke on condition of anonymity because neither side has released details of the split, which happened last month.
The Lakers picked Clarkson in the second round of the draft in 2014. He averaged 11.9 points and 3.5 assists in his rookie season and was named to the All-Rookie First Team.
Excel Sports Management represents some of the biggest names in the NBA, including Los Angeles Clippers forward Blake Griffin, Cleveland Cavaliers forward Kevin Love and Los Angeles Clippers forward Paul Pierce.
September, 1, 2015
Sep 1
4:11
PM PT
By ESPN.com
ESPNLosAngeles.com

Free agent Eric Moreland played in three regular-season games with the Sacramento Kings last season before suffering a labral tear in his shoulder. This summer, the Kings waived the 6-foot-10 forward. Though the Detroit Pistons are the reported frontrunner for Moreland, two California teams may still be in the mix. From Shams Charania with RealGM:
"The Los Angeles Lakers and Sacramento Kings are strong under consideration for Moreland, sources said, and their front offices expect the 6-foot-10 forward to settle upon a destination once the final offers are presented."
Following his recovery from shoulder surgery, Moreland averaged 6.4 points, eight rebounds and two blocks in 20 minutes per game during Summer League play with the Kings in Las Vegas.
August, 31, 2015
Aug 31
12:06
PM PT

By Baxter Holmes
ESPNLosAngeles.com
Archive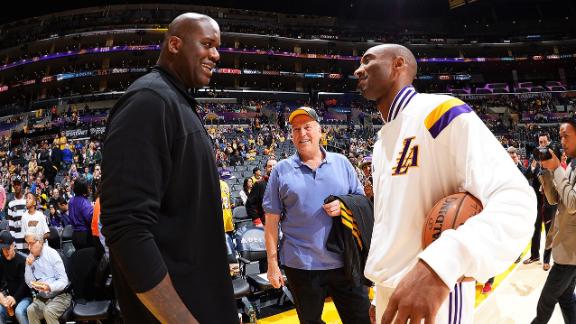 Constant clashes ultimately led to a bitter breakup between Shaquille O'Neal and Kobe Bryant, but the two stars addressed their relationship on O'Neal's "The Big Podcast with Shaq," which was made available Monday.
"It's time to clear the air," O'Neal said, "because I've said many times that we were the most enigmatic, controversial, most talked-about, dominant one-two punch. I just want people to know that I don't hate you, I know you don't hate me. I called it today a 'work beef,' is what we had."
Said Bryant, "Here's the thing -- what we did, our disagreements, what made those things special is we said them to each other's face. We didn't go behind each other's back and whisper to our teammates about this, that and the other, because that does nothing but create friction and it's cancerous to the team.
"When you get things out, right in front of each other [and] you say what you're thinking, you have those disagreements, you agree to disagree, you move on [and] all of the sudden, the integrity of the team is preserved. And then when you come out of that, agreeing or whatever the case may be, then the team is all the more better for it because now you had more momentum, and I think that's what really catapulted us, especially that second championship."
O'Neal and Bryant were teammates on the Los Angeles Lakers from 1996 to 2004, winning titles in 2000, 2001 and 2002. They reached the NBA Finals in 2004, but lost to the Detroit Pistons. The pair butted heads repeatedly along the way and eventually split, with O'Neal being traded to the Miami Heat in the summer of 2004.
"

I just want people to know that I don't hate you, I know you don't hate me. I called it today a 'work beef,' is what we had.

"- Shaquille O'Neal to Kobe Bryant
O'Neal said he often tells people that if he sees Bryant in a restaurant, he won't "throw water in his face." But he doubts the public will believe him.
"They'll say, 'I read an article where you said you was going to kill him.' Yeah, I did say that, but I didn't mean it," O'Neal said, laughing.
Bryant recalled that instance, one of many during their most combative years from 1999 to 2004.
"Of course I remember that day," Bryant said. "I was like, 'All right, then come on then.' Dude, if you could have seen this ... [then] you'd be like, 'OK, Shaq is going to kill this f---ing kid and this kid is crazier than bat s---.'
"But, really, his response to that and what America would think, that shows how different we are. Because he keeps telling people, 'Listen, it wasn't like that, it wasn't like that.' And my response is, 'F--- them. I don't care what they think.' That's how we felt about each other. Right? That's how we rolled with each other."
When asked if he and Bryant missed out on an opportunity to be the all-time best, O'Neal replied, "Yeah, we did."
O'Neal also explained why he believed his partnership with Bryant fell apart.
"Again, it was two alpha males and then the business aspect kicked in, and a lot of people don't know about that, but the business aspect kicked in and I was getting older," O'Neal said. "Management was like, 'Hey, you're getting older, we know you want this, but we want to give you that.' And in my mind, 'I'm not getting older. I don't want that. I don't want that.' And they just wanted to move in a new direction.
"See, the good thing about Dr. [Jerry] Buss, [like] Kobe said earlier, Dr. Buss will tell it to your face. Dr. Buss called me and said, this is what we want to do and this is how we're going to do it. If you don't accept it, we're going to have to trade you. I always respected Dr. Buss with that. I have no problems, no quarrels with his family because that's how you do business."
Bryant compared their situation to all-timers playing together.
"How many years would Michael Jordan and Wilt Chamberlain be playing together with Wilt in his prime and Michael wanting to come up and grow?" Bryant asked. "Like, how long is that going to last before Michael says, 'You know what? It's time for me to show what I can do.' It is what it is. That's why he and I are one of a kind when it comes to tandem because you literally have two alpha males playing together on one team and that normally does not happen."
O'Neal said he does regret saying that he wanted to be traded after the 2004 season, "but you know that's how you've got to talk when you're in business, especially when you think you're in control."
"Here's the thing though," Bryant said, "when you say it at the time, you actually mean it and then when you get older you have more perspective and you're like 'holy s---, I was an idiot when I was a kid.
"To me, the most important thing was really just keep your mouth shut. You don't need to go to the press with stuff. You keep it internal and we have our arguments and our disagreements, but I think having our debates within the press was something I wish would've been avoided, but it did kind of create this whirlwind around us as a team, with myself and Shaq and the press and the media that just put so much pressure on us as an organization."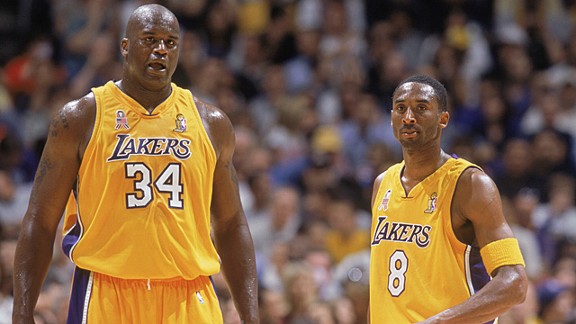 Nathaniel S. Butler/Getty Images
The duo addressed several other topics regarding their time together, including:
" The two said they learned plenty from each other.
"Shaq taught me how to lead, because he's amazing," Bryant said. "You can see how he is now, right? He's really outgoing, he's very gregarious, he puts his arm around guys, he always checks in with guys, always makes sure that they're good. So I learned that from him, because I naturally wasn't like that."
O'Neal said he learned that Bryant was fearless when he air-balled several shots during the final minutes of a series-losing game at Utah in the 1997 playoffs. Bryant was an 18-year-old rookie at the time.
"I didn't want to take the shot, nobody wanted to take the shot," O'Neal said. "This guy took three major shots. He shot airballs, and I knew then, 'You know what? This guy is not afraid. He's going to be the man.' So I knew when I got in trouble, when I wasn't playing well, I knew he was going to ... step up. He was like the only guy besides [Michael] Jordan that I've seen do that."
---
" The two almost came to blows in 1999, Bryant recalled.
"In '99, two things happened," Bryant said. "I think Shaq realized that this kid is really competitive and he's a little crazy. And I realized that I probably had a couple of screws loose because I nearly got into a fistfight and I actually was willing to get into a fight with this man. I went home and I was like, 'Dude, I've either got to be the dumbest or the most courageous kid on the face of the Earth.'"
O'Neal said they went at each other several times.
"All the time. We did it all the time," O'Neal said. "That just showed me, 'You know what, this kid ain't going to back down to nobody.' Kobe seen me punk everybody in the league. So when this kid would stand up every day [to me], I'm like, 'S---, this kid ain't going to back down.' I knew then, that if I'm down by one and I kick it out to someone, he's going to shoot it and he's going to make it.
Said Bryant, "It was one of two things. Either, "He was either going to beat the s--- out of me or I was going to get it done. I was comfortable with either one."
---
" Both players said said Lakers coach Phil Jackson "never" played favorites between them.
"He was really fair," O'Neal said. "He only got fed up one time and he came in and said, 'Both of ya'll need to cut it out.' And that's the only thing he said."
O'Neal added, "You know what? Robert Horry was the whipping boy. Robert Horry used to always come in and say, 'I ain't gonna be your damn whipping boy.'"
---
" The two shared many late-night phone calls before big games. O'Neal said the phone calls were often short.
"I said, 'Kobe, you ready?'" O'Neal said. "He'll be like, 'Hell yeah I'm ready. You ready to hit them free throws?' I'll be like, 'Yeah, I'm gonna be ready.' Just joking, having fun. That's all. Just checking in with each other."
Said Bryant, "Shaq used to come up and tell me, 'Kobe, this series, we'll take turns. You get them this series, I'll get them the next series, you get them the next series.' We used to do that type of stuff. He'd be like, 'Kobe, go kill 'em. Go get 'em this series.' And I'd say, 'Shaq, this is on you now. You've got it now.' We used to literally alternate who dominates what series."
Their most dominant team? They each chose the 2001 squad that steamrolled to a 15-1 postseason record en route to a Finals win over the Philadelphia 76ers.
"The 2001 team was lights-out," Bryant said.
---
" O'Neal was asked about seeing Bryant win his fifth championship in 2009; at the time, O'Neal had won four titles.
"I was pissed," O'Neal said. "I got four first, so then I threw a little jab. He had a couple years, then they somehow got Pau Gasol and [Andrew] Bynum and then he got four and I was like, 'OK, we're tied. I'm cool for a while.' Then he gets No. 5 and a reporter [asks], 'You feel good that you've got one more than Shaq?' And then Kobe is like, 'Yeah, I've got one more than Shaq.' I'm like, 'Aw, s---! He got me.'"
But Bryant was happy when O'Neal won his fourth title with the Heat not long after the two parted ways.
"Because I knew he was going to push me to win more, because I always wanted to get to where Magic [Johnson] was, where Michael [Jordan] was," Bryant said. "So four was something that was really on my radar. But it pushed me even more. It drove me even more. So when I got five, I was like, I couldn't help just turning the knife a little bit."
---
" O'Neal asked Bryant if he saw the "next Kobe" out there.
"Man, nah, I'm kind of old-school, man," Bryant said. "You have certain players that have that aggressiveness and that mentality. It's tough to tell. It's a different generation. I grew up playing against Michael and [Gary Payton] and all these stone-cold assassins. John Stockton and all these guys. So I had that mentality. You don't really see that kind of mentality around the league nowadays. Everybody is buddy-buddy and don't want to hurt each other's [feelings]."
---
" Both players agreed that the NBA is softer today than in previous generations.
"The physicality in the Olympics, they're actually more physical than the NBA is," Bryant said. "It's the silliest thing in the world. The NBA used to be the toughest, strongest league in the world, and now, it's not that. I don't know what happened to all the 7-footers."
"You know what happened, baby," O'Neal said. "We killed them all off."
Bryant added, "It's crazy. Think about it. If you could go back to when you played, you could name off five or six 7-footers off the top of your head. You just knew them. Try doing it now."
---
" O'Neal also chided his former teammate about a recent name that Bryant's wife gave Bryant in an Instagram post: "bay-boo."
Bryant confirmed that "bay-boo" is indeed one of his nicknames.
"My kids [also] call me 'The Tickle Monster,'" he added. "I've got all kinds of little sweet [nicknames]. I'm like, 'Man ... I'm supposed to be the Black Mamba, man!'"
And what if an NBA player whispers that phrase into his ear next season?
"I tell you what -- I do not care what they whisper: 'bay-boo' will still drop 60," Bryant said with a laugh.
---
" As the podcast neared its end, O'Neal had one last message for Bryant.
"Kobe, I just want to say, I love you, brother," O'Neal said. "And I miss you. I enjoyed the times we played together. I wish we could've got to seven championships, but it is what it is. We're still the most respected, the most dominant one-two punch in Laker history."
Bryant replied, "Thank you, my man. I appreciate that, my brother."
August, 30, 2015
Aug 30
3:33
PM PT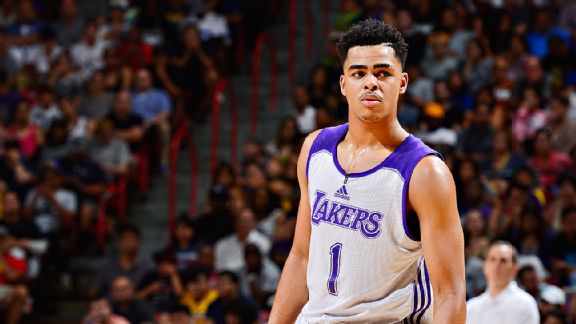 David Dow/NBAE/Getty Imagesnull

The No. 2 overall pick addressed his Tracy McGrady tweet, saying he 'wasn't downgrading Kobe at all.'

August, 28, 2015
Aug 28
9:11
AM PT
August, 28, 2015
Aug 28
8:10
AM PT
By the time the NBA playoffs roll around next spring, it will have been nearly four years since Kobe Bryant suited up for a playoff game.
It will be approaching six years since he won his fifth championship ring with the Los Angeles Lakers. He has finished the last three seasons on the sidelines. With his contract expiring and his NBA experience meter about to click over to 20 years, it's fair to wonder whether this will be it for one of the game's greatest players. Bryant has hinted in the past that this season might be it, though he's left enough wiggle room for the rest of us to speculate.
We were posed this question in the Summer Forecast, and 56 percent of voters decided that Bryant will play on after this season. In reality, no one really knows, and perhaps Bryant himself doesn't know, either.
There's plenty to write regarding the basketball aspect of this. How will Bryant's presence help or hurt the Lakers' growing gaggle of young players? Is he shooting too much? (The eternal question with Bryant.) Can the Lakers afford to commit future cap space to him when they are trying so hard to build the right way and attract an in-his-prime superstar? But today, I want to focus on the historical aspect of this possibly being Kobe Bryant's last stand. Given the physical woes of his last three seasons, what would a successful farewell look like?
August, 25, 2015
Aug 25
8:17
AM PT
ESPN.com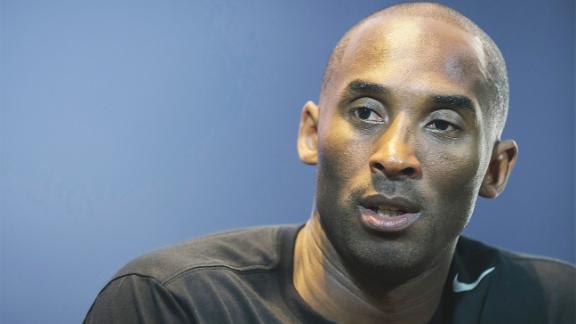 His 20th NBA season could be his last, but Kobe Bryant isn't ready to make that decision just yet. Neither is Lakers owner Jim Buss, who said on Thursday that he isn't shutting the door on Kobe after this season.
In the meantime, Kobe believes the new-look Los Angeles Lakers will make the playoffs in 2015-16 after missing out the past two seasons -- a franchise first since 1976.
But how much can Kobe contribute at age 37? His past three seasons have all ended early because of injuries, including last season when a torn rotator cuff shelved him in January.
Kobe, who said recently that he feels "extremely strong," plans to wait until after the season to see if he wants to continue playing. So we asked our ESPN Forecast panel to predict whether this season will be it for Kobe. Our voters were nearly split:
While 44 percent of our voters think Kobe will call it a career at season's end, 56 percent predict the Black Mamba will be back for more in 2016-17.
Your thoughts?
@ESPNNBA @kobebryant he needs to. I'm tired of seeing him make All Star games due to his lifetime achievements.
August, 28, 2015
Aug 28
12:24
AM PT

By Baxter Holmes
ESPNLosAngeles.com
Archive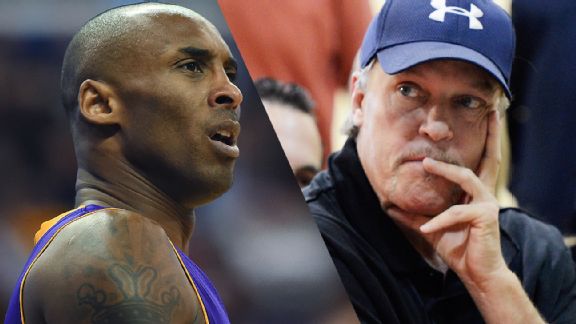 Getty ImagesJim Buss says it will be Kobe Bryant's decision on whether he continues his career when his contract runs out after the 2015-16 season.
Given Kobe Bryant's age and injury-riddled past, there is great intrigue about the star guard's health entering this upcoming season, but there is just as much intrigue -- if not more -- about whether it will be Bryant's final season with the Los Angeles Lakers -- or in the NBA.
Though the 37-year-old star guard is entering the final year of his contract, during which he'll be paid a league-high $25 million, Bryant has not said he'll retire at the end of the 2015-16 season, which will be his 20th season with the Lakers.
Instead, Bryant has repeatedly said he'll wait until the end of the season to make any decisions about his future, but his stance hasn't slowed speculation.
"We're going to approach it like it is [his final season], but that doesn't mean it is," Jim Buss, the Lakers' part-owner and executive vice president of basketball operations, told the Los Angeles Times on Thursday.
"I'm not going to sit there and say, 'This is it, Kobe, you're done,' because it's not my decision, it's his decision."
Lakers president Jeanie Buss made similar comments during a July radio appearance with KPCC, saying, "What I've made clear is only Kobe Bryant can decide when Kobe Bryant is done playing basketball. What I do want to stress is that we are celebrating his 20th year with the Lakers, which I don't think you're going to see very often [among players]."
Jeanie Buss added then, "The idea that you stay with one team your entire career is going to change a lot as free agency continues to evolve through collective bargaining. I think this is an opportunity that we have to pay tribute to somebody that has been great for the Lakers, been great for Los Angeles. It's just a nice opportunity to celebrate Kobe Bryant."
Bryant's past three seasons have all been cut short by injury.
Last season, during which the Lakers finished a franchise-worst 21-61, Bryant played only 35 games before suffering a torn rotator cuff in his right shoulder. The season before, Bryant played just six games because of a fractured kneecap.
The Lakers have been widely criticized for giving Bryant a two-year, $48.5-million extension in 2013 just months after he tore his Achilles' tendon -- and that criticism has only grown with Bryant playing just 41 games since then.
"The man has done so much for the Lakers and the fans of the Laker nation, he deserves the money," Jim Buss told The Times on Thursday. "I don't understand anybody trying to break down what I did for him. Let's break down what he did for us, then say, what is he worth? To me, he's worth that."
When asked if this was Bryant's final year with the Lakers, Jim Buss told The Times, "My arms are like this," and reportedly held his arms wide open, suggesting that the Lakers would welcome Bryant back.