May, 3, 2016
May 3
3:30
PM PT
ESPN.com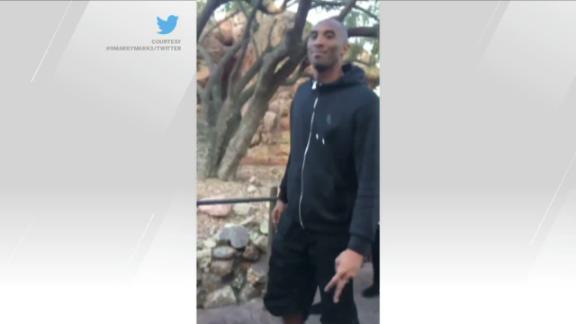 "I'm going to Disneyland!"
It's what many a player has said after winning a Super Bowl, but for former Los Angeles Lakers star Kobe Bryant, it was a way to celebrate his retirement.
The five-time NBA champion who spent his entire 20-year career in Los Angeles was spotted at the theme park on Sunday, much to the delight of fans who were also enjoying The Happiest Place on Earth.
Bryant hasn't announced any post-retirement plans, whether in the NBA or otherwise, but he seems to be enjoying a life that doesn't involve a complex daily routine to get his body ready for the rigors of basketball. Riding Heimlich's Chew Chew Train is probably a lot more fun than sitting in an ice bath.
May, 3, 2016
May 3
1:13
PM PT
May, 2, 2016
May 2
7:33
AM PT
April, 30, 2016
Apr 30
2:37
PM PT
OAKLAND, Calif. -- Golden State Warriors assistant coach Luke Walton said it was a difficult decision to take over as head coach of the Los Angeles Lakers but one he was prepared to make.
"It was a tough decision, but I didn't have to sleep on it because I already kind of thought it out," said Walton, who addressed the media for the first time since news of the hire broke Friday. "Obviously, I love that the past two years, the players here are incredible, not just talent-wise, but the people they are. I love the coaching staff I work with here."
NBA coaching sources told ESPN's Marc Stein that Walton landed a five-year deal with the Lakers -- four years of which are guaranteed -- at an annual salary believed to be between $5 million and $6 million, depending on incentives.
Walton will remain on the Warriors' staff for the remainder of the team's playoff run. His coaching star rose considerably after he led the Warriors to a 39-4 start while filling in for an ailing Steve Kerr this season.
"I was a little nervous about making the phone call because we have such a good thing going here, and I respect [Kerr] so much," Walton said. "But he was blown away. He couldn't believe how quickly it had happened, but he was so excited. It was like two friends talking. He was really, really happy for me, the opportunity. We had that call, and I was at his house three hours later."
Kerr explained how Walton broke the news to him: "Luke called me maybe around 4 o'clock or so and said, 'I got good news and bad news.' I said, 'What's the good news?' He said, 'The Lakers offered me the job.' I said, 'What's the bad news?' He said, 'I took it.' I said, 'You're right. That is bad news. We're going to miss you.'"
Walton will be trading a team that won an NBA-record 73 games this season and is chasing its second straight title for a Lakers squad coming off a franchise-worst 17-65 season. Walton said he is ready for the challenge.
"[The Lakers] laid it all out. They showed what they want to do, players they plan on going after, all that stuff," Walton said. "That's exciting to me. Get to be with one of the greatest organizations in the history of sports, and they're ready and willing to get after it."
A Southern California native, Walton admitted that his being a former Laker affected his decision-making.
"The fact I played for the Lakers, and I feel part of that family, I still root for them," he said. "Even before I took this job, I watched Laker games and hoped that they succeed and win, so it's kind of nice to be able to go back and try to help rebuild what they used to have there."
Lakers legend Magic Johnson hailed the team's new hire.
Although Walton played for former coach Phil Jackson, don't expect Jackson's triangle offense to take shape with Luke's Lakers.
"I don't think the triangle's the most appropriate offense for the players that they have in place right there," Walton said. "So I think I'm going to bring more of the style and spacing that we use up here, which has elements of the triangle, that philosophy."
Walton noted he is very aware of his present situation in the Bay Area despite knowing his future is in Los Angeles.
"My priority is winning a championship right now [with Golden State], and the Lakers know that," Walton said. "And they know that's how it should be, and we have the chance to do something very special here."
Forward Draymond Green
April, 30, 2016
Apr 30
1:55
PM PT
April, 30, 2016
Apr 30
9:19
AM PT
The news that Luke Walton will become the next Los Angeles Lakers coach drew lots of praise throughout the league.
However, the biggest praise came from his father, Hall of Famer Bill Walton. And he did so in typical dad fashion, tweeting a picture of Luke as a young child.
Interestingly, as Luke's name was being suggested for a number of coaching jobs, Bill had suggested he stay with the Golden State Warriors, saying on ESPN's First Take last month: "It doesn't get any better than what he's got right now ever in life, and money will not make that happen again. It's there now. Head coaching jobs, they're open for a reason, and what he's got, just stay there."
But with Luke in Los Angeles, Bill is still a very proud papa.
April, 30, 2016
Apr 30
8:21
AM PT
Most NBA coaching staffs would've watched the game at the office and ordered in some dinner. But Steve Kerr has built more than a coaching staff in his two seasons as head coach of the Golden State Warriors. He's created a family, just as the patriarch of his coaching tree, Lute Olson, did at the University of Arizona. So Kerr invited everyone -- his coaches and their families -- over to his house in the Berkeley Hills for dinner before they watched Game 6 of the Portland Trail Blazers-Los Angeles Clippers series.
It was a night to laugh and bond and scout the Warriors' second-round opponent. But mostly it was to be among the last nights this little coaching family Kerr had created would all be together after lead assistant coach Luke Walton agreed to become the head coach of the Los Angeles Lakers. That's how life goes in the NBA. You create something special and the rest of the league wants to steal some of what makes you magic.
It was a joyous occasion, and it was bittersweet.
And then it was just so perfectly Luke.
As news leaked that Walton had accepted the Lakers' job, and the dinner party was about to get started, he was on the side of the road dealing with car trouble. Yes, really. The man's career just took a quantum leap forward, his family and friends are waiting to celebrate with him, and his car breaks down. When he finally arrived about an hour late, he just smiled and let everyone have a laugh at him. No apologies necessary.
That's Luke Walton. Last year's lead assistant coach Alvin Gentry once said of him, "I don't think I've ever met another guy who is so comfortable in his own skin."
It's why he connects with so easily with so many people. He's as comfortable talking to brainy 68-year-old defensive assistant coach Ron Adams as he is with 20-year-old rookie Kevon Looney