October, 19, 2014
Oct 19
9:16
PM PT
Associated Press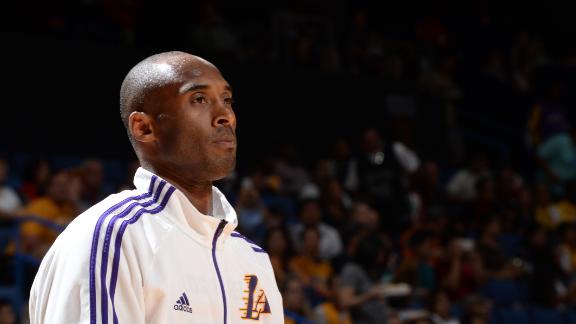 LOS ANGELES -- Kobe Bryant scored 26 points and Carlos Boozer added 19, leading the Los Angeles Lakers to a 98-91 preseason victory over the Utah Jazz on Sunday night.
Boozer also had nine rebounds and six of the Lakers' 17 steals. Los Angeles converted 29 Jazz turnovers into 34 points and outscored them 17-8 in second-chance points.
Alec Burks scored 21 for the Jazz, who had only one field goal after his jumper with 5:16 remaining. Enes Kanter had 14 points in 38 minutes before fouling out with 15.2 seconds left.
The lead changed hands six times in the fourth quarter before Ed Davis' hook shot put the Lakers ahead for good at 86-85 with 4:50 to play. Wayne Ellington added two free throws and a 3-pointer that extended the margin to 91-85 with 2:50 remaining, and Bryant helped close it out with five free throws in the final 1:24.
October, 19, 2014
Oct 19
1:05
PM PT
EL SEGUNDO, Calif. -- The criticism comes in waves, all of it soaked with a generous dose of old-school, tough-love philosophies.
Yes,
Los Angeles Lakers
coach Byron Scott said he is hard on
Julius Randle
, the team's top draft choice. But that doesn't mean Scott plans to ease up on the rookie power forward out of Kentucky, the seventh-overall pick in June's draft.
[+] Enlarge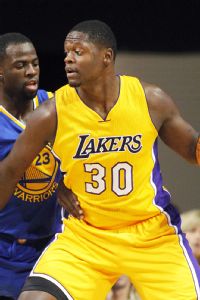 AP Photo/Alex GallardoJulius Randle is experiencing some rookie bumps as he prepares for his first NBA season.
"I think we all tend to forget too -- because we are in the National Basketball Association -- that he is 19 years old," Scott said last week after a practice at their facility here. "He's still a baby. I've been a little hard on him at times."
Scott, whose Lakers play a preseason game against the
Utah Jazz
on Sunday, seemed sympathetic in those first few lines, but he quickly reversed course.
"He has a lot to learn," Scott added. "It's not that he's not willing to learn; it's that he's got to be willing to put forth the effort. It's a lot harder here than it was at Kentucky. This is big boy's league. That's the bottom line."
Randle is the youngest player on the Lakers' roster -- guard Steve Nash is more than twice his age, in fact -- but expectations are high, and so far, Randle has struggled, scoring just four points in each of the team's last two preseason games.
Scott also sat the 6-foot-9, 250-pound Randle out the second half of their Oct. 16 exhibition loss to the Jazz, in part so Randle could sit and watch and learn.
"I still don't think the last couple games he's played as hard as he could play," Scott said after the game, his team's third straight double-digit loss. "He still doesn't know everything we're doing on both ends of the floor."
Kobe Bryant
saw Randle sitting and it reminded him of the 1999-2000 season, when the Lakers won their first title under Phil Jackson. Bryant was sidelined for the first 15 games because of a broken wrist, and sat next to Tex Winter, Jackson's confidant, who is considered the architect of the triangle offense.
"I really studied the game from that perspective," Bryant said. "There are myriad ways to learn. It doesn't just have to be on the court."
Scott has leveled other not-so-subtle charges at Randle, saying that his conditioning is lacking, and that, overall, Randle looks "lost" on the court -- a term that Scott has used on multiple occasions.
Randle doesn't see it that way.
"Nah, I'm not really lost," Randle said. "I would say it's not even the pace of the game. We have to learn how to play with each other. That's why we go through (the) offense and try to run the offense so much.
"Some people don't know the plays, some people don't know the pace, and so we all have issues that we're struggling with individually. But the biggest thing is we've just got to learn how to play with each other and learn how to read each other."
Is it the speed of the game then? That's the classic go-to most coaches use when describing a rookie's less-than-smooth transition from college to the NBA ranks.
Randle doesn't see it that way, either.
"Honestly, I think college is, I wouldn't say a lot faster, (but) I think because I'm playing with so many good (NBA) players, so many skilled players, that it slows the game down in a sense," Randle said.
"But at college, especially at Kentucky, we got up and down. That was our game. We kind of sped up the game, pressed and stuff like that. The game is faster in a way, but you're playing with so many great players, they make the game easier for you, it slows it down."
The Lakers do play at a slower place in a Scott's Princeton-based offense, which tends to be much more deliberate, grinding out sets in the half-court.
Perhaps the Lakers' offense is just more complex, then -- a stark difference in the "big boy's league" than at Kentucky.
Not surprisingly, Randle doesn't it that way either.
"You've just got to make basketball plays," he said. "In college, you started off with the dribble-drive, kind of one-on-one, creating, then we got into some more NBA sets, stuff like this. That's why I'm kind of used to it."
The rookie spoke with his head down, in a quiet tone, but he said he understands Scott's relentless criticism.
"I mean, he should (be)," Randle said. "Those guys are proven. I shouldn't be treated the same as those (veterans). I haven't done anything. I have got to hold myself responsible. I can't worry about what other guys do. The only thing I can do is hold myself accountable and improve every day."
October, 18, 2014
Oct 18
4:49
PM PT
By
Baxter Holmes
| ESPN.com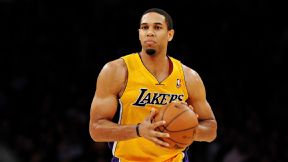 Lisa Blumenfeld/Getty ImagesThe Lakers estimate that guard Xavier Henry, who averaged 10.0 points and 2.7 rebounds in 43 games last season, will return to the team Oct. 24.
EL SEGUNDO, Calif. -- Los Angeles Lakers guard Xavier Henry continues to have issues with his surgically repaired right knee and will miss the team's final four preseason games while seeking further medical treatment, the team announced Saturday.
In the coming days, the 23-year-old will travel to New York City to see Dr. Keith Pyne for a second opinion. Then Henry will travel to Dusseldorf, Germany, to receive Regenokine treatment from Dr. Jens Hartmann.
Kobe Bryant has had similar Regonkine treatments several times in his career. The noninvasive procedure involves blood being removed from his knee and spun in a centrifuge before doctors create a serum that is then injected back in the knee to fight off proteins and molecules that cause inflammation.
The Lakers estimate that Henry, who averaged 10 points and 2.7 rebounds in 43 games last season, will return to the team Oct. 24, four days before their regular-season opener against the Houston Rockets at Staples Center.
Henry injured his knee last December, forcing him to miss most of last season. He had surgery in April, but apparently a full offseason of recovery hasn't helped.
October, 18, 2014
Oct 18
2:53
PM PT
By
Baxter Holmes
| ESPN.com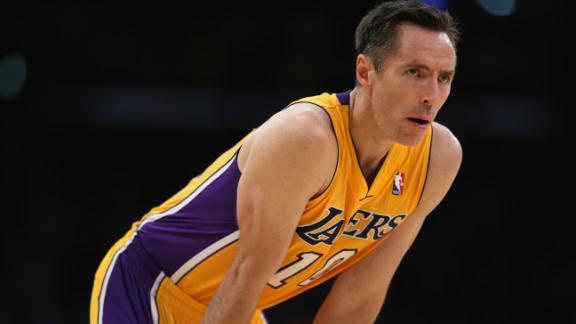 EL SEGUNDO, Calif. -- In his first public comments in nearly a week, Los Angeles Lakers point guard Steve Nash said Saturday his health issues aren't as severe as those that kept him sidelined for all but 15 games last season.
But it remains unclear when Nash, who specifically has had trouble with his back, will rejoin the Lakers for a preseason game or even to practice.
He last played in an Oct. 12 exhibition loss to the Golden State Warriors, though he asked out of the game, saying something didn't feel right. Nash, who at 40 is the NBA's oldest active player, hasn't practiced with the team since. The team also stated that Nash tweaked his back carrying bags earlier this week.
"I expected things to happen. It's inevitable with everything I've gone through that there's going to be issues adapting back to the game," Nash said before practice at the team's facility. "On the other hand, I did get through seven or eight hard days well, which I didn't do last year. So there is some improvement, and if I can adapt continually once I heal up here, I'll be back on course."
Coach Byron Scott ruled out Nash for the Lakers' exhibition game Sunday against Utah.
"I really don't know what the future holds for Steve right now," Scott said. "The one thing I do know, like I said, in talking to him, [is] he wants to play. He wants to play badly."
Because of back, knee and hamstring issues, Nash played in just 65 of a possible 164 regular-season games the past two seasons with the Lakers.
October, 17, 2014
Oct 17
3:49
PM PT
EL SEGUNDO, Calif. – Three-pointers are in. They've been in for a while, too. NBA teams are firing from long range more than ever – a record 21.5 3-point attempts per game last season, which broke the record set the season before that (20), which broke the record set the season before that (18.4). You get the picture.
That figure has steadily risen through the years since the NBA introduced the 3-point shot in the 1979-80 season, but it has skyrocketed of late, especially as advanced statistics have shown it to be a more efficient option on offense, particularly if taken from the corner.
But the
Los Angeles Lakers
are bucking that trend, at least so far in the preseason. Through four exhibition games, they're averaging about seven 3-point attempts and have made just six of 29.
Worse: the Lakers have shot 1-for-19 from long range in their last three games, including going 0-for-8 in their last two.
Even worse: the Lakers haven't made a 3-point shot since the first quarter of their second preseason game – an 11½-quarter drought.
ESPN.com's Tom Haberstroh also found that there are 24 players who have made more 3-pointers this preseason than the entire Lakers team.
Though first-year Lakers head coach Byron Scott admitted that injuries to perimeter players such as
Jeremy Lin
,
Steve Nash
,
Ryan Kelly
and
Nick Young
have hindered their 3-point efforts, Scott didn't hide how he felt about the league's steep rise in long-range attempts.
"You've got a lot of teams that just live and die by it," Scott said after the team's practice here Friday. "Teams, general managers, coaches, they kind of draft that way to try to space the floor as much as possible. But you have to have shooters like that; you also have to have guys that can penetrate and get to the basket, because that opens up the floor."
But does Scott believe in that style?
"I don't believe it wins championships," he said. "(It) gets you to the playoffs."
Seven of the last eight NBA champions led all playoff teams in 3-point attempts and makes.
And it's not as though Scott isn't familiar with the 3-point shot. During his second season with the Lakers as a player, he led the NBA in 3-point field-goal percentage in 1984-85 (43 percent) and was in the top-10 in that category in three other seasons. Scott also ranked sixth in the NBA in 3-point attempts (179) and ninth in makes (62) during the 1987-88 season.
But are the Lakers' low 3-point attempts this preseason a reflection of injuries or of how the Lakers will really end up playing this coming season?
"I don't think that's an indication of what we'll be when we're fully healthy," Scott said. "I think it will still be 12, 13, 14, 15 (attempts per game), somewhere in that area, when we're fully healthy."
Only two NBA teams averaged between 12-15 3-point attempts during the 2013-14 regular season: New Orleans (15.9) and Memphis (14). No team averaged fewer. Houston averaged the most 3-point attempts (26.6), and 20 teams averaged at least 20 attempts per game.
October, 17, 2014
Oct 17
12:08
AM PT
ANAHEIM, Calif. -- It's still the preseason, but after a third straight lopsided loss, this one by 33 points,
Los Angeles Lakers
coach Byron Scott couldn't hide his frustration any longer.
After his team's 119-86 loss to the
Utah Jazz
on Thursday night at Honda Center, a visibly upset Scott said he told his players both at halftime and during postgame, "I'm going to find eight guys that's going to compete on both ends of the floor -- and that will be the eight that I roll with."
[+] Enlarge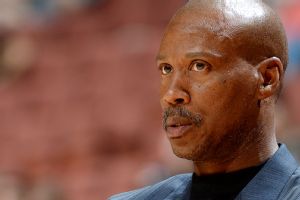 Andrew D. Bernstein/NGetty ImagesByron Scott said the only good thing about the Lakers' 33-point loss to the Jazz was "that it's over."
Scott added later, "That's all I need -- eight guys that's going to go out there and bust their butt every single night."
The Lakers lost by 41 points Sunday to Golden State, the team's second-largest exhibition loss since it started tracking preseason records in 1982.
The Lakers lost by 15 points in their preseason game before that.
They do have several key players injured, such as
Jeremy Lin
(ankle) and
Steve Nash
(back).
"We'll see better results once we get healthier," Scott said. "That, to me, is the bottom line. If we can get healthy, then I think we have a chance to assess where we are and what we need to do.
"But until then, we'll probably have another one like this. Or two."
When asked what he liked about the game, Scott said, simply, "That it's over."
• Nash said he wanted to play after tweaking his back carrying bags Wednesday, but he never left the locker room.
The 40-year-old point guard -- the oldest active NBA player -- has been plagued by injuries and played only 15 games last season because of it.
"I'm very concerned," said Lakers star
Kobe Bryant
, who scored a game-high 27 points on 23 field goal attempts.
"It just seems like he can't get going on a consistent basis. I understand how frustrating that is. It's extremely frustrating. But he's just got to stay at it and hopefully turn the corner."
• Rookie forward
Julius Randle
played in the first half but not the second, in part because of blisters on his heels, Scott said. Randle played 11 minutes, scoring four points.
October, 16, 2014
Oct 16
11:23
PM PT
By
Baxter Holmes
| ESPN.com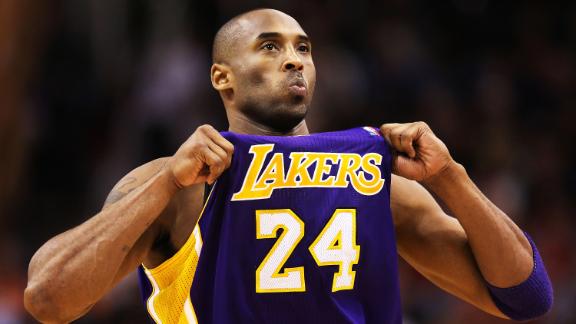 ANAHEIM, Calif. -- Kobe Bryant grinned from ear to ear as the question was being lobbed his way, then the Los Angeles Lakers star offered a deep laugh.
No, Bryant said after a pause, he did not consider ESPN.com ranking him as the 40th-best NBA player to be any form of motivation.
"I've known for a long time [that] they're a bunch of idiots," Bryant said Thursday after the Lakers' 119-86 preseason loss to the Utah Jazz, hours after ESPN announced its ranking online.
In 28 minutes against the Jazz, Bryant scored a game-high 27 points on 10-of-23 shooting from the floor and 7-of-13 from the free throw line, reaching highs in both field-goal attempts and points through four games this preseason.
Last year, as questions surrounded the Achilles injury that ended Bryant's 2012-13 campaign, ESPN ranked him as the 25th-best NBA player.
He called that ranking "silly" and "laughable."
He changed his Twitter avatar to the digit "1225," the first two digits representing what place in the Western Conference that ESPN had ranked the Lakers.
Then Bryant played just six games in 2013-14 after suffering a left knee fracture.
But this season, after falling 15 spots, Bryant said he wasn't going to use the ranking as motivation -- not like a year ago.
"I tend to use things as motivation that tend to be in the realm of reality," he said, still smiling.
Did last year's ranking bother him more?
October, 16, 2014
Oct 16
9:46
PM PT
Associated Press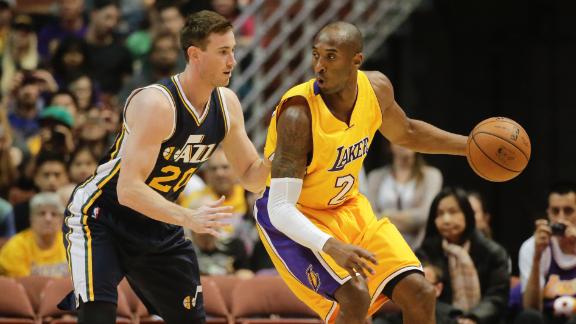 ANAHEIM, Calif. -- Gordon Hayward scored 16 points to lead a balanced offense and the Utah Jazz beat the Los Angeles Lakers 119-86 in a preseason game Thursday night.
Kobe Bryant had 27 points on 10 for 23 in 28 minutes for the Lakers (1-3). Carlos Boozer scored 17 points and Jordan Hill finished with 12 points and 14 rebounds.
Los Angeles played without 40-year-old Steve Nash after he hurt his back carrying bags on Wednesday at his Manhattan Beach home. Ronnie Price filled took his place and had eight points in 27 minutes. Jeremy Lin (sprained left ankle) also sat out.
The Jazz outscored the Lakers by six points while Bryant was on the court.
Utah led 56-35 at halftime and the Lakers got no closer than 17 the rest of the way. Jack Cooley's layup extended the Jazz's lead to 101-71 with 7:22 remaining.
October, 15, 2014
Oct 15
5:18
PM PT
EL SEGUNDO, Calif. -- How many minutes will
Kobe Bryant
play per game this season?
Los Angeles Lakers
coach Byron Scott said Wednesday that he and his star have, in fact, reached an agreement on the matter, but Scott declined to reveal the exact figure.
"His number was lower than mine," Scott said after Lakers practice. "That surprised me. It helped me as well."
Scott shared no specifics beyond saying the figure would be between 30 and 40 minutes per game. Bryant didn't speak to reporters after practice.
For his career, Bryant has averaged 36.6 regular-season minutes per game.
Scott also said he and Bryant have not talked about whether Bryant would sit out any games, including back-to-back matchups.
"He wants to play every game," Scott said. "He wants to play every preseason game and every regular-season game."
The reasons Bryant would be limited in games are twofold.
First, Bryant played only six games this past season because of a fractured left knee. The season before, he suffered an Achilles injury in the same leg.
But beyond the injuries, the 36-year-old Bryant has also played a whopping 54,208 total minutes (regular season and playoffs) in his 18-year NBA career.
That's higher than all but four other players in NBA history: Kareem Abdul-Jabbar (66,297), Karl Malone (62,759), Jason Kidd (56,199) and Wilt Chamberlain (55,418).
Obviously, with such high mileage on his legs, both Bryant and the Lakers realize the need to limit him, especially after his recent injuries.
October, 15, 2014
Oct 15
3:10
PM PT
By
Baxter Holmes
| ESPN.com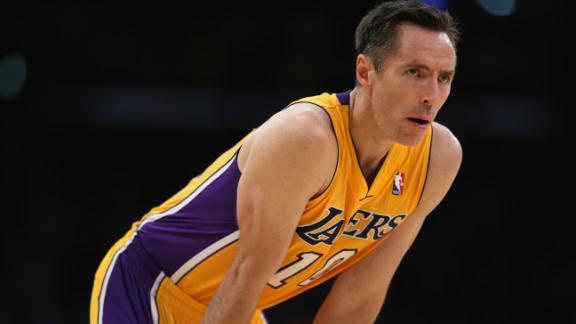 EL SEGUNDO, Calif. -- The Los Angeles Lakers said point guard Steve Nash injured his back carrying bags Wednesday, forcing him to miss practice for the third straight day and raising more questions about the 40-year-old's availability going forward.
Lakers coach Byron Scott said the team was still gathering information about the nature of the injury, but Nash, a two-time league MVP, isn't likely to play in an exhibition game Thursday against the Utah Jazz.
The injury marked yet another setback for Nash, who appeared in just 15 games last season for the Lakers and has played sparingly this preseason, including asking to come out of Sunday's game for unspecified health issues.
Despite being consistently injured, Nash, the NBA's oldest active player, decided not to retire this offseason and instead returned to the Lakers, who will pay him about $9.7 million in the final year of a three-year, $28 million deal. Nash also said this summer that he believes this season -- his 19th -- will be his last.
"It's a concern because, from my standpoint, I've got to kind of figure out if he's going to be able to play every day or not, if he's going to be able to play every other game, or which games can he play," Scott said. "Obviously, in the next couple of weeks, we've got some time to come to a conclusion to this whole situation."
On Tuesday, Scott intimated that he could be leaning toward starting Jeremy Lin at point guard. When asked if he has a long-term plan for what the Lakers will do if Nash continues to be sidelined, Scott said, "I haven't got there yet. And in a couple weeks, if the situation is the same, that's probably the type of way that I have to go. "