March, 13, 2014
Mar 13
9:36
PM PT

By Royce Young
Special to ESPNLosAngeles.com
Archive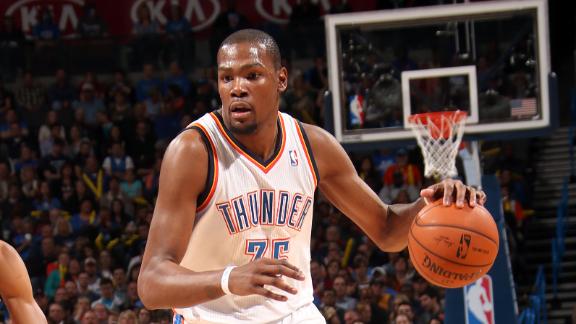 OKLAHOMA CITY -- There was no magic from
Jodie Meeks
on Thursday night. And no double-digit comeback from the
Los Angeles Lakers
. Just the
Oklahoma City Thunder
doing what was expected of them.
Kevin Durant
and
Russell Westbrook
each had 29 points, and
Serge Ibaka
had 15 points, 13 rebounds and seven blocks as the Thunder comfortably got revenge for Sunday's loss, winning 131-102.
The Lakers showed their usual fight, trying to make a couple of second-half comebacks, but Durant had every answer to start the fourth quarter, scoring 12 of his 29 in the first six minutes of the fourth, to extend his streak of games with at least 25 points to a career-long 30.
After lighting up the Thunder for 114 points four days ago, the Lakers shot only 39.4 percent from the field. Though they made 13-of-27 on 3-pointers, they shot only 24-of-67 on 2s, and 15-for-25 from the free-throw line.
How it happened:
With Durant in foul trouble, Westbrook took over the third quarter scoring 15 of his 29 points to extend the Thunder's 14-point halftime lead to 24 heading into the fourth. From there it was just about learning from past transgressions and not letting the lead slip.
What it means:
After the euphoria of stunning the Thunder on Sunday, it's back to normal from the slogging Lakers. They hadn't played since that game, and possibly some of that fresh momentum had worn off. The 29-point loss ties them with the Jazz for the worst record (22-43) in the West.
Hits:
The Lakers shot 13-of-27 on 3-pointers (48.1 percent).
Ryan Kelly
had 12 points on 4-of-8 shooting with six assists and an impressive block of Ibaka.
Misses:
Meeks followed up his career-high 42-point game with 19 but on 6-of-15 shooting.
Stat of the game:
Durant and Westbrook combined for 58 points on 17-of-34 shooting, with 12 assists and six rebounds.
Up next:
The Lakers continue their odd stretch of games, playing at San Antonio on Friday, then taking another four days off before hosting the Spurs Wednesday.
March, 13, 2014
Mar 13
9:20
PM PT
Associated Press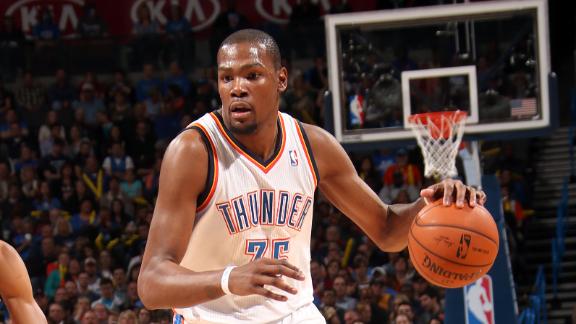 OKLAHOMA CITY -- Russell Westbrook and Kevin Durant scored 29 points apiece, and the Oklahoma City Thunder avenged Sunday's surprising loss to the Los Angeles Lakers by rolling past them 131-102 Thursday night.
Westbrook shot poorly against Lakers on Sunday, but he made 9 of 17 shots and had nine assists in 23 minutes in the rematch.
Serge Ibaka added 15 points, 13 rebounds and a season-high seven blocks for the Thunder, who won their second straight and climbed within half a game of San Antonio for the top record in the Western Conference.
Lakers guard Jodie Meeks, who scored a career-high 42 points on Sunday, was held to 19 on 6-for-15 shooting. Kent Bazemore scored 16 points and Pau Gasol added 14 for the Lakers.
March, 13, 2014
Mar 13
8:47
PM PT
ESPN.com news services
Steve Nash won't appear in another game for the Los Angeles Lakers this season.
Coach Mike D'Antoni confirmed the decision Thursday after saying earlier this month that he doubted that Nash, 40, would return after being plagued by nerve-root irritation in his left leg much of the season.
"He's not going to play," D'Antoni told reporters, according to the Los Angeles Times. "It doesn't make any sense for him to come back for 15 games, whatever."
The two-time league MVP averaged 7.6 points and 4.7 assists in 10 games this season while shooting just 36 percent from the floor and 31.6 percent from 3 -- well below his career marks of 14.3 points, 8.5 assists, 49 percent shooting and 42.8 percent from deep.
An 18-year veteran, Nash was noncommittal about his chances of playing again this season when asked earlier this month.
"We'll see," he said. "I couldn't really make a prediction. If I get the chance, it would be great."
Nash's shutdown came one day after the Lakers ruled Kobe Bryant (knee) out for the rest of the season.
Information from ESPNLosAngels.com's Dave McMenamin was used in this report.
March, 13, 2014
Mar 13
1:51
PM PT
By
Ian Begley
| ESPNNewYork.com
Embattled coach Mike Woodson says Phil Jackson will "enhance" the New York Knicks once Jackson is hired to help run the team's front office.
"I have a great deal of respect for Phil and what he's done over his coaching and his playing days in our league. He's been extremely successful," Woodson said Thursday in an interview on ESPN New York 98.7 FM's "The Stephen A. Smith and Ryan Ruocco Show."
"And if the Knicks are entertaining that, the guy's got a great basketball mind for the game. So I mean, it's all good."
A league source has told ESPN that Jackson and the Knicks are expected to finalize a deal that will give the legendary former coach control of the club's front office by the end of this week. An official announcement might not come until next week, the source said.
Woodson did not want to discuss Jackson's potential role with the Knicks in detail. He declined to address how much the organization has kept him informed of the proceedings, but he was highly complimentary of Jackson, who won 11 NBA titles as a coach and two as a Knicks player.
"At the end of the day we know it's out there, and like I said I've got a great deal of respect for Phil, and if the Knicks decide to go that route I think he can't do nothing but enhance the organization," Woodson said. "But my focus right now is strictly on coaching and trying to figure out our team and try to get us into this playoffs."
The Knicks (26-40) have won five straight and are three games behind eighth-place Atlanta for the eight and final Eastern Conference playoff spot.
It's unclear if Woodson will be the coach next season, regardless of whether Jackson is running the team. There's been widespread speculation that the Knicks will fire Woodson after the season and look for a new coach this summer. Woodson is under contract through next season. Jackson, if and when he is hired, may want to bring in his own coach.
Woodson said on Thursday that he'd like the opportunity to discuss his future with Jackson once the former Bulls and Lakers coach officially joins the Knicks.
"If that time comes, if and when that time comes, I would just love the chance to sit with him and talk basketball," Woodson said. "He's a basketball guy, I'm a basketball guy. This is 30 years I've spent in this league, so that's what we'll do. But until that happens, my focus is strictly on trying to get this team in the playoffs. That's it."
March, 13, 2014
Mar 13
11:00
AM PT

By Jeff Pearlman
Special to ESPNLosAngeles.com
Archive
The following is excerpted from "Showtime: Magic, Kareem, Riley and the Los Angeles Lakers Dynasty of the 1980s" -- by Jeff Pearlman

Earvin Johnson wanted a hamburger.( He was a nineteen-year-old kid, fond of burgers and pizza and French fries and any other cuisine guaranteed to block the arteries. Sure, he happened to be sitting in the presence of Jack Kent Cooke, perhaps the world's least likely man to ever order a burger of any sort. But, hey, Johnson was hungry.


Scratch that. Starving.


It was a warm May afternoon in Los Angeles, and the most dynamic player to grace college basketball since Louisiana State's Pete Maravich a decade earlier was in town to figure out whether he should return to Michigan State University for his junior season or jump to a professional sports league that had been crippled by poor TV ratings, player indifference and a dwindling fan base. On the one hand, in East Lansing, Michigan, Johnson -- a local kid out of Everett High School -- was a king. He had been nicknamed Magic as a fifteen-year-old high school freshman and now, having just led the Spartans to their first NCAA men's basketball title, he could not walk the streets without being mobbed. "He really was beyond reproach," said George Fox, his high school coach. "Earvin could do no wrong."


There was, however, the siren call of the NBA and specifically the siren call of Jack Kent Cooke's thick wallet. On April 19, 1979, the Lakers and Chicago Bulls had engaged in a coin flip to determine which team would be gifted with the number one pick in the upcoming draft. Coming off of a 47–35 season, Los Angeles was in such a position because, three years earlier, the New Orleans Jazz committed one of the worst free-agent acquisitions in league history. The team signed thirty-three-year-old Gail Goodrich, a long-ago star on his last legs. At the time, league rules mandated that the Jazz had to compensate Los Angeles with players, draft picks or money. After much haggling between the Lakers and Jazz general manager Barry Mendelson, New Orleans agreed to part with its first-round picks in 1977 and 1979, as well as a second-rounder in 1980. "Gail was great," said Bill Bertka, the Jazz vice president of basketball operations. "But he was older, and he came to us and immediately tore his Achilles. That didn't make us look so smart. Especially when we lost almost every stinkin' game in 1978-79." (The Jazz went a league-worst 26-56.)


When Larry O'Brien, the NBA's commissioner, prepared to flip the coin inside the league's New York City headquarters, the Bulls and Lakers felt their futures momentarily hovering in midair. Executives from both teams listened to the toss via speakerphone from their respective offices.


"Chicago, do you want to make the call?" O'Brien asked.


"We'd love to," replied Rod Thorn, the Bulls' general manager, who was sitting inside the team's offices on the thirteenth floor of a Michigan Avenue building.


"Is that OK with you, Los Angeles?" O'Brien said.


"Fine," said Chick Hearn, the announcer, who also worked as an assistant general manager with the team.


"We call heads," said Thorn.( A pause.("OK, gentlemen, here we go," boomed the deep voice of O'Brien. "The coin's in the air…" Another pause. Another pause. Another pause.


"Tails it is!" O'Brien said. (Hearn let out a triumphant whoop.
(

"I was playing basketball at Venice Beach," said Pat O'Brien, at the time a reporter for KNXT-TV in Los Angeles. "The news came over a transistor radio, and people started screaming. 'Yes! Yes! We're getting Magic! We're getting Magic!'"

March, 13, 2014
Mar 13
12:08
PM PT

By Henry Abbott
ESPNLosAngeles.com
Archive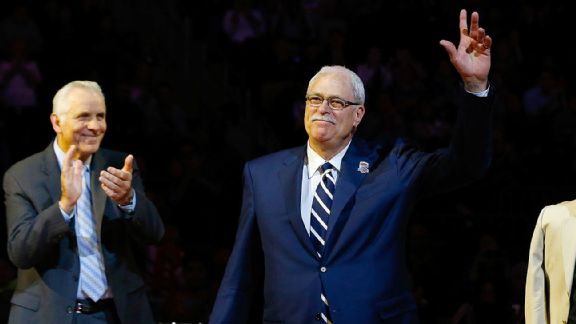 Jim McIsaac/Getty ImagesIt's hard to argue with Phil Jackson's results, but does his Phil-first process fit the modern NBA?
Phil Jackson is the Winston Churchill of the NBA. He won the biggest wars with a combination of old-school toughness and new-school guile.
Victory in hand, the dominant equation for both became: Big mouth + bigger ego = the verbal victory lap. Any quote book is loaded with Churchill's high-testosterone patter. Jackson's latest book, ostensibly about teamwork, has a title that has only to do with Jackson. Michael Jordan didn't win "Eleven Rings." Neither did Kobe Bryant or Shaquille O'Neal or Scottie Pippen. Only Phil did.
Jackson is
expected to return to the NBA
, as a New York Knicks executive, packing not just a lot of the NBA's gravitas, but the majority of it. Add up all your other coaches, players and experts. If Phil says they're full of it ... his voice is even money to carry the day.
That has to be a big part of why Jackson could mean so much to a team like the Knicks. The common denominator of their dominant commonness has been bad front-office decision-making, specifically one high-profile overspend after another. There's no arguing James Dolan is an owner without a clue, determined to bludgeon the competition not with his insight, but with his wallet -- a method that, for a bundle of league-wide cap reasons, always makes teams difficult to improve and almost never ends in titles.
[+] Enlarge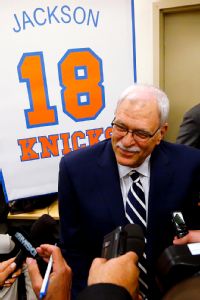 Jim McIsaac/Getty ImagesPhil Jackson's resume alone isn't going to erase the Knicks' woes
If Jackson arrives in New York packing the stature to silence the Knicks' most foolish impulses, he'll be a titan. Dolan's piles of gold -- as a businessman, Dolan is no laughingstock; the Knicks make money -- would be so much shinier with the polish of wisdom.
The Knicks might already be the world's most over-loved team. New York hoops fans, those hopeless romantics, have been dashing their hearts on the rocks of false optimism since the days of Patrick Ewing. Remember when Zach Randolph was the revolution? Amar'e Stoudemire? Carmelo Anthony?
Time and again, Dolan has gotten his man. Time and again, like Charlie Brown, the fans have believed. Time and again, the only thing needed to prove Dolan got the wrong man has been time.
Will this time be different?
I'm convinced the answer is no, and not because Jackson's the wrong guy, but because this is the wrong time.
It's too late. The league is changing too fast, learning too much, and Jackson, for all the open-mindedness that once led him to the novel and wonderful triangle offense, has been telegraphing his incuriousness for more than a decade.
This is not just basketball's boom time for analytics, it's also, as Nate Silver
wrote recently in ESPN The Magazine
, when analytics become basketball necessities, as opposed to niceties. From the stew of SportVu, Catapult and Vantage comes things that really matter: which pick-and-roll defenses stops which ball handlers, which offenses generate the best-quality looks, who plays good defense, the right number of hours to sleep before a big game and, increasingly, which players need to come out of the game right now
before their fatigue-induced injury risk skyrockets
.
It's not that any one person knows ALL the right answers. It's that no ONE person knows all the right answers. Much of this new stuff will prove to science bunk, but the best of it is exponentially better by the day. The only right answer is to be curious.
And at that, the league has passed Jackson by. All his books, all those interviews, all that insight into his thinking, and has he ever even once told of finding value in insight from a younger generation? Or, indeed, from anyone beyond his chosen short list of apostles?
Jackson spoke at this year's MIT Sloan Sports Analytics Conference. As he did, I took notes, but I soon stopped. There was no point. Other than a rude joke about needing a "grain elevator" to weigh Shaq, these were all things told previously. The oft-recited Gospel According to St. Phil. His conversation was a museum piece, the recurring soup of the words "Michael Jordan," "Kobe Bryant" and "Scottie Pippen" that Jackson has been ladling out forever.
More importantly, Jackson was not at Sloan to learn. Never has been. Tuning people out, and discrediting them even, is also a mainstay of Jackson's game -- just ask Jerry West, or Jerry Krause.
Jackson's Lakers never bothered to attend the stat-geek confab, and the Lakers were famously the only NBA team not to have a representative there last year. Jackson's generic public take on basketball innovation has long been, essentially,
that Red Holzman and Tex Winter knew all that stuff
.
At Sloan, Jackson bragged of once playing O'Neal 48 minutes per game -- on the same day sport scientist Michael Regan, of Catapult Sports, explained how resting after stints of just eight minutes dramatically improved performance in Australian Rules Football, a league that's enjoying massive injury reductions league-wide thanks to science-based things we've learned only in the past decade.
It's not that Jackson can't make the Knicks winners. He might. Indeed, as the argument goes, at least he
has
won, unlike everyone else in the building. But he's sending all the wrong signals if the task is to outclass 29 other teams in a race starting in 2014. That prize will, almost certainly, go to whoever best masters new ideas, about which Phil says, basically: Who needs 'em?
The cautionary tale here of course is in Charlotte. Michael Jordan also filled the staff with like-minded friends. But, of course, a great executive is far more than a great player who lost his spring or a great coach who tired of travel. Without piling one good decision on top of another, the team is lost. The Bobcats did everything Jordan's way for a while, until the competitive forces humbled even Jordan, who now listens not just to his gut and his friends, but also to people such as new executive Rich Cho, who is effectively the team's ambassador from the post-Jordan, Sloan-infused world of hoops insight.
Jackson and the Knicks aren't playing the exact same tune as MJ and the Bobcats -- they have deeper pockets and more intricate team-building experience -- but they're sounding a lot of the same notes.
March, 13, 2014
Mar 13
6:35
AM PT
In what might be the least shocking news of the season, the Los Angeles Lakers announced Wednesday that Kobe Bryant will miss the remainder of the season due to his still unhealed knee injury.
While the injury (a tibial fracture in his left knee) is not necessarily directly related to the torn Achilles tendon on the same leg, it is the kind of complication that should have been anticipated when dealing with a 35-year-old guard who has a ton of mileage and one of the reasons I suggested in April why the Lakers should have used the amnesty clause on Bryant.
Still, Lakers fans can derive some utility out of their star guard's absence. Here's how:
To continue reading this article you must be an Insider
March, 12, 2014
Mar 12
3:13
PM PT
From a medical perspective, the Los Angeles Lakers' announcement that Kobe Bryant will not return to play this season was the correct decision. The fact is Bryant simply needs to do less right now.
When Bryant sustained the injury on Dec. 17, 2013, he initially thought he had just hyperextended his knee. It was later revealed as a left tibial fracture of his left knee, the same leg on which he suffered a torn Achilles tendon.
To continue reading this article you must be an Insider
March, 12, 2014
Mar 12
2:57
PM PT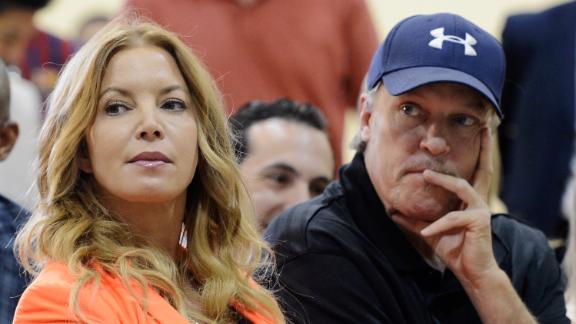 EL SEGUNDO, Calif. -- With the 2013-14 season officially in the rearview window for Kobe Bryant after Wednesday's announcement that his left knee injury will keep him out of the final 18 games, the veteran guard took aim at the Lakers' front office in regards to the team's future.
"I think we have to start at the top in terms of the culture of our team," Bryant said. "What kind of culture do we want to have? What kind of system do we want to have? How do we want to play? It starts there and from there, you can start building out your team accordingly."
When asked to clarify what "the top" meant, Bryant pointed to executive vice president, Jim Buss, and his sister, Lakers president, Jeanie Buss. They assumed joint control of the franchise, along with their four other siblings, when longtime Lakers owner Dr. Jerry Buss died last February.
"You got to start with Jim," Bryant said. "You got to start with Jim and Jeanie and how that relationship plays out. It starts there and having a clear direction and clear authority. And then it goes down to the coaching staff and what Mike (D'Antoni) is going to do, what they're going to do with Mike and it goes from there. It's got to start at the top."
D'Antoni has one year remaining on his contract with the team, set to pay him $4 million, but has gone just 62-74 (.456) since joining the team last November, with a slew of injuries sabotaging the Lakers' roster in that time.
When there is talk of Jeanie Buss, her fiancé, Phil Jackson, is never too far behind. Bryant was also asked about the possibility of Jackson joining the New York Knicks in a front office capacity, which ESPN's Chris Broussard reported will happen by the end of the week.
March, 12, 2014
Mar 12
10:27
AM PT

By Dave McMenamin
ESPNLosAngeles.com
Archive
The first thing that popped into my head when it became official that
Kobe Bryant
was going to miss the remainder of the 2013-14 season with a fracture in his left knee was a quote he uttered back in December 2009 after twisting the same knee in a game, but staying in to secure the win.

"I'm Bruce Willis, man," Bryant said, referencing Willis' John McClane character in the "Die Hard" series. "I'm fine."


It was a bold statement by a guy who had often seemed immune to the regular physical limitations of the human body through his first decade-and-a-half in the NBA.


An avulsion fracture in his index finger on his shooting hand? No problem. Tape it up, and he'd just guide the ball with his middle two fingers instead. A concussion suffered in the All-Star Game? Just fix him a mask, there was no way he was going to miss any games on that count. A torn ligament in his left wrist from a preseason game? By the time the regular season rolled around, he committed to getting a cortisone shot in the wrist on a near nightly basis as to not miss any game time.


That is the tough-minded narrative that Bryant has built over time in the game. He is the player with 30,000-plus points, five rings, a remarkable 81-point night and he is the player who will push himself to play through pain.


Even when the torn Achilles in his leg carried with it a 6-9 month recovery period, Bryant was back on the court in less than eight months.


But this time it's different. This time Bryant couldn't just will himself through the second major injury in less than a year to that left leg of his.


This time, he's human. And a 35-year-old human playing a game dominated by men in their mid-20s, at that.

Denver Nuggets coach Brian Shaw hinted that this news was coming last week when he spoke about Bryant before his team played the Los Angeles Lakers.


"I think, for the first time, and these are my words, but for the first time, I sense frustration because it's a situation that he can't fully control because these last two injuries with the knee and the Achilles right before that are ones that they can be pretty devastating and they allow you to come back on the injury's time, not on your own time, on your own terms," Shaw said.


When Bryant made his comeback from the Achilles injury, he announced it with a two-minute video on his Facebook page. The video showed his No. 24 Lakers uniform floating in the middle of the screen and being battered by the elements -- wind, rain, snow.


Eventually, the jersey is torn down the middle of the chest, presumably representing the Achilles tear that Bryant suffered, before being repaired with a blinding beam of sunlight.


There's no sunny spin on Bryant's current predicament. Only clouds of doubt. Will he return to some approximation of the player he once was? And even if he does, will his $48.5 million contract extension prevent the Lakers from fielding a team that will allow him to compete for another championship in his final days in the league?


Right now, with all the uncertainty surrounding Bryant's future, he seems much closer to Bruce Willis' character in "The Sixth Sense." His glory days may have already passed him by, never to return again.