March, 17, 2014
Mar 17
2:28
PM PT

By Dave McMenamin
ESPNLosAngeles.com
Archive
EL SEGUNDO, Calif. --
Nick Young
has missed 16 of the Lakers' last 17 games because of a non-displaced fracture of the patella and a bone bruise in his left knee, but there is one major motivating factor for the Los Angeles native to get back on the court at some point in the final 16 games of the season.
"For me, I just want to go out there and just end it on a good note," Young said before practice Monday as he was preparing to do his first 5-on-5 workout since playing 20 minutes against Brooklyn on Feb. 20. "I want to get out there. This could be my last couple times playing here. You never know. I'm a Laker fan for life."
[+] Enlarge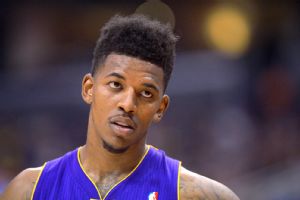 AP Photo/Mark J. TerrillThe Lakers have gone 5-11 with Nick Young sidelined since early February.
Young has a player option for next season that would pay him $1.2 million to stay in L.A., but his knee injury complicates things. His averages of 16.8 points, 2.7 rebounds and 1.4 assists in just 28.6 minutes per game would suggest that the 28-year-old swingman could demand more money on the open market, but an unclear bill of health would put that in jeopardy.
"I hope he gets back," said Lakers coach Mike D'Antoni. "I think he needs to have a good, strong finish. He did really well, I thought, at first and he needs to get back. So, as soon as he can get healthy enough, we want to get him back on the floor."
Young said he wants to see how his body responds to a few practices before he plays in a game. The Lakers host the
San Antonio Spurs
on Wednesday and his former team, the
Washington Wizards
, on Friday.
"It just depends on how I feel, really," Young said. "Earliest is probably Friday."
Young suffered the injury Feb. 5 while trying to avoid contact from
C.J. Miles
of the
Cleveland Cavaliers
on a fast-break layup attempt.
"Just dealing with pain, trying to push off it," Young said. "If I get bumped again, I don't want to just be out for the year because of all of the pain."
The Lakers have gone 5-11 without him.
"It's been hard," Young said. "Especially some of these games when we've just been getting killed out there, it's tough. I want to be out there and play with these guys. That's what I'm here for."
Young has tested the knee in shooting drills several times over the last month and decided against wearing a brace to support it Monday.
"Wearing a brace makes you look old, man," Young said. "I can't be looking like that out there."
Young is also trying not to look as round as the No. 0 on his uniform.
"They say I'm looking fat out here so I got to get out there and get in shape," said Young, admitting that he needs to be more strict with his diet. "I don't want to blow up."
He said that there is also a mental challenge that comes with the physical one.
"I've been chilling, really," said Young. "Just in the back, watching TV and eating. So I got to get my mindset back to playing and getting out there."
Even though Young said, "I felt like I did a lot this year for myself," the seven-year veteran has been mostly disappointed by how his first season with the Lakers has gone.
"I thought for sure I was going to play more games with
Kobe (Bryant
) and things were going to be a lot different," said Young. "But it happens. He got hurt. Nobody knew everybody was going to get hurt like this this year. It's been tough. So, let's see what happens next year and see what they do."
March, 17, 2014
Mar 17
1:46
PM PT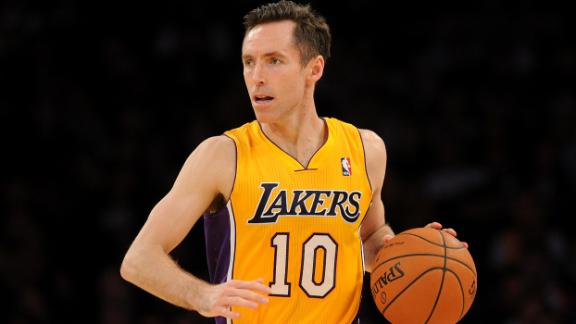 EL SEGUNDO, Calif. -- Even though the Los Angeles Lakers became the first team in the league to be eliminated from playoff contention last week, coach Mike D'Antoni's message hasn't changed for the rest of the way.
"We've been talking about it the whole time, just trying to be better, trying to play better and making sure we don't jump ship," D'Antoni said before the team practiced Monday. "Everybody stay and just make as good of a showing as we can and compete. Guys got their futures to work for and we're going to try to help them."
The Lakers reconvened after two days off following an embarrassing back-to-back Thursday and Friday when the team lost to the Oklahoma City Thunder and San Antonio Spurs by an average of 31.5 points.
After starting 10-9, the Lakers have gone 12-35, with four of their last seven losses coming by 20 points or more.
With less than a month until the Lakers close out the season on April 16, the team already has to ward off thoughts about the summertime.
"We don't want to think about the finish line," Pau Gasol said. "We want to think about what can we do better during this stretch of games and how we can be more effective and have better results. So let's see if we can stay locked in, because the season's not over. You got to still go out there, play, compete and be a team."
Eleven of the final 16 games are against teams with above-.500 records as the Lakers continue to deal with injuries.
March, 16, 2014
Mar 16
9:00
PM PT
It's March Madness, baby. NBA scouts and general managers will be out in force scouting many of the top prospects in the Big Dance during the next few weeks. Right or wrong, a great March can really help a player's stock.
For the teams on this list eyeing the No. 1 pick in the draft, this is what they've been tanking for. Who will they be watching closely? Let's take a look.
To continue reading this article you must be an Insider
March, 14, 2014
Mar 14
9:40
PM PT
By Matthew Tynan
Special to ESPNLosAngeles.com
Archive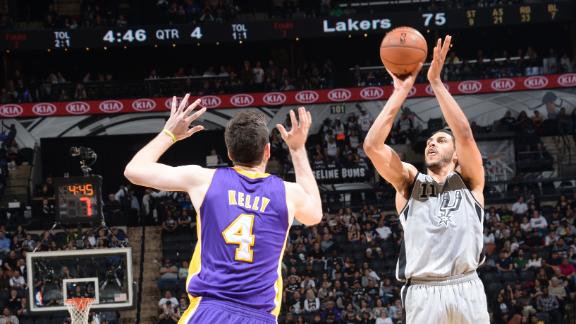 SAN ANTONIO -- The
Los Angeles Lakers
' loss on Friday was a franchise-worst against the
San Antonio Spurs
, piling on to what has been the most difficult year of Mike D'Antoni's career.
The coach nodded his head emphatically before the question was even completed in the postgame scrum, acknowledging that beyond the record, dealing with the ebbs and flows has been a near impossibility.
[+] Enlarge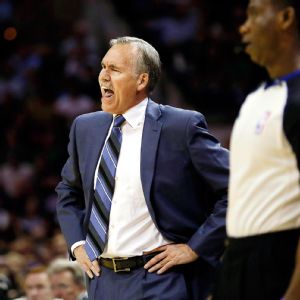 Soobum Im/USA TODAY SportsMike D'Antoni's most difficult of campaigns was made that much worse by Friday's defeat in San Antonio. It was the fourth loss by at least 30 points, the most in a season by any Lakers team.
"It definitely turned a few months ago where we couldn't get guys healthy," D'Antoni said. "We are trying to develop guys and trying to hang in there with them and trying to teach them how to be a good team.
"Our guys have to learn how to compete at this level, and it is not easy."
D'Antoni said the Spurs "grabbed our heart" in the 119-85 blowout in San Antonio.
For the Lakers -- tied with the
Utah Jazz
for the worst record in the Western Conference -- holding onto confidence has been a major chore through all the adversity.
"That is my job, first of all. And that's all our jobs. We got good guys. It is not a lack of trying or they don't care. They care a lot," D'Antoni said. "We just sometimes get outmanned.
"They will come back, and we expect to have a good showing on Wednesday."
That's when the Spurs come to L.A. for a second helping against the Lakers.
With a locker room full of new faces and bodies in one-year deals, perspective on the problems may be difficult to grasp within the big picture of a franchise not accustomed to looking up at every other team in the West standings.
But that is not the case for
Pau Gasol
, who has been through the thick and now the thin. He suffered through some putrid years early in his
Memphis Grizzlies
career, but he said this campaign has just been different.
[+] Enlarge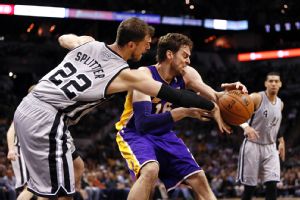 Soobum Im/USA TODAY Sports"It's definitely one of the worst seasons as far as the collective results and record, especially when you're a franchise like the Lakers," Pau Gasol said.
"This season has been rough in many, many ways, in many aspects. We still try to go out and compete, but the load is just getting bigger and bigger," said Gasol, who delivered 18 points and grabbed 11 boards in the loss. "We don't seem to click a lot of times. It's definitely one of the worst seasons as far as the collective results and record, especially when you're a franchise like the Lakers.
"You don't expect to have a season like this."
Nobody expects this from the Lakers, including the Spurs, especially Gregg Popovich.
"Mike [D'Antoni] is going through hell," Pop said prior to tipoff. "You have all kinds of expectations at the beginning of the year, and injuries destroy them. It's disappointing for everyone."
The Lakers will resurface at some point. It's inevitable. But until then, their future is murky -- and those historic battles in San Antonio seem like a thing of the past. As Gasol,
Kobe Bryant
,
Tim Duncan
and
Manu Ginobili
slide down the back side of their careers, we wonder when beatdowns like these are forgotten.
Even the Spurs hope these memories are forgotten soon.
"I miss the rivalry with the Lakers,"
Tony Parker
said. "It's just tough for them, and hopefully they'll be better next year."
March, 14, 2014
Mar 14
8:23
PM PT
Associated Press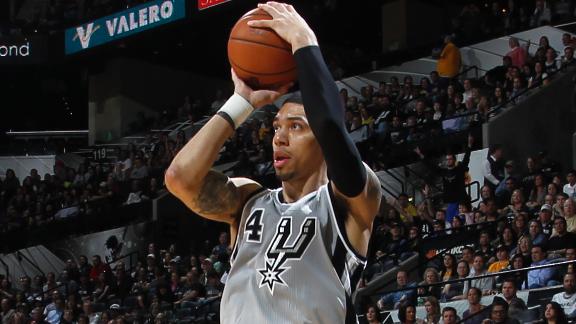 SAN ANTONIO -- Danny Green had 15 points and the San Antonio Spurs won their ninth straight, defeating the Los Angeles Lakers 119-185 on Friday night for their largest victory over their longtime rivals.
San Antonio never trailed after the opening four minutes, allowing coach Gregg Popovich to limit his starters and Manu Ginobili to an average of 17 minutes.
The Spurs had five reserves score in double-figures, led by Matt Bonner's 13 points and 10 rebounds. Marco Belinelli and Aron Baynes scored 12 points each, Cory Joseph added 11 points and Jeff Ayres had 10 points.
San Antonio (49-16) maintained the league's best record ahead of Indiana and Oklahoma City, who are both 48-17.
Pau Gasol had 18 points and 11 rebounds in 26 minutes and Jodie Meeks had 15 points for Los Angeles (22-44), which has lost five of six.
March, 14, 2014
Mar 14
8:12
PM PT
By Matthew Tynan
Special to ESPNLosAngeles.com
Archive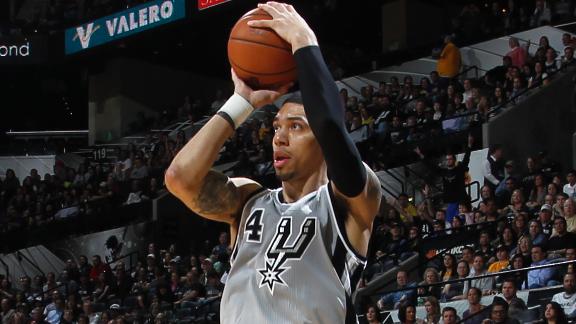 SAN ANTONIO -- One night after a 29-point drubbing at the hands of the
Oklahoma City Thunder
, the
Los Angeles Lakers
ended their two-game trip in San Antonio with yet another blowout defeat, their worst ever against the
Spurs
.
If there is a silver lining, it's that the Lakers are a step closer to finishing one of the most brutal stretches of schedule in the NBA this season.
Danny Green
hit five 3-pointers on his way to 15 points and
Matt Bonner
registered 13 points and 10 boards on the way to a 119-85 drubbing, a record-setting margin of victory by the Spurs against a Lakers team.
After beating the Thunder in Los Angeles on Sunday, the Lakers have now dropped the last two games by a mind-numbing combined margin of 63 points. A rematch against San Antonio looms on Wednesday in L.A.
This one was never close outside of the first few minutes. The Spurs led by 15 points after one quarter before eventually pushing their lead to 34 early in the third. The offensively streaky Lakers managed to shoot only 34.1 percent from the field for the game and, get this, had more field-goal attempts (91) than points (85).
With the win, the Spurs have taken a 76-75 lead in the overall series against the Lakers.
How it happened:
The Spurs opened up a 29-14 lead after one quarter, and that turned out to be slim compared to what eventually transpired. San Antonio continued to get whatever it wanted offensively and close things down on the defensive end, eventually pushing their margin to 34 points early in the third quarter. The outcome was just never in doubt.
What it means:
A trip to San Antonio is difficult enough without a back-to-back situation, let alone when it comes on the back side of a 29-point blowout in Oklahoma City. The results were not unexpected: The Lakers remained a Western Conference-worst 22-44, tied with the
Utah Jazz
.
Hits:
Pau Gasol
went for 18 points and 11 rebounds as he continues to play well for a reeling team.
Misses:
The inconsistent
Jodie Meeks
did not fare well against the Spurs' defensive pressure, tallying seven points on 2-of-11 shooting.
Stat of the game:
The Spurs grabbed a season-high 64 rebounds; the Lakers had only 37.
Up next:
Hopefully the Lakers learned something from this one. They now have four days to prepare for the Spurs' arrival at the Staples Center.
March, 13, 2014
Mar 13
9:36
PM PT

By Royce Young
Special to ESPNLosAngeles.com
Archive
OKLAHOMA CITY -- There was no magic from
Jodie Meeks
on Thursday night. And no double-digit comeback from the
Los Angeles Lakers
. Just the
Oklahoma City Thunder
doing what was expected of them.
Kevin Durant
and
Russell Westbrook
each had 29 points, and
Serge Ibaka
had 15 points, 13 rebounds and seven blocks as the Thunder comfortably got revenge for Sunday's loss, winning 131-102.
The Lakers showed their usual fight, trying to make a couple of second-half comebacks, but Durant had every answer to start the fourth quarter, scoring 12 of his 29 in the first six minutes of the fourth, to extend his streak of games with at least 25 points to a career-long 30.
After lighting up the Thunder for 114 points four days ago, the Lakers shot only 39.4 percent from the field. Though they made 13-of-27 on 3-pointers, they shot only 24-of-67 on 2s, and 15-for-25 from the free-throw line.
How it happened:
With Durant in foul trouble, Westbrook took over the third quarter scoring 15 of his 29 points to extend the Thunder's 14-point halftime lead to 24 heading into the fourth. From there it was just about learning from past transgressions and not letting the lead slip.
What it means:
After the euphoria of stunning the Thunder on Sunday, it's back to normal from the slogging Lakers. They hadn't played since that game, and possibly some of that fresh momentum had worn off. The 29-point loss ties them with the Jazz for the worst record (22-43) in the West.
Hits:
The Lakers shot 13-of-27 on 3-pointers (48.1 percent).
Ryan Kelly
had 12 points on 4-of-8 shooting with six assists and an impressive block of Ibaka.
Misses:
Meeks followed up his career-high 42-point game with 19 but on 6-of-15 shooting.
Stat of the game:
Durant and Westbrook combined for 58 points on 17-of-34 shooting, with 12 assists and six rebounds.
Up next:
The Lakers continue their odd stretch of games, playing at San Antonio on Friday, then taking another four days off before hosting the Spurs Wednesday.
March, 13, 2014
Mar 13
9:21
PM PT
Associated Press
OKLAHOMA CITY -- Russell Westbrook and Kevin Durant scored 29 points apiece, and the Oklahoma City Thunder avenged Sunday's surprising loss to the Los Angeles Lakers by rolling past them 131-102 Thursday night.
Westbrook shot poorly against Lakers on Sunday, but he made 9 of 17 shots and had nine assists in 23 minutes in the rematch.
Serge Ibaka added 15 points, 13 rebounds and a season-high seven blocks for the Thunder, who won their second straight and climbed within half a game of San Antonio for the top record in the Western Conference.
Lakers guard Jodie Meeks, who scored a career-high 42 points on Sunday, was held to 19 on 6-for-15 shooting. Kent Bazemore scored 16 points and Pau Gasol added 14 for the Lakers.
March, 13, 2014
Mar 13
8:47
PM PT
ESPN.com news services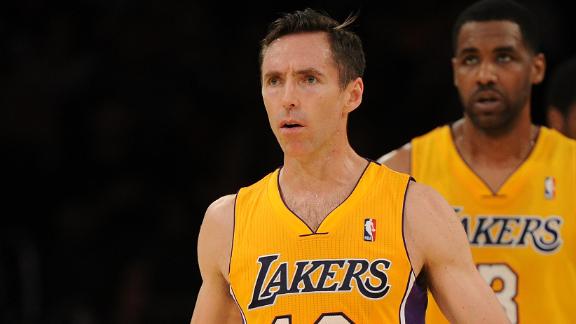 Steve Nash won't appear in another game for the Los Angeles Lakers this season.
Coach Mike D'Antoni confirmed the decision Thursday after saying earlier this month that he doubted that Nash, 40, would return after being plagued by nerve-root irritation in his left leg much of the season.
"He's not going to play," D'Antoni told reporters, according to the Los Angeles Times. "It doesn't make any sense for him to come back for 15 games, whatever."
The two-time league MVP averaged 7.6 points and 4.7 assists in 10 games this season while shooting just 36 percent from the floor and 31.6 percent from 3 -- well below his career marks of 14.3 points, 8.5 assists, 49 percent shooting and 42.8 percent from deep.
An 18-year veteran, Nash was noncommittal about his chances of playing again this season when asked earlier this month.
"We'll see," he said. "I couldn't really make a prediction. If I get the chance, it would be great."
Nash's shutdown came one day after the Lakers ruled Kobe Bryant (knee) out for the rest of the season.
Information from ESPNLosAngels.com's Dave McMenamin was used in this report.
March, 13, 2014
Mar 13
1:51
PM PT
By
Ian Begley
| ESPNNewYork.com
Embattled coach Mike Woodson says Phil Jackson will "enhance" the New York Knicks once Jackson is hired to help run the team's front office.
"I have a great deal of respect for Phil and what he's done over his coaching and his playing days in our league. He's been extremely successful," Woodson said Thursday in an interview on ESPN New York 98.7 FM's "The Stephen A. Smith and Ryan Ruocco Show."
"And if the Knicks are entertaining that, the guy's got a great basketball mind for the game. So I mean, it's all good."
A league source has told ESPN that Jackson and the Knicks are expected to finalize a deal that will give the legendary former coach control of the club's front office by the end of this week. An official announcement might not come until next week, the source said.
Woodson did not want to discuss Jackson's potential role with the Knicks in detail. He declined to address how much the organization has kept him informed of the proceedings, but he was highly complimentary of Jackson, who won 11 NBA titles as a coach and two as a Knicks player.
"At the end of the day we know it's out there, and like I said I've got a great deal of respect for Phil, and if the Knicks decide to go that route I think he can't do nothing but enhance the organization," Woodson said. "But my focus right now is strictly on coaching and trying to figure out our team and try to get us into this playoffs."
The Knicks (26-40) have won five straight and are three games behind eighth-place Atlanta for the eight and final Eastern Conference playoff spot.
It's unclear if Woodson will be the coach next season, regardless of whether Jackson is running the team. There's been widespread speculation that the Knicks will fire Woodson after the season and look for a new coach this summer. Woodson is under contract through next season. Jackson, if and when he is hired, may want to bring in his own coach.
Woodson said on Thursday that he'd like the opportunity to discuss his future with Jackson once the former Bulls and Lakers coach officially joins the Knicks.
"If that time comes, if and when that time comes, I would just love the chance to sit with him and talk basketball," Woodson said. "He's a basketball guy, I'm a basketball guy. This is 30 years I've spent in this league, so that's what we'll do. But until that happens, my focus is strictly on trying to get this team in the playoffs. That's it."
March, 13, 2014
Mar 13
11:00
AM PT

By Jeff Pearlman
Special to ESPNLosAngeles.com
Archive
The following is excerpted from "Showtime: Magic, Kareem, Riley and the Los Angeles Lakers Dynasty of the 1980s" -- by Jeff Pearlman

Earvin Johnson wanted a hamburger.( He was a nineteen-year-old kid, fond of burgers and pizza and French fries and any other cuisine guaranteed to block the arteries. Sure, he happened to be sitting in the presence of Jack Kent Cooke, perhaps the world's least likely man to ever order a burger of any sort. But, hey, Johnson was hungry.


Scratch that. Starving.


It was a warm May afternoon in Los Angeles, and the most dynamic player to grace college basketball since Louisiana State's Pete Maravich a decade earlier was in town to figure out whether he should return to Michigan State University for his junior season or jump to a professional sports league that had been crippled by poor TV ratings, player indifference and a dwindling fan base. On the one hand, in East Lansing, Michigan, Johnson -- a local kid out of Everett High School -- was a king. He had been nicknamed Magic as a fifteen-year-old high school freshman and now, having just led the Spartans to their first NCAA men's basketball title, he could not walk the streets without being mobbed. "He really was beyond reproach," said George Fox, his high school coach. "Earvin could do no wrong."


There was, however, the siren call of the NBA and specifically the siren call of Jack Kent Cooke's thick wallet. On April 19, 1979, the Lakers and Chicago Bulls had engaged in a coin flip to determine which team would be gifted with the number one pick in the upcoming draft. Coming off of a 47–35 season, Los Angeles was in such a position because, three years earlier, the New Orleans Jazz committed one of the worst free-agent acquisitions in league history. The team signed thirty-three-year-old Gail Goodrich, a long-ago star on his last legs. At the time, league rules mandated that the Jazz had to compensate Los Angeles with players, draft picks or money. After much haggling between the Lakers and Jazz general manager Barry Mendelson, New Orleans agreed to part with its first-round picks in 1977 and 1979, as well as a second-rounder in 1980. "Gail was great," said Bill Bertka, the Jazz vice president of basketball operations. "But he was older, and he came to us and immediately tore his Achilles. That didn't make us look so smart. Especially when we lost almost every stinkin' game in 1978-79." (The Jazz went a league-worst 26-56.)


When Larry O'Brien, the NBA's commissioner, prepared to flip the coin inside the league's New York City headquarters, the Bulls and Lakers felt their futures momentarily hovering in midair. Executives from both teams listened to the toss via speakerphone from their respective offices.


"Chicago, do you want to make the call?" O'Brien asked.


"We'd love to," replied Rod Thorn, the Bulls' general manager, who was sitting inside the team's offices on the thirteenth floor of a Michigan Avenue building.


"Is that OK with you, Los Angeles?" O'Brien said.


"Fine," said Chick Hearn, the announcer, who also worked as an assistant general manager with the team.


"We call heads," said Thorn.( A pause.("OK, gentlemen, here we go," boomed the deep voice of O'Brien. "The coin's in the air…" Another pause. Another pause. Another pause.


"Tails it is!" O'Brien said. (Hearn let out a triumphant whoop.
(

"I was playing basketball at Venice Beach," said Pat O'Brien, at the time a reporter for KNXT-TV in Los Angeles. "The news came over a transistor radio, and people started screaming. 'Yes! Yes! We're getting Magic! We're getting Magic!'"