December, 28, 2014
Dec 28
11:26
PM PT

By Arash Markazi
ESPNLosAngeles.com
Archive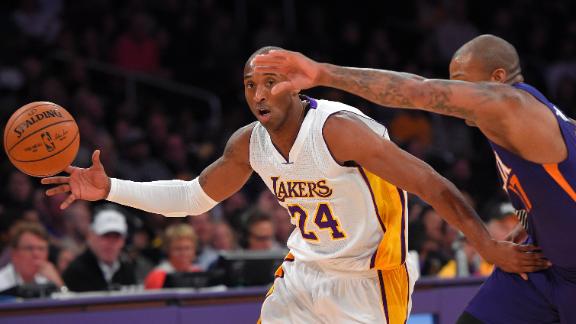 LOS ANGELES --
Kobe Bryant
sat in front of his locker with his feet buried in an ice bucket while his teammates left the locker room until he was the last one remaining.
He had long since finished talking about the
Los Angeles Lakers
' 116-107 loss to the
Phoenix Suns
on Sunday and his first game back after sitting out the previous three games to rest. He was talking to a handful of reporters about his love of languages ("I want to learn Portuguese"), British comedies ("They're the funniest") and telenovelas ("La Madrastra").
This is the new Bryant. At 36 years of age, in his 19th season in the NBA and retirement creeping up on him quicker than expected, he's the elder statesman in the locker room who talks about current events with media members who are closer to his age now than he is to most of his teammates.
[+] Enlarge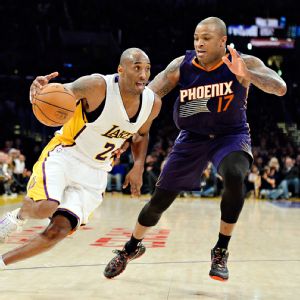 Richard Mackson/USA TODAY SportsKobe Bryant had 10 points on 4-of-10 shooting in his return to the Lakers on Sunday.
He no longer ignores his body to play through pain or lets losses eat at him the way he used to. He understands there's more to life than the way people perceive him or debate his achievements on social media. For what it's worth, he says he had no idea that a fan on Twitter drove 35 minutes to Temecula, California, on Christmas Day to defend him against another fan. The drama played out as a trending story on Twitter this week.
"Wow," Bryant said, amazed at the tweet. "Mamba Army don't f--- around. They take after their captain."
It's hard to be a member of "Mamba Army" these days. Bryant isn't doing much on the court to give his troops ammunition in his defense. For the first time in his career, Bryant isn't sitting out games because he's hurt but as he put it because of "old age."
Not only did Bryant cite "old age" for missing Christmas Day's game against the
Chicago Bulls
but he also said his knees and Achilles tendon are sore and his back and metatarsals are tight. He sounded like an elderly man sitting at the edge of an exam table and listing every part of his body that hurt for the doctor during a checkup.
On Sunday, Bryant had 10 points, eight rebounds and seven assists in 32 minutes. He finished 4-of-10 from the field but attempted only one shot in the first quarter and four in the first half. He was more patient, more open to facilitating. His performance, however, was more a by-product of the defense than any perceived eureka moment Bryant had while he watched his teammates play from the sideline.
"I'm just trying to be more patient," Bryant said. "The defense is loading up on me all over the place. It was probably better for me to be a little more assertive offensively. The defenses are loading up on me completely and there's not much I can do without forcing it."
That Bryant, for one night anyway, refused to force the situation offensively is probably the most positive sight for the Lakers.
Coming into Sunday's game, 93 percent of Bryant's midrange shot attempts this season were contested, which leads the league. And of the 111 players with at least 10 contested midrange shot attempts in the fourth quarter this season, Bryant is 86th in field-goal percentage at 28 percent. These are the kind of uncontested shots Bryant might have made before but they are simply not falling for him right now and forcing the issue won't solve the problem.
"I can force it. But listen, man, the defenses are just saying come hell or high water I'm just not going to beat them," Bryant said. "It's as simple as that. They'll double or triple team me if they have to. I go through three guys and everybody is bitching and complaining so I just try to make the simple play. Some nights we make shots and some nights we don't."
"When the defenses load up, it makes my job that much more difficult. I just try to make the simple play. Hit the guys when they are open and it lessens the amount of work that I have to do."
There was a feeling before the season that Bryant and Lakers coach Byron Scott would butt heads if Scott dared to sit Bryant if he looked fatigued or monitored his minutes. That has been far from the case and Bryant has been more open with Scott than he has been with any coach since Phil Jackson.
Scott finished his playing career as Bryant's rookie mentor almost two decades ago, and Bryant knows Scott understands what it's like to gingerly walk across the finish line of your playing career.
"I have an open and honest conversion with Coach and we talk about, much like we did the last three games," Bryant said. "It's just something that I went to him and he felt it was the right thing to do and that was that. I trust him implicitly. We talk so much. I can talk to him about anything and I know it stays between us. I trust his judgment, and I trust him enough to be able to open up to him and it makes things very easy."
Scott used to be the last player in the locker room with his feet in an ice bucket after games, talking to reporters about everything else but the game. He knows what Bryant is going through and is hoping to help him squeeze as much as he can from his career before he eventually retires.
"The body will get you to change, it starts talking to you," Scott said. "We all know Kobe is one of the smartest players in this league, and he starts to listen, just like everybody else. When you get to this point in your career you have to listen to your body a little bit more, and he's being smart allowing me to say, let's sit this game and not put up a fight and trusting in me. I thought that was big for us."
December, 28, 2014
Dec 28
8:58
PM PT
Associated Press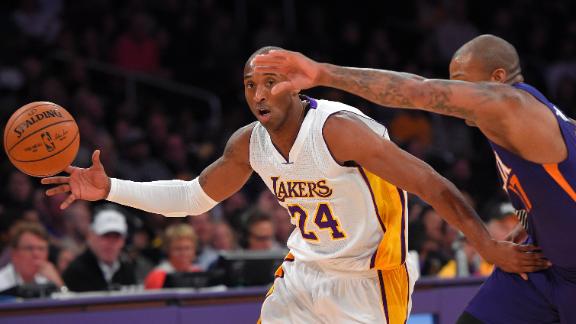 LOS ANGELES -- Goran Dragic scored 24 points, Eric Bledsoe had 20 of his 22 after halftime, and the Phoenix Suns beat the Los Angeles Lakers 116-1-7 Sunday night for their sixth consecutive victory.
Isaiah Thomas added 15 points for the balanced Suns, who haven't lost with their new starting lineup. Phoenix weathered an impressive Los Angeles surge in the final minutes for its seventh win in eight meetings with the Lakers, who lost their third straight despite Kobe Bryant's return.
Bryant had 10 points, eight rebounds and seven assists in 32 minutes during his first game back from a three-game absence to rest his aching 36-year-old body.
Nick Young hit four 3-pointers and scored 21 points while taking up Kobe's scoring slack again for the Lakers, who got within one point late.
December, 28, 2014
Dec 28
8:56
PM PT

By Arash Markazi
ESPNLosAngeles.com
Archive
LOS ANGELES -- After sitting out the previous three games to rest,
Kobe Bryant
returned to the court on Sunday as the
Phoenix Suns
defeated the
Los Angeles Lakers
116-107.
Bryant had 10 points, eight rebounds and seven assists in 32 minutes in his first game back since Dec. 21, when he was 8-for-30 with nine turnovers against Sacramento. Bryant played more minutes than anyone on the Lakers other than
Ed Davis
, who played 34 minutes.
In his first game back, Bryant was more of a facilitator. He attempted only one shot in the first quarter and that came with less than 2:30 left in the opening period and had only four attempts in the first half. The Lakers shot better than 50 percent from the field and 60 percent from 3-point territory but still couldn't get the lead. Bryant wasn't much help in the end, finishing the game hitting just 4 of 10 field goal attempts.
Player of the game:
The wish list for Lakers fans for potential players to join the team has dwindled over the years but one who remains a real possibility is
Goran Dragic
, who had a game-high 24 points and hit 4-of-6 3-pointers against the Lakers.
Eric Bledsoe
, another player who had been on Lakers fans' wish list, finished with 22 points, eight rebounds and eight assists.
Swaggy moment of the night:
Nick Young
's four straight 3-pointers when he entered the game in the second quarter was impressive but Young's girlfriend, Iggy Azalea, took the cake by dancing and sticking out her tongue at the courtside cameras while her song "Fancy" played in the third quarter.
Father's day:
The
Los Angeles Clippers
are in the midst of playing seven games in 10 days, but on his off-day, Clippers guard
Jamal Crawford
was at the Lakers game with his 4-year-old son J.J.
Up next:
The Lakers head to Denver to take on the Nuggets on Tuesday but before they do that the newest member,
Tarik Black
, will join the team on Monday, take his physical and work with the coaches. "He's a big, physical string kid who's very intelligent," Lakers coach Byron Scott said. "We'd love to see him get here as quick as possible so we can get him in action on the practice court and then we'll go from there."
December, 28, 2014
Dec 28
2:41
PM PT
The Los Angeles Lakers have claimed rookie forward Tarik Black off of waivers.
The Lakers on Sunday secured the rights to Black, who was let go Friday by the Houston Rockets when Houston needed to clear roster room to sign Josh Smith.
"He's a big, physical string kid who's very intelligent and we'd love to see him get here as quick as possible so we can get him in action on the practice court and then we'll go from there," coach Byron Scott said. "From some of our reports about him he's very active on the defensive end and a great communicator on the defensive end and those are two things we need from our bigs. We'll see how he translates that from Houston to here."
To make roster room for Black, L.A. simultaneously released swingman Xavier Henry, who suffered a season-ending Achilles injury at a practice in late November.
Black took to Twitter to introduce himself to Lakers fans.
As ESPN.com reported earlier this week, Houston offered up several players in the bottom third of the roster after securing a commitment from Smith in hopes of creating roster room that way. But the Rockets released Black when they couldn't find a palatable trade after the undrafted power forward made their roster in training camp.
In 25 games with the Rockets, Black averaged 4.2 points and 5.1 rebounds in 15.7 minutes per game. He played in 25 games for Houston this season and started 12.
The 6-foot-11 Black is expected to make his Lakers debut Tuesday night in Denver.
Information from ESPNLosAngeles.com's Arash Markazi contributed to this report.
December, 28, 2014
Dec 28
1:28
PM PT
ESPN.com news services
[+] Enlarge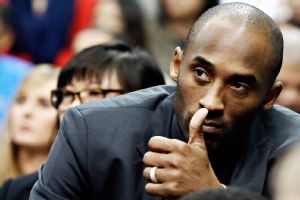 AP Photo/Brandon WadeAfter missing the past three games for extra rest, Kobe Bryant will shed his suit for a jersey on Sunday.
Los Angeles Lakers star Kobe Bryant will return to the starting lineup Sunday against the Phoenix Suns after sitting out three games to rest.
"He said he felt much better," coach Byron Scott said. "He came in [Saturday] and got some shots up and he said he's moving pretty well. He kind of felt reenergized and today was kind of the same thing. He came in and got some shots up and got here early and did the same thing. I said, 'Are you ready to go?' and he said, 'Yeah.' That's basically it."
Scott said he'd like to limit Bryant to around 30 or so minutes of playing time after the 36-year-old had been complaining of fatigue and soreness in recent weeks. Bryant, in his 19th NBA season, is averaging a team-high 35.4 minutes per game.
"I'm just going to go by feel," Scott said when asked about Bryant's minutes. "I'm going to see how he's looking and how's the game going as well."
The Lakers went 1-2 without the future Hall of Famer, with the one win a surprise victory over the NBA-best Golden State Warriors.
Information from ESPNLosAngeles.com's Arash Markazi contributed to this report.
December, 26, 2014
Dec 26
8:10
PM PT
Associated Press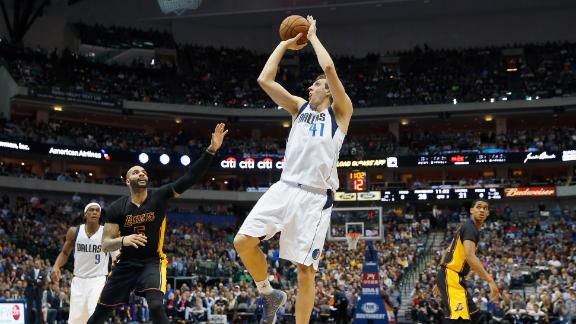 DALLAS -- Rajon Rondo scored a season-high 21 points in his fourth game with Dallas and Dirk Nowitzki added 14 to move up another spot on the NBA's scoring list in the Mavericks' 102-98 victory over the Los Angeles Lakers on Friday night.
Rondo, traded from Boston last week, also had eight rebounds and seven assists in Dallas' franchise-best fifth straight win against the Lakers in the regular season.
Kobe Bryant missed his third straight game for Los Angeles to rest his sore body. He could return Sunday at home against Phoenix.
Carlos Boozer scored 18 points for the Lakers, who lost again on the second night of a back-to-back after beating NBA-leading Golden State in the first game without Bryant.
December, 26, 2014
Dec 26
7:04
PM PT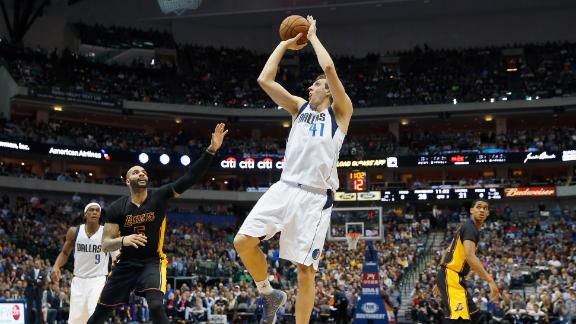 DALLAS -- On the night he moved up another spot on the NBA's all-time scoring list, Dirk Nowitzki briefly chatted with Kobe Bryant and offered a playful warning to the only active player with more career points than him.
"I told him that I was going to catch him," Nowitzki said after his Dallas Mavericks defeated the Los Angeles Lakers 102-98 with Bryant resting and watching from the bench. "But that's going to be tough."
Nowitzki now stands eighth among scorers in NBA history, five spots behind Bryant, after passing Hall of Fame forward Elvin Hayes on Friday night.
Nowitzki needed six points entering the game to pass Hayes, who finished his career with 27,313 points, and did so on a midrange jumper off a feed from Monta Ellis on the opening possession of the second half.
Nowitzki, who has been battling a stomach illness for about two weeks, finished the game with 14 points in 24 minutes, giving him 27,322 points in his career.
"I'm fortunate to have great teammates to put me in position to keep scoring, even as I'm older," said Nowitzki, a 36-year-old who has spent his entire 17-year career with the Mavs. "It's been fun. Still competing at a high level and hopefully will win a lot more games these last couple of years, which really means more to me right now than all the points. But it's definitely been a fun ride."
Hayes is the second top-10 all-time scorer passed by Nowitzki this season. Nowitzki bumped Hakeem Olajuwon
December, 26, 2014
Dec 26
4:24
PM PT
Associated Press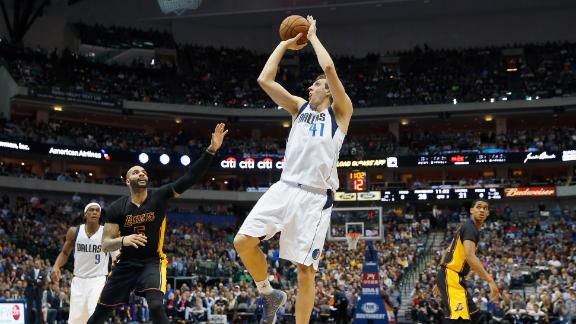 DALLAS -- Kobe Bryant sat out his third straight game to rest his sore body but could be back in the lineup when the Lakers return home for their next outing.
Bryant was ruled out of Friday night's eventual 102-98 loss at Dallas, but coach Byron Scott said his star "feels pretty good about going" Sunday night against Phoenix.
The 36-year-old Bryant has said his knees, feet, back and Achilles tendons are all sore.
He was sidelined Tuesday night when Los Angeles beat NBA-leading Golden State at home, then again Christmas night at Chicago. The game against the Mavericks was the third in four nights for the Lakers.
"If he had felt good he would have gone last night and tonight as well," Scott said before the Lakers faced the Mavericks, who beat them 140-106 last month in Dallas. "Just didn't feel good last night and back-to-back 24 hours, not going to feel a whole lot better. I think he feels pretty good about going for Sunday's game."
Scott said a reduction in Bryant's minutes was likely a consideration when he returns. He's averaging a team-high 35.5 minutes, about 3 fewer per game than his past two full seasons in 2011-2012 and 2012-13.
Bryant tore his left Achilles late in the 2012-13 season, and played just six games last season after breaking a bone in his left knee last December.
"We both thought that 30-40 minute mark was pretty good," Scott said. "Obviously we're going to have to adjust that a little bit. But this is new for both of us."
In his 19th NBA season, Bryant entered Friday third in the league in scoring at 24.6 points per game. He passed Michael Jordan for third place on the career scoring list Dec. 14 at Minnesota.
December, 26, 2014
Dec 26
11:45
AM PT

By Tim MacMahon
ESPNLosAngeles.com
Archive
UPDATE: Coach Rick Carlisle announced pregame that both players would be active.
DALLAS – The Mavericks might be without their two leading scorers Friday night against the
Los Angeles Lakers
.
Shooting guard
Monta Ellis
and power forward
Dirk Nowitzki
did not participate in the Mavs' morning shootaround because of illnesses.
"Hopefully they'll be OK, but I won't know until game time," coach Rick Carlisle said.
Carlisle said Nowitzki, who is six points shy of passing Elvin Hayes for eighth place on the NBA's all-time scoring list, has been dealing with a stomach issue. Carlisle wasn't certain of the nature of the illness for Ellis, who is averaging a team-high 20.9 points per game.
The Lakers are expected to play without their leading scorer.
Kobe Bryant
has missed the past two games because of general soreness and told reporters on Thursday night that there is a "very slim" chance he plays against the Mavs.
December, 25, 2014
Dec 25
9:44
PM PT

By Baxter Holmes
ESPNLosAngeles.com
Archive
CHICAGO -- Imagine if the
Los Angeles Lakers
had won again without
Kobe Bryant
.
Imagine the reaction.
You had better believe the notion that the Lakers perform better without him –- which is
heavily backed
by advanced statistics -- would've picked up some serious steam.
[+] Enlarge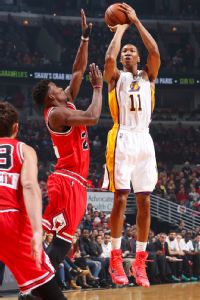 Gary Dineen/NBAE/Getty ImagesWesley Johnson led the Lakers in scoring with 19 points, but the Lakers were doomed by cold shooting.
But the Lakers were unable to duplicate their dominant performance against the NBA-best
Golden State Warriors
and instead fell Thursday to the
Chicago Bulls
113-93 without the services of Bryant,
who sat out
for the second straight game to rest.
Oh, the Lakers still scrapped against the Bulls, cutting a double-digit deficit to two points in the third quarter. But the Lakers were simply outmatched by a team Lakers coach Byron Scott said was the best they've faced in the Eastern Conference.
And Scott had a message for those who say the Lakers are better without Bryant.
"Like I said before, those people are idiots," Scott said. "He's one of the best to ever play the game. You take him off the team, you're going to have nights where you struggle, period. And then you're going to have one night like we had the last game.
"Anybody that really insinuated that we were better without him, they're just ridiculous. We're a much better team when he's on the floor, period."
Entering Thursday, the Lakers' average point differential was 21.4 points higher with Bryant off the court compared to when he is on the floor. They were also 24.4 points per 100 possessions worse with Bryant on the floor than when he's on the bench.
There are more numbers like that, but you get the picture.
Even without Bryant, the Lakers played the Bulls tough, losing because they shot poorly, especially
Nick Young
(1-for-6 with three points), and because they were outrebounded by 18.
Scott told his players after the game that Bryant could miss as much as a week as he tries to recover from soreness that seems to be the culmination of his heavy-minute workload. (The 36-year-old is playing a team-high 35.4 minutes per game.)
Since they don't know when Bryant will be back, the challenge, according to shooting guard
Wayne Ellington
, is "to come together as a group collectively. Nobody can replace Kobe, so we've all got to come together and step our games up."
Ellington added, "We always miss his presence, especially a game like [Thursday] where they load so strong when the ball is on one side. He's great at really manipulating defenses and getting guys open shots. That's an area where we really missed him."
Young also seemed pretty serious on the matter instead of being his usual jovial self.
"We're always going to need Kobe," Young said. "We may joke around, but we're always going to need Kobe out on the floor."
Did the Lakers learn anything about themselves these past two games?
"I think we all knew we could play," Young said. "But honestly, we still need Kobe out on the court, of course. He's still one of the greatest players to ever play this game."
If Bryant is out for an indefinite time period, the rest of the Lakers (along with any casual observers) should get a more definitive answer about how the team truly performs without him versus just seeing it in spurts or a couple games -- a sample size that's still too small.
Bryant, of course, saw Tuesday's game, in which the Lakers smashed the Warriors, leading by as much as 24 points, their biggest lead of the season.
"I thought they played extremely well," he said of his teammates. "They shot the ball very well."
The Lakers shot 51.7 percent, to be exact, and tied their season high with 12 3-pointers. The Lakers also tied their season high with 28 assists.
"The ball moves a lot easier when guys are hitting shots," Bryant said. "When we don't hit shots, I try to take the load on myself and we have a lot of standing around. The games where they hit shots, I sit back and let them hit shots."
Scott has said the Lakers need to find more balance on that end -- that Bryant needs to learn to trust his teammates and be willing to let them fail versus just trying to take over on his own.
And Scott still staunchly defends Bryant, pointing not to how Bryant has played over the course of the season but instead his career body of work.
"We had one great game without Kobe, and now everybody thinks we're a better team or something like that," Scott said before Thursday's game. "That's not the case.
"But as far as all that analogy stuff goes, if I had my choice, I'd rather have him on the court for 48 minutes every time we play. I know we'd have a better chance to win."
December, 25, 2014
Dec 25
9:34
PM PT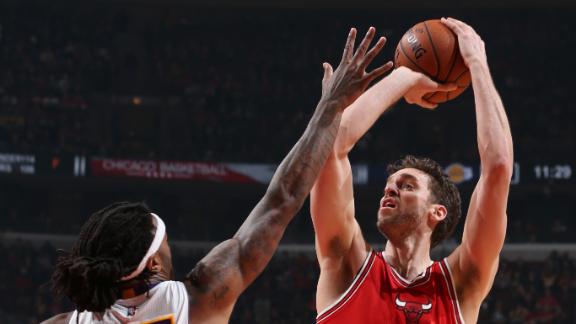 CHICAGO -- Veteran big man Pau Gasol admitted after Thursday night's 113-93 win over the Los Angeles Lakers that it was "weird" facing his former team for the first time since signing with the Chicago Bulls in the summer.
"It's weird," Gasol said after racking up a game high 23 points and 13 rebounds. "Obviously it's an emotional game because you find yourself on the opposite side of a team that you've played for for so many years and you've been through so much [with them]. So it was weird, difficult at first to kind of get going and once you start playing you're just playing the game the best way you can."
Gasol said he spent some time speaking to former teammate Kobe Bryant on Wednesday and was sad that the Laker legend didn't play against the Bulls. Bryant sat the game out with soreness.
"We saw each other for a while," Gasol said. "We sat down for over two hours. Just catching up. It felt good to really to hang out, to talk, spend quality time together. I really enjoyed it. Obviously I miss him, I don't get to see him that much now for obvious reasons, but he's like a brother to me and I wish him the best. I have the utmost respect for who he is and we're always going to support [each other]."
Gasol didn't reveal exactly what was said in the conversation but did note that it had little to do about basketball. He is hopeful that Bryant will be back on the floor soon.