August, 17, 2014
Aug 17
2:36
PM PT
ESPN.com
Which team is headed for some unhappy times this season?
Our Summer Forecast rolls on with predictions for Team Turmoil -- the squad that will have some unsettling experiences in the 2014-15 season as voted on by our ESPN Forecast team.
To participate in the discussion and perhaps get your opinion published on this page, #ESPNForecast is the Twitter hashtag to use. Or you can just follow along @ESPNNBA.
August, 13, 2014
Aug 13
6:39
PM PT
ESPN.com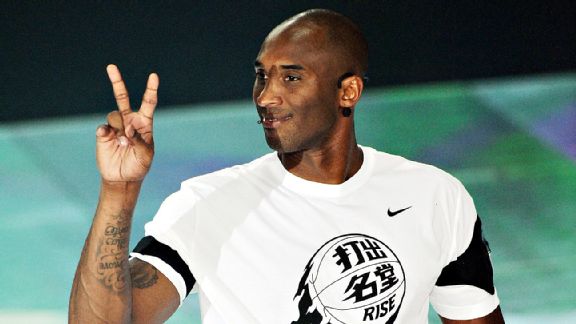 Getty ImagesHow many career points will Kobe Bryant rack up before he says goodbye to the NBA for good?
Where will Kobe Bryant finish in the NBA's scoring record books? The chase begins again next season.
Bryant, who missed all but six games last season because of injury, enters his 19th professional season with 31,700 career points, good for fourth on the all-time list. Ahead of him? Michael Jordan (32,292), Karl Malone (36,928) and the reigning champ, Kareem Abdul-Jabbar (38,387).
According to ESPN Stats and Info, if the 35-year-old Bryant averages 20 points per game for the Los Angeles Lakers, he can pass Jordan for third place in the 29th or 30th game of the 2014-15 season. The Lakers' 29th game is against Jordan's Bulls, on Christmas Day in Chicago. (Drama!)
But what about the other two spots on the list? Bryant signed a two-year, $48.5 million extension last December, ensuring himself at least 164 more games to jack up his total. But will his health hold up? Will he be able to still score like he used to as he creeps toward 40?
For those answers, we turned to the Summer Forecast panel.
And what about his on-court success?
August, 13, 2014
Aug 13
6:05
PM PT
By Steven Martinez & Deontay Morris, ESPN Stats & Info
ESPNLosAngeles.com

Andrew D. Bernstein/NBAE/Getty ImagesKobe Bryant needs 593 points to pass Michael Jordan for 3rd on the all-time scoring list.
The
2014-15 NBA schedule
has been released and we have the chance to take a quick look at the top stats to know for this upcoming season.
The return of Kobe
After missing all but six games last season,
Kobe Bryant
will make his debut on Tuesday, October 28 when the
Los Angeles Lakers
play host to the
Houston Rockets
.
Bryant has scored 31,700 career points and if he scores at least 593 points, he'll pass
Michael Jordan
for third on the NBA's all-time scoring list.
If he averages 20 points per game, he could pass Jordan on the scoring list around the 29th or 30th game of the Lakers season.
Those games happen to be at the
Chicago Bulls
on Christmas Day and at the
Dallas Mavericks
the next day.
Last season, Bryant missed the Lakers season opener for the fifth time in his career. Ironically the Lakers have won all five of those openers.
They would prefer to have him in the lineup though as his 27.2 PPG in season openers is the most among active players and seventh-highest in NBA history (Michael Jordan holds the record, 30.8 PPG).
The King returns
Making a return of a different kind will be
LeBron James
, who returns to the
Cleveland Cavaliers
after spending the last four seasons with the
Miami Heat
.
LeBron will make his season-debut on October 30 when the Cavaliers play host to the
New York Knicks
.
Another highlight for him will be on Christmas Day when he and his teammates travel to South Beach to take on the Heat (5 ET/ABC).
When LeBron returns, he'll do so as the second-leading scorer (26.7 PPG) among active players at the American Airlines Arena, trailing only
Kevin Durant
(27.6).
LeBron's teams have not lost on Christmas day since his rookie season in 2003 (7-1 record). That year, the Cavaliers lost to the Magic.
Champions quest for repeat
The defending NBA champion
San Antonio Spurs
open their season hosting the Dallas Mavericks on October 28. The Spurs are 16-4 in their last 20 home openers.
Since
Tim Duncan
debuted in 1997, San Antonio is 16-1 in season openers, the best winning percentage (.941) among all teams in season openers over this time (their only loss was to the Suns in 2008).
The Spurs and Heat will face off for the first time since the NBA Finals on February 6 (9:30 ET on ESPN) in San Antonio.
Over the last four seasons (including regular and postseason), the New York Knicks (3-4) and Heat (9-10) are the only teams the Spurs have a losing record against.
Notable rookie debuts
Maybe
Andrew Wiggins
should get some advice from his father on avoiding first game jitters. Andrew's dad - Mitchell Wiggins - scored 26 points in his first career game with the Bulls in 1983.
Wiggins, who reportedly will be traded to the
Minnesota Timberwolves
, begins his pro career on October 29 at Memphis.
As for other notable rookies,
Jabari Parker
and the
Milwaukee Bucks
open at the
Charlotte Hornets
on October 29, while
Nerlens Noel
(who missed all of last season after recovering from a torn ACL) makes his long-awaited debut with the
Philadelphia 76ers
on October 29 at the
Indiana Pacers
.
August, 13, 2014
Aug 13
1:37
PM PT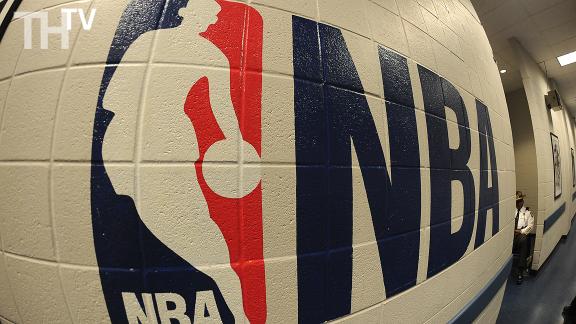 Playoff rematches, star players returning from injuries and a heavy dose of the new-look Cleveland Cavaliers are among the highlights of the NBA's early schedule, the full version of which was released Wednesday.
The always-anticipated Christmas Day schedule includes LeBron James' return to Miami as the featured game at 5 p.m. ET on ABC, a renewal of the Western Conference finals with the Oklahoma City Thunder visiting the reigning champion San Antonio Spurs and a rivalry game between the Golden State Warriors and Los Angeles Clippers.
Perhaps the highlight of the schedule for players, though, is new commissioner Adam Silver's response to stars' request for a lengthier midseason break. Each team now will have a full week off around All-Star Weekend in February so players who take part in the events in New York still will receive some additional time off.
The season will open Tuesday, Oct. 28, with the traditional ring night ceremony as the Spurs host the Dallas Mavericks
August, 13, 2014
Aug 13
3:36
AM PT
ESPN.com news services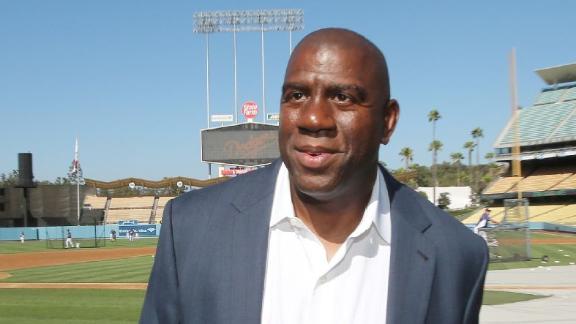 Basketball Hall of Famer Magic Johnson says Los Angeles is ready for the return of an NFL team.
And he thinks it will happen soon, according to Yahoo! Sports.
"I think for the first time, I truly believe we're going to get a team. Finally," Johnson said. "Everybody is on board. The city is on board. The business community is on board. The NFL is on board. Finally we have momentum. In the next couple years, at least in the next 24 months, I think one team will be coming. I don't know what team that will be, but I believe in the next two years we'll have a team."
Farmers Field, a proposed $1.5 billion downtown football stadium connected to an expanded Los Angeles Convention Center, is ready for construction. A competing stadium project proposed by real estate magnate Ed Roski in the City of Industry has been ready to push dirt since 2009, with little traction.
Oakland Raiders owner Mark Davis and two high-ranking Raiders front-office personnel met with several city officials in July about the potential of moving his team from Oakland to San Antonio, the San Antonio Express-News reported last month.
Johnson, part of a group that bought the Los Angeles Dodgers in 2012 for $2 billion, said he would welcome a Raiders return to Los Angeles.
"It would be great to have the Raiders back in L.A., I would love for that to happen," Johnson said. "But that's going to be up to Mark and the Raiders and the NFL. But I would love to have the Raiders back in L.A. where they belong.
"We just want a team, we want a team in the worst way."
August, 13, 2014
Aug 13
1:26
AM PT
LOS ANGELES -- Kobe Bryant and the Los Angeles Lakers will square off against former teammate Pau Gasol and the revamped Chicago Bulls on Christmas Day this season, according to multiple league sources.
It will be the Lakers' 16th straight Christmas Day game, dating to 1999, but the first they've played on the road since going to Miami to play Shaquille O'Neal and the Heat in 2006.
In another game on the calendar with reunion implications, L.A. will open the season against the Houston Rockets, according to sources. Bryant was injured for all four of the Lakers' games against Houston last season in Dwight Howard's first campaign with the Rockets after spurning L.A. in free agency last summer.
The NBA officially will release the entire schedule for the 2014-15 season Wednesday at 6 p.m. ET.