March, 12, 2014
Mar 12
10:27
AM PT
The first thing that popped into my head when it became official that
Kobe Bryant
was going to miss the remainder of the 2013-14 season with a fracture in his left knee was a quote he uttered back in December 2009 after twisting his left knee in a game, but staying in to secure the win.

"I'm Bruce Willis, man," Bryant said, referencing Willis' John McClane character in the "Die Hard" series. "I'm fine."


It was a bold statement by a guy who had often seemed immune to the regular physical limitations of the human body through his first decade-and-a-half in the NBA.


An avulsion fracture in his index finger on his shooting hand? No problem. He said tape it up, he'd just guide the ball with his middle two fingers instead. A concussion suffered in the All-Star game? Just fix him a mask, there was no way he was going to miss any games on that count. A torn ligament in his left wrist from a preseason game? By the time the regular season rolled around, he committed to getting a cortisone shot in the wrist on a near nightly basis as to not miss any game time.


That is the tough-minded narrative that Bryant has built over time in the game. He is the player with 30,000-plus points, five rings, a remarkable 81-point night and he is the player who will push himself to play through pain.


Even when the torn Achilles in his leg carried with it a 6-9 month recovery period and Bryant was back on the court in less than eight months.


But this time is different. This time Bryant couldn't just will himself through the second major injury in less than a year to that left leg of his.


This time, he's human. And a 35-year-old human playing a game dominated by men in their mid 20s, at that.

Denver Nuggets coach Brian Shaw hinted that this news was coming last week when he spoke about Bryant before his team played the Lakers.


"I think, for the first time, and these are my words, but for the first time, I sense frustration because it's a situation that he can't fully control because these last two injuries with the knee and the Achilles right before that are ones that they can be pretty devastating and they allow you to come back on the injury's time, not on your own time, on your own terms," Shaw said.


When Bryant made his comeback from the Achilles, he announced it with a two-minute video on his Facebook page. The video showed his No. 24 Lakers uniform floating in the middle of the screen and being battered by the elements -- wind, rain, snow, etc.


Eventually, the jersey is torn down the middle of the chest, presumably representing the Achilles tear that Bryant suffered, before being repaired with a blinding beam of sunlight.


There's no sunny spin on Bryant's current predicament. Only clouds of doubt. Will he return to some approximation of the player he once was? And even if he does, will his $48.5 million contract extension prevent the Lakers from fielding a team around him that will allow him to compete for another championship in his final days in the league?


Right now, with all the uncertainty surrounding Bryant's future, he seems much closer to Bruce Willis' character in "The Sixth Sense." His glory days may have already passed him by, never to return again.

March, 12, 2014
Mar 12
8:35
AM PT
ESPN.com news services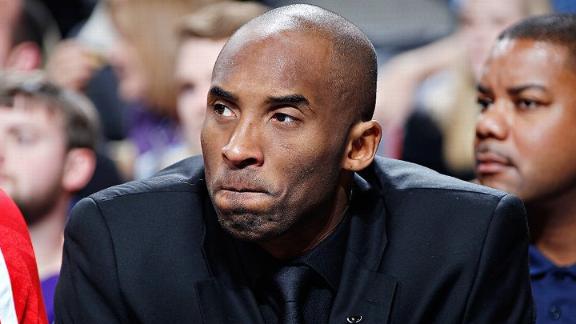 The Los Angeles Lakers have ruled Kobe Bryant out for the remainder of the season after a re-examination of the veteran guard's injured knee showed it still hadn't healed, the team announced Wednesday.
Bryant has been sidelined since Dec. 17 with a fracture of the lateral tibial plateau in his left knee. He also missed the Lakers' first 19 games while recovering from a torn Achilles in his left leg suffered last season.
"Obviously this has been a frustrating and disappointing season, but I appreciate all the support I've received from the Lakers and the fans and look forward to being back and ready for the start of training camp," Bryant said in a statement released by the team.
Bryant addressed the media later Wednesday and said he has high expectations for when he returns.
"I don't want to say I'll be back at the top of my game, because everybody is going to think I'm crazy and an old player not letting go, that sort of thing," Bryant said. "But that's what it's going to be."
Bryant was examined Wednesday by team physician Steve Lombardo.
"With Kobe's injury still not healed, the amount of time he'd need to rehab and be ready to play, and the amount of time remaining in the season, we've simply run out of time for him to return," Lakers trainer Gary Vitti said in a statement. "However, Kobe will have the entire offseason to heal, rehab and prepare, and we look forward to him being 100 percent for the start of next season."
In all, Bryant played six games this season, averaging 13.8 points, 6.3 assists, 4.3 rebounds and 42.5 percent shooting from the field. The Lakers are 22-42, tied for the worst record in the Western Conference.
March, 9, 2014
Mar 9
9:46
PM PT
For seven of the teams on our list this week, the lottery is now guaranteed. John Hollinger's Playoff Odds now have the Bucks, Sixers, Magic, Lakers, Jazz, Kings and Pelicans at a zero percent chance of making the playoffs. The Celtics are barely hanging on at 1.4 percent. The Cavs have a 2.9 percent chance and the Pistons are at 10.5 percent.
In other words, at this point, the incentive to tank has never been greater. With March Madness just around the corner, it's all about the NBA draft for these teams.
Here's our weekly look at where the 10 worst teams in the NBA stand in their quest for the No. 1 pick in the draft.
To continue reading this article you must be an Insider
March, 9, 2014
Mar 9
9:33
PM PT

By J.A. Adande
ESPNLosAngeles.com
Archive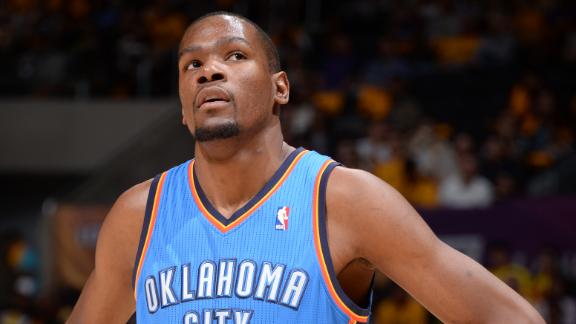 LOS ANGELES -- Big win for the
Los Angeles Clippers
in Sunday's game against the
Oklahoma City Thunder
. That's not a mistake. Even though the scoreboard said it was the Lakers that beat the Thunder, 114-110, the Clippers were the biggest beneficiary.
When the Clippers beat the Lakers by 48 points last week the accomplishment was lost amid nationwide scuba diving to determine just how low the Lakers had sunk. Maybe now the Clippers' accomplishments in that landmark victory and their seven-game winning streak can bob to the surface. People can realize that the Lakers didn't simply roll over, the Clippers did plenty of kicking. The Clippers turned a 15-point lead against the Lakers into a 52-point lead. The Thunder turned an 18-point lead into an 18-point deficit, and then an L. "You can't play the score, you have to play the game," Oklahoma City's
Derek Fisher
said, in one of those veteran-y quotes.
Oh, and the Clippers are now within 2½ games of Oklahoma City's second spot in the Western Conference standings. So, yeah, Sunday was a good day for the Clippers.
[+] Enlarge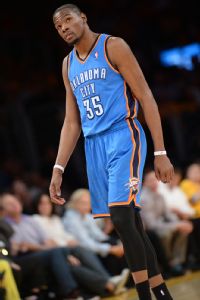 Noah Graham/NBAE/Getty ImagesKevin Durant had 27 points, 10 rebounds and 12 assists but OKC fell to the Lakers.
The one thing you haven't heard the Clippers do lately is lament. As in: "We did not come with the defensive intensity that we needed in the third quarter," Thunder coach Scott Brooks lamented.
That's a verb used only when you don't get what you want. The Clippers have gotten the W in their past seven games, making them the hottest team in the league at the moment. They're beginning to grasp the defensive concepts Doc Rivers is preaching, and held four of seven opponents to less than 100 points during the streak, a standard they failed to meet in nine of their previous 10 games.
While they're reaching a crescendo, the Thunder have fallen into what Coach Brooks called "a defensive valley," allowing opponents to score 110 points per game and shoot 47 percent while losing five of their past eight games. They dropped into second place in the Western Conference, a half game behind the
San Antonio Spurs
, who've won six straight and have to be feeling good about themselves as well.
Brooks was as critical as he gets about his team, saying, "It comes down to taking pride in guarding your man and we had trouble staying in front of the basketball tonight" as well as "In the third quarter we did not come out with the defensive toughness it takes to win in this league."
The Thunder aren't making excuses about the absence of the injured
Thabo Sefolosha
and
Kendrick Perkins
, but it's clearly an issue.
"Thabo is a defensive player," Brooks said. "Perk is one of our best defensive players. He's not only good on the post, he's good on the pick-and-roll coverage and he's good at communicating."
Perkins communicates not only on the court but in the locker room and through the media, quick to call out insufficient efforts from his team. He wasn't around Sunday, so that left it to Fisher.
Yes,
Kevin Durant
, a 40 percent 3-point shooter on the season, has shot 33 percent on 3-pointers in February and is 9-for-32 (28 percent) in four games in March. And just when it seemed
Russell Westbrook
had regained his shooting touch by making 58 percent of his shots in the previous five games, he cratered to a 7-for-23 (30 percent) shooting performance Sunday afternoon.
Those aren't the type of things that have Fisher concerned.
"It's a larger perspective in terms of just where we are as a team, our mentality, our mindset, our ability to bring the right type of focus to the game," Fisher said.
"As a team we have to decide what's most important to us. And if it's the team's success, then you'll start to see offensively and defensively things tighten up the way they need to tighten up. … Just in terms of respecting the game, respecting each other, bringing the right sense of urgency to our jobs.
"I don't question guys' commitment to the team, I'm just saying we're not right now putting it out there on the court."
The Thunder left the arena muttering to themselves, the Lakers were granted a temporary reprieve from their miserable season, and
Jodie Meeks
had a career-high 42 points to savor. Nobody had it better than the Clippers, though. They had a day off to enjoy a beautiful afternoon in L.A., and their status improved at the same time.
March, 9, 2014
Mar 9
6:00
PM PT
LOS ANGELES -- After trudging off the
Los Angeles Lakers
' practice court Saturday as the last player to get up extra shots in the impromptu practice following four games in five nights,
Jodie Meeks
dutifully stuck around to answer a couple of questions about his reeling team.
When Meeks was asked if the Lakers could glean anything from their 107-103 loss to the
Oklahoma City Thunder
before the All-Star break that they could apply to Sunday's matchup, Meeks made it clear that circumstances had changed.
You see, Meeks sat out that previous meeting because of a sprained ankle.
[+] Enlarge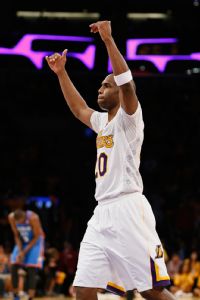 AP Photo/Danny MoloshokJodie Meeks scored a career high 42 points Sunday but was more pleased that the Lakers won any individual accolades.
It was a confident statement from the fifth-year guard. He was saying that his presence would make a difference.
And boy did he back it up.
After the Lakers fell down by as many as 18 points in the first half, Meeks scored 20 of his career-high 42 points to help the Lakers storm back for the 114-110 victory over the Western Conference-leading Thunder.
"It's one of those games, man," Meeks said after going 11-for-18 from the field, including 6-for-11 on 3-pointers. "It's was fun out there. The most important thing is I was glad we got the win."
As encouraging as the offense was, it was Meeks' defense that provided the ultimate lift. With the Thunder trailing by 110-107 with 33.7 seconds left, it was Meeks who defended
Russell Westbrook
at the top of the key as the Thunder's All-Star launched an airball as he tried to tie the game.
"I think defensively he was out of sight and on Westbroook the whole time," Lakers coach Mike D'Antoni said. "So that's a lot of energy that he put out to win that game. But you know what? He's been doing that on a pretty consistent basis all year."
While Westbrook wanted no part in crediting Meeks ("There's nothing for me to talk about," Westbrook said when asked about Meeks' performance), Meeks heaped praise on Westbrook even though he had eight turnovers and shot 2-for-10 from 3.
"He's a tough cover," Meeks said. "He's a great player."
Meeks also had four steals, twice sniffing out a lazy pass by the Thunder and turning it into a breakaway opportunity that left Oklahoma City no choice but to foul him, leading to two clear-path violations.
"Every game I try to watch film on the opponent and try to see some of the passes they make," Meeks said. "Sometimes I'll get burned on backdoors, but a lot of the time I'm successful on steals."
March, 9, 2014
Mar 9
3:50
PM PT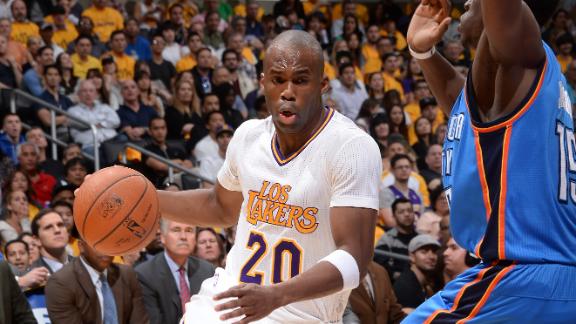 LOS ANGELES -- Turns out that
Kevin Durant
and
Russell Westbrook
aren't all that intimidating when you have
Jodie Meeks
on your side.
Meeks exploded for a career-high 42 points, and the same
Los Angeles Lakers
defense that had given up an average of 136 points in their last three games held the Western Conference-leading
Oklahoma City Thunder
to 26 points below that in the Lakers' most shocking win of the season.
It was appropriate that Meeks was the guy to lead the way. In a season marred by injuries and inconsistency, Meeks could be counted on all year, scoring in double digits in 51 of the 59 games he played in.
Sure, Durant and Westbrook combined for 47 points, but they shot just 15-for-42 compared to Meeks' 11-for-18.
How it happened:
It looked like another long night for L.A. as it fell down by 18 points early, but the Lakers outscored the Thunder 36-19 in the third quarter (shooting 11-for-19) to get back in it. They rode that wave of momentum all the way to an 18-point fourth-quarter lead of their own before holding off a furious Thunder rally. Meeks ended up guarding Westbrook at the 3-point line with 33.7 seconds left when Westbrook air-balled a 3 that would have tied the game.
Kent Bazemore
tacked on two of his seven fourth-quarter points with a layup, and the Lakers held on.
What it means:
That impressive road win in Portland last week was all but forgotten after the
Los Angeles Clippers
completely embarrassed the Lakers by 48 points. But Sunday's effort proved that this Lakers season isn't just going to spiral out of control over these final five weeks. There's too much pride in that locker room.
Hits:
The Lakers shot 13-for-31 from 3 (41.9 percent).
Pau Gasol
had 20 points and 11 rebounds.
Jordan Farmar
scored 12 off the bench, going 3-for-4 from 3.
Ryan Kelly
had a career-high eight assists.
Misses:
The Lakers were outrebounded 59-36.
Stat of the game:
11. Meeks eclipsed his previous career high of 31 points by 11 points with 42.
Up next:
The Lakers get a bit of a respite with no game until Thursday, when they travel to play Oklahoma City again, followed by the
San Antonio Spurs
on the road Friday.
March, 9, 2014
Mar 9
3:35
PM PT
Associated Press
LOS ANGELES -- Jodie Meeks scored 24 of his career-high 42 points in the second half, and the Los Angeles Lakers beat Oklahoma City 114-110 on Sunday despite a triple-double by Thunder star Kevin Durant.
Pau Gasol added 20 points and 11 rebounds for the injury-ravaged Lakers, who had lost 29 of their previous 37 games. Meeks was 11 of 18 from the field and 14 for 14 at the line while becoming the third player to reach the 30-point mark this season for Los Angeles.
Meeks is averaging 19.2 points in 11 games since returning from a sprained right ankle. Before the injury, he was averaging 14.4.
Durant had 27 points, 10 rebounds and 12 assists for his third triple-double this season. Serge Ibaka had 21 points and 15 boards for Oklahoma City.
March, 8, 2014
Mar 8
2:53
PM PT
EL SEGUNDO, Calif. – After giving up a whopping 408 points in their last three games – the most ever allowed over a three-game span in franchise history -- the
Los Angeles Lakers
will welcome the league's leading scorer in
Kevin Durant
to Staples Center on Sunday.
It will be the first of four straight games against the top two teams in the Western Conference – two against the
Oklahoma City Thunder
, followed by two against the
San Antonio Spurs
.
[+] Enlarge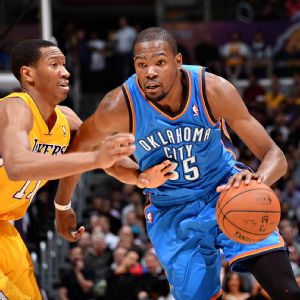 Andrew D. Bernstein/NBAE/Getty ImagesKevin Durant is averaging 37 points while shooting a perfect 20-for-20 from the foul line in two games against the Lakers this season.
"Tough times, tough schedule," said Lakers coach Mike D'Antoni on Saturday after the team held a brief shootaround in preparation for an early 12:30 game against the Thunder the following day that will seem even earlier because of daylight savings time.
The challenge come tipoff will be trying to keep Durant, who is averaging a career-high 31.8 points, from shooting the lights out. In two games against the Lakers this season, Durant is averaging 37 points while shooting a perfect 20-for-20 from the foul line.
"I don't think anybody has ever figured that out," D'Antoni said when asked how the Lakers could stop the seventh-year forward. "You just try to contain him. You try not to foul him. If you do that, then you're in for a long night. Try to make him make hard 2s, contested 2s. If he makes 15 or 20 of them, then you live with it. But you can't take away everything, or you'll give him everything."
Then there's
Russell Westbrook
, seven games back from a knee injury, averaging 21 points on 50 percent from the field and 48.4 percent from 3-point range in that span.
"He's an element that's hard to handle, and he's playing extremely well, especially shooting the basketball," D'Antoni said. "That's something that's scary to think that with all that athleticism, now he's starting to shoot the ball well. That's scary."
Westbrook had 19 points and 12 assists when the Thunder beat the Lakers in Oklahoma City in December, 122-97. Westbrook missed the next game in February, but the Thunder still won, albeit in a closer contest, 107-103.
The Lakers will have to protect the paint against the rim-running Westbrook if they hope to have a chance.
Pau Gasol
(sore left ankle) is probable after going through shootaround Saturday. If Gasol can't go, the team will likely look to second-year center
Robert Sacre
.
Despite the Lakers' struggles as a team their last three game, D'Antoni gave credit to Sacre for his improvement.
"Those are the little victories that we have to have," D'Antoni said of Sacre, who is averaging 8.3 points, 5.0 rebounds and 0.5 blocks in 17.5 minutes in four games this month. "We have to develop guys to get better to be able to go forward with what the franchise wants to do in the future. Those are other goals that we have, without losing. That's what we're trying to do."
They're also trying to correct their defense which has been virtually nonexistent of late.
March, 7, 2014
Mar 7
11:23
PM PT
DENVER -- It was some 16 months ago when Mike D'Antoni gave his introductory news conference with the
Los Angeles Lakers
. He was admittedly still a little loopy from pain medicine following reconstructive knee surgery, but regardless, the coach jokingly addressed the biggest shortcoming -- at least reputation-wise -- on his résumé right out of the gates.
"Maybe he can put the 'D' back in my name," D'Antoni said of
Dwight Howard
. "That would be nice. Some people have been taking that out."
[+] Enlarge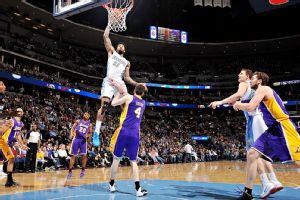 Bart Young/NBAE/Getty ImagesThe Lakers' energy and effort on defense seems to be getting worse and worse as a torturous season winds down.
Howard is long gone and so are any laughs from poking fun at the Lakers' defensive deficiencies, which have become so atrocious that the final point totals they're giving up lately make you do a double take at the box score.
This week L.A. allowed the
New Orleans Pelicans
to score 132 points, the
Los Angeles Clippers
to score 142 points and the
Denver Nuggets
to score 134 points. All three games were in regulation no less and all three games ended up, not surprisingly, as losses.
The Lakers have no business even dreaming of winning another game this season if they're going to keep giving up 136 points per game.
"You can't win that way," D'Antoni said after a 134-126 defeat to Denver on Friday. "We are trying everything we can do and the players are trying. Just a lot of it is that we were outrun, out-strengthened, outmuscled and out-fought a little bit. I don't know if the air is going out or we're tired or what the problem is."
D'Antoni has repeatedly said the team's best chance to win is by playing with a smaller lineup, spacing the floor and getting up and down the court, but when you don't have a ton of talent on your team, most opponents will do more with that increased amount of possessions and embarrass you with video-game numbers in the process.
Ty Lawson
had 30 points and 17 assists Friday.
Kenneth Faried
had 32 points and 13 rebounds. Those stat lines aren't even easy to get on NBA 2K14.
Playing at a more balanced pace masks the talent gap.
Just take a look at the
Chicago Bulls
. While they lost two of their best players this season in
Derrick Rose
to an injury and
Luol Deng
to a cost-cutting trade, they've continued to stay afloat thanks to their defense and grind-it-out style. In their past four wins, they've allowed a total of 358 points.
March, 7, 2014
Mar 7
8:50
PM PT
Associated Press
March, 7, 2014
Mar 7
8:39
PM PT
DENVER -- After suffering the most lopsided loss in the 67-year history of the
Los Angeles Lakers
franchise, coach Mike D'Antoni vowed for a change in Denver on Friday night.
"I expect a whole different team," D'Antoni said of his Lakers.
After giving up an average of 137 points in their past two home losses, turns out the only thing different about Friday was the venue.
For yet another night, the Lakers' defense proved to be about as effective as a screen door on a submarine.
Led by
Ty Lawson
's relentless drives and improved outside touch (the point guard had 30 points, 17 assists and shot 5-for-6 on 3-pointers), Denver did whatever it wanted to on offense and ran the Lakers off the floor.
Sure, the Lakers didn't allow the Nuggets to score 137 points, but 134 points got the job done just the same.
As disappointing as the 48-point drubbing on Thursday was, it could be accepted on some level because the
Los Angeles Clippers
are clearly a better team than the Lakers.
That's not the case with the Nuggets, however. Much like how the Lakers proved to be the salve that fixed the
New Orleans Pelicans
earlier in the week, playing sacrificial lamb to end Nola's eight-game losing streak, they also played Denver's doormat, as the Nuggets had lost 11 of 13 coming into Friday.
A popular question being asked after the Clippers game was whether the Lakers had already quit on the season with 20 games left. While the result against the Nuggets was discouraging, there was no evidence to suggest that the purple and gold are already packing it in.
There are too many individual agendas at stake. With a roster composed of 12 out of 15 players on expiring deals, there will be nights like the Nuggets game the rest of the season when a
Ryan Kelly
(24 points, 11 rebounds) or
Xavier Henry
(10 points, five rebounds, two steals) impresses, but it's just not going to translate to wins.
How it happened
: Denver jumped out to a 12-point lead in the first quarter, setting the tone for another long night for L.A. The Lakers tried to get back into it in the second quarter with
Jordan Farmar
scoring eight of his 24 points in the period to draw L.A. within two at one point, but Denver used a 13-3 run to push the lead back to 11 at the half. The Nuggets went on to lead by as many as 23 in the second half as they coasted to victory.
What it means
: For one, there is a reason Phil Jackson used to call games like Friday -- the second night of a back-to-back against a run-and-gun team -- a "scheduled loss." It wouldn't have mattered who was coaching the Lakers in a situation like this -- Jackson included -- the challenge the Nuggets presented was as tough as it gets in the NBA. In other words, an eight-point loss to the Nuggets, all things considered, is not a bad bounce-back effort from L.A.
Hits
:
Pau Gasol
kept up his scoring ways, dropping in a team-high 27 points on 12-for-21 shooting.
Jodie Meeks
scored 16.
Kendall Marshall
broke out of his slump ever so slightly with eight points (on 3-for-9 shooting) and 16 assists.
Misses
: As good as Lawson was,
Kenneth Faried
might have been even better, finishing with 32 points on 14-for-20 shooting and 13 rebounds.
The Lakers were outscored 64-50 in the paint by the Nuggets.
Stat of the game
: 14-for-24. The Nuggets shot better from the 3-point line (58.3 percent) than they did on free throws, going 12-for-21 (57.1 percent).
Up next
: What's the Lakers' reward after playing four games in five nights? How about a pair of games -- one at home Sunday, followed by one on the road Thursday -- against the No. 1 team in the Western Conference in the
Oklahoma City Thunder
? No rest for the weary.