April, 1, 2015
Apr 1
1:33
PM PT

The Lakers waived Steve Nash to make room on the roster to sign rookie guard Jabari Brown.

April, 1, 2015
Apr 1
12:05
PM PT

By Baxter Holmes
ESPNLosAngeles.com
Archive
Steve Nash's tenure with the Los Angeles Lakers is officially over.
The team announced Wednesday that it formally waived the two-time MVP point guard, making room on the roster to sign rookie guard Jabari Brown for the remainder of this season with the possibility that the Lakers keep him around next season as well.
[+] Enlarge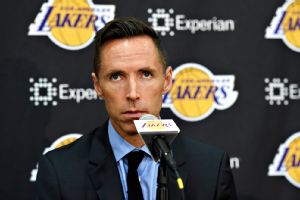 Harry How/Getty ImagesThe Lakers formally waived point guard Steve Nash on Wednesday.
During a pair of 10-day contracts with the Lakers, the second of which expired Monday, Brown appeared in 10 games, averaging 9.4 points on 50 percent shooting in 24.5 minutes per game.
Brown's best NBA performance was a 22-point outburst on 7-of-10 shooting Monday in an overtime win against the Philadelphia 76ers. Brown played at Missouri with fellow Lakers rookie Jordan Clarkson.
As for Nash, the future Hall of Famer formally announced his retirement last week after nearly 19 seasons in the NBA. His tenure in Los Angeles was mostly miserable.
Plagued by injuries, Nash played in in just 65 out of a potential 246 games throughout the three-year, $28 million deal.
The Lakers gave Nash that deal in 2012, mortgaging their future by shipping four draft picks to Phoenix despite Nash having suffered health troubles late in his tenure with the Suns.
April, 1, 2015
Apr 1
6:37
PM PT
By ESPN Stats and Information Group
ESPNLosAngeles.com

Anthony Davis has lead the New Orleans Pelicans on a four-game winning streak vs the Los Angeles Lakers, three of which have come earlier this season. With a win tonight the Pelicans will sweep the regular season series for the first time in franchise history.
Last three games vs Lakers this season:
Davis is averaging 25.7 pts, shooting 69% from the field, 8.7 rebs and 4.0 blks.
April, 1, 2015
Apr 1
2:15
PM PT
The second 10-day contract signed by guard
Jabari Brown
expired on Monday and Wednesday the
Los Angeles Lakers
decided to give him
a rest-of-season contract
, which includes 2015-16 at a non-guaranteed salary. By signing Brown, the Lakers will now have the guard on their summer league roster in July.
April, 1, 2015
Apr 1
9:10
AM PT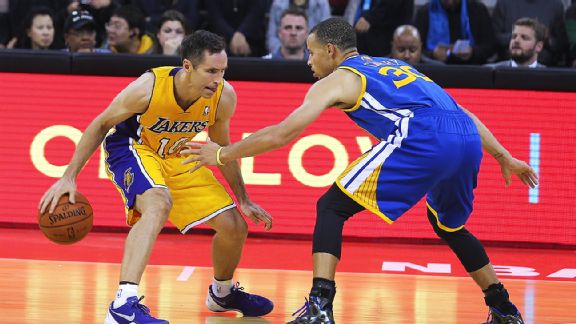 ChinaFotoPress/Getty ImagesAn elite playmaker who can spread the defense? Stephen Curry is Steve Nash 2.0.
This story appears in ESPN The Magazine's April 13 Point Guard Issue. Subscribe today!
We gave the visionary point guard a pen and a mission: Illustrate the theories that drove his game-changing MVP career. Here's the result, straight from the mind of Steve Nash ...
Click here to see the full image.
1. Nash ran the offense that changed the NBA -- and the point guard position -- forever. And when we asked how he saw the game, he began with this sketch. The pre-Nash NBA, you see, was all about overwhelming opponents with mismatches. But Nash's game wasn't about finding spots where great players were guarded by inferior ones; it was about finding spots where good players were guarded by nobody at all. His brain was the supercomputer behind it all, seeking in real time the highest-quality shots, namely: those at the rim and in the corner, where the closer 3-pointers are more likely to go in.
March, 31, 2015
Mar 31
9:00
PM PT
The current crop of NBA point guards is creating a special kind of buzz. Russell Westbrook is the most athletic point guard ever once you factor in his size. Steph Curry is making a push to be the best shooter in league history. John Wall is in incredibly rare air as an elite passer, pure athlete and talented defender. And, of course, Chris Paul is arguably the best overall point guard in the game and a surefire first-ballot Hall of Famer.
Meanwhile, the rookie class of point guards, though it isn't setting the league on fire, has a few guys who have shown the potential to be All-Star caliber players or long-term starters. While it's not likely that any of them will be in the conversation for "best point guard in the league" going forward, it's too early to entirely rule out that possibility. Remember, all of the names mentioned above had their doubters, too.
To continue reading this article you must be an Insider
March, 30, 2015
Mar 30
7:31
PM PT

By Baxter Holmes
ESPNLosAngeles.com
Archive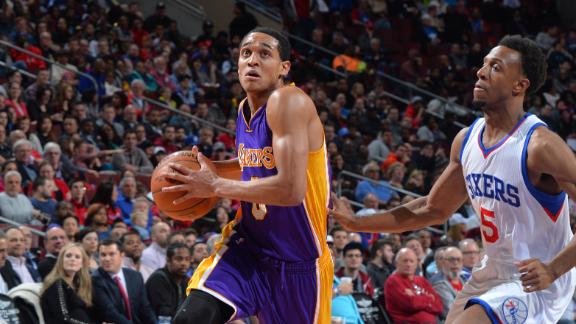 This issue came up last week, when the Los Angeles Lakers beat the Philadelphia 76ers at Staples Center in Los Angeles.
We wrote then that the Lakers' win could come back to haunt them if they end up losing their top-five protected 2015 first-round pick to -- who else? -- the 76ers.
And now, a week later, here we are again.
The Lakers beat the 76ers Monday in Philadelphia, posting a 113-111 overtime road win behind a huge game from rookie point guard Jordan Clarkson (26 points, 11 assists).
However, as was the case last week, it could end up being a costly Lakers win.
For a while now, both the Lakers and 76ers have been contending for the league's third-worst record -- and if the Lakers had finished the regular season in that spot, they'd have had a very strong chance (96 percent) of retaining their top-five pick.
However, after beating the 76ers twice in two weeks, it appears the 20-53 Lakers will finish the regular season with the league's fourth-worst record, meaning they'll have an 82.8 percent chance of retaining that pick.
And as the fine folks at ESPN Stats & Information pointed out, recent history says not to be too confident the Lakers will keep the pick should they enter the lottery in that fourth spot, even though 82.8 percent seems like a solid figure.
Over the past five years, teams that had a pre-lottery position of fourth dropped to sixth on two occasions: the Golden Warriors in 2010 and Washington Wizards in 2011.
In other words, there's a realistic chance the worst season in Lakers franchise history doesn't result in the only possible reward such a season could have brought them -- a top lottery pick and the promising young player who comes with it.
Instead, with their wins over the 76ers in the past two weeks, the Lakers could end up losing that pick to a franchise that's much better at losing when it needs to lose.
March, 30, 2015
Mar 30
7:12
PM PT
Associated Press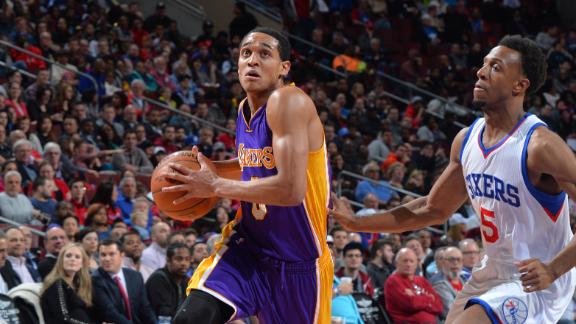 PHILADELPHIA -- Jordan Clarkson scored 26 points and made the tiebreaking basket with 0.7 seconds left in overtime to lift the Los Angeles Lakers past the Philadelphia 76ers, 113-111 on Monday night in a matchup of two of the NBA's worst teams.
Jabari Brown finished with 22 points for the Lakers (20-53). Wayne Ellington added seven of his 20 points in OT, including a 3-pointer that put the Lakers up 111-105 with 1:25 left.
Rookie Nerlens Noel led the 76ers (18-57) with 19 points and 14 rebounds for his ninth double-double of the month. He scored six points in the final minute of overtime to tie the game at 111.
March, 29, 2015
Mar 29
3:26
PM PT

By Marc Stein
ESPNLosAngeles.com
Archive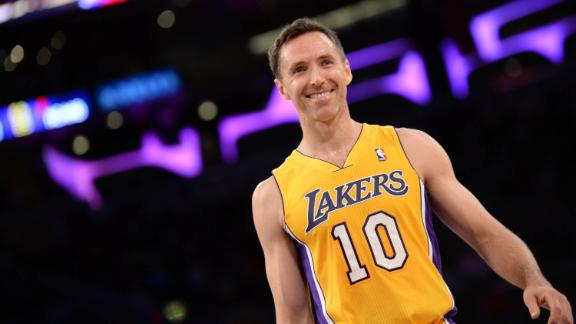 We've had a week to digest the official retirement of future Hall of Fame point guard Steve Nash.
Which means we've also had a week to digest how small the pool of players who were drafted in the 1990s is getting.
We're down to 12 active NBA players, in fact, who were drafted in the previous millennium. According to the list compiled by ESPN.com's tireless Adam Reisinger:
1995: Kevin Garnett (No. 5 overall pick)

1996: Kobe Bryant (No. 13)

1997: Tim Duncan (No. 1)

1998: Vince Carter (No. 5), Dirk Nowitzki (9), Paul Pierce (10), Nazr Mohammed (29)

1999: Elton Brand (No. 1), Andre Miller (8), Shawn Marion (9), Jason Terry (10), Manu Ginobili, (57)
You'll note that the three most-tenured players on this list can be found today with their original teams, although KG's circumstances are obviously different from Kobe's and Timmy's. While Bryant and Duncan, like Nowitzki, have played for only one franchise throughout their entire careers, Garnett took a detour from Minnesota of nearly eight years before the Timberwolves reacquired him in February on trade deadline day.
There are five current players in the NBA, meanwhile, who were born after Garnett was drafted. They are: Dante Exum, James Young, Noah Vonleh, Aaron Gordon and Bruno Caboclo.
And there are two players in the top 20 of Chad Ford's Big Board for 2015 -- Devin Booker and Malik Pope -- were born after Kobe and Nash were drafted in 1996.