March, 29, 2015
Mar 29
2:59
PM PT
Associated Press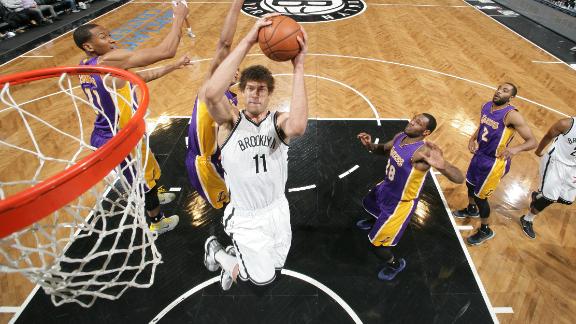 NEW YORK -- Brook Lopez had 30 points and 11 rebounds, and the Brooklyn Nets kept up their playoff push by beating the Los Angeles Lakers 107-99 on Sunday for their third straight victory.
Joe Johnson added 18 points, eight rebounds and seven assists for the Nets, who entered play a half-game behind Boston for eighth place in the Eastern Conference. The Celtics hosted the Los Angeles Clippers later Sunday.
Brooklyn won for the fifth time in six games to give itself a chance at a third straight postseason berth after an underwhelming first half of the season.
The schedule is favorable for a late-season run, with the Nets two games into a stretch that sees them play seven of nine at home -- with another just across the river at the league-worst Knicks.
Reserve Jordan Hill had 22 points and 16 rebounds for the Lakers.
March, 29, 2015
Mar 29
12:26
PM PT

With Steve Nash announcing his retirement, we're down to only 12 active NBA players who were drafted in the previous millennium.

March, 29, 2015
Mar 29
3:26
PM PT

By Marc Stein
ESPNLosAngeles.com
Archive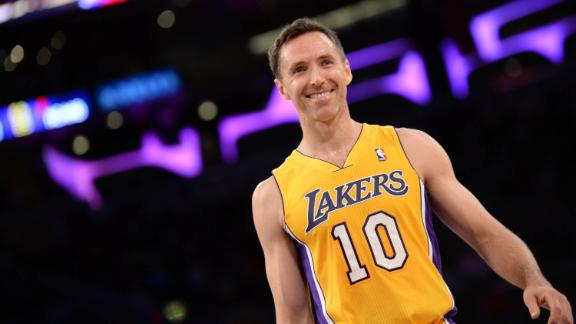 We've had a week to digest the official retirement of future Hall of Fame point guard Steve Nash.
Which means we've also had a week to digest how small the pool of players who were drafted in the 1990s is getting.
We're down to 12 active NBA players, in fact, who were drafted in the previous millennium. According to the list compiled by ESPN.com's tireless Adam Reisinger:
1995: Kevin Garnett (No. 5 overall pick)

1996: Kobe Bryant (No. 13)

1997: Tim Duncan (No. 1)

1998: Vince Carter (No. 5), Dirk Nowitzki (9), Paul Pierce (10), Nazr Mohammed (29)

1999: Elton Brand (No. 1), Andre Miller (8), Shawn Marion (9), Jason Terry (10), Manu Ginobili, (57)
You'll note that the three most-tenured players on this list can be found today with their original teams, although KG's circumstances are obviously different from Kobe's and Timmy's. While Bryant and Duncan, like Nowitzki, have played for only one franchise throughout their entire careers, Garnett took a detour from Minnesota of nearly eight years before the Timberwolves reacquired him in February on trade deadline day.
There are five current players in the NBA, meanwhile, who were born after Garnett was drafted. They are: Dante Exum, James Young, Noah Vonleh, Aaron Gordon and Bruno Caboclo.
And there are two players in the top 20 of Chad Ford's Big Board for 2015 -- Devin Booker and Malik Pope -- were born after Kobe and Nash were drafted in 1996.
March, 27, 2015
Mar 27
7:13
PM PT
Associated Press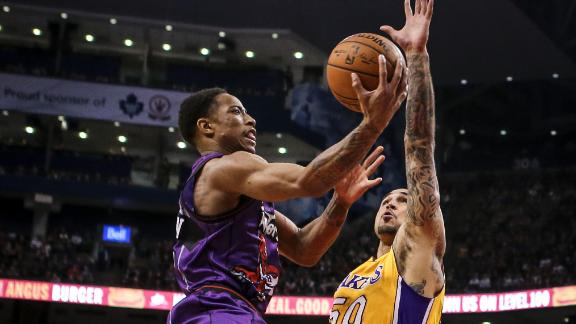 TORONTO -- The Toronto Raptors clinched their second straight Atlantic Division title, beating the Los Angeles Lakers 94-83 on Friday night behind 18 points from Lou Williams and 19 from Jonas Valanciunas.
James Johnson had 17 points, Amir Johnson 11 and Terrence Ross 10 as the Raptors snapped a two-game skid and beat the Lakers for the first time since Dec. 8, 2013.
Jeremy Lin scored 18 points and Jordan Clarkson had 14 for the Lakers, who lost for the 11th time in 14 games.
Toronto's DeMar DeRozan scored six points, making just one of his 10 field goal attempts and missing a dunk in the fourth quarter, but he had 10 rebounds and seven assists, both team highs.
March, 27, 2015
Mar 27
3:47
PM PT
ESPN.com news services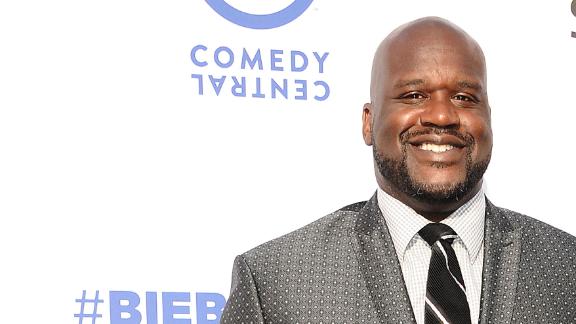 ORLANDO, Fla. -- It's been nearly two decades since Shaquille O'Neal left the Orlando Magic to pursue the championship that eluded him during his first four seasons in the NBA.
He returned Friday to be inducted into the Magic's Hall of Fame, a moment he said was an "unexpected" celebration of his contributions to the franchise. It was also a reunion that prompted O'Neal to acknowledge regrets about leaving his original NBA team.
"It's unexpected because I came here to win. We won games, and then I made a business decision," said O'Neal, who becomes the third member of the Magic's hall, joining co-founder Pat Williams and first-ever draft pick Nick Anderson. "It's never personal. The [team owner Rich] DeVos family knows that. And I accomplished [a championship] somewhere else. It's not like I didn't think they weren't going to be upset or anything. But it's business. It was all business.
"Do I regret it? I never fully answer it. I regret it sometimes. Is this where I started and should have stayed? I actually wish they made it a law that whoever drafts you, you gotta stay there your whole career."
O'Neal was just a potential-filled 20-year-old when he arrived from LSU as the No. 1 overall pick in the 1992 draft. Almost immediately, the 7-footer commanded the attention of the entire league with his dominant presence on the court and gregarious personality off it.
It all helped him take the Magic from an infant expansion team to their first NBA Finals appearance in 1995.
So it's not lost on O'Neal why the backlash was so strong when he joined the Los Angeles Lakers, where he would go on to win three of his four NBA championship rings.
March, 26, 2015
Mar 26
6:48
PM PT
ESPN.com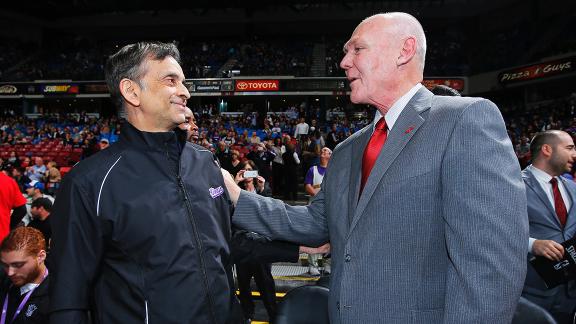 March, 26, 2015
Mar 26
7:05
AM PT
ESPN.com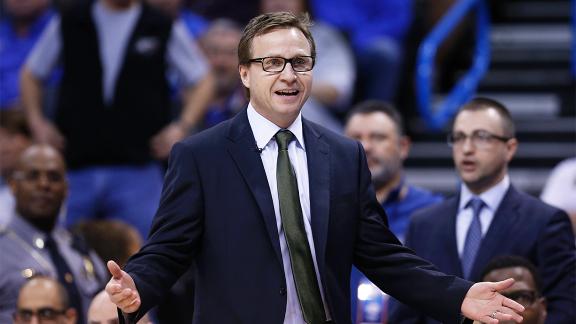 March, 25, 2015
Mar 25
7:51
PM PT
Associated Press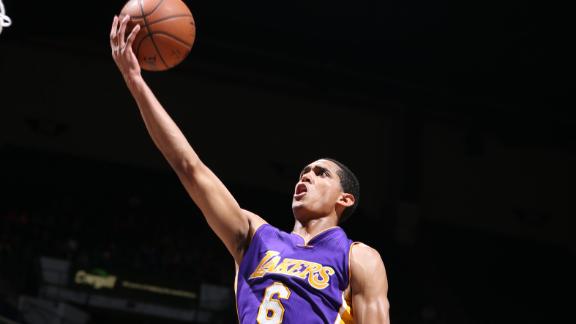 MINNEAPOLIS -- Jordan Clarkson hit two free throws with 0.3 seconds left in overtime to send the Los Angeles Lakers over the Minnesota Timberwolves, 101-99 on Wednesday night.
Clarkson scored eight points in overtime and finished with 20. Jeremy Lin added 19 points for the Lakers, who snapped a five-game road losing streak and won for the second time in three games.
Andrew Wiggins had 27 points for Minnesota.
Chase Budinger scored 22 and sent the game into overtime with a 3-pointer with 6.6 seconds left in regulation as the Timberwolves erased a 13-point, second-half deficit.
March, 25, 2015
Mar 25
3:33
PM PT

By Baxter Holmes
ESPNLosAngeles.com
Archive
OKLAHOMA CITY -- Though it would end up just another loss in a trying season, the Los Angeles Lakers made history in Wednesday's game against the Oklahoma City Thunder.
The duo of Jordan Clarkson and Jeremy Lin became the first-ever Asian-American starting backcourt in the NBA.
"Proud to make history tonight with [Jordan Clarkson]," Lin wrote in a caption of a photo of him and Clarkson on his Instagram account."First ever starting Asian-American backcourt in the NBA!! Proud of rook for that 30-piece too! #asianinvasion#halfasiancounts"
Clarkson scored a career-high 30 points in the 127-117 loss to the Thunder, and Lin scored 19 points. Each guard added seven assists.
March, 25, 2015
Mar 25
6:13
AM PT
Associated Press
CANTU, Italy -- Former NBA All-Star Metta World Peace has signed for Italian team Pallacanestro Cantu for the remainder of the season.
After a series of teasing tweets from the 35-year-old World Peace -- such as "whatever you can do I Cantu better" -- Cantu confirmed the news, calling it "the coup of the century."
World Peace, who changed his name from Ron Artest, was playing for the Sichuan Blue Whales in the Chinese Basketball Association after a long NBA career that included stints with the Chicago Bulls, Indiana Pacers, Sacramento Kings, Houston Rockets, Los Angeles Lakers and New York Knicks.
"When Daniele (sporting director Daniele Della Fiori) told me about the possibility of signing Metta World Peace, I thought that this could be the right shock to boost the squad at a crucial time in our season," Cantu president Anna Cremascoli said. "Metta will bring a wave of enthusiasm to the whole of Italian basketball and not just to Cantu."
World Peace, 35, averaged 19 points and six rebounds in 15 games for Sichuan -- where he also changed his name to "The Panda's Friend" -- but with the Chinese season over, he has turned to Italy.
World Peace won the NBA title in 2010 with the Lakers, where he also spent a season with Darius Johnson-Odom, who has been at Cantu since August.
"I'm happy, obviously," Johnson-Odom said. "I've spoken to Metta on the phone and he's very excited about this new adventure. I'm sure he will give us a great contribution, because we're talking about an absolute champion."