July, 1, 2016
Jul 1
7:59
PM PT
Jason Miller/Getty ImagesKent Bazemore is coming off his first season as a regular and averaged a career-high 5.1 rebounds per game.
The Atlanta Hawks have reached a verbal agreement to re-sign wing Kent Bazemore on a four-year deal worth $70 million, his agent, Austin Walton, said.
The fourth year of the deal is a player option, league sources told ESPN.
Bazemore, who turned 27 on Friday, is a defensive specialist who has worked his way up after going undrafted. He had several suitors, including the Houston Rockets and Los Angeles Lakers.
Bazemore declined four-year, $72 million offers from the Rockets and Lakers, a source told ESPN, confirming an NBA.com report.
Bazemore played 23 games for the Lakers after they traded for him in 2014, and a source said he "seriously considered" their offer before deciding to return to the Hawks.
Combined with their agreement with Dwight Howard on a three-year, $70.5 million deal earlier Friday, the Hawks have nearly exhausted their available salary-cap space, while All-Star free agent and nine-year team veteran Al Horford has yet to pick a team.
However, the Hawks were engaged in trade talks Friday that potentially would allow them to open more cap space in the event Horford decided to re-sign. Horford is one of the most coveted free agents on the market, with several teams interested in him, including the Boston Celtics
July, 1, 2016
Jul 1
11:43
AM PT

By Baxter Holmes
ESPNLosAngeles.com
Archive
Rookie swingman Brandon Ingram, the 2016 No. 2 overall draft pick, and second-year guard D'Angelo Russell, the No. 2 overall pick last summer, highlight the Los Angeles Lakers' 2016 NBA Summer League roster, which the team announced Friday.
The Lakers will play at least five games in the Las Vegas Summer League tournament from July 8-18, with their first games falling on July 8 against the New Orleans Pelicans and then July 9 against the Philadelphia 76ers.
Other notable players on the Lakers' summer league roster include Croatian center Ivica Zubac, who was taken with the 32ndoverall pick this summer; forward Larry Nance Jr., a first-round draft pick last year; and swingman Anthony Brown, a second-round draft pick last year.
The Lakers are scheduled to open summer league practice July 5 at their training facility in El Segundo, Calif. Jesse Mermuys, whom the Lakers announced Friday will join rookie head coach Luke Walton's staff as an assistant for the 2016-17 regular season, will coach the Lakers' summer league squad.
Mermuys joins the Lakers after being a head coach for the Toronto Raptors' NBA D-League affiliate, the Raptors 905. He was also a assistant coach under Raptors head coach Dwane Casey for two seasons. Like Walton, Mermuys attended the University of Arizona.
Mark Madsen will be an assistant coach for the Lakers' summer league team and will retain that role -- one that he held for the last two seasons under ex-Lakers head coach Byron Scott -- in the upcoming regular season, the Lakers announced.
Brian Shaw was also officially announced as an assistant on Walton's staff. Shaw won three titles as a Laker from 2000-02 and then two more as an assistant coach in 2009 and 2010. He also served as a head coach of the Denver Nuggets for two seasons.
July, 1, 2016
Jul 1
9:02
AM PT
July, 1, 2016
Jul 1
8:40
AM PT
July, 1, 2016
Jul 1
10:52
AM PT
By Isaac Chipps
ESPNLosAngeles.com
Archive
Barry Gossage/NBAE/Getty Images
Free-agent guard Evan Turner is a wanted man. According to Sporting News, Turner is being courted by at least six teams.
On Thursday, ESPN's Ian Begley reported that Turner is planning to meet with the New York Knicks, and Sporting News reports that the Bulls, Pelicans, Mavericks, Lakers and Grizzlies are all attempting to sign Turner as well.
Last year, Turner, 27, averaged 10.5 points, 4.9 rebounds and 4.4 assists per game as the Celtics' sixth man.
July, 1, 2016
Jul 1
7:34
AM PT
Lakers begin free agency by agreeing to four-year deal with Timofey Mozgov: The Lakers' continual search for a big man led them to a backup center for the Cleveland Cavaliers. Still trying to find someone to replace Pau Gasol, the Lakers agreed to terms Thursday with Timofey Mozgov on a four-year, $64-million deal. The Lakers moved quickly, reaching agreement with Mozgov within 45 minutes of the start of the free-agent period. He made $4.95 million last season. -- Los Angeles Times
Lakers need a home run, but they're way behind in the count: The Lakers are beginning the NBA's free agency period Friday in a legendary slump. Over the last three seasons, they are hitless in seven serious pursuits of serious players, from Carmelo Anthony to Dwight Howard to LaMarcus Aldridge. The Lakers are beginning the NBA's free agency period down two strikes. -- Los Angeles Times
Lakers agree to deal with Timofey Mozgov: The Lakers did not waste any time addressing the biggest hole in their roster. Even if it cost the Lakers plenty of money. Even if it involved pursuing a player that had a recently limited role. In a move that reflected the Lakers' urgent need at center and a rising NBA salary cap, the Lakers agreed to terms on Thursday with Cleveland center Timofey Mozgov on a deal worth $64 million through four years, according to league sources. -- Los Angeles Daily News
July, 1, 2016
Jul 1
2:11
AM PT
ESPN.com news services
Gary A. Vasquez/USA TODAY SportsJordan Clarkson started 79 games last season and averaged 15.5 points, 4 rebounds, 2.4 assists and 1.1 steals per game.
LOS ANGELES -- Jordan Clarkson has agreed to a four-year, $50 million deal to return to the Los Angeles Lakers, sources told ESPN's Jeff Goodman.
Clarkson is a rising star after two seasons with the Lakers, who acquired the 46th overall pick from Washington on draft night in 2014. The Missouri product has been a steady scorer and a rare bright spot on the two worst teams in Lakers history.
The Vertical first reported the agreement.
After averaging 11.9 points per game and making the NBA's All-Rookie team in the 2014-15 season, Clarkson boosted his production to 15.5 points per game last season, second on the team behind Kobe Bryant.
June, 30, 2016
Jun 30
10:18
PM PT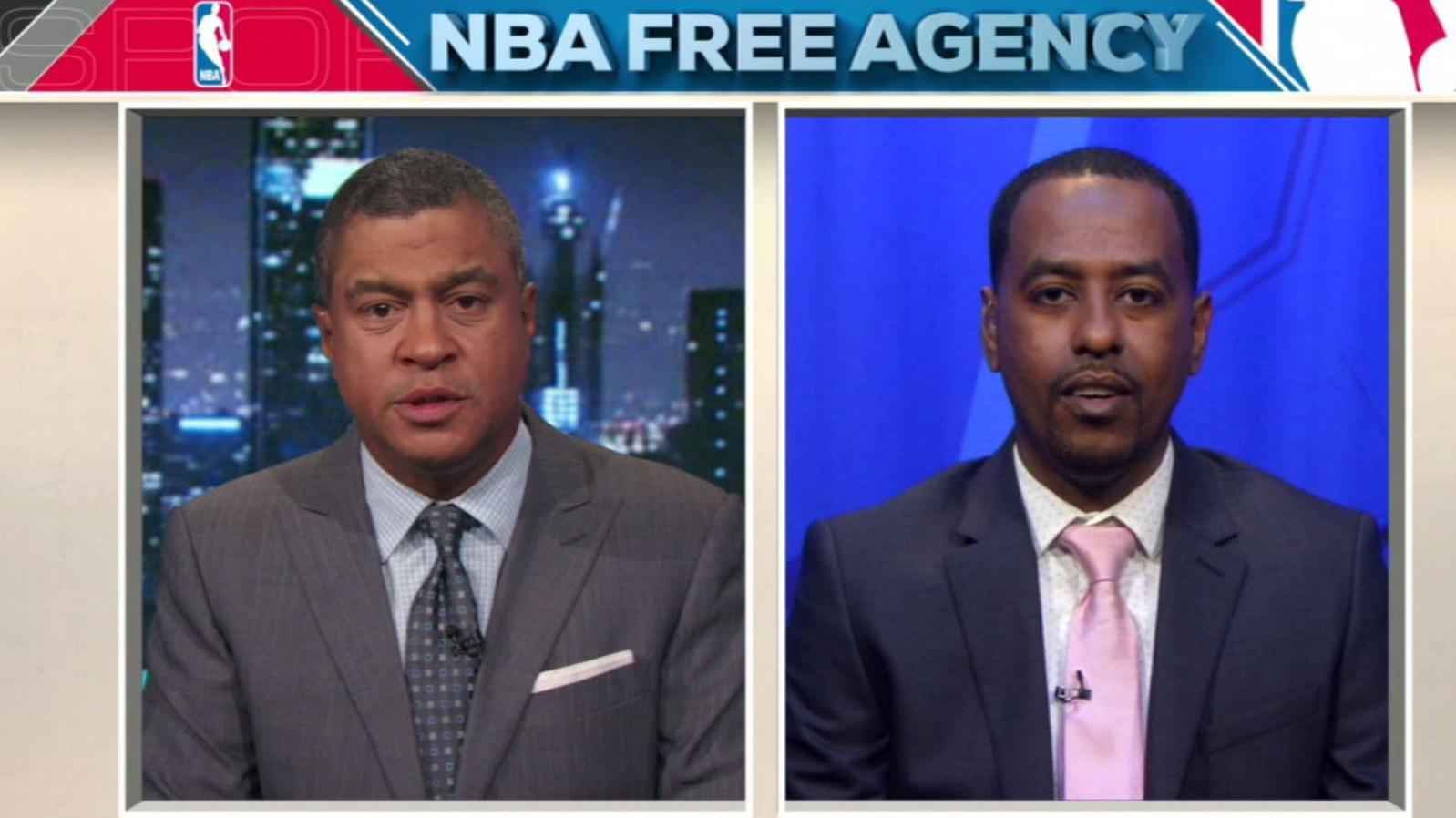 The Los Angeles Lakers and free-agent center Timofey Mozgov have reached a verbal agreement on a four-year deal worth $64 million, a source told ESPN.
The deal was first reported by The Vertical.
The Cleveland Cavaliers traded two first-round picks to the Denver Nuggets for Mozgov in January 2015.
His two seasons with Cleveland were relative opposites. In 2014-15, the 7-foot-1 center averaged 10.6 points and 6.9 rebounds in 46 games. He started all 20 games during the postseason, in which Cleveland lost to the Golden State Warriors in the NBA Finals.
This past season, Mozgov saw his role significantly reduced. He averaged 6.3 points and 4.4 rebounds during the regular season and just 1.2 points in 5.8 minutes during the postseason, which saw him play a combined 25 minutes in the Cavs' seven-game Finals win over the Warriors.
LeBron James tweeted his congratulations to Mozgov on Friday.
Mozgov turns 30 on July 16.
Information from ESPN's Ohm Youngmisuk was used in this report.
June, 30, 2016
Jun 30
3:29
PM PT
Jerome Miron-USA TODAY SportsThe Dallas Mavericks and Chandler Parsons will not be together another season, a source says. Parsons is being courted by the Blazers, Grizzlies, Lakers and Magic.
Forward Chandler Parsons and the Dallas Mavericks will definitely part ways after two seasons together, a source told ESPN.
"No chance," the source said when asked if there were any possibility that Parsons re-signs with the Mavs.
The divorce comes after the Mavs made it clear they had no intention to offer a maximum contract to Parsons, whose two seasons in Dallas both ended prematurely due to surgeries on his right knee. Parsons expects to sign a max deal and said as much during a recent question-and-answer session with fans on Twitter. A max contract for Parsons with the Mavs, who own his early Bird rights, would have been worth $98.8 million over four years. Other teams can offer him $94.8 million over four years.
June, 30, 2016
Jun 30
7:26
AM PT
Why Kevin Durant refusing to meet with the Lakers is a good thing for the organization: How can the Lakers make it up to Kevin Durant? A few uncontested 3-point attempts the next time his team – whichever one that is – comes to town? Dinner out at one of L.A.'s five-star restaurants? A date with a Kardashian? Believe it or not, Durant just might have done the Lakers a favor by reportedly leaving them off the list of six teams he will meet with when NBA free agents can begin negotiating late Thursday night. Wait, what? -- The Orange County Register
How will the Lakers fare in NBA free agency?: The length of the Lakers' shopping list seems extensive. Fortunately for the Lakers, they have plenty of money for a spending spree. Once free agency begins at 9:01 p.m. PT Thursday, however, the Lakers could soon realize $60 million in purchasing power will not ensure maximum leverage. -- Los Angeles Daily News
Here's who the Lakers might be looking to pick up (Hint: Kevin Durant is not on the list): There are quite a few holes to fill on the Lakers' roster. They currently have no centers and only one small forward with legitimate NBA experience — the embattled Nick Young. Lucky for them, they get to go shopping. And they have a lot of money at their disposal when free agency begins Thursday at 9:01 p.m. PDT. -- Los Angeles Times
June, 30, 2016
Jun 30
3:41
AM PT
In the opening hours of free agency, the Lakers made news by reportedly reaching agreements with free agent center Timofey Mozgov and Jordan Clarkson (to return) on four-year contracts.
Will the Mozgov move work well for the Lakers?
And what kinds of moves should the Lakers be making? Our NBA Insiders debate the future of the Lakers.
To continue reading this article you must be an Insider
June, 29, 2016
Jun 29
10:24
PM PT

By Baxter Holmes
ESPNLosAngeles.com
Archive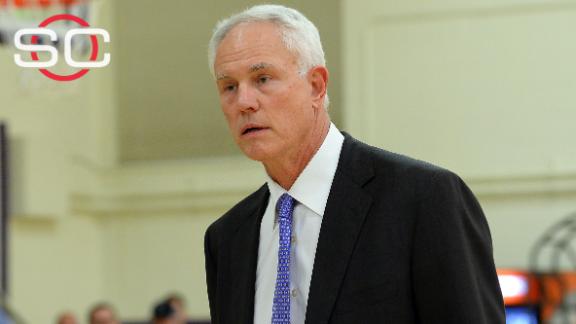 Maybe this summer will be different. Maybe this is the one that breaks the spell of the past three and sends superstar free agents stampeding back to Los Angeles for more than just an offseason vacation in Rhode Island-sized Brentwood mansions. Maybe now, finally, NBA A-listers will sign with the Los Angeles Lakers, revitalize the league's glamour franchise and carry it to a slew of champagne-soaked Junes.
Or, as Lakers general manager Mitch Kupchak said recently, "It might not be different." With those five words, Kupchak doused expectations of Lakers fans, preparing them instead for a fourth straight summer of rejection, another offseason of nope.
Sure enough, the latest free agency bonanza, which kicks off at 12:01 a.m. ET Friday, figures to unfold much like the trio that preceded it: with the Lakers striking out on all their top targets, the biggest fish whom the Lakers once always seemed able to reel in.
But that was before the team hit the darkest stretch in its otherwise rich history, missing the playoffs for three straight seasons (a franchise-long drought); and posting a franchise-record for losses in three straight campaigns (winning only 17 games in 2015-16). Along the way, they were turned down by LeBron James, Carmelo Anthony and DeAndre Jordan, and All-Star big men Pau Gasol and Dwight Howard each walked away in free agency to accept less money from other teams.
As if the script hasn't been flipped enough, one year after losing Greg Monroe and LaMarcus Aldridge to small markets (Milwaukee and San Antonio, respectively), the Lakers couldn't even get an audience with Kevin Durant, sources told ESPN's Chris Broussard. Meanwhile, Durant has secured sit-downs with other teams, including two of the Lakers' rivals: the Clippers and Boston Celtics.
With a projected $60 million to spend thanks to the skyrocketing salary cap, the Lakers can afford two max-level players (compared to only one last summer) and still have several impact players in their sights, including Hassan Whiteside, Al Horford, Nicolas Batum, Harrison Barnes and Ryan Anderson, sources tell Broussard.
Even then, none of those players would instantly lift the rebuilding Lakers from the Western Conference cellar. Overall, positives are hard to find, but there is one element of free agency that, at the very least, will be different for the Lakers this season –- their pitch.
"We can focus a little bit more on the basketball side of it, because we have more to sell," Kupchak said.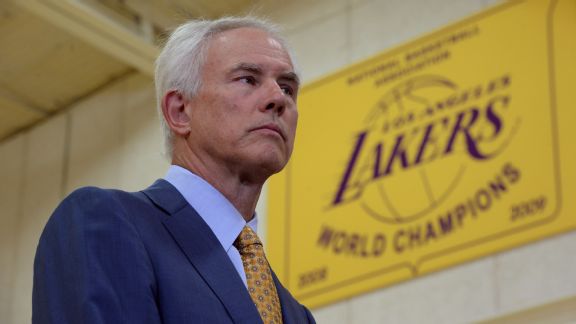 Andrew D. Bernstein/Getty ImagesLakers GM Mitch Kupchak has had to endure several summers of free agency rejection, and despite plenty of cap space, Kupchak is prepared for another disappointing free agency season. But it won't be for lack of trying.
In recent free agent sit-downs, the Lakers, knowing full well that their on-court product was putrid, relied on their television partners and AEG to help produce video presentations that pushed their Hollywood connections, postcard-perfect climate and glorious yesteryear. When the subject turned to basketball, crickets chirped.
"We just didn't have that much to sell," Kupchak said.
To drive home that point, Kupchak relayed how, generally speaking, the dialogue flowed last summer.
"Well, you're going to get to play with Kobe [Bryant]," Kupchak said he would tell a prospective free agent, mentioning the ball-dominant icon, who was headed into his 20th and final NBA season.
"But Kobe has been injured," Kupchak said the free agent would respond, noting Bryant's three consecutive season-ending injuries. "Is he going to be healthy, Mitch?"
"Well, I don't know that."
"And then who else am I going to play with?"
"Well, you're going to love playing with Julius Randle," Kupchak would say, referencing the bruising power forward, who was the seventh overall pick in the 2014 NBA draft.
"But he only played one game," the free agent would respond, a nod to the broken leg that ended Randle's rookie season in the Lakers' opener.
"And then you're going to love playing with the No. 2 pick, who hasn't played at all," Kupchak would say, naming rookie point guard D'Angelo Russell.
In short, it's not hard to see why Aldridge complained that his Lakers meeting focused too much on branding and marketing and not enough on his actual day job. And it's hard not to see why the Lakers have struck out year after year after year.
But, all things considered, the Lakers believe their position has improved entering this summer, thanks to their deeper pockets and promising young core of Russell, Randle, Jordan Clarkson, Larry Nance Jr. and, now, the No. 2 overall pick in the 2016 draft, Duke freshman standout Brandon Ingram.
Beyond that, Bryant's absence allows for a superstar to take the reins of the franchise, a selling point that the Lakers believe is plenty appealing.
The particulars of their new pitch will, Kupchak said, "depend on the free agent." In terms of who will deliver it, Kupchak indicated that he, Lakers' executive vice president of basketball operations Jim Buss and rookie head coach Luke Walton will lead the meetings.
Kupchak added that depending on how free agency unfolds, "There may be meetings, there may not be meetings. Things may be done quickly, they may take a week or two. There may not be face-to-face meetings, there may be a couple."
So there are unknowns. The Lakers' aforementioned core is composed of players 24 years old or younger. The 36-year-old Walton, an ex-Golden State Warriors assistant, is the NBA's youngest coach. And the Lakers' front office could undergo a massive shake-up a year from now if Buss follows through on his public proclamation that he'll step down if the Lakers don't make a deep run in the 2017 playoffs. (There are rumblings that if Buss leaves, Kupchak could be out the door as well.)
While uncertainty looms, the Lakers for now can only focus on tangible progress, even if taking baby steps only amounts to a minimal win increase following the worst record in franchise history. At the moment, the most important goal for a roster built around so much youth is to add veterans.
"History tells you that a bunch of young guys on the team is probably not a good thing," Kupchak said. "They look around for leadership or they look around for advice from somebody who's been through this a couple times and if there's nobody to talk to, well, you don't know how to handle the situation.
"So I think we will look to add some veteran leadership, and hopefully it's not only leadership but guys who can help us win games. It's unlikely that would come about via trade, although it's possible, but it's more likely that would come about through free agency."
The Lakers and their fans will hold out hope that a franchise-altering player will return the team to relevance, but, at the moment, the more realistic formula for success is developing its fledgling talent, though Kupchak stresses that those players are under no timeline.
"I don't think there's a plan in terms of, if it doesn't work a year from now, we're going to break it up," Kupchak said. "Or if we don't win 36 games or 42 games or 48 games [next season], it's over. That's not the plan at all.
"I think what we'd like to do is put together a group of players that are growing, that are fun to watch and they improve as the season goes along -- clearly, with the intent to keep the interest of our supporters, our fans, our partners, our season-seat holders. You do have to win games.
"That doesn't mean we have to win 40, or 45, or 50. It may not even mean you make the playoffs. I don't know what it's going to take to make the playoffs next year. Maybe you've got to win 48 games to get in in the West. And maybe we win 47. Or maybe we win 37. I don't know.
"But as long as the team is fun to watch, our fans and our partners can see a team that's growing and getting better as the season goes along, I think that's the barometer that's best for us."
June, 29, 2016
Jun 29
3:42
PM PT
June, 29, 2016
Jun 29
3:18
PM PT
Steve Russell/Toronto Star via Getty Images
It's time for our annual search for what some team executives used to call the "next DeMarre Carroll" -- guys with NBA track records so limited, smart teams might be able to swipe them on the cheap.
Our list last year included Bismack Biyombo, Mirza Teletovic, Ed Davis, Cory Joseph, Will Barton, Derrick Williams, Jonas Jerebko and some other success stories, plus some semi-busts such as Kyle O'Quinn.
The unprecedented $20 million-plus leap in the salary cap ahead of next season makes the scavenger hunt tougher. There are not enough quality free agents to soak up the money; some teams will splurge on a no-names just to hit the minimum salary floor, or punt the floor altogether. Tested veterans such as D.J. Augustin will not be sitting there waiting for minimum contracts.
Guys entering free agency today with resumes equivalent to what Biyombo, Davis and Teletovic carried a year ago are going to get paid a ton. There is no point in putting Kent Bazemore, Allen Crabbe, Ian Mahinmi or Jerebko (if Boston lets him walk) on this list; those guys are going to bank $10 million per season or, in at least Bazemore's case, much more.
You have to dig deeper to find a real bargain, which means your chances of hitting go down. These are worse players, and some of them will bank crazy one- and two-year deals from teams desperate to unload cash on any leftover free agent with potential.