February, 9, 2016
Feb 9
7:44
AM PT
By ESPN.com
ESPNLosAngeles.com

Kobe Bryant gets hot then cools off in final minutes of Lakers' 89-87 loss to Pacers: It was like the good old days, Kobe Bryant heating up quickly and yanking the Lakers back into a game. But now they're simply old days for the 37-year-old. -- Los Angeles Times
Kobe Bryant's latest farewell stop brings fond memories : Shaquille O'Neal used to like Kobe Bryant. He called him the world's best player here in 2000, and it was entirely sincere. Bryant's most recent stop on his goodbye tour was where he came of age in the NBA Finals. He remembered it fondly Monday before the Lakers lost to the Indiana Pacers, 89-87. -- Los Angeles Times
Lakers live and die by Kobe Bryant's shooting in 89-87 loss to Pacers: His shot kept falling short over and over again. The Lakers played at a mind-numbing pace that would put most people to sleep. But as Kobe Bryant has done and learned throughout his 20-year career, he remains bound to accomplish three things. -- Los Angeles Daily News
Lakers coach Byron Scott shocked as Knicks fire Derek Fisher: The news struck Byron Scott in multiple ways. The Lakers' coach sounded incredulous over the New York Knicks firing Derek Fisher as head coach, both out of respect for the coaching field and because they played one season together nearly 20 years ago with the Lakers. -- Los Angeles Daily News
Lakers' Kobe Bryant offers advice to Peyton Manning about retirement: He studied the game endlessly. He demanded plenty from his teammates. He fought through every injury imaginable. He remained consumed with winning championships. That will mark the legacy of Lakers guard Kobe Bryant once he retires following his 20th NBA season and becomes a first-ballot Hall of Famer. But that description also applies to Denver Broncos quarterback Peyton Manning, who helped Denver defeat Carolina on Sunday to collect his second Super Bowl title. -- Los Angeles Daily News
Lakers 'live,' then 'die' with Kobe Bryant's shooting in loss to Pacers: Kobe Bryant had scored 11 straight points. Contested 3-pointers were traveling from his fingertips, over the defender and through the hoop as if on a track. Then, with the Lakers on the verge of one of their gutsiest wins of the season, Bryant's shots stopped falling. -- The Orange County Register
February, 8, 2016
Feb 8
9:47
PM PT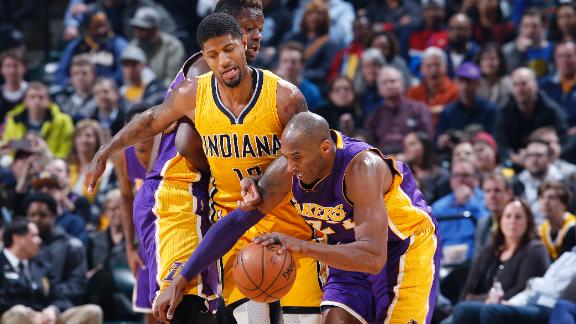 INDIANAPOLIS – During his final stops at various arenas, Kobe Bryant has said he wants to give fans a good show, something that they'll remember from their last trip to see him in person.
For a nearly two-minute stretch in the fourth quarter Monday, the Los Angeles Lakers icon delivered exactly what Indiana Pacers fans were hoping to see -- one of his patented scoring flurries in which he seemed unstoppable.
In his final game in Indianapolis, Bryant kicked off his deluge with a jumper with 4:15 left. Then he buried a 25-foot 3-pointer from the right wing with Pacers' star Paul George guarding him tightly. Then Bryant nailed a 23-foot 3-pointer in the right corner with George closing on him fast.
And finally, with 2:30 left, Bryant buried a 27-foot 3-pointer from the top of the key with George and another defender on him.
As the shots kept falling, the crowd kept roaring louder and louder, turning Bankers Life Fieldhouse into Staples Center East. Fans chanted "Ko-be!" and Bryant's last shot gave the Lakers a three-point lead in a game that the Lakers would ultimately lose 89-87.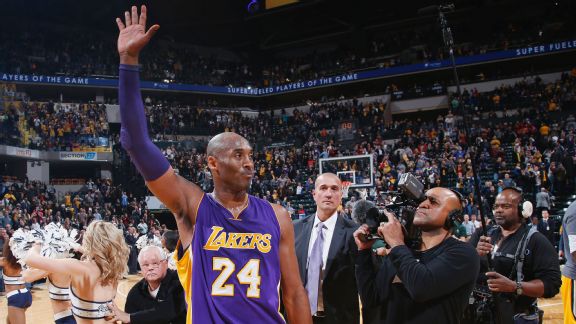 Joe Robbins/Getty ImagesKobe Bryant's last trip to Indiana saw the Lakers' star put on a brief fourth-quarter show.
"For a second, I was stunned," George said. "He hit shot after shot after shot."
But Bryant wasn't too impressed. He jokingly said his reaction to that hot streak was, "About time." Bryant felt that way because before those four straight makes, he was shooting an atrocious 2-for-16 from the field.
And after those four makes, Bryant missed his final five shots.
"I made a shot and then went back to shooting like s---," Bryant said with a laugh. "I pulled the rabbit out of the hat and the rabbit disappeared."
Before the game, Bryant said he wasn't sure when he would have good games or when he would struggle. He just knew that it would either go one way or the other, as it has been all season.
"It's either been s--- or Shinola," he said with a laugh.
His field goal percentage of 24 (6-for-25) ties his third lowest such percentage ever in a game with 25 or more field goal attempts. His worst such shooting effort came on April 5, 2002, when Bryant shot 5 of 26 in a loss in Boston.
The 37-year-old Bryant, who finished with 19 points, said his body felt "horrible."
"Just trying to get loose, man," he added. "The last two games have been like that. Starting out, just being completely locked up, and as the game goes on, I kind of loosen up a little bit more; but the last two games at the start have been pretty tough. I got to make a little adjustment between now and [Wednesday's] game in Cleveland and try to start the games a little looser."
Speaking of such changes, Bryant said he needs more treatment and stretching.
Lakers coach Byron Scott said he was fine with Bryant's shot selection late, even though several shots were deep 3-pointers when Bryant was well-guarded.
"He hit three big ones for us, so I wasn't going to go away from him then," Scott said.
Scott also said of Bryant's shooting, "Sometimes you live and die with it, and I'm willing to do that with him."
Pacers coach Frank Vogel praised Bryant, calling him "great" and "one of the best ever."
'I'm not unhappy that's the last time I face Kobe," Vogel said.
The game was sealed when George made a driving layup on Bryant and was fouled. George, a Southern California native who grew up watching Bryant, made the free throw, giving the Pacers the edge for good.
"For me to finish the game off with a layup and a drive with him guarding, this one was an epic finish, a special finish," George said.
The loss dropped the Lakers to 11-43.
In his final game in Indiana, Bryant largely reflected on his first NBA Finals, which came against the Pacers in 2000. The Lakers would win the series four games to two, giving Bryant the first of his five championships.
"I was excited, extremely excited," Bryant said of that series. "It's different. Like if I compare it to our last championship [in 2010] against the Celtics, the mentality was much different because I had won four [titles], so it's like, 'OK, we can't lose this one.' Whereas the first one was, 'I can't wait to win this one.'
"When it's the first time around, you kind of have this young ignorance of just going out there and playing, and losing wasn't even a thought that even crossed my mind. It was like, 'I'm just going out there and going to work,' whereas in the later stages of your career, you become more conscious of the opportunity of failure."
Walking back into the locker room brought back memories too.
"I had a different seat in the locker room today than when we came here in the Finals, but I was kind of looking over where I was sitting, and I remember getting ready and all the treatment on the [sprained] ankle and remembering all the energy in the building and getting ready to run out for this Finals matchup. It all just kind of came back to me and remembering that this was the start of the run."
Bryant also praised Pacers fans.
"When I played here, these fans were always very tough," he said. "From what I can tell, watching college basketball on TV, it's as close to college basketball as you can get with the sections that they have and the chanting and things like that. They've always been pretty tough on me here. Tonight at the end to get a thank-you chant from them, it was very special."
Bryant walked off the court to chants and a standing ovation, as he has in virtually every arena this season, his 20th and final season in the league.
February, 8, 2016
Feb 8
9:01
PM PT
CLEVELAND -- With the Los Angeles Lakers out of playoff consideration -- let alone championship consideration -- it's safe to say there will be only three more games for Kobe Bryant and LeBron James to play against one another.
Two of them will happen this week: on Wednesday, when the Cleveland Cavaliers host the Lakers, and in Sunday's All-Star game in Toronto, where Bryant and James will face off in the annual East vs. West game.
James admitted Monday that seeing Bryant play out his final season has touched him.
"Anytime I even watch his games, even when I'm not playing him, it's always, like, very emotional just knowing it's his last hurrah," James said after the Cavs' 120-100 win over the Sacramento Kings. "And he's done so much, not only for the Lakers organization, but for me as a kid growing up watching Kobe and things of that nature and also competing against him.
"So it's going to be really cool to see him on Wednesday for sure, and hopefully -- I know our fans -- they're going to give him a great reception, well-deserved."
A source told ESPN that the Cavs will honor Bryant with a pregame video, as many teams have done.
It promises to be another special moment for Bryant in a 20-year career filled with them. When Bryant announced his impending retirement in late November, James said his most memorable game with the five-time champion was when they won the gold medal for USA Basketball in the 2008 Beijing Olympics.
James shared his favorite Bryant moment on Monday.
February, 8, 2016
Feb 8
6:40
PM PT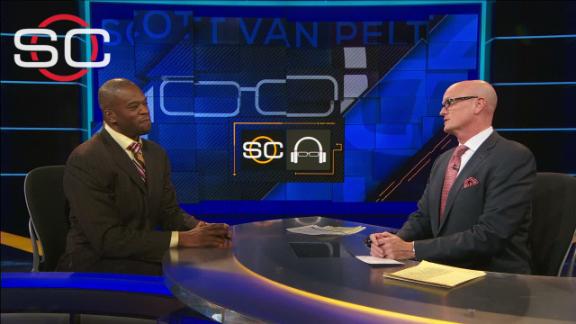 Luke Walton was just a number -- injured salary cap fodder the Los Angeles Lakers sent to the Cleveland Cavaliers in 2012 to snag Ramon Sessions. Walton had logged just 65 minutes that season in L.A., and back injuries had sidelined him for most of the two prior seasons.
He was done.
And out of nowhere, he found magic on the Cavaliers' second unit with Shaun Livingston, another broken body Cleveland scooped up after Washington waived him. In practices, they discovered such potent give-and-go synergy, that Byron Scott, the coach of those sad-sack post-LeBron Cavs, started calling plays for them.
"I have such fond memories of that time," said Walton, who now coaches Livingston and Marreese Speights -- another member of that Cavs bench mob -- in Golden State. "It was a great way to end my career after all the back injuries. We all still laugh about it. The game was fun again."
And thus was born the Luke Walton All-Stars, our annual roster of journeymen and role players thriving in unexpected ways. One or two players have bristled at earning Walton status, but it is meant to be an honor. Not everyone can be a star. A Walton is a shape-shifter who tailors his game to fit the context of a particular team, and revels in the grunt work. He makes everyone's life easier.
"When someone first sent me the column, I assumed it was an insult: Why would there be a Luke Walton All-Stars?" Walton remembered. "But when it was explained to me, I liked it. I took pride in being a glue guy. I love this game. I feel like when it's played a certain way, it can be fun for everyone, and teams have more success."
With those wise words from our captain emeritus, here are the fifth annual Luke Walton All-Stars.
STARTERS
February, 8, 2016
Feb 8
8:36
PM PT
INDIANAPOLIS -- Responding to recent comments from NBA commissioner Adam Silver about a potential rule change to the "hack-a-player" strategy, Kobe Bryant said Monday that outlawing that tactic would "set a horrible example for kids."
Bryant, a 37-year-old star for the Los Angeles Lakers, made his comment in response to a reporter's question after the Lakers' 89-87 loss to the Indiana Pacers at Bankers Life Fieldhouse.
"You can't protect guys because they can't shoot free throws," Bryant said. "You're getting paid a lot of money to make a damn free throw, dude. I think it sets a bad precedent. I wouldn't change it."
Silver recently told USA Today Sports, "I'm increasingly of the view that we will be looking to make some sort of change in that rule this summer.
"Even for those who had not wanted to make the change, we're being forced to that position just based on these sophisticated coaches understandably using every tactic available to them. It's just not the way we want to see the game played."
February, 8, 2016
Feb 8
6:46
PM PT
Associated Press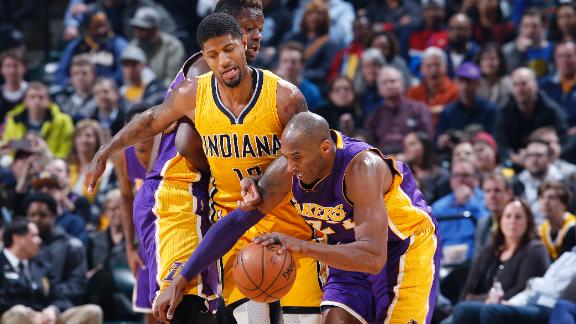 INDIANAPOLIS -- Indiana's Paul George scored all seven of his second-half points in the final 71 seconds Monday night and Monta Ellis made two free throws with 20.6 seconds left to seal an 89-87 victory over the Los Angeles Lakers.
George finished with 21 points and nine rebounds. Myles Turner added 14 points and 13 rebounds on a night the Pacers (28-24) blew a 17-point second-half lead, then scored nine straight points for the win.
Kobe Bryant scored 19 points in his final appearance in Indianapolis. He made three straight 3-pointers to give the Lakers an 82-79 lead with 2:30 left to play. But he also missed two 3s in the final 20 seconds.
When he was pulled out of the game with 10.8 seconds to go, the Pacers' crowd serenaded him with chants of "Ko-be, Ko-be."
But the Lakers (11-43) have still lost 12 of their last 15.
February, 8, 2016
Feb 8
2:25
PM PT
By One Nación
ESPNLosAngeles.com
Archive
Perhaps with a slight twinge of envy that quarterback Peyton Manning now has the option to retire at the top, with another championship in hand, Los Angeles Lakers guard Kobe Bryant posted a message of congratulations for Manning the morning after the Denver Broncos won Super Bowl 50.
Getty Images
Congrats to an all time great! #PeytonManning #SuperBowlChamps #muse

— Kobe Bryant (@kobebryant) February 8, 2016
Bryant has already declared that this will be his final season in the NBA, but Manning has yet to issue an official statement on his retirement. While Manning has just collected his second championship title in the NFL, Bryant has won five championships in the NBA. However, the Lakers are not on pace to make the playoffs this season.
February, 8, 2016
Feb 8
7:19
AM PT
By ESPN.com
ESPNLosAngeles.com

Roy Hibbert facing much different situation with Lakers than Pacers: The endless travel itinerary left Roy Hibbert initially unaware on the timing of his homecoming. But Hibbert insisted he does not make much of it, anyway. -- Los Angeles Daily News
Bryant staying positive amid struggling season: The smile has mostly stayed planted on Kobe Bryant's face, even when experiencing shooting slumps and witnessing youthful mistakes. His laugh has become warm and infectious when he shares funny stories of an accomplished 20-year NBA career. The losses pile up, but Bryant still sounds giddy about playing, as if it marks the first time he has picked up a basketball. -- Los Angeles Daily News
Lakers, among NBA cellar-dwellers, have 19.9% chance of winning the lottery: There was a very important game for Lakers fans over the weekend. Oklahoma City vs. Golden State? No. Lakers vs. San Antonio? Getting closer. The Philadelphia 76ers beat the Brooklyn Nets in a showdown of two fellow cellar-dwellers, a game with lottery intrigue for many Lakers followers. -- Los Angeles Times
February, 6, 2016
Feb 6
11:41
PM PT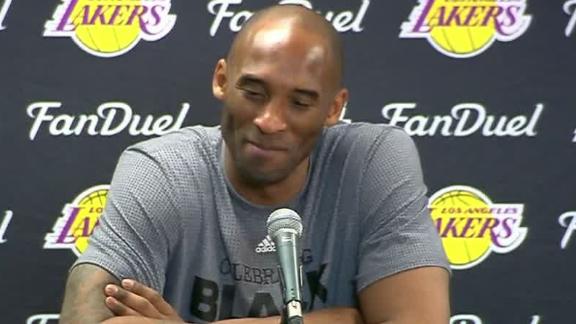 SAN ANTONIO -- Gregg Popovich doesn't have a specific memory. They all run together after so many years, so many timeless battles, all blurring into a single image that has come to haunt him -- Kobe Bryant, with a Spurs defender draped all over him, rising up from either baseline and burying a fadeaway jumper.
"I see him doing it all the time in my dreams," said Popovich, the San Antonio Spurs coach, before facing the Los Angeles Lakers icon one final time Saturday.
Bryant knows the feeling, one he calls mutual.
"I used to stay up all night thinking about how to pick apart their defense and coming up with different schematics of how to attack them and the different coverages that they throw at you -- first-quarter coverage all the way through the fourth," Bryant said after a 106-102 loss at AT&T Center. "I'd stay up, doodling on notepads and things of that nature of where their defense was coming from, where do I move Pau [Gasol], where do I move Lamar [Odom], and how do I beat it. Then you play against them and it's like, 'Dammit! That didn't work. All right, now I've got to think of something else.'"
The Spurs can soon sleep easy. Only one matchup remains: Feb. 19 in Los Angeles. After that, everything is history, the memories from six postseason series (Bryant's Lakers won four of them) and regular-season clashes (Popovich's Spurs hold a 35-25 record over Bryant).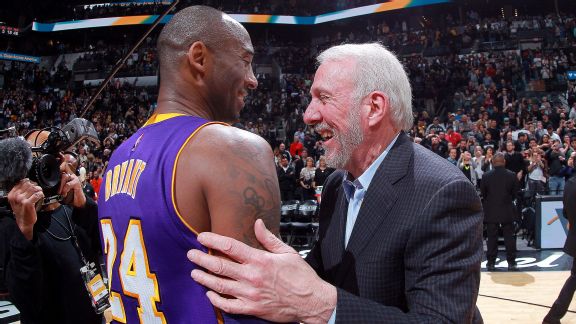 Layne Murdoch/NBAE/Getty ImagesKobe Bryant's Lakers have taken four of six playoff series from Gregg Popovich's Spurs, though Popovich wins the regular-season tally.
All told, Bryant has faced the Spurs in 90 total bouts, his most against any team, which is partly why he said his rivalry against this squad is "more personal" than any other, including the Lakers' most bitter rival, Boston.
"San Antonio was year in and year out," Bryant said.
Each team had title aspirations and often stood in the path of the other, and whoever prevailed usually celebrated with champagne in June.
But in his final game in San Antonio, Bryant gave Popovich and the locals a few more thrills before bidding adieu, especially in the third quarter, when Bryant scored 16 points, including 12 in a row during one stretch when he sank three consecutive 3-pointers.
"It was like watching Michael [Jordan]," Popovich said. "I was just watching. It was great. It was great. We made some mistakes. He took advantage of it. He's fantastic."
Bryant finished with 25 points, but it came on 9-of-28 shooting, 4-of-14 from 3-point range. It was a tough performance akin to earlier in the season, when he was shooting less than 30 percent and complained about his 37-year-old body bothering him quite often.
"I felt like the 'Tin Man' for a while," he said. "I couldn't find any oil anywhere to loosen up these joints."
Though the game itself was close, it was a mere sideshow to Bryant and the whole farewell.

Paying tribute to Kobe's career
Before the game, the Spurs played a moving 2˝-minute video tribute while a spotlight shone on Bryant, seated on the Lakers' bench. The video included interviews with Popovich, Tim Duncan, Tony Parker and Manu Ginobili, three longtime Spurs who have faced Bryant seemingly forever.
"You knew that every time you were going to compete against him, you had to bring it," Ginobili said. "If not, he was going to make you look bad, that's for sure."
"Whether you were up 20 or down 10 or whatever it may be," Duncan said, "you knew that he was someone you had to keep an eye on, you had to worry about, you had to fear, because he was going to bring it."
"He was for us the Michael Jordan of our generation," Parker said. "It was just an honor to play against him. Spurs-Lakers was a huge rivalry."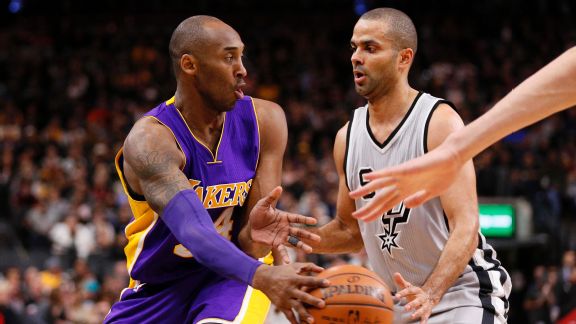 Soobum Im/USA TODAY SportsTony Parker's clutch play helped San Antonio survive a scare over the Lakers and Kobe Bryant, who gave his team the lead heading into the fourth quarter with 16 points in the third.
"Kobe's uniqueness lies in his uncommon ability to compete at the highest level night after night after night," Popovich said. "There aren't too many people who can do that. He's obviously skilled, but his professionalism and being responsible enough to do that on a nightly basis has always astounded me. He's the guy that is ready to put his foot on your throat and win at all costs every single night."
And Popovich delivered a message to Bryant as well.
"It's been a pleasure watching you all these years," Popovich said. "Your competiveness is inspiring. I hope that you're as successful in your next life as you've been in your first one. Good luck to you, man."
Even the Lakers players were moved.
"That was the best video that I've seen all year since we've been on the road," said Lakers guard Jordan Clarkson, a San Antonio native. "I watched him growing up, I watched him kill the Spurs and all kinds of stuff, so it was definitely cool to watch that."
"It was very nostalgic," Bryant said. "Brought back a lot of memories. Just felt extremely touched by it. It's great. It's weird. It's hard to get into a competitive mindset after that because you just feel so thankful for them even doing that. The amount of mutual respect."
And unlike all of the other tribute videos by opposing teams, this one showed Bryant scoring points against the team that created it. In fact, there were quite a few highlights of Bryant overpowering the Spurs.
"It shows the respect of the battles that we've had," Bryant said. "There's been times where we've got the best of them. There's been plenty of times where they've got the best of us. But the beauty was in the battle and the struggle between the two and the contrasting styles and the personalities. I think that's what makes this journey that we've both been on so beautiful."
Bryant particularly credits the Spurs with helping teach him discipline.
"When I first came in the league, I played off a lot of emotion, played with a lot of rage," Bryant said. "But to beat San Antonio -- I mean, the year we got swept in '99 really showed me another level of the game in terms of the kind of coldness with which they played, the disciplined that they played with. That's when I realized that I've got to get my game to that level and get it there now."

Popovich and Kobe's development
Popovich appreciated the sentiment.
"If that's true, even without us, I think he would've figured it out because we all know he's highly intelligent and his IQ is special," Popovich said. "So he would've figured out a little bit more tempered emotion and more directed emotion and a little bit of discipline can all go together and he did that. But I doubt he needed us to figure that out."
The relationship between Popovich and Bryant will continue at the All-Star Game in Toronto, where Popovich will be coaching Bryant on the Western Conference squad. Speaking of which, Bryant said one of his favorite Popovich memories included a past All-Star Game when Popovich was coaching.
"He came up to me right before practice and he said, 'Hey, should I do a real practice or should I do a whatever-walkthrough All-Star practice?'" Bryant recalled. "I said, 'No, you've got to do a real practice, because I want to see what the hell goes on down there in San Antonio, so you've got to do all the real stuff.' So he lined the guys up, put the guys through it and guys are kind of looking around like, 'What the hell?' And Tim just looked at me like, 'Dude, you're killing me.' [I said], 'Well, I want to see. I want to see what goes on.'"
The respect between the two brought about obvious questions about what could've been had Bryant played for Popovich all these years.
"We would've won a lot of championships," Bryant said.
But what about being in a system where players often sit out if they're dinged up or tired?
"It would've been fine, because they never would've known if I was dinged up or tired," Bryant said with a laugh. "You're on the training table?' Nope! I'm good! I'm good!"
Popovich laughed.
"He would've given me just as hard a time as Manu and Timmy have done over the years," Popovich said. "But when you're competitors like those guys, you don't want to sit."
And what of Bryant in San Antonio? How would he have fared?
"I think Kobe did fine just where he is," Popvich said. "He's L.A. We don't have a whole lot of L.A. around here."
Popovich added, "We've always been boring, from Day 1. Coach, players. We're no fun. No humor. I'm still looking for someone to get in trouble so we can get some street cred. I'm tired of this goodie-goodie stuff."

Kobe pays tribute to Spurs' consistency
Bryant has said he has been jealous of the consistency throughout the Spurs organization, a key component to the franchise's longtime success.
"I think that starts at the top with ownership," Bryant said. "They're very clear on what the identity is of this team. They're very clear on what they stand for and what they represent, and they're very clear on the style of player that they want to have. They've been consistent with that year over year, which is why it becomes easier for them to select certain players to draft or certain players to trade for, because they're looking for a certain type of player, right? I think that leads to consistency.
"We've had changes," Bryant said, speaking of the Lakers. "We have Dr. Buss passing away, you have Jeanie and Jim, you have Phil [Jackson] coming and going, you have all these things going on, and so as a result of system changing as well, there's a lot of inconsistency. What they've done here, which is phenomenal and probably comparable to the [New England] Patriots, is they've had so much consistency from top to bottom."
Bryant said that inconsistency has played a role in the Lakers' free-agency struggles; the team has struck out in each of the past three offseasons, especially losing out last summer on All-Star forward LaMarcus Aldridge, who chose to sign with the Spurs instead.
"I think it has a lot to do with it," Bryant said. "I think the players and free agents that come down the road, I think they're going to want to know what we represent as an organization, what we stand for and what the direction is and things of that nature. I think that helps free agents be more comfortable going into a situation.
"If you're a player and you want to win a championship, you've got to go to a place that already has those things established," Bryant added. "They know what they're doing. There's no confusion. You know which direction the ship is going."
Given everything, does the title-obsessed Bryant wonder how many more championships he could've won with such an organization as the Spurs?
"I mean, of course, I wonder that, but just for fun," he said. :But I can't sit here and complain. I've eaten pretty well, so I can't complain that there's no dessert left."
All in all, Bryant kept referring to his final game in San Antonio as strange.
"It's weird that this is the last time," he said. "I don't know. It's strange, man. It's strange. I remember the first time I came here and played, I was kind of like, 'Is this really a barn? What the hell is going on here?' "
In his final visit here, Bryant was showered with love, receiving standing ovations and several "Ko-be!" chants. When the buzzer sounded, Bryant hugged several Spurs players, then Popovich, then walked off the court, applauding the fans and saluting them.
"Ladies and gentlemen, Kobe Bryant!" the Spurs public address announcer said.
Bryant waved and disappeared into the tunnel one last time, saying goodbye to another arena where he made many memories, some of the best and worst he has ever known.