November, 30, 2015
Nov 30
1:28
PM PT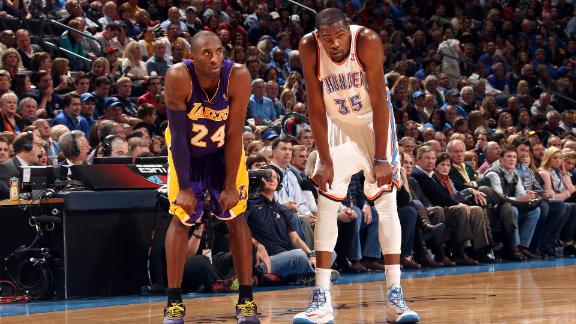 Oklahoma City Thunder forward Kevin Durant says he "idolized" Kobe Bryant as a player growing up, adding that he was angry at the media for their treatment of the Los Angeles Lakers star.
"I did idolize Kobe Bryant. I studied him, wanted to be like him," Durant said Monday at a shootaround in Atlanta. "He was our Michael Jordan.
"I've been disappointed this year because you guys [the media] treated him like s---. He's a legend, and all I hear is about how bad he's playing, how bad he's shooting and it's time for him to hang it up. You guys treated one of our legends like s---, and I didn't really like it. So hopefully now you can start being nice to him now that he decided to retire after this year."
Bryant, 37, announced Sunday that he is retiring at the end of the season. He is coming off injuries that have limited him to 54 games since the beginning of the 2013-14 season and has seen a steep decline in production.
Responding to social media backlash to his comments, particularly the part about media coverage, Durant said his point was noting the negativity around Bryant, rather than appreciating the accomplishments of a legend on his way out.
"I understand [the media] have to write about the game. Of course I understand that," Durant told ESPN.com. "Kobe hasn't played well, and his team hasn't played well, but did we expect that from them? You did say he was the 93rd-best player in the league, you did have the Lakers as the worst team in the West, but it seems like everybody is happy that he's going out like this. Every game he's played on TV is about how terrible he looks, every article the next day is about how he should retire and give it up. Just killing him.
"I never hear about the Finals MVPs, the accolades. They did it for [former Yankee] Derek Jeter, they will do it for Tim Duncan