February, 13, 2016
Feb 13
8:04
AM PT
ESPN.com news services
Los Angeles Lakers star Kobe Bryant has gotten one impressive retirement gift from Michael Jordan.
The Jordan Brand gave Bryant a full set of the sneakers released so far in the Air Jordan line -- 30 pairs in all. The gift was presented early Saturday at the Jordan Brand All-Star party, which Bryant attended.
"The Jordan Brand is about more than basketball, it's about leaving a legacy and honoring those who have left a legacy," Jordan Brand president Larry Miller said. "Tonight the brand was able to honor one of the game's great players and the legacy he created."
Included in the set are purple-and-gold versions of the Air Jordan III and Air Jordan VIII -- the two shoes that Bryant wore during the 2002-03 season.
Bryant, an 18-time All-Star who is retiring after this season, received the 30 pairs of white shoes in his size 14.
An alternate set of shoes -- in black, also size 14 -- is being auctioned off on eBay for charity with an opening bid of $100,000. The auction ends Sunday at noon ET.
The Associated Press contributed to this report.
February, 12, 2016
Feb 12
9:59
AM PT
February, 12, 2016
Feb 12
11:44
AM PT
By One Nación
ESPNLosAngeles.com
Archive
Ezra Shaw/Getty Images
Los Angeles Lakers star Kobe Bryant is in his final year in the NBA, but that doesn't mean he has stopped learning, including about what it means to really be a star.
It all started when Bryant posted a question on his Twitter feed. The hashtag #Kobe11 was in reference to his shoe line, where star themes often appear.
Who can tell me what a supernova is? #KOBE11

— Kobe Bryant (@kobebryant) February 11, 2016
One Los Angeles resident who responded happened to be a USC doctor, Rahul Dhawan. He works in the East L.A. community and goes by @ElDoctorRahul on Twitter -- his professional area of expertise is kidney transplants.
@kobebryant A supernova is a rare astronomical event that occurs during the last stellar evolutionary stages of a massive star's life, YOU

— Dr Rahul Dhawan (@ElDoctorRahul) February 11, 2016
Bryant was definitely amused by his answer, which spoke to both a scientific understanding of stars and an awareness of the point Bryant's career has reached.
— Kobe Bryant (@kobebryant) February 12, 2016
Keep up with all the latest Lakers news on their team page.
February, 12, 2016
Feb 12
6:48
AM PT
February, 12, 2016
Feb 12
7:34
AM PT
By ESPN.com
ESPNLosAngeles.com

Kobe Bryant wants to relish his final NBA All-Star game: The noise became louder with every move Kobe Bryant made. He stood up from a press table and groaned. Bryant moved his feet and winced. Bryant then uttered "Oh God," before stepping from the platform to the ground. He then walked gingerly after sitting for almost 12 minutes. -- Los Angeles Daily News
Lakers' D'Angelo Russell, Jordan Clarkson embracing NBA All-Star weekend: Plenty of their teammates will rest. Their head coach will vacation in Mexico. But for Kobe Bryant, D'Angelo Russell and Jordan Clarkson, the NBA All-Star break actually just means more work. -- Los Angeles Daily News
What will Kobe Bryant do in his final NBA All-Star game?: As Kobe Bryant's farewell tour alternately limps and lopes into its final lap, the strangest thing is happening. -- Los Angeles Times
Lakers' Jordan Clarkson, D'Angelo Russell plan to soak up the All-Star experience: A year ago, Jordan Clarkson's All-Star weekend was spent in the gym. He proudly watched as his high school number was retired in San Antonio, then he returned to Los Angeles for the first of several workouts with then-Lakers guard Steve Nash. That was when he was just trying to make an impression in the league. -- The Orange County Register
NBA All-Star Game no longer centers around big men: They are big, sometimes burly and almost always a force in the paint. Yet when it comes to All-Star voting, NBA centers are losing their footing. For a third consecutive season, the All-Star Game is light on big men, the result of a change in fan voting rules. No centers cracked the list of the 10 players who will start Sunday in Toronto. -- The Orange County Register
February, 12, 2016
Feb 12
6:17
PM PT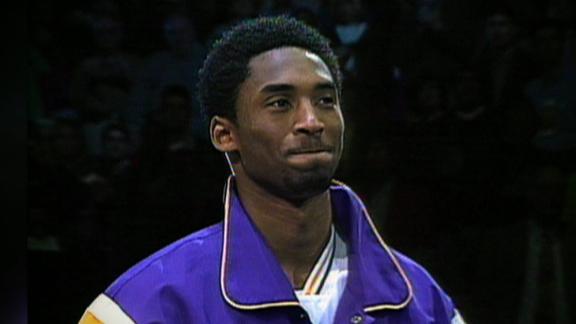 TORONTO -- "Kobe! Kobe! We're from Toronto. We just wanted to give you a retirement gift," the local radio station reporter said, pushing a cream-colored envelope and shimmering red gift bag replete with a white bow across the table.
"Dear Kobe," the envelope read in cursive, and inside the bag: a bottle of Brio, a sweet Italian soda produced in Canada.
"Ah, thanks, man," Kobe Bryant said, nodding before taking both gifts and carefully placing them beside his feet.
By that point Friday, the Los Angeles Lakers icon was nearly one minute into a 25-minute media session leading up to his final All-Star Game on Sunday at the Air Canada Centre. Four questions had been lobbed his way; nearly 70 more would follow, including if Bryant would miss talking to the media after he bids the NBA adieu.
"I'm not going to lie to you," he said with a smile, "and say 'yes.' "
But that early gesture epitomized the circus that has surrounded the 18-time All-Star throughout his season-long farewell tour, and it set the tone for the array of odd questions and unusual gifts to come, including a portrait depicting a samurai sword-wielding Bryant standing on the Lakers half-court logo in a purple kimono.
As usual this season, Bryant's responses were thoughtful, with an occasional dose of humor mixed in, such as when he was asked what it takes to secure entrance into the "vino club," a reference to Bryant's sobriquet (vino) that he has aged well.
"Well, to be old in age and young in spirit, how about that?" Bryant asked.
With a laugh, he then added, "You like the connection I made to wine with 'spirit'? Did you catch that?"
Of Sunday's game, Bryant, who will start, said he has "zero" inclination to win his fifth All-Star MVP award. He said he doesn't expect to play many minutes, either.