August, 30, 2015
Aug 30
3:33
PM PT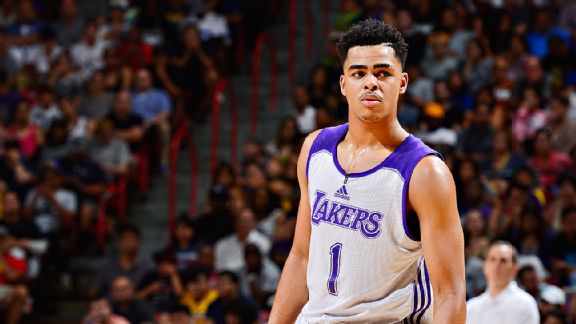 David Dow/NBAE/Getty Imagesnull

The No. 2 overall pick addressed his Tracy McGrady tweet, saying he 'wasn't downgrading Kobe at all.'

August, 28, 2015
Aug 28
9:11
AM PT
August, 25, 2015
Aug 25
8:17
AM PT
ESPN.com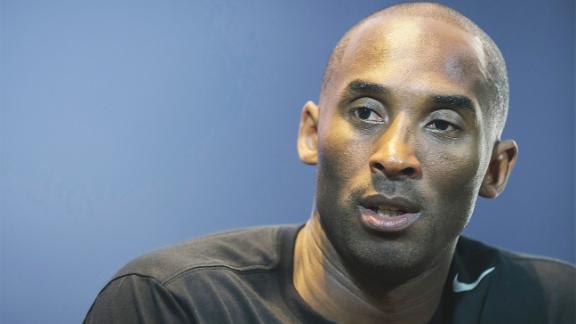 His 20th NBA season could be his last, but Kobe Bryant isn't ready to make that decision just yet. Neither is Lakers owner Jim Buss, who said on Thursday that he isn't shutting the door on Kobe after this season.
In the meantime, Kobe believes the new-look Los Angeles Lakers will make the playoffs in 2015-16 after missing out the past two seasons -- a franchise first since 1976.
But how much can Kobe contribute at age 37? His past three seasons have all ended early because of injuries, including last season when a torn rotator cuff shelved him in January.
Kobe, who said recently that he feels "extremely strong," plans to wait until after the season to see if he wants to continue playing. So we asked our ESPN Forecast panel to predict whether this season will be it for Kobe. Our voters were nearly split:
While 44 percent of our voters think Kobe will call it a career at season's end, 56 percent predict the Black Mamba will be back for more in 2016-17.
Your thoughts?
@ESPNNBA @kobebryant he needs to. I'm tired of seeing him make All Star games due to his lifetime achievements.
August, 28, 2015
Aug 28
12:24
AM PT

By Baxter Holmes
ESPNLosAngeles.com
Archive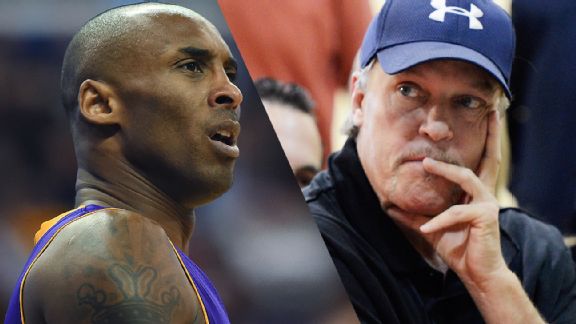 Getty ImagesJim Buss says it will be Kobe Bryant's decision on whether he continues his career when his contract runs out after the 2015-16 season.
Given Kobe Bryant's age and injury-riddled past, there is great intrigue about the star guard's health entering this upcoming season, but there is just as much intrigue -- if not more -- about whether it will be Bryant's final season with the Los Angeles Lakers -- or in the NBA.
Though the 37-year-old star guard is entering the final year of his contract, during which he'll be paid a league-high $25 million, Bryant has not said he'll retire at the end of the 2015-16 season, which will be his 20th season with the Lakers.
Instead, Bryant has repeatedly said he'll wait until the end of the season to make any decisions about his future, but his stance hasn't slowed speculation.
"We're going to approach it like it is [his final season], but that doesn't mean it is," Jim Buss, the Lakers' part-owner and executive vice president of basketball operations, told the Los Angeles Times on Thursday.
"I'm not going to sit there and say, 'This is it, Kobe, you're done,' because it's not my decision, it's his decision."
Lakers president Jeanie Buss made similar comments during a July radio appearance with KPCC, saying, "What I've made clear is only Kobe Bryant can decide when Kobe Bryant is done playing basketball. What I do want to stress is that we are celebrating his 20th year with the Lakers, which I don't think you're going to see very often [among players]."
Jeanie Buss added then, "The idea that you stay with one team your entire career is going to change a lot as free agency continues to evolve through collective bargaining. I think this is an opportunity that we have to pay tribute to somebody that has been great for the Lakers, been great for Los Angeles. It's just a nice opportunity to celebrate Kobe Bryant."
Bryant's past three seasons have all been cut short by injury.
Last season, during which the Lakers finished a franchise-worst 21-61, Bryant played only 35 games before suffering a torn rotator cuff in his right shoulder. The season before, Bryant played just six games because of a fractured kneecap.
The Lakers have been widely criticized for giving Bryant a two-year, $48.5-million extension in 2013 just months after he tore his Achilles' tendon -- and that criticism has only grown with Bryant playing just 41 games since then.
"The man has done so much for the Lakers and the fans of the Laker nation, he deserves the money," Jim Buss told The Times on Thursday. "I don't understand anybody trying to break down what I did for him. Let's break down what he did for us, then say, what is he worth? To me, he's worth that."
When asked if this was Bryant's final year with the Lakers, Jim Buss told The Times, "My arms are like this," and reportedly held his arms wide open, suggesting that the Lakers would welcome Bryant back.
August, 28, 2015
Aug 28
8:10
AM PT
By the time the NBA playoffs roll around next spring, it will have been nearly four years since Kobe Bryant suited up for a playoff game.
It will be approaching six years since he won his fifth championship ring with the Los Angeles Lakers. He has finished the last three seasons on the sidelines. With his contract expiring and his NBA experience meter about to click over to 20 years, it's fair to wonder whether this will be it for one of the game's greatest players. Bryant has hinted in the past that this season might be it, though he's left enough wiggle room for the rest of us to speculate.
We were posed this question in the Summer Forecast, and 56 percent of voters decided that Bryant will play on after this season. In reality, no one really knows, and perhaps Bryant himself doesn't know, either.
There's plenty to write regarding the basketball aspect of this. How will Bryant's presence help or hurt the Lakers' growing gaggle of young players? Is he shooting too much? (The eternal question with Bryant.) Can the Lakers afford to commit future cap space to him when they are trying so hard to build the right way and attract an in-his-prime superstar? But today, I want to focus on the historical aspect of this possibly being Kobe Bryant's last stand. Given the physical woes of his last three seasons, what would a successful farewell look like?
August, 26, 2015
Aug 26
6:14
PM PT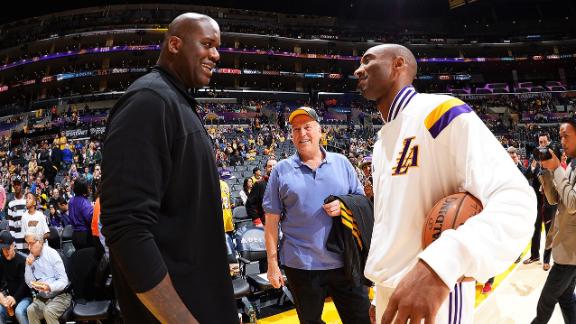 Kobe Bryant makes an appearance on Shaquille O'Neal's podcast, set to be broadcast Monday, and the former teammates address the intense feud that led to their split not long after winning three consecutive championships with the Los Angeles Lakers.
Bryant and O'Neal were teammates on the Lakers from 1996 to 2004 and won titles in 2000, 2001 and 2002. They also reached the NBA Finals together in 2004, when they lost to the Detroit Pistons.
The pair constantly clashed along the way, though, and ultimately split up, with O'Neal being traded to the Miami Heat, with whom he won the 2006 title.
Despite their success together with the Lakers, it is often believed the two could have achieved so much more had Bryant and O'Neal worked out their differences.
In the podcast, "The Big Podcast With Shaq," the two expressed regret over the feud.
"A lot of stuff was said out of the heat of the moment," O'Neal said in an excerpt from the podcast that was played on ESPN Radio on Wednesday. "I guarantee I don't remember a lot of stuff that they said, because I changed my thought process of, you know what, we won three out of four, what the hell are you all talking about? This is not really even a story."
Said Bryant: "Here's the thing, though. When you say it at the time, you actually mean it, and then when you get older you have more perspective, and you're like holy s---. I was an idiot when I was a kid.
August, 25, 2015
Aug 25
12:48
PM PT

By Baxter Holmes
ESPNLosAngeles.com
Archive
The Los Angeles Lakers signed undrafted free-agent guard Michael Frazier to a multi-year contract, the team announced Tuesday.
It's expected that Frazier received a partially guaranteed, minimum-salary deal, allowing him at least a chance at earning a roster spot.
The addition of Frazier brings the Lakers' roster total to 16, one more than the regular-season limit. A team is allowed to invite up to 20 players to training camp.
Frazier, 6-foot-4, played three seasons at the University of Florida, averaging 9.9 points, 3.5 rebounds and 1.1 assists in 25.7 minutes per game.
Most recently, Frazier played six games with the Golden State Warriors' summer-league team in Las Vegas, averaging 4.5 points and 2.7 rebounds in 15.8 minutes per game.