August, 26, 2015
Aug 26
6:14
PM PT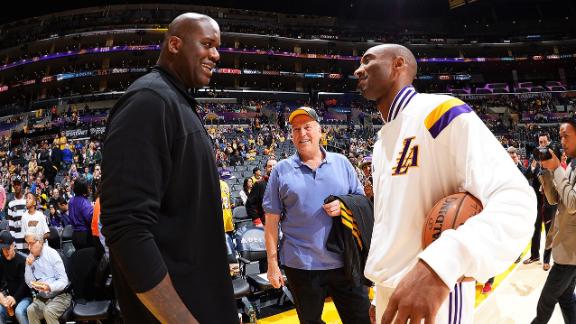 Kobe Bryant makes an appearance on Shaquille O'Neal's podcast, set to be broadcast Monday, and the former teammates address the intense feud that led to their split not long after winning three consecutive championships with the Los Angeles Lakers.
Bryant and O'Neal were teammates on the Lakers from 1996 to 2004 and won titles in 2000, 2001 and 2002. They also reached the NBA Finals together in 2004, when they lost to the Detroit Pistons.
The pair constantly clashed along the way, though, and ultimately split up, with O'Neal being traded to the Miami Heat, with whom he won the 2006 title.
Despite their success together with the Lakers, it is often believed the two could have achieved so much more had Bryant and O'Neal worked out their differences.
In the podcast, "The Big Podcast With Shaq," the two expressed regret over the feud.
"A lot of stuff was said out of the heat of the moment," O'Neal said in an excerpt from the podcast that was played on ESPN Radio on Wednesday. "I guarantee I don't remember a lot of stuff that they said, because I changed my thought process of, you know what, we won three out of four, what the hell are you all talking about? This is not really even a story."
Said Bryant: "Here's the thing, though. When you say it at the time, you actually mean it, and then when you get older you have more perspective, and you're like holy s---. I was an idiot when I was a kid.
August, 25, 2015
Aug 25
12:48
PM PT

By Baxter Holmes
ESPNLosAngeles.com
Archive
The Los Angeles Lakers signed undrafted free-agent guard Michael Frazier to a multi-year contract, the team announced Tuesday.
It's expected that Frazier received a partially guaranteed, minimum-salary deal, allowing him at least a chance at earning a roster spot.
The addition of Frazier brings the Lakers' roster total to 16, one more than the regular-season limit. A team is allowed to invite up to 20 players to training camp.
Frazier, 6-foot-4, played three seasons at the University of Florida, averaging 9.9 points, 3.5 rebounds and 1.1 assists in 25.7 minutes per game.
Most recently, Frazier played six games with the Golden State Warriors' summer-league team in Las Vegas, averaging 4.5 points and 2.7 rebounds in 15.8 minutes per game.
August, 21, 2015
Aug 21
9:57
AM PT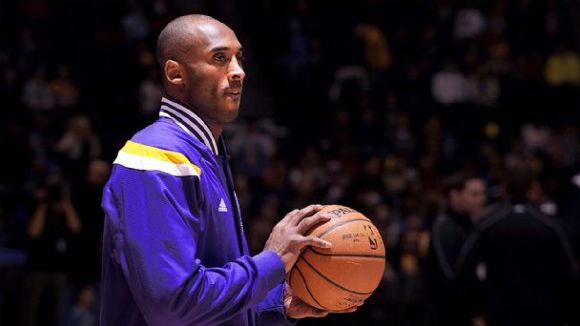 Bart Young/NBAE/Getty Images
In honor of Kobe Bryant's 37th birthday, here are 37 quote gems from the Mamba himself:
1. Feb. 18, 2015: "I've shot too much from the time I was 8 years old. But 'too much' is a matter of perspective. Some people thought Mozart had too many notes in his compositions. Let me put it this way: I entertain people who say I shoot too much. I find it very interesting. Going back to Mozart, he responded to critics by saying there were neither too many notes or too few. There were as many as necessary."
2. March 21, 2011: "We don't hang divisions."
3. December 1997: "When I have the chance to guard Michael Jordan, I want to guard him. I want him. It's the ultimate challenge."
4. Upon joining Twitter:
5. March 31, 2014, on Shaq: "It used to drive me crazy that he was so lazy. You got to have the responsibility of working every single day. You can't skate through s--."
August, 19, 2015
Aug 19
7:48
PM PT
ESPN.com news services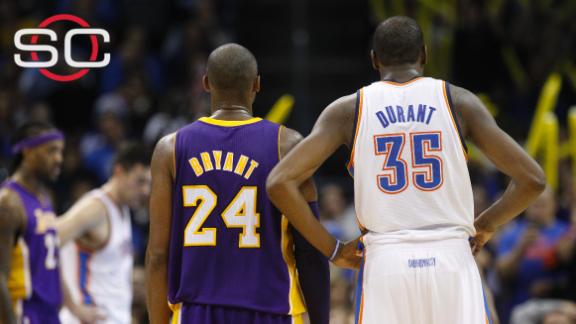 Kevin Durant and Kobe Bryant had injury-marred seasons to forget in 2014-15, but this year's rookie class still counts the stars of the Oklahoma City Thunder and Los Angeles Lakers as its favorite players.
Durant, at 21.2 percent, won the vote, edging out Bryant, at 18.2 percent, in an annual survey of rookies conducted by NBA.com.
LeBron James finished third at 15.2 percent to complete a top three that was identical to the choices of the 2014 rookie class. Reigning league MVP and NBA champion Stephen Curry finished tied with Dwyane Wade in fourth, each earning 9.1 percent of the vote.
The voting was conducted at the Panini Rookie Photo Shoot at the New York Knicks' practice facility earlier this month.
In addition to being asked questions about their expectations entering the league, the rookies were asked to evaluate their fellow 2015 draftees.
According to the rookies, No. 3 overall pick Jahlil Okafor is No. 1 when it comes to this year's class; the Philadelphia 76ers center was voted most likely to be named rookie of the year and most likely to have the best career.
August, 18, 2015
Aug 18
2:22
PM PT
ESPN's eighth annual Summer Forecast continued on Tuesday with a look at the 2015-16 Western Conference standings.
In the projections, which are determined by our ESPN Forecast panel, the Los Angeles Lakers are 14th in the West with a 26-56 record, five wins better than last year's team.
Do you agree or disagree with their ranking? To participate in the discussion and perhaps get your opinion published on our West standings page, #ESPNForecast is the Twitter hashtag to use. Or you can just follow along @ESPNNBA.
In the next couple of weeks, our ESPN Forecast panel will share its early projections for every team, rookie of the year, MVP, best newcomers, NBA champion, and much, much more.