May, 7, 2015
May 7
12:06
AM PT
Joe Maiorana/USA TODAY Sports
ESPN NBA insider Chad Ford hosted his weekly NBA Draft Q&A on Wednesday, and he was not left wanting for good questions.
One Minnesota Timberwolves fan -- not the real David Kahn (we think) -- is curious which direction the team should choose to pursue should two of the draft's perceived franchise foundation pieces be off the board already.
DKahn from MPLS: If the Wolves slip to the No. 3 or 4 position in draft, who is the best fit for them, assuming Karl-Anthony Towns and Jahlil Okafor are gone?
Chad Ford: D'Angelo Russell. His ability to shoot it will be really intriguing to them long-term. Kristaps Porzingis is also a good fit there long-term.
---
Russell, the talented guard out of Ohio State, seems a lock to be taken high in the lottery. Whichever team selects at three -- be it the Philadelphia 76ers, the Los Angeles Lakers, the New York Knicks, the Wolves or none of the above -- are guaranteed a promising prospect given the depth of the lottery talent.
For Ford's complete analysis, check out his pick-by-pick mock draft, and send your questions to Ford during next Wednesday's chat at 1 p.m. ET.
May, 5, 2015
May 5
6:02
AM PT
Steven Freeman/Getty Images
Commissioner Adam Silver joined Tony Kornheiser and Michael Wilbon on Monday's Pardon The Interruption, touching on a variety of issues under discussion in the league today.
Silver's segment, which begins at the 14-minute mark of the podcast below, included these selected excerpts:
On reforming the league's division system:
"On the divisions, maybe they've outlived their usefulness. ... If we're gonna say divisions matter, then we have to go all out and it has to mean something to win it. Fans have to understand what division their teams are in, and I don't get the sense now anyone really understands it."
On the Hack-a-Player strategy:
"I've heard from some of the greatest at our owners meetings, Michael Jordan Larry Bird ... their view is guys gotta make their free throws. And that's influenced me. ... I'm reluctant to make a change [to that strategy]."
On the losing-to-win rebuilding strategy:
"It's a legitimate strategy in the league right now. I don't think by any means its a disgrace. ... I think [the 76ers] are free to try it. They haven't violated any of our rules. I get it, I'm a fan too -- it's not great basketball to watch, but I don't have an easy solution to it.
Click below to listen to Silver's full comments.

April, 29, 2015
Apr 29
10:50
PM PT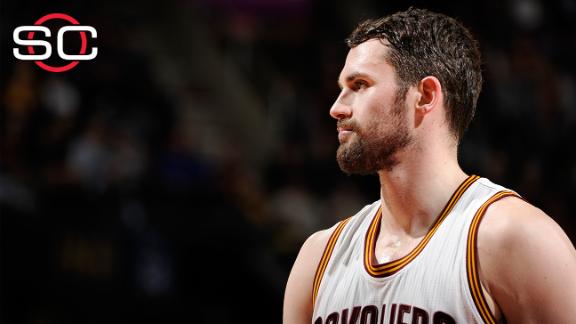 Kevin Love has played his last game for the Cleveland Cavaliers this season. The question for him now is whether he has played his last game ever for the team.
Love had left shoulder surgery Wednesday performed by a go-to surgeon for top athletes, Dr. David Altchek. The team announced a recovery timeline for 4-6 months, eliminating the thin bit of hope they had that Love could make a late return to the playoffs after a few weeks of rest and rehab.
With no basketball to be played, Love is headed for a long period of convalescence while thinking about the biggest decision of his professional career to this point. He must decide what to do about his contract, specifically what he wants to prioritize: long-term security, maximum earning potential and/or championship contention.
Here are Love's options and their facets:
Stay in his contract for one more season with the Cavs
Earlier this season, Love told Cleveland.com that he didn't plan on opting out of his contract. He has also said on several occasions that he plans to stay in Cleveland. If he sticks to those previous statements then there is little to discuss and he will opt in by June 30 and he will remain a Cav.
However, once he looks at the numbers and examines the options and discusses them with his agent, there is a chance those stated plans may change and Love will let his contract end and become a free agent this summer.
April, 29, 2015
Apr 29
5:41
PM PT
Associated Press
[+] Enlarge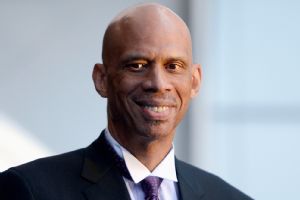 Kevork Djansezian/Getty ImagesL.A. basketball icon Kareem Abdul-Jabbar, 68, is doing fine after visiting his doctor because of dizziness. Abdul-Jabbar had bypass surgery on April 16.
LOS ANGELES -- Kareem Abdul-Jabbar briefly returned to Ronald Reagan UCLA Medical Center on Wednesday, two weeks after the 68-year-old NBA career scoring leader had quadruple coronary bypass surgery.
"This morning, Kareem Abdul-Jabbar was experiencing some dizziness following his April 16 quadruple bypass surgery," the hospital said in a statement. "He contacted his physicians who told him to come to the emergency department at Ronald Reagan UCLA Medical Center. He was evaluated by his surgeon and cardiologist. After a battery of tests, they found no complications.
"Abdul-Jabbar was discharged from the emergency department and is back home continuing his recovery. His surgeon, Dr. Richard Shemin, said it is not uncommon for patients to experience some symptoms that require ruling out serious problems following major heart surgery. Shemin added that Abdul-Jabbar did the right thing by coming in to see his doctors."
Earlier Wednesday -- before the episode -- Abdul-Jabbar tweeted that he was "doing fine & feeling better everyday."
April, 29, 2015
Apr 29
11:51
AM PT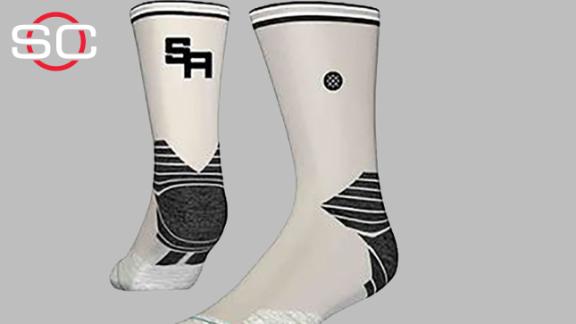 What with all the hype and excitement of the NBA playoffs, you may have missed a crucial bit of uniform-related NBA news that broke earlier this week: The league will have a new sock supplier -- the California-based company Stance -- starting next season.
That may not seem like a major news item, but it has the potential to significantly change the game's look. The key info came in this story from ESPN.com's Darren Rovell, which included the following passage:
"As part of the multiyear deal, which will begin next season, Stance will make socks for all the league's players in team colors. ... Because the league considers the sock an accessory and not part of the uniform, even though players are required to wear them, the NBA is allowing Stance to have its logo on the socks just like Spalding has its logo on the basketball."
There's a lot to unpack from those two sentences. Here are five big takeaways:
1. Get ready for lots of color. With a few exceptions (like the Nets wearing red socks and the Lakers wearing purple), NBA socks for the past generation have been either black or white.
The Stance deal promises to bring team colors back to NBA hosiery. And judging by Stance's preliminary mock-ups, which were released this week, those colors will be deployed in some very bold designs.
April, 29, 2015
Apr 29
1:23
PM PT

By Marc Stein
ESPNLosAngeles.com
Archive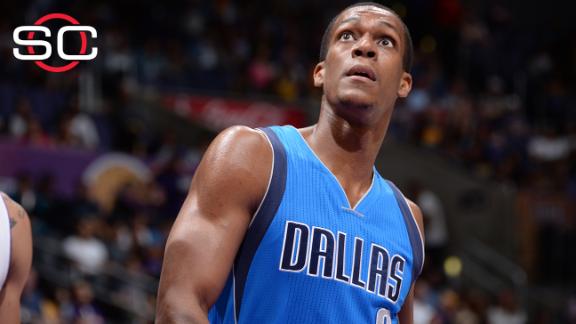 Five burning questions and answers about the future of the Dallas Mavericks in the wake of a Game 5 loss in Houston that made it four straight seasons without reaching the second round of the playoffs since winning a championship in 2011:
1. Do the Mavericks regret their Dec. 18 trade for Rajon Rondo?
STEIN: With the benefit of hindsight, it's easy to say that the Mavs wish now that they would have passed on the opportunity to acquire a polarizing former All-Star who generated skepticism about fit before their trade call with the league office wrapped up.
The Mavs, though, won't be saying anything of the sort.
This Rondo Gamble couldn't have worked out much worse, but these sorts of dice rolls are the go-to move in Dallas for the Mark Cuban regime. They don't build teams through free agency or the draft in Big D. They swing for the fences in the Transaction Game and count on the presence of Rick Carlisle and Dirk Nowitzki to make these risky plays pay off.
Sometimes they roll a 7 or an 11. Jason Kidd, Tyson Chandler, Monta Ellis all come to mind.
And sometimes they roll a 0, with Rondo having only slightly more of an impact in his time as a Mav than Lamar Odom.
Yet the reality is that, as beautifully as the Mavs' offense was flowing before Cuban surrendered Brandan Wright, Jae Crowder and a future first-rounder to land Rondo, they weren't going to win a championship with that squad. Defense and rebounding were massive concerns with the Mavs' pre-Rondo construction. Rondo, they thought, would help in both areas.
He wound up helping in neither, but no less an authority than the reigning Godfather of Dallas sports continues to say that he's glad Cuban swung big.
"If you can get a player like Rondo," Nowitzki told reporters in Houston after the Mavs were eliminated, "I think you go for it any time."
---
2. So there's no chance Rondo will be back in free agency? And what about Monta Ellis?
No chance.
None.
The market is murky for Rondo as well, but this much is clear: Dallas isn't part of it.
The Rondo era in Dallas thus ends after 46 regular-season games and averages of 9.3 points, 6.5 assists and 28.7 minutes per game, lowlighted by his 35.2 percent shooting from the line.
(In the playoffs, if you insist, Rondo played two games and averaged 9.5 points and 3.0 assists in 18.5 minutes per game before he and the Mavs essentially parted company two games into the Houston series.)
Ellis' future, by contrast, is far more complicated.
Word is he's not looking to leave Dallas, where he remade his reputation with last season's strong showing before this season's ups and downs, but Ellis also has the ability to opt out and become a free agent after playing for the (relative) bargain price of $8 million (and change) in each of the past two seasons.
Passing on the opportunity to test the market and see if he can land a more lucrative annual salary might be hard to resist. The Mavs themselves, according to our own Tim MacMahon, are working through their own conflicted feelings about Ellis' future with the club.
It's too early, then, to definitively forecast whether the Mavs will have a completely new starting backcourt next season. Or just half-new.
---
3. What should we expect from the Mavs in free agency after some high-profile whiffs in recent summers?
Really?
That's your question?
They are going big-name hunting, folks.
Again.
Sources say that the Mavs, undaunted by any previous whiffs, have already identified at least two prime targets they intend to pursue in July: Dallas native LaMarcus Aldridge and former Texas A&M center DeAndre Jordan.
And sources say Mavs officials believes they will have a shot at one or the other.
Aldridge is expected to attract serious interest from, among others, San Antonio, New York and the Los Angeles Lakers. Jordan will have a similarly long list of suitors, though there would suddenly appear to be a better chance of Jordan's incumbent team (Clippers) persuading him to stay than Aldridge's, with the signals starting to intensify that the All-Star power forward is leaning toward leaving Portland after eight seasons.
How would Aldridge fit as a Mav when he plays the same position as Dirk Nowitzki?
What would Jordan's arrival mean for the future of unrestricted free-agent center and Mavs emotional compass Tyson Chandler?
Both are excellent questions.
The Mavs, though, seem intent to forge ahead in pursuit of the biggest names they can realistically chase starting July 1 and figure out the rest later.
---
4. How many more seasons will Nowitzki play?
He will play for at least two more seasons.
Just like it says on his contract.
For all the aches and pains he's endured at 36, as well as the obvious struggles to move his feet defensively as fast as he'd like, Nowitzki averages 21 points and 10 rebounds against the Rockets.
Nowitzki, having just completed his 17th season, continues to be the Mavs' best player.
But that's an undeniable issue at this stage of his career. Nowitzki needs (and actually longs) to be carried now, after shouldering the responsibility of a franchise cornerstone like he has for so long.
How much longer does he have to wait for the day when he's the Mavs' second- or third-best player?
In the second half of the season, after Nowitzki was yet again Dallas' lone All-Star representative, Mavs newcomer Chandler Parsons began to emerge as a difference-maker in his own right. Parsons was then felled by a knee injury that, according to MacMahon, might well require microfracture surgery after he tried to play through it in the series opener against the Rockets.
Fact is, though, that Dallas would chase Aldridge and Jordan even if Parsons were fully healthy. Aldridge played his high school ball in the area and could be billed as the natural heir to Nowitzki's position if the Mavs -- despite the uncertainty all over their roster -- could persuade him to come home. And Jordan is the sort of hyperathletic, defensive-minded center who works best next to Nowitzki ... as Chandler memorably proved during the 2011 title run.
---
5. How much will it cost to keep Al-Farouq Aminu?
The Mavs don't want to ask.
They're surely afraid of the answer after the way Aminu stepped up against the Rockets after Dallas' late-season injury crisis forced the 24-year-old into the starting lineup.
On the list of things that went right for the Mavs in the 2014-15 campaign, Aminu's development and subsequent postseason emergence have to be right at the top. They signed him to a minimum deal, convinced as far back as July that he'd be an absolute steal, then reveled in his athleticism and versatility ... qualities that really stand out on such a veteran team.
The Mavs never get to draft as high as Aminu was taken in the 2010 draft (No. 8 overall by the Clippers). It's imperative that they find a way to keep him once Aminu opts out of the final year of his two-year contract to return to free agency.
April, 23, 2015
Apr 23
5:17
PM PT
Associated Press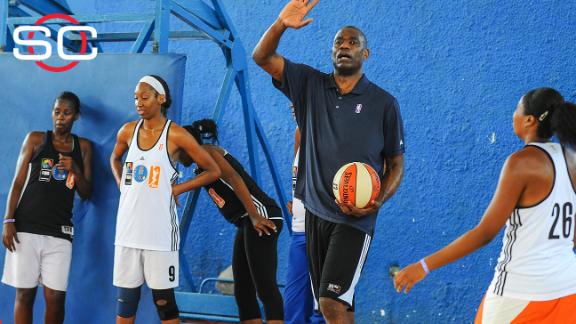 HAVANA -- Basketball great Dikembe Mutombo sank baskets from seemingly every position on the court Thursday as a half-dozen Cuban players watched admiringly on the first day of an NBA training camp aimed at boosting the game's popularity on the communist-run island following the declaration of detente between Washington and Havana.
The flags of Cuba and the United States flew at the Havana university where the four-day camp began Thursday.
Steve Nash, a former MVP, and Mutumbo, a Hall of Fame inductee, were joined by former WNBA player Ticha Penicheiro and NBA coaches in teaching the more than 100 athletes in attendance.
"As you know, basketball is a sport that can connect people, give them a bridge for cultural change," Mutumbo said. "I'm glad that we're about to build this bridge that will help so many young men and women here in Cuba to develop the game of basketball."
The NBA is the first U.S. professional league to visit Cuba since the detente announcement. Basketball is arguably fourth most-popular sport, after baseball, boxing and soccer.
Cuba's men's team finished third in the 1972 Olympics and its women's teams dominate International Basketball Federation (FIBA) play in Latin America, but basketball has been one of the Cuban sports hardest-hit by players' departures for other countries. It's widely perceived to be at a historic low point on a national level.
That doesn't deter thousands of young Cubans from taking to street courts and abandoned lots to race between improvised hoops mounted on posts or even trees. The NBA and FIBA plan to renovate three courts as part of the four-day event.
"Our job is to expand our game globally," Mutumbo said. "It's a very historical trip."
After he and Mutombo coached players on a series of skills, Nash lauded the Cubans as talented but lacking international experience.
April, 23, 2015
Apr 23
6:22
PM PT
By ESPN Stats and Information Group
ESPNLosAngeles.com

On April 23, 1989, Kareem Abdul-Jabbar played in the final regular season game of his Hall of Fame career, as the Los Angeles Lakers defeated Seattle, 121-117. Abdul-Jabbar scored 10 points and finished his career with an NBA record 38,387 points.
April, 23, 2015
Apr 23
4:24
PM PT
Ned Dishman/NBAE /Getty Images
So, you're saying there's a chance?
As the postseason marches on, teams watching from home are already looking ahead to draft day.
Hollinger's Playoff Odds, which is designed to calculate teams' chances of clinching a playoff spot, also calculates the lottery odds of those teams that didn't make the cut.
Here is the full table of lottery odds, from this season's relentless losers to teams that fell just shy of the No. 8 seed.
---
For more on how the system works and what it means, see
Hollinger's explanation
.
April, 22, 2015
Apr 22
6:00
AM PT
ESPN Insider's Chad Ford and Kevin Pelton return to provide the kind of discussions that are happening in front offices around the NBA -- where scouts and statistical experts are breaking down NBA draft prospects using their "eyes, ears and numbers."
Kevin Pelton: Well, Chad, the NBA's regular season is in the books and the 14 teams that missed the playoffs are looking ahead to the NBA draft lottery. Last week, I previewed their offseasons in my Roster Reload series. Over the next few weeks, we'll take a look at the biggest need I identified for each team in reverse order of finish and how they might be able to fill it in the draft.
Here's a look at the needs and potential draft solutions for the four worst teams this season: the Timberwolves, Knicks, 76ers and Lakers.