November, 28, 2015
Nov 28
11:55
PM PT

By Baxter Holmes
ESPNLosAngeles.com
Archive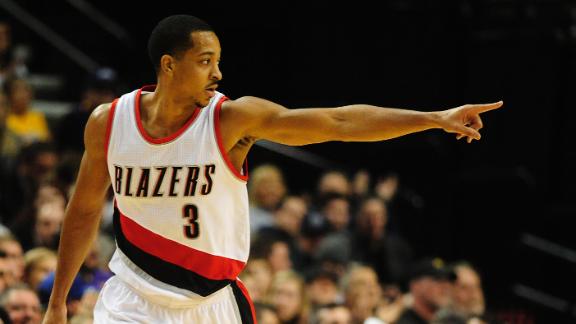 PORTLAND, Ore. -- There were flashes, the brightest yet, of what the Los Angeles Lakers hope their promising trio could become some day.
Julius Randle mixing midrange jumpers with his punishing drives to the hoop.
Jordan Clarkson attacking in transition and in the half-court with his top-flight athleticism.
D'Angelo Russell zipping passes, sinking jumpers, filling up the stat sheet with his all-around game.
Saturday night delivered all of the above for the Lakers, though it didn't bring a win, as the team lost to the Trail Blazers, 108-96, to fall to 2-13.
But wins are an afterthought at this point. The Lakers are awful and will remain that way for a while. For now, their best bet is to develop the young players who could make their future more exciting -- Russell, Randle and Clarkson.
The trio put forth their best collective game of the season thus far at the Moda Center.
Randle, the No. 7 overall pick in 2014, scored 16 points on 8-of-13 shooting to go along with 6 rebounds, 4 assists, 3 steals and a block in nearly 30 minutes.
Clarkson, a first team all-rookie selection last season, had 19 points on 8-of-15 shooting to go along with 4 assists, 4 steals and 3 rebounds in nearly 36 minutes.
And Russell, the No. 2 overall pick in the 2015 draft, had 16 points on 6-of-11 shooting, 5 assists and 4 rebounds in nearly 38 minutes.
"All three of those young guys played pretty well," Lakers coach Byron Scott said. "All made a bunch of mental mistakes."
Mistakes will happen; it's part of being young. And their defense -- along with the Lakers' defense in general -- was not up to par, especially as Damian Lillard (game-high 29 points) and C.J. McCollum (28 points) sliced up the Lakers.
But this season is the perfect environment for the Lakers to grow, as there's nothing at stake for this team as it is. Plus, the more losses the Lakers accrue, the better their chances of keeping their 2016 top-three protected first-round pick.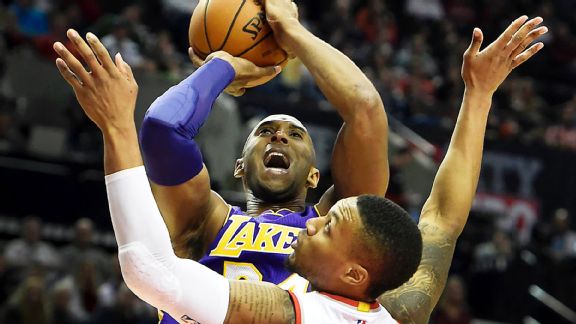 AP Photo/Steve DykesKobe Bryant scored 21 points on Saturday but missed 13 of his 20 shots.
In that sense, the losing Lakers find themselves in a possible win-win situation.
The main obstacle the Lakers face in developing their young core is, of course, Kobe Bryant.
The 37-year-old had another off-shooting night, finishing with 21 points on 20 shots. He missed 13 attempts from the field, more than Russell even attempted.
"I'm fine, man," said Bryant, who air-balled his first shot and air-balled another in the first quarter. "It's tough. Twenty years, it's tough. Legs aren't what they used to be."
Scott said he believed Bryant's rhythm issues could linger all season, Bryant's 20th in the NBA.
"The timing and the rustiness is probably going to be an issue for the rest of the season because he can't -- and we wouldn't do it anyway -- but he can't practice every day," Scott said.
"He can't go through all that where you get your timing. So he's going to have his ups and down days where he's making shots and where he's missing shots."
The way Bryant is playing now is probably how he'll play the rest of the season, more or less. There will be some nights when he's better, some nights when he's worse, but, on average, nights like Saturday are probably going to be typical.
Scott told ESPN on Friday he would "never, never, never" bench Bryant for poor play at any point during what could be Bryant's final NBA season, a declaration that isn't surprising considering how much Scott admires Bryant, a former teammate.
So this season, the Lakers will have to figure out how to blend the old (Bryant) with the new (their young trio), and it feels at times as if it's an impossible task.
For as much as Bryant has said he needs to defer to the young players, deferring has never been in his DNA and he almost certainly won't relinquish control of the team until he's gone. Once that happens, then the development will begin in earnest.
Until then, the Lakers can only hope for games like Saturday, when the kids show tantalizing glimpses in between Bryant's pump-fakes and contested jumpers. And in the games Bryant sits to rest, then the kids can really get out and run, providing flashes that give Lakers fans something they haven't felt in a while: hope.