November, 25, 2014
Nov 25
4:55
PM PT
The Los Angeles Lakers have been granted a $4.85 million disabled player exception by the NBA for Steve Nash, who is out for the season with a back injury, league sources told ESPN.com.
The injury-ravaged Lakers, who are 3-11 for the season, can use the exception to sign or trade for a player. They were previously awarded a $1.5 million disabled player exception for rookie Julius Randle, who is out for the season with a broken leg.
The two exceptions, which both expire March 10, cannot be combined.
Nash, who only played 65 games in two-plus seasons with the Lakers because of injuries, has not announced his retirement but is in the final year of his contract that pays him $9.7 million this season. He can still be used in a trade.
November, 25, 2014
Nov 25
4:00
PM PT
EL SEGUNDO, Calif. -- When
Los Angeles Lakers
reserve swingman
Xavier Henry
ruptured his left Achilles tendon on Monday,
Kobe Bryant
had flashbacks.
"It took me right back to that place again," Bryant said after practice Tuesday.
Bryant
Henry
Bryant ruptured his left Achilles in April 2013, costing him the rest of that season. Henry had surgery Tuesday to repair his Achilles, which will cost him the rest of this one.
Henry's injury occurred during a non-contact drill in Monday's practice.
"It was just like mine, same thing," Bryant said. "[He] just tried to take off, drive to the basket and it just popped."
Since the injury, Bryant said, he's been in close contact with Henry, who averaged 2.2 points per game in nine appearances this season.
"Just trying to keep him positive," Bryant said. "It's an uphill battle. It's a long hill, at that. But he'll have us and he'll have me every step of the way."
November, 25, 2014
Nov 25
3:34
PM PT
EL SEGUNDO, Calif. --
Kobe Bryant
has been feeling fatigued and his shots have been falling short. The veteran
Los Angeles Lakers
star hopes a change in his routine can help fix that issue, and also keep him fresh during the course of a long season.
[+] Enlarge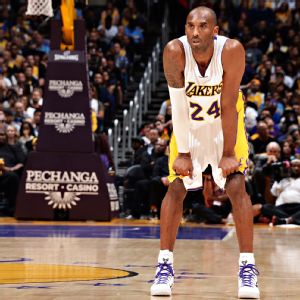 Andrew D. Bernstein/NBAE/Getty ImagesA 36-year-old Kobe Bryant is averaging a team-high 35.7 minutes per game for the Lakers.
After consulting with Lakers strength and conditioning coach Tim DiFrancesco, Bryant said he'll focus more on taking ice baths on some days, and on extra lower body weightlifting on others. And on some non-game days, such as Tuesday, he'll do almost nothing.
"It's a fine balance at 36 [years old], trying to find the rhythm of strengthening your legs as the season goes on without wearing them out," Bryant said after his team's practice Tuesday. "We're in uncharted territory in terms of trying to figure this out, but we will."
Bryant shot 4-of-14 in the fourth quarter and overtime of Sunday's loss to the
Denver Nuggets
, and he shot just 3-of-10 in the second half of a blowout loss to the
Dallas Mavericks
last week.
"The second half of games for me have been a struggle lately with my legs," Bryant said. "My shot's just been really short even though my legs feel good."
Lakers coach Byron Scott said Bryant, who is leading the league in scoring (26.7 points per game), might also play fewer minutes in an effort to conserve energy.
"It's a work in progress," Scott said. "He's played 19 years. He knows his body better than anybody, but we can see also watching the tape that everything was a tad short, which tells me that the legs were a little fatigued."
Bryant is averaging a team-high 35.7 minutes per game entering Wednesday's contest against the
Memphis Grizzlies
.
November, 25, 2014
Nov 25
1:24
PM PT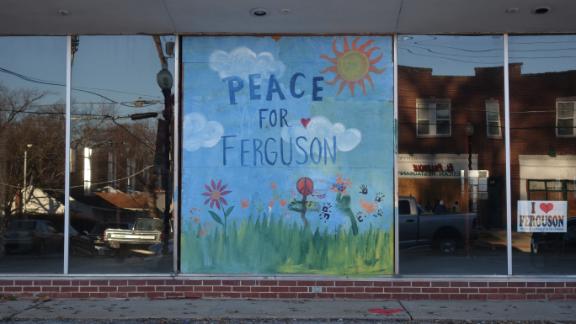 INDEPENDENCE, Ohio -- LeBron James said the decision not to indict Darren Wilson, the officer responsible for the shooting death of Mike Brown in Ferguson, Missouri, "hit home for me" and spoke out about the violent aftermath of the announcement Monday night.
"That's not the answer," James said Tuesday on reports of rioting in Ferguson. "What does that do? What does that actually do? Just hurt more families, hurt more people, draw more attention to things that shouldn't even be going on instead of people going to the family's household and praying with them. And saying, 'Things are going to be great.' You know, 'Mike Brown is in a better place now,' and 'Trayvon Martin is in a better place now.' That's where it should be. I mean, burning down things and shooting up things and running cars into places and stealing and stuff like that, what does that do? It doesn't make you happy."
James initially responded to the news on Monday night by posting a cartoon depiction on Instagram of Brown with his arm wrapped around Martin walking toward a heavenly light.
Back in March 2012, James and then-teammate Dwyane Wade organized a photo including the entire Miami Heat team wearing hooded sweatshirts -- the same style of hoodie Martin was wearing when he was shot by George Zimmerman -- and posted it to social media along with the hashtag #wearetrayvonmartin.
James said that the Brown case only touches on larger societal problems that must be addressed.
November, 24, 2014
Nov 24
3:07
PM PT
EL SEGUNDO, Calif. -- Byron Scott said he wants to start resting
Kobe Bryant
more during practice days to preserve the
Los Angeles Lakers
star for games, where Scott would like to keep playing Bryant between 30 to 40 minutes.
Scott, the Lakers coach, said Bryant did light shooting and little else during practice here Monday. Scott added that Bryant would have a similar off-day Tuesday in advance of Wednesday's game against the
Memphis Grizzlies
.
The move to rest Bryant more during practices -- a tactic that Bryant has done several times in previous seasons -- comes after Bryant has mentioned his legs feeling heavy after recent games, which Bryant said had affected his shooting.
Bryant, now in his 19th season, is averaging 35.7 minutes per game, the 13th-most in the league entering Monday.
"You try to kind of work your way through it a little bit, but everything's short," Bryant said after a 6-for-22 night in a loss against Dallas on Friday. "It's just one of those 36-year-old [hiccups]."
Scott said Monday that Bryant "was upset with himself" because many of his shots were short in Sunday's overtime loss to Denver, when Bryant shot 4-of-14 from the field in the fourth quarter and overtime after shooting 6-for-10 in the first three quarters. Bryant tied his season-high with 44 minutes in the loss.
Scott said fatigue is normal, given that Bryant missed all but six games last season after fracturing his knee.
"I said, that's expected when you haven't played that long, you miss that length of time, being a year off," Scott said, "and then you come back basically with a bang because that adrenaline is flowing.
"Then sooner or later, during the season, it's going to catch up to you. We've just got to rejuvenate and get back there. He will. I think that this week at home, getting a couple days off here and there will definitely help him."
November, 24, 2014
Nov 24
12:41
PM PT
El SEGUNDO, Calif. -- Los Angeles Lakers reserve swingman Xavier Henry will miss the rest of the season with a ruptured left Achilles, the Lakers announced on Monday.
Henry suffered the injury during practice, and an MRI confirmed it shortly thereafter.
"Results revealed a completely torn Achilles," a source told ESPN.com.
Henry is scheduled to have surgery Tuesday morning with Dr. Neal ElAttrache and Dr. Steve Lombardo of the Kerlan-Jobe Orthopaedic Clinic in Los Angeles.
Though the team is just 14 games into its 2014-15 campaign, Henry is already the third Laker to be declared out for the season because of an injury, joining point guard Steve Nash (back) and rookie forward Julius Randle (leg). Reserve forward Ryan Kelly is currently sidelined because of a hamstring tear.
Injuries plagued the Lakers dating back to last season, when their players missed a league-high 319 combined games because of injuries.
Lakers coach Byron Scott said Henry suffered the injury during a three-on-three drill.
"Nobody hit him or anything like that," Scott said after practice. "He went down and pretty much said to us that he heard a 'pop.'"
The oft-injured Henry has had knee injures the past two seasons and even went to Germany this offseason for treatment. In nine games with the Lakers this season, Henry averaged 2.2 points over 9.6 minutes.
November, 23, 2014
Nov 23
9:37
PM PT
Associated Press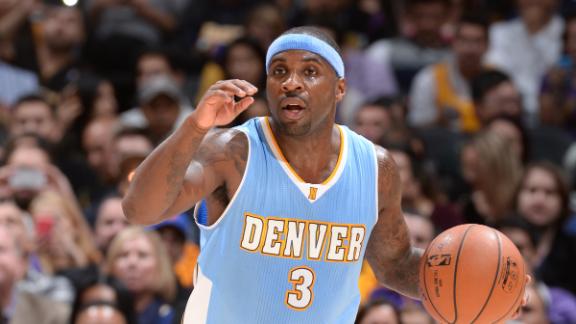 LOS ANGELES -- Wilson Chandler scored 19 points and Ty Lawson had 16 points and 16 assists, helping the Denver Nuggets beat the Los Angeles Lakers 101-94 in overtime on Sunday night.
Arron Afflalo added 15 points for the Nuggets, who have won five of six following a 1-6 start that was capped by consecutive double-digit losses to Portland.
The Lakers, coming off a 140-106 drubbing at Dallas, began a four-game homestand with their seventh straight loss to the Nuggets, despite 27 points from Kobe Bryant. The NBA's No. 4 career scorer made only four of 14 shots after the third quarter and finished 10 for 24.
The losing streak against Denver matches the Lakers' longest against any club since an eight-game drought against Portland from Feb. 18, 1993, through Jan. 9, 1995.
November, 23, 2014
Nov 23
9:35
PM PT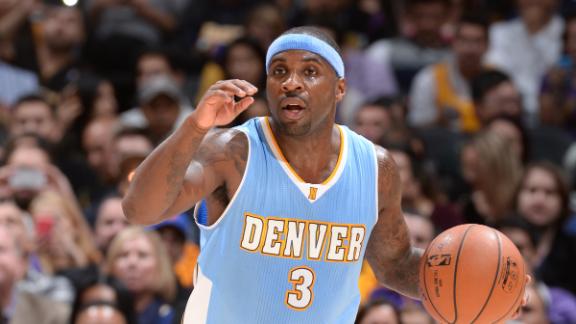 LOS ANGELES -- Two of the Western Conference's worst teams played about as ugly as you'd expect, and neither really played like they really wanted to win Sunday's contest. After laying bricks for four quarters, these clubs needed five more brutal minutes to settle it with the
Denver Nuggets
topping the
Los Angeles Lakers
101-94.
Stat of the game:
Both teams combined to miss 112 field goals, including 48 from 3-point range. And, for good measure, they combined to miss 24 free throws. Like we said, a lot of bricks.
Turning point:
Denver's
Danilo Gallinari
sank a contested 28-footer to give the Nuggets a 94-90 lead with 1:28 left in overtime. Though the Lakers made it a bit interesting in the final minute, they never came back from that shot.
Player of the game:
Nuggets point guard
Ty Lawson
finished with 16 assists, which was one more than the Lakers had as a team. Process that.
Highlight of the game:
There wasn't much to choose from, but
Wesley Johnson
's thunderous one-handed, poster-worthy dunk over Gallinari with 3:15 left in the fourth quarter takes the cake. The crowd went bananas, as did the Lakers' bench, with
Robert Sacre
hugging everyone within sight. Johnson was fouled on the fast-break dunk and converted the free throw, giving the Lakers an 85-82 lead.
Kobe Bryant update:
He shot 6-of-10 from the field in the first three quarters, then just 4-of-14 in fourth quarter and overtime. He missed a 3-pointer with 12.9 seconds left that could have pulled the Lakers to within one. He played 44 minutes, tying his season-high.
November, 21, 2014
Nov 21
8:53
PM PT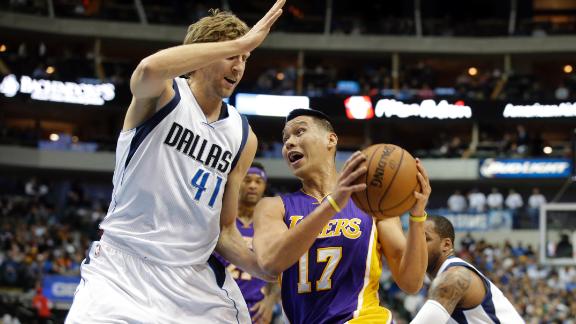 DALLAS -- On one side: a title contender whose star took less money.
On the other: a rebuilding crew, starring the NBA's highest-paid player.
For the traits that
Kobe Bryant
and
Dirk Nowitzki
share as 36-year-olds among the league's top-10 all-time leading scorers, that stark difference stood out most Friday during the
Dallas Mavericks
' 140-106 demolition of the
Los Angeles Lakers
.
Of course, it's not so simple to say that the 3-10 Lakers are struggling just because Bryant accepted a two-year, $48.5 million contract extension last season, a deal that eats a huge chunk of the Lakers' salary cap space.
[+] Enlarge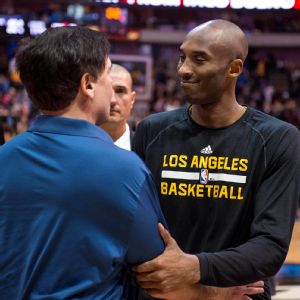 Jerome Miron/USA TODAY SportsKobe Bryant shared a few words with Mavs owner Mark Cuban after the game.
And it's also not so simple to say that the 10-3
Dallas Mavericks
are chasing a championship just because Nowitzki re-signed this summer at $25 million over three years, a bargain that allowed the team to afford other impact additions.
Other factors are many: deals that never were (
Chris Paul
, thanks to "basketball reasons") and those that never panned out (
Steve Nash
, thanks to injuries); players that didn't stay (
Dwight Howard
) and free agents who never came (
Carmelo Anthony
).
Indeed, not all has gone the Lakers' way, though they haven't done too shabby historically when you consider the 16 banners hanging in Staples Center.
But in the end, they're bound for the lottery, under construction until further notice, and Bryant and his huge deal are targeted as a key reason for their plight.
"Did I take a discount? Yeah," Bryant said after a morning shootaround here, when he discussed his contract more than at any point since signing it.
"Did I take as big a discount as some of you fans would want me to? No.
"Is it a big enough discount to help us be a contender? Yeah.
"So what we try to do is be in a situation where they take care of the player and the player takes care of the organization enough to put us in a championship predicament eventually."
Bryant almost certainly didn't mean to use the phrase "championship predicament." But if it was a Freudian slip, well, it sure was fitting.
Mavericks owner Mark Cuban stated the obvious about his squad: Nowitzki's deal made a huge impact in helping shape the roster, giving them the financial flexibility to add the high-profile and, more important, promising young free agent in
Chandler Parsons
that they had been chasing for so long.
"To me, it's not about money, it's about winning," Cuban said. "Different players have different attitudes."
Could a player make $24 million in the NBA's current punitive financial climate (as Bryant does this season) and legitimately say they're interested in winning?
"Yeah, of course, as long as you can convince everybody else that you need to come play for the minimum," Cuban said with a laugh.
Cuban has long been poking fun at the Lakers on this topic, once calling them Shaq, Kobe and the "band of merry minimum [-salaried players]" in 2000 during Cuban's first season as an owner.
Nowitzki echoed Cuban's point that his deal was about winning, not money.
"I wanted to be on a good team," Nowitzki said. "I wanted to compete my last couple of years at the highest level. Ever since after the championship, we had a couple of rough years. We missed the playoffs one year, were the eighth seed twice I think, so that was really the main decision. I wanted to play at a high level my last couple years, and it kind of worked out with getting Parsons, with getting Tyson [Chandler] back here. We feel like we've got a good group, and hopefully we can make it work."
Bryant argued that Nowitzki's deal meant the German forward "wasn't playing in Los Angeles," and that difference matters.
After all, the Lakers have a 20-year, $3 billion deal with Time Warner Cable that hinges on ratings. They need Bryant, not only for that, but to justify ticket prices, to keep interest high during lost seasons. His value goes far beyond the court.
Yet the high cost of paying their cash cow what he legitimately might be worth ultimately hurts the Lakers' efforts to build around him, to be a contender.
Nowitzki will spend his golden years chasing another ring, while Bryant, for now, is only chasing personal records. Other factors are many, of course, but that stark difference is what rose above all else Friday, as two legends headed in opposite directions, their teams following suit.
ESPNDallas.com reporter Tim MacMahon contributed to this report.