June, 25, 2016
Jun 25
1:36
PM PT
Steve Russell/Toronto Star via Getty ImagesThe Raptors are the only franchise DeMar DeRozan has played for in his seven-year NBA career.
Toronto Raptors shooting guard DeMar DeRozan does not plan to schedule meetings with other teams at the start of free agency, opting to focus on working out a contract to return to the Eastern Conference finalists, a source told ESPN.com.
DeRozan, 26, a two-time All-Star who led the Raptors with 23.5 points per game last season, has been consistent in stating that his strong preference is to remain with the only franchise he has played for during his seven-year NBA career.
"My mindset has always been Toronto," DeRozan told reporters the day after the Raptors were eliminated by the Cleveland Cavaliers. "I've always preached it. I was passionate about it when we were losing, when we were terrible. I said I was going to stick through this whole thing, and I want to be that guy who brings this organization to where it is now. I definitely don't want to switch that up after we win."
DeRozan, arguably the top shooting guard in free agency, would be in high demand if he chose to explore his options beginning July 1. However, the source said the unrestricted free agent would only look into meeting with other teams if talks with Toronto broke down.
The Raptors can offer DeRozan a five-year maximum contract worth $153 million with the salary cap at a projected $94 million. Other teams would be able to offer him a max deal of $114 million over four years.
Toronto's decision-makers have made it clear that re-signing DeRozan, a southern California native whose name was often linked to the Los Angeles Lakers
June, 25, 2016
Jun 25
11:28
AM PT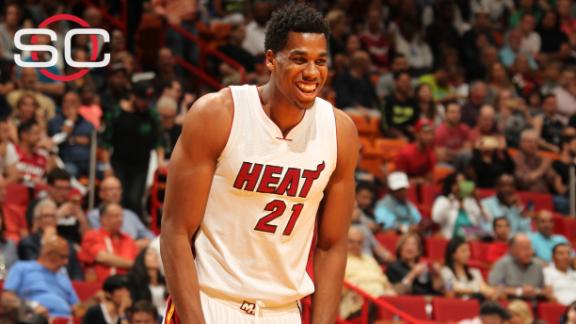 The Los Angeles Lakers plan to aggressively pursue Miami Heat center Hassan Whiteside when NBA free agency starts, according to league sources.
With rim protection and perimeter shooting ranking as the Lakers' foremost areas of concern heading into the open market, sources told ESPN that Whiteside has emerged as a priority target.
The Lakers, like the Heat, are still hopeful of securing a face-to-face recruiting meeting with Oklahoma City Thunder star Kevin Durant once free agency begins at 12:01 a.m. ET July 1. But the Lakers, sources say, are highly intrigued by Whiteside and what he could bring them as a double-double presence inside.
ESPN reported earlier this week that the Mavericks also intend to be a serious suitor for Whiteside, with Dallas expected to land one of the first recruiting meetings Whiteside conducts in the opening hours of free agency. The Portland Trail Blazers are another team that has been linked with Whiteside, and there will surely be others.
After averaging 14.2 points, 11.8 rebounds and a league-leading 3.7 blocks per game last season, Whiteside is expected to command a maximum contract, with a first-season salary forecast in the $22 million range.
"More than likely, players out there in free agency, our No. 1 priority is Hassan Whiteside," Heat president Pat Riley told reporters after the season.
ESPN also reported this week that that Lakers, Orlando Magic
June, 24, 2016
Jun 24
12:44
PM PT
By One Nación
ESPNLosAngeles.com
Archive
If fans aren't happy, teams are likely to hear about it, even during the NBA offseason. Sometimes loudly.
The flip side?
Mexican-American comedian and actor George Lopez, a die-hard Los Angeles Lakers fan who is a fixture at games, couldn't pass up the chance to welcome and commend the team's choice with their No. 2 selection in the NBA draft Thursday night, Brandon Ingram.
Though Lopez was on tour in Toronto, he made sure to keep up on the draft and posted Ingram's picture on his Instagram account. Ingram, 18, out of Duke, is a wiry forward who is projected to be an impressive player once he fills out and gains experience.
Lopez is in good company in cheering the Laker's draft pick. Earvin "Magic" Johnson, a Lakers icon, also approved of the decision.
The @Lakers made a great pick selecting Brandon Ingram!

— Earvin Magic Johnson (@MagicJohnson) June 24, 2016
Click here to keep up on the latest L.A. Lakers news on their team page.
June, 24, 2016
Jun 24
9:35
AM PT
Six teams found especially good value with at least one of their picks in Thursday's NBA draft, including the Celtics and the Lakers.
Others teams reached too far for players they liked. According to my analysis, four teams -- also including Boston -- may not have gotten enough return from their picks.
June, 24, 2016
Jun 24
7:58
AM PT
Skinny on Brandon Ingram is he could be this town's next big thing: They didn't try to be too smart. They didn't try to be too cool. They didn't outthink it, overthink it or give in to the inviting temptation to trade it. This time, the Los Angeles Lakers didn't get fancy. This time, they simply got it right. -- Los Angeles Times
Brandon Ingram ready to join Lakers' rebuilding process: What have the Lakers done? Their first-round draft pick likes to quote Mike Krzyzewski, talks fondly of fishing with his grandmother while growing up in North Carolina, and, in his down time, loves to sketch with shading pencils and charcoal. -- Los Angeles Times
Lakers select Brandon Ingram at No. 2; intrigued with his potential: In a move that carried less drama than a bland Hollywood script, the Lakers selected a player in the NBA draft on Thursday that many expected would wear a purple and gold uniform. The Lakers drafted Duke forward Brandon Ingram with their No. 2 pick, providing an immediate replacement at the small forward spot that Kobe Bryant left vacant following a storied 20-year NBA career. -- Los Angeles Daily News
Mitch Kupchak says "we have more to sell" in free agency: The Lakers' 16 NBA championship trophies, the sunny skies and proximity to Hollywood once represented the only visual selling points they needed to land their next star. But then something happened. The Lakers missed the playoffs for the past three seasons because of rosters that both lacked health and talent. The current labor deal has imposed more stringent spending limitations. It no longer has become necessary to latch onto the Lakers' global brand in order for a star to maximize theirs. -- Los Angeles Daily News
Lakers take Ingram and Zubac, but nobody's got answers to NBA draft at this point: At some point we'll understand the science of it all, but Thursday night, the NBA draft was art. Whether it's Mona Lisa or Dogs Playing Poker, it's all in the beholder's eye. In such a fact-free and opinion-rich zone, all questions and answers are equal. -- The Orange County Register
Youngsters, including Brandon Ingram, 'ready to work' to make Lakers better: Brandon Ingram won't arrive in Los Angeles until next week. He won't take the court with the Lakers until sometime in July at Summer League. Only then will the organization and its fans get to see how the No. 2 pick in Thursday's draft fits in with the rest of their young players. However, General Manager Mitch Kupchak got a hint two weeks ago when Ingram was visiting L.A. for a Lakers workout. -- The Orange County Register
June, 24, 2016
Jun 24
1:37
AM PT
By ESPN.com
ESPNLosAngeles.com

The Los Angeles Lakers' draft picks are listed by round, with the overall pick in parentheses. For more, check out the overall draft results and the NBA draft home page
1 (2): Brandon Ingram, SF, Duke
2 (32): Ivica Zubac, C, Croatia
June, 24, 2016
Jun 24
1:20
AM PT
By ESPN Stats & Information
ESPNLosAngeles.com
Archive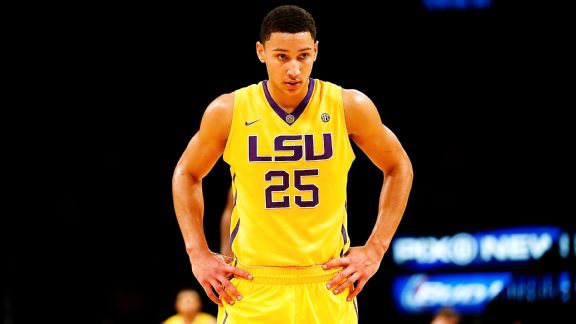 Mike Stobe/Getty ImagesBen Simmons was, predictably, taken first overall in Thursday's draft. The rest of the draft was more difficult to predict.


The first two picks in the 2016 NBA draft didn't surprise anybody.
Ben Simmons was selected first overall by the Philadelphia 76ers, becoming the second LSU player taken with the first pick (Shaquille O'Neal).
The Los Angeles Lakers then took Brandon Ingram with the second pick, making him the fifth top-two pick for the Lakers in the common draft era.
The rest of the draft may have delivered a bit of a shock.
Thunder get magical haul for Serge Ibaka
The Orlando Magic acquired Ibaka from the Thunder in exchange for Victor Oladipo, Ersan Ilyasova and Domantas Sabonis (No. 11 pick).
The Thunder are getting three pieces for what was essentially a rotation player by the end of last season. During the playoffs, Ibaka ranked fifth on the Oklahoma City Thunder in PER and seventh in usage percentage.




Among the three players in the deal to play last season, Ibaka had the lowest player efficiency rating, as noted in the chart on the right.
Celtics hold on to first-round picks
This is the second straight year that the Boston Celtics had multiple first-round draft picks, tried to package them in a deal and ended up using each pick.
In the 2015 draft, Danny Ainge offered the Charlotte Hornets four first-round picks to move up and select Justise Winslow. The Hornets ultimately turned down Boston.
The Celtics drafted not one, but two foreign players in the first round of the 2016 draft. Prior to this draft, the only time the Celtics drafted an international player in the first round was in 2013, when they took Lucas Nogueira.
He was traded on draft night for Kelly Olynyk.
International men of mystery
There were eight international players drafted in the first round, tied for the most international players ever taken in the first round (there were also eight in 2003).
Only 16 of the 30 players taken in the first round of the 2016 NBA draft were born in the United States.
Elias research reports that's the lowest total of American-born, first-round picks in an NBA draft since 1973. In that year's first round, 16 of the 18 players were born in the USA.
The same trend applies to college players taken. Six college players taken in the first round were born outside the United States: Ben Simmons, Jamal Murray, Buddy Hield, Jakob Poeltl, Pascal Siakam and Skal Labissiere.
The 2016 draft started predictably and was followed by controlled chaos. Time will tell if the events from Thursday night will pay off for any of the teams to make selections or trades.
June, 23, 2016
Jun 23
9:19
PM PT

By Baxter Holmes
ESPNLosAngeles.com
Archive
EL SEGUNDO, Calif. -- The Los Angeles Lakers drafted 7-foot-1, 265-pound Croatian center Ivica Zubac with the No. 32 pick in Thursday night's NBA draft.
The 19-year-old Zubac, once considered a potential first-round draft pick, is considered one of the most skilled international centers and has drawn comparisons to Memphis Grizzlies big man Marc Gasol.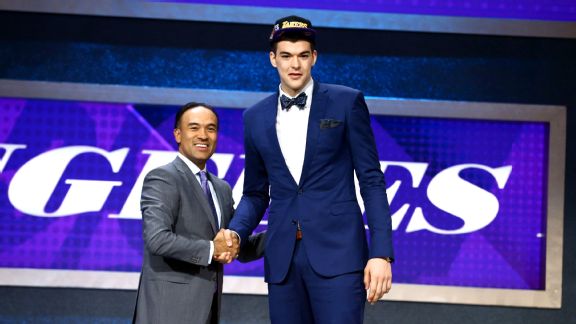 Nathaniel S. Butler /NBAE via Getty ImagesIvica Zubac grew up idolizing Kobe Bryant and said playing for the Lakers is "my dream coming true."
"Yeah, I like that comparison because I'm trying to look up to his game and trying to translate his game to mine with my moves," Zubac said in a conference call with Los Angeles media after being drafted.
He added later, "My strength is back to the basket, low-post game and protecting the paint and spacing ability."
Lakers general manager Mitch Kupchak described Zubac as a young player who was still developing.
"He's young and he's big and he's got skills," Kupchak said. "He did remind me of NBA players that in this league have made it, but he is a young player. So if he continues to work hard and develop, then I think he has a chance to stick in this league and be a good player."
It remains unclear whether the Lakers will keep Zubac overseas as a draft-and-stash player next season or bring him over immediately.
Zubac said he hasn't talked to the Lakers about their immediate plans, but he added, "I hope I'm going to play next year for the Lakers."
Kupchak was noncommittal.
"I believe he would like to play next year and we're not opposed to that," he said.
Kupchak did say he'd like for Zubac to play on the Lakers' Summer League team in Las Vegas in mid-July.
Kupchak added that Zubac started playing late and may not be fluid just yet but is still growing into his body and becoming more comfortable on the court.
"We've been through drafting young players of size in the past," Kuphak said. "I'm not comparing him to [former Lakers center] Andrew Bynum, but Andrew was 17 years old [when the Lakers drafted him] -- big, long, gangly, almost clumsy at first. That's what you deal with when you deal with [those guys]. And I was a big player. I kind of developed late. That's kind of what you're dealing with when you have somebody of that size and still growing and still developing into that body."
Zubac is a huge Lakers fan who said he watched Kobe Bryant's 60-point finale live at 4 a.m. in Croatia even though he had practice later that morning at 10 a.m.
"This is my dream coming true," he said of being drafted by the Lakers. "I cannot believe this is happening. The Lakers are my No. 1 team since I started playing basketball and Kobe was my favorite player. I'm so happy right now."
Zubac pointed out that he has a Kobe Bryant No. 24 jersey, a Pau Gasol Lakers jersey and even an Andrew Bynum Lakers jersey, though he added the Bynum jersey was "somewhere in my room under all my clothes."
Of Bryant, Zubac said, "I really love his killer instinct and his will to win the game. That's really the most important thing in basketball."
Zubac, an early-entry candidate for the draft, played on the Croatian U19 team at the 2015 U19 World Championships, finishing third in the tournament in scoring (17.9 points per game) and seventh in rebounding (7.9). His team captured the silver medal.
Zubac, who said he has overcome injuries to his left foot (stress fracture) and right knee (sprain), was playing for a Croatian team KK Cibona until a midseason coaching change led to his minutes decreasing, prompting him to join Mega Leks, a Serbian team.
In five games with Cibona, he averaged 6.8 points, 3.0 rebounds and 1.2 blocks in 13 minutes per game.
June, 23, 2016
Jun 23
2:41
PM PT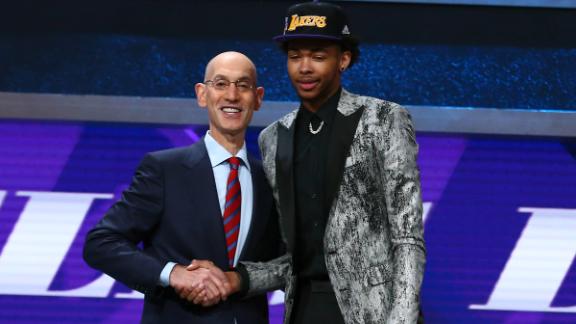 EL SEGUNDO, Calif. -- The Los Angeles Lakers have long targeted Kevin Durant, believing their allure could pry the tall, long-armed scoring dynamo from the Oklahoma City Thunder during free agency this summer, helping fill the superstar void left after Kobe Bryant's recent retirement.
But after a franchise-worst three straight seasons spent missing the playoffs, after posting a franchise record for losses in three straight years, and after three straight offseasons in which all their top free-agent targets have turned down the Lakers, the team's hopes of obtaining Durant have seemed like little more than a pipe dream.
As of Thursday, though, the Lakers have now obtained a player who's compared to Durant, at least in terms of build, size and outside shooting. Los Angeles selected Duke freshman Brandon Ingram with the No. 2 overall pick in the 2016 NBA draft.
The 6-foot-9, 190-pound Ingram boasts a 7-foot-3 wingspan and a 9-foot-2 standing reach and is accurate from long range (41 percent from 3-point range at Duke), hence the parallels to Durant.
But, as was the case when Durant was drafted out of Texas in 2007, there are concerns about Ingram's frail frame. Ingram weighed 169 pounds the summer before his freshman year at Duke but bulked up to 190 by the fall.