February, 9, 2016
Feb 9
8:34
AM PT
February, 9, 2016
Feb 9
7:40
AM PT
ESPN.com news services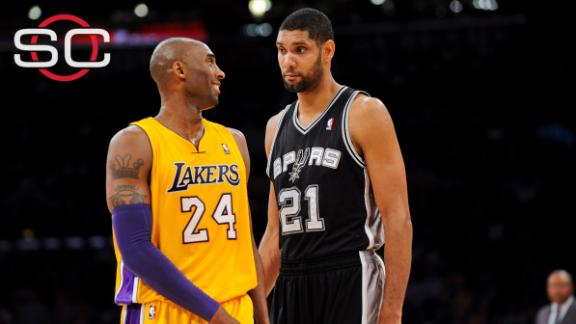 Kobe Bryant and Tim Duncan have achieved so much during their remarkable NBA careers, winning a total of 10 championships between them. But if you had to choose, who would you say has had the better career?
Hall of Famer Kareem Abdul-Jabbar -- a Los Angeles Lakers legend whose statue stands outside the Staples Center -- is going with "The Big Fundamental" based on his health and overall, sustained success with the San Antonio Spurs.
"Jeez, I would say that Tim Duncan has had a better career just because they've been able to win more consistently, and they didn't have to rely on Tim all the time," Abdul-Jabbar said during a recent "Conversations with Tyler" interview with Tyler Cowen at George Mason University.
Another Lakers legend and Hall of Famer, however, disagrees with Abdul-Jabbar's choice.
"Kareem can have his opinion," Magic Johnson told SportsCenter on Tuesday. "Both of them won the same amount of championships. I'm always going to be partial to a Laker because I love Kobe, I know him as a man and a person. What he did for the city and for basketball fans all over the world ... he was a guy who made these young players work out harder, do more, because he was working out so hard. LeBron, all those guys, followed Kobe Bryant. And he's been a guy who's said, 'Hey guys, this is how you do it,' and guys have followed."
February, 9, 2016
Feb 9
7:44
AM PT
By ESPN.com
ESPNLosAngeles.com

Kobe Bryant gets hot then cools off in final minutes of Lakers' 89-87 loss to Pacers: It was like the good old days, Kobe Bryant heating up quickly and yanking the Lakers back into a game. But now they're simply old days for the 37-year-old. -- Los Angeles Times
Kobe Bryant's latest farewell stop brings fond memories : Shaquille O'Neal used to like Kobe Bryant. He called him the world's best player here in 2000, and it was entirely sincere. Bryant's most recent stop on his goodbye tour was where he came of age in the NBA Finals. He remembered it fondly Monday before the Lakers lost to the Indiana Pacers, 89-87. -- Los Angeles Times
Lakers live and die by Kobe Bryant's shooting in 89-87 loss to Pacers: His shot kept falling short over and over again. The Lakers played at a mind-numbing pace that would put most people to sleep. But as Kobe Bryant has done and learned throughout his 20-year career, he remains bound to accomplish three things. -- Los Angeles Daily News
Lakers coach Byron Scott shocked as Knicks fire Derek Fisher: The news struck Byron Scott in multiple ways. The Lakers' coach sounded incredulous over the New York Knicks firing Derek Fisher as head coach, both out of respect for the coaching field and because they played one season together nearly 20 years ago with the Lakers. -- Los Angeles Daily News
Lakers' Kobe Bryant offers advice to Peyton Manning about retirement: He studied the game endlessly. He demanded plenty from his teammates. He fought through every injury imaginable. He remained consumed with winning championships. That will mark the legacy of Lakers guard Kobe Bryant once he retires following his 20th NBA season and becomes a first-ballot Hall of Famer. But that description also applies to Denver Broncos quarterback Peyton Manning, who helped Denver defeat Carolina on Sunday to collect his second Super Bowl title. -- Los Angeles Daily News
Lakers 'live,' then 'die' with Kobe Bryant's shooting in loss to Pacers: Kobe Bryant had scored 11 straight points. Contested 3-pointers were traveling from his fingertips, over the defender and through the hoop as if on a track. Then, with the Lakers on the verge of one of their gutsiest wins of the season, Bryant's shots stopped falling. -- The Orange County Register
February, 8, 2016
Feb 8
11:03
PM PT
Mark L. Baer/USA TODAY SportsThe clear winner so far of the point guard deals at the 2015 deadline is the Celtics, who landed All-Star Isaiah Thomas.
It was one of the craziest few hours in recent NBA history. In the moments leading up to last year's trading deadline, a flurry of frontline point guards rapidly switched teams in a dizzying array of deals.
Though other point guards were dealt in separate moves, the day was defined by what essentially was a five-team swap of interconnected moves: Goran Dragic went from Phoenix to Miami; Brandon Knight went from Milwaukee to Phoenix; Michael Carter-Williams went from Philadelphia to Milwaukee; and Isaiah Thomas went from Phoenix to Boston.
Nearly a year after this giant trade, the results have been mixed. Most of the teams involved aren't better, some are waiting on draft picks coming later to define the success and only the Celtics really can claim victory.
Thomas has been the smash hit of the great point guard swap; he's about to play in his first All-Star Game. Tuesday is an interesting time to ponder the fallout from it all since Thomas' Celtics play the Carter-Williams' Bucks, who have struggled this year as Carter-Williams hasn't made the impact that the Bucks had planned.
Knight got a $70 million deal and Dragic got $85 million, making them winners for sure, but their teams haven't really gotten the production they were seeking.
As time has passed, the thinking and motivation of each team has become clear and allows for a more reasoned judging of just what the heck happened.
The genesis of the huge deal hinged on two moments. The first was a decision by the Bucks, who were facing both Knight and Khris Middleton
February, 8, 2016
Feb 8
9:47
PM PT

By Baxter Holmes
ESPNLosAngeles.com
Archive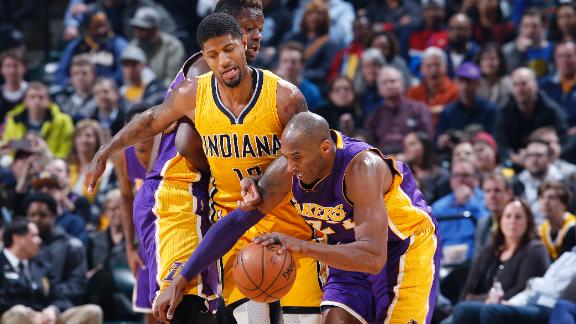 INDIANAPOLIS – During his final stops at various arenas, Kobe Bryant has said he wants to give fans a good show, something that they'll remember from their last trip to see him in person.
For a nearly two-minute stretch in the fourth quarter Monday, the Los Angeles Lakers icon delivered exactly what Indiana Pacers fans were hoping to see -- one of his patented scoring flurries in which he seemed unstoppable.
In his final game in Indianapolis, Bryant kicked off his deluge with a jumper with 4:15 left. Then he buried a 25-foot 3-pointer from the right wing with Pacers' star Paul George guarding him tightly. Then Bryant nailed a 23-foot 3-pointer in the right corner with George closing on him fast.
And finally, with 2:30 left, Bryant buried a 27-foot 3-pointer from the top of the key with George and another defender on him.
As the shots kept falling, the crowd kept roaring louder and louder, turning Bankers Life Fieldhouse into Staples Center East. Fans chanted "Ko-be!" and Bryant's last shot gave the Lakers a three-point lead in a game that the Lakers would ultimately lose 89-87.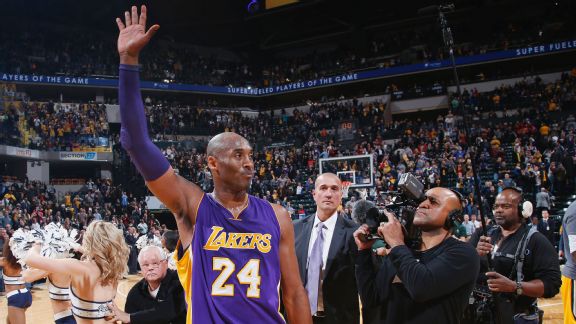 Joe Robbins/Getty ImagesKobe Bryant's last trip to Indiana saw the Lakers' star put on a brief fourth-quarter show.
"For a second, I was stunned," George said. "He hit shot after shot after shot."
But Bryant wasn't too impressed. He jokingly said his reaction to that hot streak was, "About time." Bryant felt that way because before those four straight makes, he was shooting an atrocious 2-for-16 from the field.
And after those four makes, Bryant missed his final five shots.
"I made a shot and then went back to shooting like s---," Bryant said with a laugh. "I pulled the rabbit out of the hat and the rabbit disappeared."
Before the game, Bryant said he wasn't sure when he would have good games or when he would struggle. He just knew that it would either go one way or the other, as it has been all season.
"It's either been s--- or Shinola," he said with a laugh.
His field goal percentage of 24 (6-for-25) ties his third lowest such percentage ever in a game with 25 or more field goal attempts. His worst such shooting effort came on April 5, 2002, when Bryant shot 5 of 26 in a loss in Boston.
The 37-year-old Bryant, who finished with 19 points, said his body felt "horrible."
"Just trying to get loose, man," he added. "The last two games have been like that. Starting out, just being completely locked up, and as the game goes on, I kind of loosen up a little bit more; but the last two games at the start have been pretty tough. I got to make a little adjustment between now and [Wednesday's] game in Cleveland and try to start the games a little looser."
Speaking of such changes, Bryant said he needs more treatment and stretching.
Lakers coach Byron Scott said he was fine with Bryant's shot selection late, even though several shots were deep 3-pointers when Bryant was well-guarded.
"He hit three big ones for us, so I wasn't going to go away from him then," Scott said.
Scott also said of Bryant's shooting, "Sometimes you live and die with it, and I'm willing to do that with him."
Pacers coach Frank Vogel praised Bryant, calling him "great" and "one of the best ever."
'I'm not unhappy that's the last time I face Kobe," Vogel said.
The game was sealed when George made a driving layup on Bryant and was fouled. George, a Southern California native who grew up watching Bryant, made the free throw, giving the Pacers the edge for good.
"For me to finish the game off with a layup and a drive with him guarding, this one was an epic finish, a special finish," George said.
The loss dropped the Lakers to 11-43.
In his final game in Indiana, Bryant largely reflected on his first NBA Finals, which came against the Pacers in 2000. The Lakers would win the series four games to two, giving Bryant the first of his five championships.
"I was excited, extremely excited," Bryant said of that series. "It's different. Like if I compare it to our last championship [in 2010] against the Celtics, the mentality was much different because I had won four [titles], so it's like, 'OK, we can't lose this one.' Whereas the first one was, 'I can't wait to win this one.'
"When it's the first time around, you kind of have this young ignorance of just going out there and playing, and losing wasn't even a thought that even crossed my mind. It was like, 'I'm just going out there and going to work,' whereas in the later stages of your career, you become more conscious of the opportunity of failure."
Walking back into the locker room brought back memories too.
"I had a different seat in the locker room today than when we came here in the Finals, but I was kind of looking over where I was sitting, and I remember getting ready and all the treatment on the [sprained] ankle and remembering all the energy in the building and getting ready to run out for this Finals matchup. It all just kind of came back to me and remembering that this was the start of the run."
Bryant also praised Pacers fans.
"When I played here, these fans were always very tough," he said. "From what I can tell, watching college basketball on TV, it's as close to college basketball as you can get with the sections that they have and the chanting and things like that. They've always been pretty tough on me here. Tonight at the end to get a thank-you chant from them, it was very special."
Bryant walked off the court to chants and a standing ovation, as he has in virtually every arena this season, his 20th and final season in the league.
February, 8, 2016
Feb 8
9:01
PM PT
CLEVELAND -- With the Los Angeles Lakers out of playoff consideration -- let alone championship consideration -- it's safe to say there will be only three more games for Kobe Bryant and LeBron James to play against one another.
Two of them will happen this week: on Wednesday, when the Cleveland Cavaliers host the Lakers, and in Sunday's All-Star game in Toronto, where Bryant and James will face off in the annual East vs. West game.
James admitted Monday that seeing Bryant play out his final season has touched him.
"Anytime I even watch his games, even when I'm not playing him, it's always, like, very emotional just knowing it's his last hurrah," James said after the Cavs' 120-100 win over the Sacramento Kings. "And he's done so much, not only for the Lakers organization, but for me as a kid growing up watching Kobe and things of that nature and also competing against him.
"So it's going to be really cool to see him on Wednesday for sure, and hopefully -- I know our fans -- they're going to give him a great reception, well-deserved."
A source told ESPN that the Cavs will honor Bryant with a pregame video, as many teams have done.
It promises to be another special moment for Bryant in a 20-year career filled with them. When Bryant announced his impending retirement in late November, James said his most memorable game with the five-time champion was when they won the gold medal for USA Basketball in the 2008 Beijing Olympics.
James shared his favorite Bryant moment on Monday.
February, 8, 2016
Feb 8
6:40
PM PT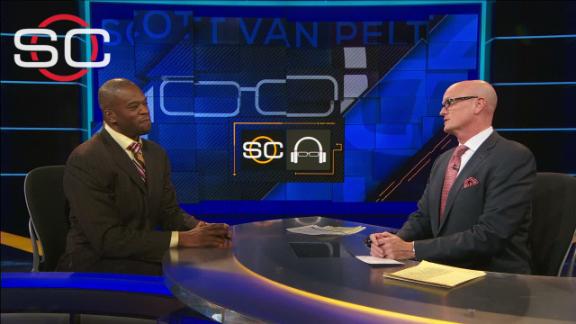 Luke Walton was just a number -- injured salary cap fodder the Los Angeles Lakers sent to the Cleveland Cavaliers in 2012 to snag Ramon Sessions. Walton had logged just 65 minutes that season in L.A., and back injuries had sidelined him for most of the two prior seasons.
He was done.
Then out of nowhere, he found magic on the Cavaliers' second unit with Shaun Livingston, another broken body Cleveland scooped up after Washington waived him. In practices, they discovered such potent give-and-go synergy that Byron Scott, the coach of those sad-sack post-LeBron Cavs, started calling plays for them.
"I have such fond memories of that time," said Walton, who now coaches Livingston and Marreese Speights -- another member of that Cavs bench mob -- in Golden State. "It was a great way to end my career after all the back injuries. We all still laugh about it. The game was fun again."
And thus was born the Luke Walton All-Stars, our annual roster of journeymen and role players thriving in unexpected ways. One or two players have bristled at earning Walton status, but it is meant to be an honor. Not everyone can be a star. A Walton is a shape-shifter who tailors his game to fit the context of a particular team, and revels in the grunt work. He makes everyone's life easier.
"When someone first sent me the column, I assumed it was an insult: Why would there be a Luke Walton All-Stars?" Walton remembered. "But when it was explained to me, I liked it. I took pride in being a glue guy. I love this game. I feel like when it's played a certain way, it can be fun for everyone, and teams have more success."
With those wise words from our captain emeritus, here are the fifth annual Luke Walton All-Stars.
STARTERS
February, 8, 2016
Feb 8
8:36
PM PT

By Baxter Holmes
ESPNLosAngeles.com
Archive
INDIANAPOLIS -- Responding to recent comments from NBA commissioner Adam Silver about a potential rule change to the "hack-a-player" strategy, Kobe Bryant said Monday that outlawing that tactic would "set a horrible example for kids."
Bryant, a 37-year-old star for the Los Angeles Lakers, made his comment in response to a reporter's question after the Lakers' 89-87 loss to the Indiana Pacers at Bankers Life Fieldhouse.
"You can't protect guys because they can't shoot free throws," Bryant said. "You're getting paid a lot of money to make a damn free throw, dude. I think it sets a bad precedent. I wouldn't change it."
Silver recently told USA Today Sports, "I'm increasingly of the view that we will be looking to make some sort of change in that rule this summer.
"Even for those who had not wanted to make the change, we're being forced to that position just based on these sophisticated coaches understandably using every tactic available to them. It's just not the way we want to see the game played."