October, 1, 2014
Oct 1
5:26
PM PT
Associated Press
PHILADELPHIA -- Wilt Chamberlain has been cut down to size. Wilt The Stilt is now Wilt The Stamp.
The Hall of Famer and the only NBA player to score 100 points in a game is set to appear on a commemorative U.S postage stamp. Chamberlain died in 1999 at age 63.
The U.S. Postal Service and the Philadelphia 76ers, with cooperation from the NBA, will formally dedicate the Wilt Chamberlain Forever stamps in a halftime ceremony at a Dec. 5 game against Oklahoma City.
U.S. Postal Service releases commemorative Wilt Chamberlain stamps. pic.twitter.com/cumfreODZO

- NBA on ESPN (@ESPNNBA) October 1, 2014
The stamps are just over 2 inches tall. Kadir Nelson, of San Diego, created the two stamp image portraits of the NBA Hall of Famer.
One is based on a photograph of Chamberlain in a Philadelphia Warriors uniform; the other is based on an image of Chamberlain in a Los Angeles Lakers uniform.
The word "Wilt" is featured in either the top right or left corner of each stamp. Art director Antonio Alcala of Alexandria, Virginia, designed the stamps.
September, 30, 2014
Sep 30
4:03
PM PT
EL SEGUNDO, Calif. -- Kobe Bryant said he felt like himself after his first team practice in about 10 months as the Los Angeles Lakers opened training camp on Tuesday under new coach Byron Scott.
"I felt normal. I felt like myself," Bryant said. "That's a good thing."
Bryant practiced for the first two hours and 15 minutes of the Lakers' three-hour practice. He sat out the final 45 minutes and sat alongside Steve Nash, who practiced for the first 90 minutes.
Both players said they felt good after their first practice but will have their minutes monitored in camp and during the season. When the Lakers go through their first two-a-day practice on Wednesday, Bryant and Nash will only participate in the morning session, which will include a scrimmage.
Bryant played in only six games while recovering from a torn Achilles tendon and then suffered a fracture in his left knee when he returned. Nash played in only 15 games due to nerve root irritation in his left leg.
"Kobe looked good," Scott said. "The first drill, the 10 minutes you could see the guys were in shape. Kobe looked good. Steve was in great shape. Both of those guys did about three-fourths of the practice. I basically had to ask Kobe to shut it down. We got another one tomorrow. He went through one more drill and then shut it down. He felt he felt great and could have done more but right now it's a progression of just going a little bit today."
Nash said this was probably his last training camp and he was just trying to enjoy going through the process of returning to the court and staying healthy so he could stay on the floor for what will likely be his last season in the NBA.
September, 29, 2014
Sep 29
7:54
PM PT
EL SEGUNDO, Calif. -- No one expects much from the Los Angeles Lakers this season, and that's just fine with the Lakers heading into the start of training camp on Tuesday.
"I love the fact that pretty much everyone has written us off," Lakers coach Byron Scott said Monday. "That's obviously fuel to the fire. Obviously I'm going to use that to my ability to talk to our players about how people are viewing us as a basketball team. We're going to go out there tomorrow and get a lot of work in. I love the fact that everybody is doubting us."
One of the main reasons that Scott believes the Lakers will be better than most think is the return of Kobe Bryant, who played in only six games last season while recovering from a torn Achilles tendon and then suffered a fracture in his left knee when he returned.
"I expect him to play 82 games and to play well," Scott said. "He's a guy who's still going to average 23, 24 points per game. The biggest thing is for him to stay healthy and keeping his minutes to a minimum where he can play those 82 games."
Bryant said he felt good and was ready for the start of camp but had mixed emotions entering his 19th season.
"It's a mixture of things," Bryant said. "It's a mixture of excitement, it's a mixture of a little nervousness, it's a mixture of rage. It's a mixture of a lot of things. I'm trying to see if I can prove to myself that I can be myself. All those words and the doubts add fuel to that."
Bryant has read some of the preseason predictions for the Lakers but said he won't focus on that as much as the goals he has for himself and the team.
September, 29, 2014
Sep 29
7:05
AM PT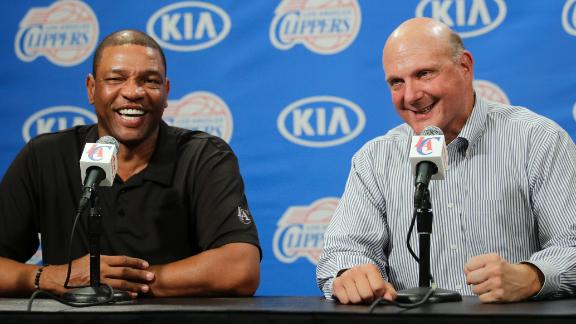 Sports owners filled the annual list of the 400 richest Americans published by Forbes magazine on Monday, including new Los Angeles Clippers owner Steve Ballmer, who at a net worth of $22.5 billion is the richest American owner of a sports team.
Ballmer, who spent 34 years at Microsoft, bought the Clippers in August from Donald and Shelly Sterling for $2 billion, after they were essentially forced to sell following Sterling's much-publicized racist comments. Ballmer is the 18th-richest American.
Microsoft co-founder Paul Allen, who owns both the Portland Trail Blazers and Seattle Seahawks, came in as the second-richest sports owner with a net worth of $17 billion (27th on the list), while Phil Anschutz, who owns both the Los Angeles Kings and the Staples Center where Ballmer's Clippers play, rounds out the top three, with a net worth of $11.1 billion.
Floridian sports owners have a heavy presence on the list, including Miami Heat owner Micky Arison ($6.4 billion), Orlando Magic owner Rich DeVos ($6 billion), Miami Dolphins owner Stephen Ross ($6 billion) and Jacksonville Jaguars owner Shahid Khan ($4.5 billion).
September, 26, 2014
Sep 26
4:33
PM PT
EL SEGUNDO, Calif. -- Los Angeles Lakers general manager Mitch Kupchak said Friday that Kobe Bryant and Steve Nash are healthier than they've been in years and that the goals for the team this season are loftier than simply making the playoffs.
"Our expectations are to win a championship," Kupchak said. "The expectations outside of this room might not be the same.
"I think everybody is healthy right now. I've watched Kobe throughout the summer. I've gone to watch him work out down in Orange County and he's been up here several times and he looks really good. He said he feels great. No ill effects on either injury. Steve Nash said he feels the best he's felt in a long time. He's been working out and playing every day here in the facility."
The Lakers finished last season at 27-55, the team's worst record since moving to Los Angeles in 1960. There were myriad reasons for the poor season but paramount among them was the absence of Bryant, who played in only six games while recovering from a torn Achilles tendon and then suffered a fracture in his left knee when he returned. Nash played in only 15 games due to nerve root irritation in his left leg.
Kupchak said his high expectations for the Lakers are largely based on Bryant, Nash and Carlos Boozer, whom the Lakers claimed off amnesty waivers from the Chicago Bulls in July, staying healthy this season.
September, 24, 2014
Sep 24
10:58
PM PT

By Dave McMenamin
ESPNLosAngeles.com
Archive
Well, no use beating around the bush. It's time for me to say goodbye to you,
Los Angeles Lakers
fans.
After spending the last six years living in L.A. and covering a stretch of your franchise's history that saw just about everything, I'm leaving the purple and gold for
LeBron James
,
Kevin Love
,
Kyrie Irving
and the wine and gold of the
Cleveland Cavaliers
.
It has been a privilege to cover your team for you. It truly has. The biggest compliment I can say is that you care. You truly do. From what the color of
Kobe Bryant
's Nikes for the night will be to what the Lakers plan to do with that seemingly perpetually open 15th roster spot, no detail was insignificant.
The Lakers are a way of life in Southern California. And just like the beautiful weather you all enjoy to be so perfect that an 85-degree day is considered too hot, your standards for excellence with your basketball team are also lofty.
If it's a championship-or-bust credo for the Lakers, the coverage by your beat writers better reflect that expectation as well.
Just last week, I was on vacation and one of you tweeted to me pointing out that Kobe was in Germany for another knee procedure and I failed to write about it, accompanied by the hashtag "#slackin."
The NBA "offseason" is one of the biggest misnomers. The league gets talked about year round and there is always some kind of media out there with which to compete. And you Lakers fans have an insatiable appetite when it comes to your team no matter what month the calendar says it is.
I always knew my work would get readers because of you guys. While that interest sometimes went overboard (give it a break about
Michael Beasley
already, will you?), I'm grateful I had such an active audience to share with.
September, 24, 2014
Sep 24
2:32
PM PT
By Staff
ESPNLosAngeles.com

General manager Mitch Kupchak announced Wednesday that the
Los Angeles Lakers
signed nine-year veteran
Ronnie Price
.
The 31-year-old Price played with the
Orlando Magic
last season and has also spent time with the Kings, Jazz, Suns and Trail Blazers.
The 6-foot-2 guard has averaged 3.4 points, 1.5 assists and 1.1 rebounds over 425 games (35 starts) in his career. He put up a career-high 2.1 assists per game in 2013-14 with Orlando, in addition to 2.4 points, 1.4 rebounds and 0.8 steals in 12.2 minutes over 31 games (two starts).
September, 23, 2014
Sep 23
3:52
PM PT
By Staff
ESPNLosAngeles.com

General manager Mitch Kupchak announced today that the
Los Angeles Lakers
have signed guards Keith Appling and Jabari Brown and forwards Roscoe Smith and Jeremy Tyler to their training camp roster.
Appling went undrafted but averaged 10.6 points, 3.3 assists, and 3.0 rebounds in four seasons at Michigan State.
Brown, a teammate of Lakers guard
Jordan Clarkson
last season at Missouri, averaged 19.9 points, 4.4 rebounds and 1.9 assists in 2013-14.
Smithm who spent three years at UConn and one at UNLV, played in all five of the Lakers' Summer League games last season.
Tyler is a three-year NBA veteran who has played in 104 games (23 starts) with the
Golden State Warriors
,
Atlanta Hawks
and
New York Knicks
, averaging 3.6 points and 2.6 rebounds in 9.9 minutes per game.
The training camp roster currently stands at 18.