February, 8, 2016
Feb 8
8:36
PM PT
INDIANAPOLIS -- Responding to recent comments from NBA commissioner Adam Silver about a potential rule change to the "hack-a-player" strategy, Kobe Bryant said Monday that outlawing that tactic would "set a horrible example for kids."
Bryant, a 37-year-old star for the Los Angeles Lakers, made his comment in response to a reporter's question after the Lakers' 89-87 loss to the Indiana Pacers at Bankers Life Fieldhouse.
"You can't protect guys because they can't shoot free throws," Bryant said. "You're getting paid a lot of money to make a damn free throw, dude. I think it sets a bad precedent. I wouldn't change it."
Silver recently told USA Today Sports, "I'm increasingly of the view that we will be looking to make some sort of change in that rule this summer.
"Even for those who had not wanted to make the change, we're being forced to that position just based on these sophisticated coaches understandably using every tactic available to them. It's just not the way we want to see the game played."
February, 8, 2016
Feb 8
6:46
PM PT
Associated Press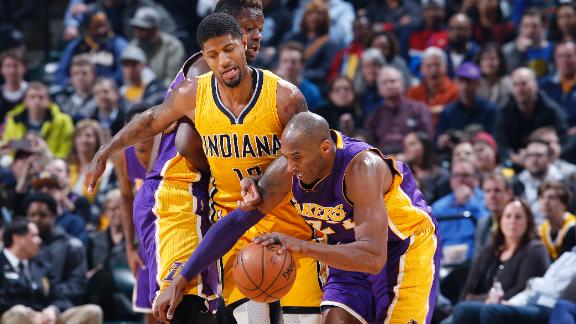 INDIANAPOLIS -- Indiana's Paul George scored all seven of his second-half points in the final 71 seconds Monday night and Monta Ellis made two free throws with 20.6 seconds left to seal an 89-87 victory over the Los Angeles Lakers.
George finished with 21 points and nine rebounds. Myles Turner added 14 points and 13 rebounds on a night the Pacers (28-24) blew a 17-point second-half lead, then scored nine straight points for the win.
Kobe Bryant scored 19 points in his final appearance in Indianapolis. He made three straight 3-pointers to give the Lakers an 82-79 lead with 2:30 left to play. But he also missed two 3s in the final 20 seconds.
When he was pulled out of the game with 10.8 seconds to go, the Pacers' crowd serenaded him with chants of "Ko-be, Ko-be."
But the Lakers (11-43) have still lost 12 of their last 15.
February, 8, 2016
Feb 8
2:25
PM PT
By One Nación
ESPNLosAngeles.com
Archive
Perhaps with a slight twinge of envy that quarterback Peyton Manning now has the option to retire at the top, with another championship in hand, Los Angeles Lakers guard Kobe Bryant posted a message of congratulations for Manning the morning after the Denver Broncos won Super Bowl 50.
Getty Images
Congrats to an all time great! #PeytonManning #SuperBowlChamps #muse

— Kobe Bryant (@kobebryant) February 8, 2016
Bryant has already declared that this will be his final season in the NBA, but Manning has yet to issue an official statement on his retirement. While Manning has just collected his second championship title in the NFL, Bryant has won five championships in the NBA. However, the Lakers are not on pace to make the playoffs this season.
February, 8, 2016
Feb 8
7:19
AM PT
By ESPN.com
ESPNLosAngeles.com

Roy Hibbert facing much different situation with Lakers than Pacers: The endless travel itinerary left Roy Hibbert initially unaware on the timing of his homecoming. But Hibbert insisted he does not make much of it, anyway. -- Los Angeles Daily News
Bryant staying positive amid struggling season: The smile has mostly stayed planted on Kobe Bryant's face, even when experiencing shooting slumps and witnessing youthful mistakes. His laugh has become warm and infectious when he shares funny stories of an accomplished 20-year NBA career. The losses pile up, but Bryant still sounds giddy about playing, as if it marks the first time he has picked up a basketball. -- Los Angeles Daily News
Lakers, among NBA cellar-dwellers, have 19.9% chance of winning the lottery: There was a very important game for Lakers fans over the weekend. Oklahoma City vs. Golden State? No. Lakers vs. San Antonio? Getting closer. The Philadelphia 76ers beat the Brooklyn Nets in a showdown of two fellow cellar-dwellers, a game with lottery intrigue for many Lakers followers. -- Los Angeles Times
February, 6, 2016
Feb 6
11:41
PM PT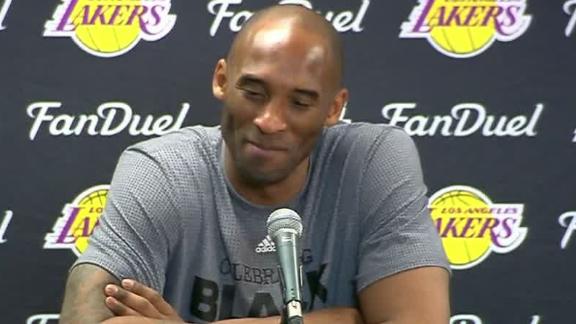 SAN ANTONIO -- Gregg Popovich doesn't have a specific memory. They all run together after so many years, so many timeless battles, all blurring into a single image that has come to haunt him -- Kobe Bryant, with a Spurs defender draped all over him, rising up from either baseline and burying a fadeaway jumper.
"I see him doing it all the time in my dreams," said Popovich, the San Antonio Spurs coach, before facing the Los Angeles Lakers icon one final time Saturday.
Bryant knows the feeling, one he calls mutual.
"I used to stay up all night thinking about how to pick apart their defense and coming up with different schematics of how to attack them and the different coverages that they throw at you -- first-quarter coverage all the way through the fourth," Bryant said after a 106-102 loss at AT&T Center. "I'd stay up, doodling on notepads and things of that nature of where their defense was coming from, where do I move Pau [Gasol], where do I move Lamar [Odom], and how do I beat it. Then you play against them and it's like, 'Dammit! That didn't work. All right, now I've got to think of something else.'"
The Spurs can soon sleep easy. Only one matchup remains: Feb. 19 in Los Angeles. After that, everything is history, the memories from six postseason series (Bryant's Lakers won four of them) and regular-season clashes (Popovich's Spurs hold a 35-25 record over Bryant).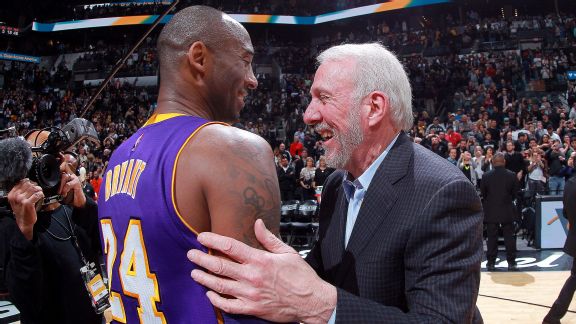 Layne Murdoch/NBAE/Getty ImagesKobe Bryant's Lakers have taken four of six playoff series from Gregg Popovich's Spurs, though Popovich wins the regular-season tally.
All told, Bryant has faced the Spurs in 90 total bouts, his most against any team, which is partly why he said his rivalry against this squad is "more personal" than any other, including the Lakers' most bitter rival, Boston.
"San Antonio was year in and year out," Bryant said.
Each team had title aspirations and often stood in the path of the other, and whoever prevailed usually celebrated with champagne in June.
But in his final game in San Antonio, Bryant gave Popovich and the locals a few more thrills before bidding adieu, especially in the third quarter, when Bryant scored 16 points, including 12 in a row during one stretch when he sank three consecutive 3-pointers.
"It was like watching Michael [Jordan]," Popovich said. "I was just watching. It was great. It was great. We made some mistakes. He took advantage of it. He's fantastic."
Bryant finished with 25 points, but it came on 9-of-28 shooting, 4-of-14 from 3-point range. It was a tough performance akin to earlier in the season, when he was shooting less than 30 percent and complained about his 37-year-old body bothering him quite often.
"I felt like the 'Tin Man' for a while," he said. "I couldn't find any oil anywhere to loosen up these joints."
Though the game itself was close, it was a mere sideshow to Bryant and the whole farewell.

Paying tribute to Kobe's career
Before the game, the Spurs played a moving 2˝-minute video tribute while a spotlight shone on Bryant, seated on the Lakers' bench. The video included interviews with Popovich, Tim Duncan, Tony Parker and Manu Ginobili, three longtime Spurs who have faced Bryant seemingly forever.
"You knew that every time you were going to compete against him, you had to bring it," Ginobili said. "If not, he was going to make you look bad, that's for sure."
"Whether you were up 20 or down 10 or whatever it may be," Duncan said, "you knew that he was someone you had to keep an eye on, you had to worry about, you had to fear, because he was going to bring it."
"He was for us the Michael Jordan of our generation," Parker said. "It was just an honor to play against him. Spurs-Lakers was a huge rivalry."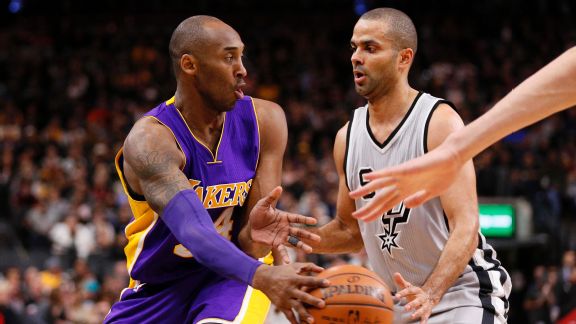 Soobum Im/USA TODAY SportsTony Parker's clutch play helped San Antonio survive a scare over the Lakers and Kobe Bryant, who gave his team the lead heading into the fourth quarter with 16 points in the third.
"Kobe's uniqueness lies in his uncommon ability to compete at the highest level night after night after night," Popovich said. "There aren't too many people who can do that. He's obviously skilled, but his professionalism and being responsible enough to do that on a nightly basis has always astounded me. He's the guy that is ready to put his foot on your throat and win at all costs every single night."
And Popovich delivered a message to Bryant as well.
"It's been a pleasure watching you all these years," Popovich said. "Your competiveness is inspiring. I hope that you're as successful in your next life as you've been in your first one. Good luck to you, man."
Even the Lakers players were moved.
"That was the best video that I've seen all year since we've been on the road," said Lakers guard Jordan Clarkson, a San Antonio native. "I watched him growing up, I watched him kill the Spurs and all kinds of stuff, so it was definitely cool to watch that."
"It was very nostalgic," Bryant said. "Brought back a lot of memories. Just felt extremely touched by it. It's great. It's weird. It's hard to get into a competitive mindset after that because you just feel so thankful for them even doing that. The amount of mutual respect."
And unlike all of the other tribute videos by opposing teams, this one showed Bryant scoring points against the team that created it. In fact, there were quite a few highlights of Bryant overpowering the Spurs.
"It shows the respect of the battles that we've had," Bryant said. "There's been times where we've got the best of them. There's been plenty of times where they've got the best of us. But the beauty was in the battle and the struggle between the two and the contrasting styles and the personalities. I think that's what makes this journey that we've both been on so beautiful."
Bryant particularly credits the Spurs with helping teach him discipline.
"When I first came in the league, I played off a lot of emotion, played with a lot of rage," Bryant said. "But to beat San Antonio -- I mean, the year we got swept in '99 really showed me another level of the game in terms of the kind of coldness with which they played, the disciplined that they played with. That's when I realized that I've got to get my game to that level and get it there now."

Popovich and Kobe's development
Popovich appreciated the sentiment.
"If that's true, even without us, I think he would've figured it out because we all know he's highly intelligent and his IQ is special," Popovich said. "So he would've figured out a little bit more tempered emotion and more directed emotion and a little bit of discipline can all go together and he did that. But I doubt he needed us to figure that out."
The relationship between Popovich and Bryant will continue at the All-Star Game in Toronto, where Popovich will be coaching Bryant on the Western Conference squad. Speaking of which, Bryant said one of his favorite Popovich memories included a past All-Star Game when Popovich was coaching.
"He came up to me right before practice and he said, 'Hey, should I do a real practice or should I do a whatever-walkthrough All-Star practice?'" Bryant recalled. "I said, 'No, you've got to do a real practice, because I want to see what the hell goes on down there in San Antonio, so you've got to do all the real stuff.' So he lined the guys up, put the guys through it and guys are kind of looking around like, 'What the hell?' And Tim just looked at me like, 'Dude, you're killing me.' [I said], 'Well, I want to see. I want to see what goes on.'"
The respect between the two brought about obvious questions about what could've been had Bryant played for Popovich all these years.
"We would've won a lot of championships," Bryant said.
But what about being in a system where players often sit out if they're dinged up or tired?
"It would've been fine, because they never would've known if I was dinged up or tired," Bryant said with a laugh. "You're on the training table?' Nope! I'm good! I'm good!"
Popovich laughed.
"He would've given me just as hard a time as Manu and Timmy have done over the years," Popovich said. "But when you're competitors like those guys, you don't want to sit."
And what of Bryant in San Antonio? How would he have fared?
"I think Kobe did fine just where he is," Popvich said. "He's L.A. We don't have a whole lot of L.A. around here."
Popovich added, "We've always been boring, from Day 1. Coach, players. We're no fun. No humor. I'm still looking for someone to get in trouble so we can get some street cred. I'm tired of this goodie-goodie stuff."

Kobe pays tribute to Spurs' consistency
Bryant has said he has been jealous of the consistency throughout the Spurs organization, a key component to the franchise's longtime success.
"I think that starts at the top with ownership," Bryant said. "They're very clear on what the identity is of this team. They're very clear on what they stand for and what they represent, and they're very clear on the style of player that they want to have. They've been consistent with that year over year, which is why it becomes easier for them to select certain players to draft or certain players to trade for, because they're looking for a certain type of player, right? I think that leads to consistency.
"We've had changes," Bryant said, speaking of the Lakers. "We have Dr. Buss passing away, you have Jeanie and Jim, you have Phil [Jackson] coming and going, you have all these things going on, and so as a result of system changing as well, there's a lot of inconsistency. What they've done here, which is phenomenal and probably comparable to the [New England] Patriots, is they've had so much consistency from top to bottom."
Bryant said that inconsistency has played a role in the Lakers' free-agency struggles; the team has struck out in each of the past three offseasons, especially losing out last summer on All-Star forward LaMarcus Aldridge, who chose to sign with the Spurs instead.
"I think it has a lot to do with it," Bryant said. "I think the players and free agents that come down the road, I think they're going to want to know what we represent as an organization, what we stand for and what the direction is and things of that nature. I think that helps free agents be more comfortable going into a situation.
"If you're a player and you want to win a championship, you've got to go to a place that already has those things established," Bryant added. "They know what they're doing. There's no confusion. You know which direction the ship is going."
Given everything, does the title-obsessed Bryant wonder how many more championships he could've won with such an organization as the Spurs?
"I mean, of course, I wonder that, but just for fun," he said. :But I can't sit here and complain. I've eaten pretty well, so I can't complain that there's no dessert left."
All in all, Bryant kept referring to his final game in San Antonio as strange.
"It's weird that this is the last time," he said. "I don't know. It's strange, man. It's strange. I remember the first time I came here and played, I was kind of like, 'Is this really a barn? What the hell is going on here?' "
In his final visit here, Bryant was showered with love, receiving standing ovations and several "Ko-be!" chants. When the buzzer sounded, Bryant hugged several Spurs players, then Popovich, then walked off the court, applauding the fans and saluting them.
"Ladies and gentlemen, Kobe Bryant!" the Spurs public address announcer said.
Bryant waved and disappeared into the tunnel one last time, saying goodbye to another arena where he made many memories, some of the best and worst he has ever known.
February, 6, 2016
Feb 6
8:08
PM PT
Associated Press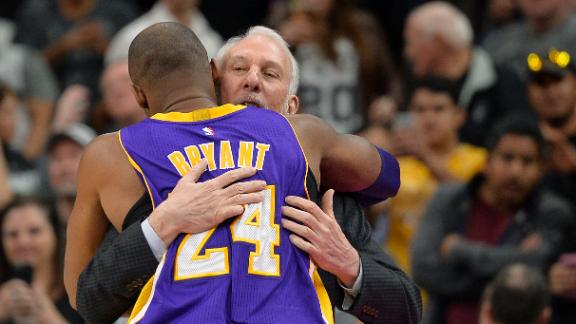 SAN ANTONIO -- LaMarcus Aldridge scored 26 points, and the San Antonio Spurs beat the Los Angeles Lakers 106-102 on Saturday to remain unbeaten at home.
Kawhi Leonard added 20 points and 13 rebounds to help the Spurs win their 28th straight home game this season. However, the Spurs' 37th consecutive home victory, dating to last season, was surprisingly difficult.
Kobe Bryant scored 25 points in his final appearance in San Antonio. The Lakers (11-42) are 5-24 on the road this season, but one last hurrah for Bryant in San Antonio was what they needed to nearly upset the Spurs.
Bryant spent much of his career tormenting the Spurs, and he did so again after a sluggish start Saturday. He finished 9-for-28 from the field but was 7-for-18 in a dynamic second half that electrified a pro-Bryant crowd.
February, 5, 2016
Feb 5
7:37
AM PT
By ESPN.com
ESPNLosAngeles.com

Kobe Bryant steals the show again in Lakers' win over the Pelicans: It was a fun day with plenty of parades, sunshine and good times during Mardi Gras. The French Quarter was happily rolling toward Fat Tuesday, the locals and tourists ready for a weekend of gumbo, hurricane drinks and everything in between. -- Los Angeles Times
Clarkson adds skills challenge to his All-Star weekend schedule: Jordan Clarkson's All-Star weekend keeps getting busier. The NBA added more tasks to his schedule, making him part of the eight-player skills challenge next Saturday in Toronto. The league announced last week that Clarkson would take part in the rising stars challenge next Friday, a game that includes only first- and second-year NBA players. -- Los Angeles Times
Kobe Bryant spurs LA Lakers to 99-96 victory over New Orleans: The Lakers showed as much festiveness as the Mardi Gras celebrations. They became as prolific as the most determined bead collectors. They played in rhythm as well as the jazz music here. All of which helped the Lakers accomplish something they have rarely done all season. -- Los Angeles Daily News
Byron Scott recalls Kobe Bryant playing through injured right shoulder vs. New Orleans: This city conjured up more memories for Lakers coach Byron Scott beyond the tasty seafood, the festive jazz music, his initial success here and his unceremonious firing. But this hardly marked a joyful moment. -- Los Angeles Daily News
Kobe Bryant carries Lakers on win 'streak': The Lakers are far from a team record this time, but here they are on another streak. A winning one, at that. The Lakers won their second straight game on Thursday, beating the New Orleans Pelicans 99-96 at Smoothie King Center. -- The Orange County Register
Kobe Bryant 'exorcises demons' in New Orleans: What you need to know: A backpack slung over his shoulders, Kobe Bryant strolled out of the locker room at Smoothie King Center and brushed aside questions over an apparent injury that had forced him to play one-handed. "I'm not too concerned," Bryant said confidently. The next day an MRI revealed a torn rotator cuff in his right shoulder. -- The Orange County Register
February, 5, 2016
Feb 5
1:06
AM PT
NEW ORLEANS -- He lost another season here, the third straight, almost a year ago exactly. Kobe Bryant returned Thursday for the first time since that January 2015 night, and he came with purpose.
"I want to get back out on this court and play and play well and try to exorcise those demons a little bit," the Los Angeles Lakers star said.
In a 99-96 win over the New Orleans Pelicans at Smoothie King Center, Bryant achieved his goal, scoring 27 points and grabbing 12 rebounds in his third straight turn-back-the-clock performance. But all throughout the game, painful memories of his most recent stop here came flooding back: the third-quarter baseline dunk, then running down the court, clutching his right shoulder, which, he later learned, had suffered a torn rotator cuff.
The injury ended his 2014-15 season but not his night. Even though Lakers coach Byron Scott and the team's longtime trainer Gary Vitti could tell that something was terribly wrong soon after Bryant's slam, Bryant shrugged it off, as he always seemed to do whenever he was injured in his career.
"Is something wrong?" they asked Bryant.
"My shoulder is a little messed up, but I have my left hand," Bryant told them.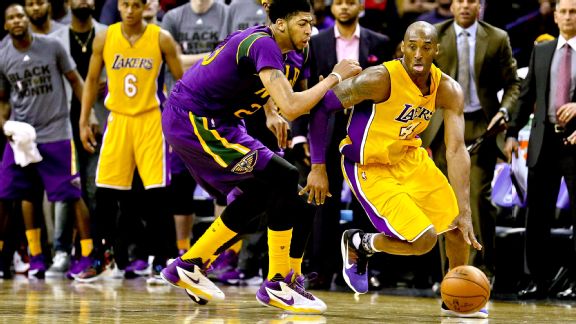 Derick E. Hingle/USA TODAY SportsKobe Bryant wanted to return to the court where his 2015 season ended to "play well and try to exorcise those demons a little bit."
When he ruptured his Achilles in 2013, he knew his season was finished; but on that night, he wasn't sure with his shoulder.
"I was trying to search for where the pain was coming from," Bryant recalled. "Because when I can find where the pain comes from, then I can [say], OK, I just don't do that. But I couldn't find it, so I felt like I could play."
So Bryant kept playing, using only his left hand while his right arm dangled there, lifeless. He dribbled left, passed left and shot a left-handed jumper that fell through. At that point, Scott and Vitti decided, "We have to get him out of there."
Then Bryant went back down the court and shot a short hook shot with his left hand that nearly went in. "I couldn't feel my shoulder," Bryant said. A few minutes later, the Lakers finally subbed him out. After the game, Bryant downplayed the injury to reporters, saying that he would need nothing more than some ice and physical therapy.
But when the team traveled to San Antonio for the next game, Vitti knew and the test results were clear. "He's done for the year," Vitti told Scott. Then the two called Bryant and said that, after surgery, he would need six to nine months of rehabilitation.
"Six to nine months? I'll be back in five," Bryant told them.
Scott laughed. But then within a couple of days, Bryant was back on the court at the team's El Segundo, California, practice facility, shooting jumpers with his right hand and with the torn rotator cuff in his shoulder.
Lakers general manager Mitch Kupchak watched the shooting exhibition from his office overlooking the court. It seemed as though Bryant was trying to prove he was fine, but it was more than that. Bryant said he was confused, because he kept making shots, even from long range, and, somehow, he still felt fine.
Bryant spoke with noted surgeon Dr. Neal ElAttrache, who explained the severity of the injury, but Bryant kept explaining that his arm felt strong.
"And he said [that] the muscles that surround the area are really, really strong, so it's covering up for this injury," Bryant said. "This injury has been here for five years. It's done nothing but got progressively worse. When he did the strength tests on my arm, the arm was still strong. He said, man, if you keep playing, you're going to do some serious, serious, serious damage to it.
"So I had to shut it down."
He didn't want to, but he had to, and on Thursday, Bryant came full circle.
It also marked his third straight vintage performance. He is averaging 29.3 points, 8.3 rebounds and 3.3 assists over his past three games. He's also shooting 50 percent (15-of-30) from 3-point range during that stretch.
"I'm as puzzled by it as you are," Bryant said. "I don't know what to tell you."
He explained that his tedious process of preparing his body to play for games (as well as recover from them) hasn't changed.
"I think it's the consistency of it," Bryant explained. "In the past, when you're younger, you can train in a program for three days and then, boom, it's there. When you get there, I think it's the consistency. I think it builds up over time, and you just have to be really, really patient and go through those ups and downs. It's hard."
He has had plenty of ups and downs this season, most notably shooting 29.6 percent during his first 17 games, when he seemed to be firing air balls left and right. At that point, did performances like Thursday even feel possible? Did he even think he could play this well again?
"That's what made it even more frustrating, because I knew I was capable of doing it," he said. "I knew the amount of training that I put in over the summertime. I worked like crazy. It becomes more frustrating because you're not seeing those results, and then it becomes, 'Maybe this is what happens when you get older. You put all the work in and there's still nothing to show for it. You can't do anything about it.' And I had to be really stubborn and say, 'No'. I've got to continue to stay with the process as I always have and see what happens."
As battered as his pride might have been, Bryant said he felt fine, because he knew he was doing everything that he could.
"When you know you've left no stone unturned, you can be comfortable in that defeat," he said. "With that being said, I wasn't ready to be defeated because the season wasn't over. So I wasn't going to quit. At the end of the season, if these games never came around, I could look myself in the mirror and be comfortable with the fact that I tried everything."
He said he didn't call anyone to ask for help, because there was no one who could even help him at that point.
"I was drowning, and I was all on my own, and I had to figure out how to get on top of the water and breathe again," he said. "It was all internal."
He has come far since then, with quite a few games in which he has looked not exactly like his old self, but not too far from it.
"I'm going to try to bottle it up for the next two months as much as possible," Scott said. "He's just on a nice little roll. He's got a great rhythm right now. He's playing great basketball."
The most entertaining moment of Thursday's game came when Bryant hit a dagger 3 with 58 seconds to go, giving the Lakers a six-point lead and some much-needed breathing room.
After the shot -- one of three clutch 3s that Bryant sank in the final 6:05 -- went in, though, Bryant held his follow through and then wagged his index finger as he walked back up the court.
Bryant laughed when asked why he did that gesture, and he unspooled a story.
"We were just having this conversation a couple days ago about players getting dunked on, and they asked me if I've ever been dunked on," Bryant said. "I said a long, long time ago by [former NBA center] Adonal Foyle. That was it."
Bryant then ribbed teammate Julius Randle, who was dunked on in spectacular fashion by Los Angeles Clippers guard Lance Stephenson in a recent game.
"And tonight, the basketball gods saw to it that Ryan Anderson dunked on me," Bryant said, referencing the Pelican forward's vicious slam over Bryant late in the fourth quarter. "I laughed all the way up the court [after it happened], and I thought the crowd had a good time doing it. Then when I hit the 3, it kind of added a little to it. It was fantastic. It was awesome."
Those are apt descriptions for his play lately, all things considered. With only 30 games remaining in his career, there's no telling how many of these performances he has left in him, making each one feel as though it should be savored before he's gone for good.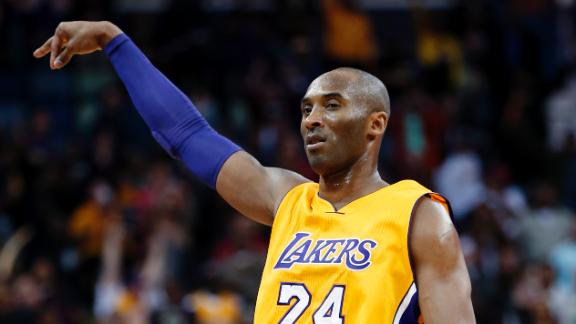 February, 5, 2016
Feb 5
12:12
AM PT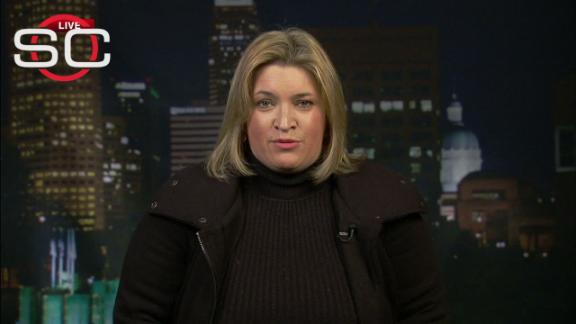 INDIANAPOLIS -- Lakers guard Kobe Bryant, who will retire at the end of this season to cap a 20-year NBA career, said Peyton Manning's decision on whether to return will be a unique experience he likely must weigh on his own.
"Everybody goes through it differently," said Bryant, whose career arc in the NBA compares well with Manning's in the NFL, given their success, injury history and longevity. "And for Peyton, I'm sure it's going to be different as well. I'm sure it's just a matter of his internal clock and knowing what makes him tick."
The relationship between Bryant and the Denver Broncos quarterback dates back a while, with Bryant drafted in 1996 and Manning in 1998.
"I remember he came to a game we played in Orlando, I think, in '99," Bryant said Monday before his final game against the Indiana Pacers in Indianapolis, where Manning starred for the Indianapolis Colts for 14 years.
"He and I were talking in the locker room," Bryant said, "and I was asking him some football questions because I'm insanely curious about how he goes through his progressions. And so he gives me this answer that I swear might as well have been Mandarin. I was like, 'Peyton, in English?'
"But he has such an awareness. He's a football geek in how much he prepares and how much he studies."
The 39-year-old Manning won his second Super Bowl on Sunday with a 24-10 Broncos win