March, 31, 2015
Mar 31
8:05
AM PT
The second 10-day contract signed by guard
Jabari Brown
expired on Monday, so the
Los Angeles Lakers
need to let him go or offer a rest-of-season deal. Brown likely helped himself on Monday as he scored 22 points and dished out three assists against the
Philadelphia 76ers
.
March, 30, 2015
Mar 30
7:31
PM PT

By Baxter Holmes
ESPNLosAngeles.com
Archive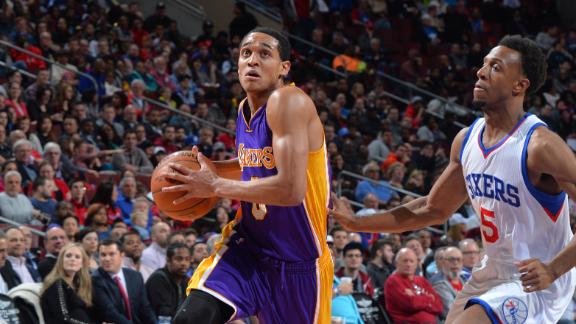 This issue came up last week, when the Los Angeles Lakers beat the Philadelphia 76ers at Staples Center in Los Angeles.
We wrote then that the Lakers' win could come back to haunt them if they end up losing their top-five protected 2015 first-round pick to -- who else? -- the 76ers.
And now, a week later, here we are again.
The Lakers beat the 76ers Monday in Philadelphia, posting a 113-111 overtime road win behind a huge game from rookie point guard Jordan Clarkson (26 points, 11 assists).
However, as was the case last week, it could end up being a costly Lakers win.
For a while now, both the Lakers and 76ers have been contending for the league's third-worst record -- and if the Lakers had finished the regular season in that spot, they'd have had a very strong chance (96 percent) of retaining their top-five pick.
However, after beating the 76ers twice in two weeks, it appears the 20-53 Lakers will finish the regular season with the league's fourth-worst record, meaning they'll have an 82.8 percent chance of retaining that pick.
And as the fine folks at ESPN Stats & Information pointed out, recent history says not to be too confident the Lakers will keep the pick should they enter the lottery in that fourth spot, even though 82.8 percent seems like a solid figure.
Over the past five years, teams that had a pre-lottery position of fourth dropped to sixth on two occasions: the Golden Warriors in 2010 and Washington Wizards in 2011.
In other words, there's a realistic chance the worst season in Lakers franchise history doesn't result in the only possible reward such a season could have brought them -- a top lottery pick and the promising young player who comes with it.
Instead, with their wins over the 76ers in the past two weeks, the Lakers could end up losing that pick to a franchise that's much better at losing when it needs to lose.
March, 30, 2015
Mar 30
7:11
PM PT
Associated Press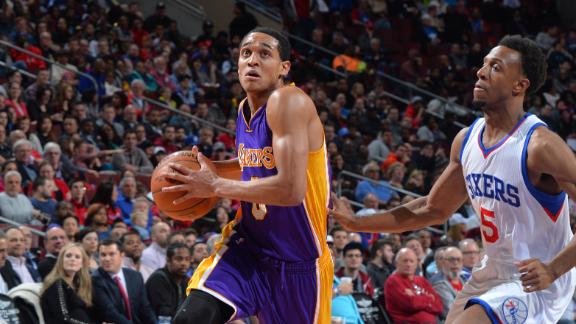 PHILADELPHIA -- Jordan Clarkson scored 26 points and made the tiebreaking basket with 0.7 seconds left in overtime to lift the Los Angeles Lakers past the Philadelphia 76ers, 113-111 on Monday night in a matchup of two of the NBA's worst teams.
Jabari Brown finished with 22 points for the Lakers (20-53). Wayne Ellington added seven of his 20 points in OT, including a 3-pointer that put the Lakers up 111-105 with 1:25 left.
Rookie Nerlens Noel led the 76ers (18-57) with 19 points and 14 rebounds for his ninth double-double of the month. He scored six points in the final minute of overtime to tie the game at 111.
March, 30, 2015
Mar 30
8:20
AM PT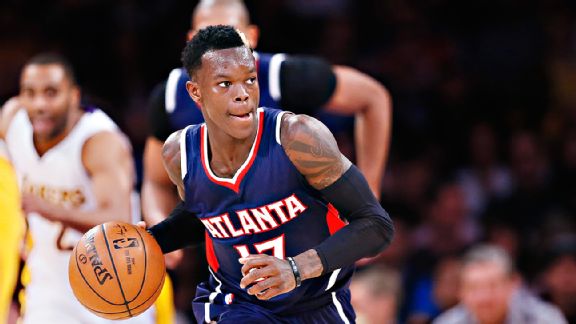 AP Photo/Danny MoloshokDennis Schroder should see more playing time with the Hawks locked in as the No. 1 seed.
April is almost always the most difficult month to project in fantasy basketball as youth movements and shutdowns go into full effect in the last few weeks of the season. Teams that are locked into the postseason may give their star players some extra rest to help keep them fresh for the playoff run. These scenarios can be awfully frustrating (particularly in head-to-head leagues), but they also create incredible opportunities to find unheralded breakout players. Conversely, teams that are out of playoff contention will often decide to give their younger players more playing time in the season's final frame as they look to evaluate talent for next season, although I should note that teams like the New York Knicks, Philadelphia 76ers, Los Angeles Lakers and Minnesota Timberwolves have been in tank mode for quite some time already.
March, 29, 2015
Mar 29
3:00
PM PT
Associated Press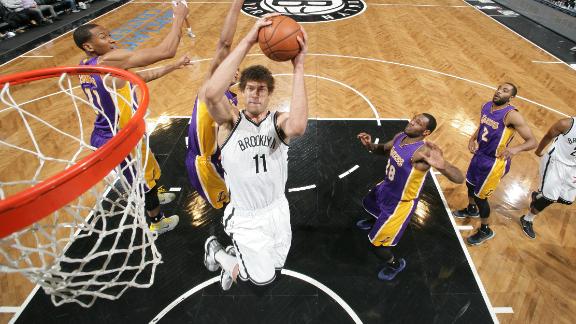 NEW YORK -- Brook Lopez had 30 points and 11 rebounds, and the Brooklyn Nets kept up their playoff push by beating the Los Angeles Lakers 107-99 on Sunday for their third straight victory.
Joe Johnson added 18 points, eight rebounds and seven assists for the Nets, who entered play a half-game behind Boston for eighth place in the Eastern Conference. The Celtics hosted the Los Angeles Clippers later Sunday.
Brooklyn won for the fifth time in six games to give itself a chance at a third straight postseason berth after an underwhelming first half of the season.
The schedule is favorable for a late-season run, with the Nets two games into a stretch that sees them play seven of nine at home -- with another just across the river at the league-worst Knicks.
Reserve Jordan Hill had 22 points and 16 rebounds for the Lakers.
March, 29, 2015
Mar 29
12:26
PM PT

With Steve Nash announcing his retirement, we're down to only 12 active NBA players who were drafted in the previous millennium.

March, 29, 2015
Mar 29
3:26
PM PT

By Marc Stein
ESPNLosAngeles.com
Archive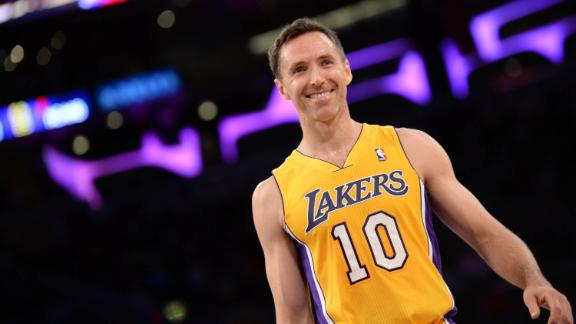 We've had a week to digest the official retirement of future Hall of Fame point guard Steve Nash.
Which means we've also had a week to digest how small the pool of players who were drafted in the 1990s is getting.
We're down to 12 active NBA players, in fact, who were drafted in the previous millennium. According to the list compiled by ESPN.com's tireless Adam Reisinger:
1995: Kevin Garnett (No. 5 overall pick)

1996: Kobe Bryant (No. 13)

1997: Tim Duncan (No. 1)

1998: Vince Carter (No. 5), Dirk Nowitzki (9), Paul Pierce (10), Nazr Mohammed (29)

1999: Elton Brand (No. 1), Andre Miller (8), Shawn Marion (9), Jason Terry (10), Manu Ginobili, (57)
You'll note that the three most-tenured players on this list can be found today with their original teams, although KG's circumstances are obviously different from Kobe's and Timmy's. While Bryant and Duncan, like Nowitzki, have played for only one franchise throughout their entire careers, Garnett took a detour from Minnesota of nearly eight years before the Timberwolves reacquired him in February on trade deadline day.
There are five current players in the NBA, meanwhile, who were born after Garnett was drafted. They are: Dante Exum, James Young, Noah Vonleh, Aaron Gordon and Bruno Caboclo.
And there are two players in the top 20 of Chad Ford's Big Board for 2015 -- Devin Booker and Malik Pope -- were born after Kobe and Nash were drafted in 1996.
March, 27, 2015
Mar 27
7:13
PM PT
Associated Press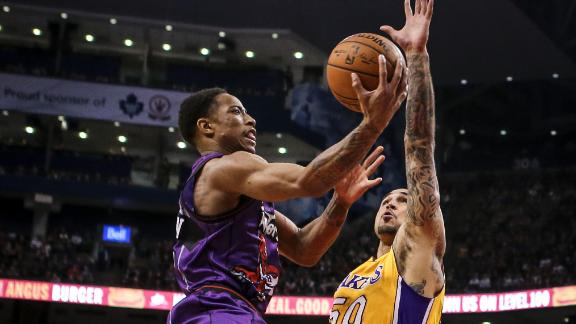 TORONTO -- The Toronto Raptors clinched their second straight Atlantic Division title, beating the Los Angeles Lakers 94-83 on Friday night behind 18 points from Lou Williams and 19 from Jonas Valanciunas.
James Johnson had 17 points, Amir Johnson 11 and Terrence Ross 10 as the Raptors snapped a two-game skid and beat the Lakers for the first time since Dec. 8, 2013.
Jeremy Lin scored 18 points and Jordan Clarkson had 14 for the Lakers, who lost for the 11th time in 14 games.
Toronto's DeMar DeRozan scored six points, making just one of his 10 field goal attempts and missing a dunk in the fourth quarter, but he had 10 rebounds and seven assists, both team highs.
March, 27, 2015
Mar 27
3:48
PM PT
ESPN.com news services
[+] Enlarge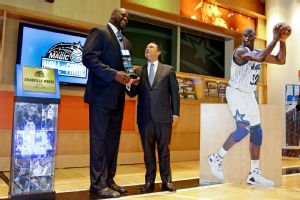 AP Photo/John RaouxShaquille O'Neal is presented with an award by Magic CEO Alex Martins during his induction into the team's Hall of Fame on Friday night.
ORLANDO, Fla. -- It's been nearly two decades since Shaquille O'Neal left the Orlando Magic to pursue the championship that eluded him during his first four seasons in the NBA.
He returned Friday to be inducted into the Magic's Hall of Fame, a moment he said was an "unexpected" celebration of his contributions to the franchise. It was also a reunion that prompted O'Neal to acknowledge regrets about leaving his original NBA team.
"It's unexpected because I came here to win. We won games, and then I made a business decision," said O'Neal, who becomes the third member of the Magic's hall, joining co-founder Pat Williams and first-ever draft pick Nick Anderson. "It's never personal. The [team owner Rich] DeVos family knows that. And I accomplished [a championship] somewhere else. It's not like I didn't think they weren't going to be upset or anything. But it's business. It was all business.
"Do I regret it? I never fully answer it. I regret it sometimes. Is this where I started and should have stayed? I actually wish they made it a law that whoever drafts you, you gotta stay there your whole career."
March, 26, 2015
Mar 26
11:00
PM PT
By ESPNLosAngeles.com
ESPNLosAngeles.com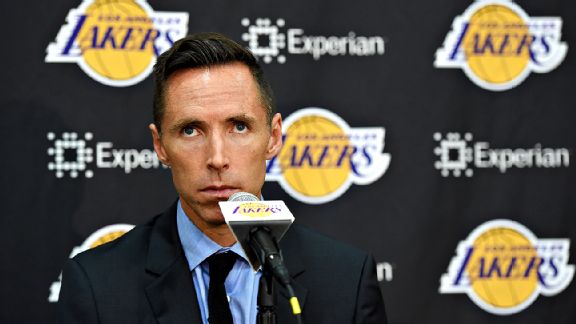 Harry How/Getty ImagesSteve Nash finally announced his retirement, but should his final years define his legacy in any way?
---
Each week, ESPN.com Lakers beat writer Baxter Holmes, along with ESPN.com NBA writers Ramona Shelburne and Arash Markazi, will weigh in on three questions that are on the minds of Los Angeles Lakers followers.
1. Will Steve Nash's tenure with the Lakers influence how you will remember his career?

Holmes: Not really. He was hurt, and it didn't work out. But Nash will be defined as one of the greatest point guards ever to play the game, a player who beautifully ran a revolutionary Phoenix Suns offense that many teams today try to mimic in ways big and small. There are so many incredible statistical achievements on his résumé -- too many to name. I'll remember all that, not these last few years.
Shelburne: No. I've already forgotten he was a Laker. Nash will be remembered for his time with the Suns. That's where he made his mark and had his greatest years. These last three years in Los Angeles are just the unsatisfying postscript to a Hall of Fame career. Now, if I were Lakers management, it wouldn't be so easy to forget his tenure in L.A. The draft picks they gave up -- and the salary they committed to him -- set the franchise back in immeasurable ways. They'll be digging out from that trade for at least another year or two. But that's the Lakers' issue, not Nash's. He can retire with his legacy intact and head held high.
Markazi: No. Like Michael Jordan's time with the Washington Wizards at the end of his career, I don't think anyone will really focus on it years down the line when we talk about his Hall of Fame career. It would be nice if he could have ended his career on a better note, but it doesn't take away from everything he did in Dallas and Phoenix that made him one of the best point guards ever.
---
2. Have we reached the point where we can we say Jordan Clarkson is the real deal?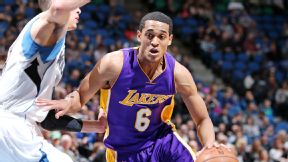 David Sherman/NBAE/Getty Images Jordan Clarkson is showing he belongs in the NBA, but will he be a long-term solution for the Lakers?
Holmes: I think we've reached the point where Clarkson has definitely proved he can play in this league and has the potential to be a rotation player for the Lakers going forward. Is he a starting point guard in the NBA? Not at the moment. He might be one day, but that's maybe the most stacked position in the league right now. Either way, he has proven he belongs. That's pretty impressive for a second-round pick.
Shelburne: Yes. The kid just keeps getting better and better each game. I think he has established himself as part of the Lakers' future. It's still debatable how big a role he will play. On this team, in this season, you can't really tell if Clarkson is a future starter or a future backup. But he's clearly a player the Lakers will want to keep around long enough to find out.
Markazi: Yes. I think Clarkson is a solid player who could have a long future for the Lakers, but I still don't see him being the long-term answer as the starting point guard. I still think the Lakers eventually will end up with Russell Westbrook but until then, maybe Clarkson can keep his seat warm.
---
3. If the Lakers keep their protected draft pick, is there a player or position on which they should focus their attention?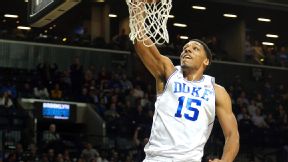 Brad Penner/USA TODAY SportsIf Jahlil Okafor is available, the Lakers might be wise to zero in on picking him in the draft.
Holmes: If Duke's Jahlil Okafor or Kentucky's Karl-Anthony Towns is there, I'd take one of those two above all others simply because good big men are hard to find. If not, Ohio State's D'Angelo Russell looks as if he could be a point guard of the future for some lottery team. He has been very, very impressive.
Shelburne: No. Just take the best player available. You don't know yet what you really have in Julius Randle or Clarkson. Both are talented, but it's too soon to know where their ceilings are. The most important thing for a franchise with as many holes to fill as the Lakers is to draft the best player available. Worry about position later. Talent is what matters now.
Markazi: I don't think there's a particular position. They need help at a lot of positions. It's hard to say who they'll pick without knowing where they'll be picking, but I obviously think Okafor would be the prized pick followed by Emmanuel Mudiay and Towns.