July, 13, 2014
Jul 13
2:02
PM PT

By Dave McMenamin
ESPNLosAngeles.com
Archive
Los Angeles Lakers
fans had to wait out free agency for a max contract-level talent that never came, but the wait to see the franchise's highest draft pick in 30 years in action is over.
The Lakers signed No. 7 pick
Julius Randle
to his rookie contract Sunday afternoon approximately an hour before L.A.'s summer league game against the
New Orleans Pelicans
, the team announced. The 19-year-old forward started the game against New Orleans.
Randle missed the Lakers' summer league debut, an 88-78 loss to the
Toronto Raptors
on Friday, as L.A. management wanted to keep Randle's salary off the books should they need the extra salary cap room to pursue free agents.
Randle was medically cleared to participate in the summer league shortly after the draft when he traveled to Indiana to have his right foot examined by a specialist.
In his lone collegiate season at Kentucky, Randle averaged 15.0 points, 10.4 rebounds, 1.4 assists and 0.8 blocks in 30.8 minutes per game for the Wildcats.
July, 13, 2014
Jul 13
10:59
AM PT
ESPN.com news services
[+] Enlarge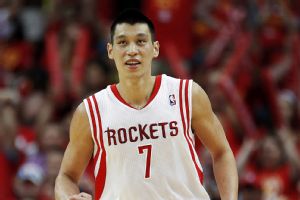 Andrew Richardson/USA TODAY SportsJeremy Lin is headed to the Lakers after two seasons with the Rockets.
The Los Angeles Lakers completed their acquisition of point guard Jeremy Lin from the Houston Rockets on Sunday.
The Lakers also received a future first-round pick and a 2015 second-round pick in the deal, sending the rights to center Sergei Lishchuk to Houston.
"This trade allows us to acquire a solid player who will make us a better team, as well as draft picks to improve our team in the future, while at the same time allowing us to maintain financial flexibility," Lakers general manager Mitch Kupchak said in a statement. "In addition to what he'll bring us on the court, we think Jeremy will be warmly embraced by our fans and our community."
Lishchuk played last season for Velencia of the Spanish League. He was drafted by the Grizzlies in 2004 and traded to the Rockets in 2008 before he was acquired by the Lakers in 2010 as part of a three-way trade with the Nets and Rockets.
Lin will make about $15 million this season in the last year of a deal that counts only $8 million against the cap.
July, 12, 2014
Jul 12
2:41
PM PT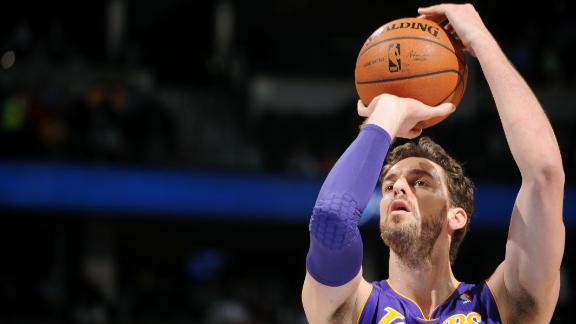 The Chicago Bulls have reached an agreement with free-agent center Pau Gasol on a multiyear deal.
Gasol announced that he had chosen the Bulls on his Twitter feed Saturday.
It hasn't been easy. After meditating it a lot I've chosen to play with the Chicago Bulls. Looking forward to this new chapter of my career

- Pau Gasol (@paugasol) July 12, 2014
Discussions between Chicago and the Los Angeles Lakers on a sign-and-trade deal for Gasol broke down, so the four-time All-Star will sign directly with the Bulls, sources told ESPN.com.
Chicago currently does not have salary-cap space, so it will have to make roster moves to free room to add Gasol.
If the Bulls are unable to work a last-minute trade of Carlos Boozer, it likely means they will have to release him via the amnesty provision and clear the forward's $16.8 million off their salary cap to make room for Gasol. The deadline for such a move is Wednesday.
Boozer then would be placed on waivers and teams with cap space could bid to pick up a portion of his contract. The team with the highest bid would get his services. With so many teams currently owning cap space, it is doubtful Boozer would pass through and become an unrestricted free agent.
The Bulls are also hoping to create additional cap space to sign 2011 first-round draft pick Nikola Mirotic, who reached a buyout agreement with his Spanish team last week with the intention of coming to the NBA. The 6-foot-10 power forward has been seen as an offseason priority for the Bulls as they look to bolster a strong front line that already includes Joakim Noah
July, 12, 2014
Jul 12
12:17
AM PT
ESPN.com news services
Pau Gasol is inching closer to becoming a Chicago Bull, with a source telling ESPN.com's Ramona Shelburne that a deal between the two sides "should be done [Saturday]."
The Spanish newspaper Marca first reported late Friday that the Bulls were closing in on a deal with Gasol despite the absence of a sign-and-trade agreement with the Los Angeles Lakers.
Sources close to the situation told Shelburne late Friday that a sign-and-trade arrangement had not been struck, with the Lakers still looking for draft compensation -- as they received in Friday's earlier trade with the Houston Rockets to take back the contract of Jeremy Lin -- as the primary return for Gasol.
ESPN.com reported earlier Friday that the Bulls and San Antonio Spurs had emerged as the two leading candidates to land Gasol, with San Antonio poised to land the Spaniard if the Bulls and Lakers could not finalize a sign-and-trade deal.
Sources told ESPN.com late Friday that the Bulls were prioritizing their pursuit of Gasol even ahead of their long-running efforts to sign Carmelo Anthony, fearing that Anthony is likely to stay with the New York Knicks.
July, 11, 2014
Jul 11
7:47
PM PT
Free-agent swingman Kent Bazemore has agreed to terms on a new deal with the Atlanta Hawks, according to sources close to the process.
Sources said the in-demand Bazemore -- pursued by the reigning champion San Antonio Spurs and several other teams -- will sign a two-year deal worth a guaranteed $4 million from the Hawks.
After playing sparingly in his first season and a half in the league, Bazemore emerged as a sleeper free agent following a solid finish to the 2013-14 campaign with the Los Angeles Lakers.
Bazemore's representatives were also in contract discussions with the Lakers on Friday, but there was more urgency on Atlanta's end, a league source told ESPNLosAngeles.com's Dave McMenamin.
"Just a timing thing," the source said. "(The Lakers) couldn't agree tonight ... Hawks needed it done."
Bazemore's representatives informed the Lakers of the delicate timing, but L.A. was not ready to move forward and finalize a deal, so Bazemore chose Atlanta.
Traded to L.A. in the deal that sent Steve Blake to Golden State, Bazemore averaged 13.1 points over the season's final 23 games with the Lakers, shooting 45.1 percent from the floor and 37.1 percent from 3-point range.
July, 11, 2014
Jul 11
6:33
PM PT

By Dave McMenamin
ESPNLosAngeles.com
Archive
It was an injury to
Carmelo Anthony
that led to
Jeremy Lin
's meteoric rise to basketball relevance in New York more than two years ago. Now it appears that indecision on Anthony's part could lead to Lin trying to recapture the magic in Los Angeles.
The Lakers still hadn't heard any official word from Anthony on Friday, according to a league source, when they pulled the trigger on a trade with the
Houston Rockets
to acquire Lin and Houston's 2015 first-round pick in exchange for cash considerations and the rights to an undisclosed player stashed overseas.
[+] Enlarge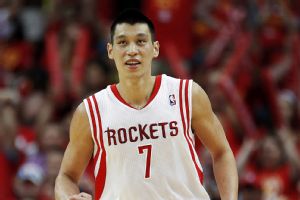 Andrew Richardson/USA TODAY SportsIn addition to providing consistency at point guard, one of Jeremy Lin's biggest assets is his ability to drive to the basket and convert.
While Lin hardly has the reputation now he had back in February 2012 when "Linsanity" reached its height of euphoria thanks to him dropping 38 points on the Lakers of all teams during a Friday night game at Madison Square Garden, it's not as if he's some bum either.
There's no denying that the last we saw of him on the court, Lin struggled. Lin shot just 21.7 percent on 3-pointers in Houston's first-round playoff loss to Portland and was particularly ineffective early in the series, scoring five points on 1-for-5 shooting in Game 2 and four points on 1-for-6 shooting in Game 4 as the Rockets fell behind 3-1 before eventually losing in six games.
But that rough series, combined with the Rockets' preference for Patrick Beverly at the point, ended up clouding the player that Lin really is today.
The fact is, he's a better player than when he was setting the world on fire during that streak with the Knicks. Lin may have averaged fewer points (12.5 compared to 14.6) and assists (4.1 compared to 6.2) last season than he did when he was in New York, but he's more efficient (35.8 percent from 3, up from 32.0 percent, while his attempts have gone from 2.1 to 3.2 per game), more reliable (82.3 percent from the foul line, up from 79.8) and also more in control (2.5 turnovers per game, down from 3.6).
At 6 feet 3, 200 pounds, Lin is a bigger point guard than most think, which perhaps has something to do with his durability. Lin played in 71 games last season and all 82 games the season before that. Having a stable point guard would certainly be a welcome addition for the Lakers after
Steve Nash
,
Steve Blake
and
Jordan Farmar
all missed so many games because of injuries in the last two seasons.
July, 11, 2014
Jul 11
5:36
PM PT
By
Ian Begley
| ESPNNewYork.com
New York Knicks president Phil Jackson has decided to waive veteran Lamar Odom, citing a lack of professionalism.
"Unfortunately, Lamar was unable to uphold the standards to return as an NBA player," Jackson said in a statement. "We found it necessary to free up the roster spot."
The Knicks also re-signed center Cole Aldrich on Friday night.
Odom's release is the latest setback in the 6-foot-10 forward's career. The Knicks signed Odom on April 16 -- the final day of the regular season -- to a two-year contract, with the second year nonguaranteed.
This gave the Knicks the opportunity to monitor Odom over the summer and decide whether he deserved a roster spot. Clearly, Jackson, who coached Odom for five seasons in Los Angeles, wasn't satisfied with Odom's approach during the trial period.
Odom's last stint in the NBA was in 2012-13 with the Los Angeles Clippers.
The Clippers and Lakers had expressed interest in signing Odom at various points of the 2013-14 season after a tumultuous summer off the floor that included his eventual divorce from reality TV star Khloe Kardashian.
During the 2013 offseason, Odom was arrested on a DUI charge and reportedly dealt with substance-abuse issues.
Aldrich was with the Knicks last season, averaging 2.0 points and 2.8 rebounds in 46 games.
July, 11, 2014
Jul 11
5:11
PM PT
The Chicago Bulls and the San Antonio Spurs have emerged as the two leading contenders to land prized free-agent big man Pau Gasol, according to sources close to the process.
Sources told ESPN.com that Gasol is giving strong consideration to signing with defending champion San Antonio -- despite the Spurs' limited financial resources with such a deep roster -- in the event that the Bulls can't strike a sign-and-trade arrangement with the Lakers for Gasol.
The Bulls are making Carlos Boozer widely available in trade discussions, but sources say the Lakers have shown a reluctance in talks with Chicago to take on Boozer's contract unless they also receive a young asset back from the Bulls as well.
Oklahoma City has been pursuing Gasol as hard as anyone, but sources indicated Friday that the Spurs have joined the Bulls ahead of the Thunder in Gasol's pecking order.
The Thunder have a $6.5 million trade exception that expires Friday night at 11:59 p.m., that they hoped to use in their own sign-and-trade with L.A.
The Lakers, meanwhile, appear resigned to seeing Gasol exit after successful six seasons together. Prior to Friday, the Lakers offered Gasol two deals: two years worth $23 million, and three years worth $29 million, a league source told ESPNLosAngeles.com's Dave McMenamin. Gasol turned down both offers, according to the source.
July, 11, 2014
Jul 11
2:57
PM PT
ESPN.com news services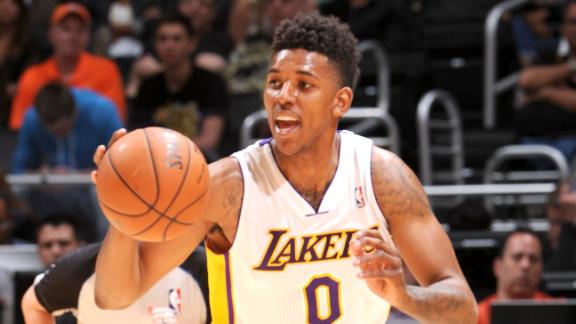 Nick Young is set to return to the Los Angeles Lakers, his agent confirmed to ESPN.com's Jeff Goodman.
Young's deal is for four years, with the fourth year being a player option, agent Mark Bartelstein confirmed. According to a source, the deal is worth $21.5 million.
The Lakers also have re-signed forward Jordan Hill to a two-year deal worth $18 million, a league source confirmed to ESPNLosAngeles.com. The Lakers hold a team option for the second year, the source said.
Young took to Twitter to thank Lakers fans.
Thank you LakerNation for all your support, I'm very happy to say: I'm home! #SwaggyIsBack #GreatThingsToCome for the Lakers.

- Nick Young (@NickSwagyPYoung) July 11, 2014
Young opted out of his contract with the Lakers in June. The 6-foot-6 guard is coming off a career year last season, when he averaged a team-high 17.9 points for a Lakers team that finished 27-55.
"I always wanted to be a Laker, and it will be a dream come true to still be here, but it's crazy," the seven-year veteran said in April. "You never know what happens. Last year they had a whole different team. It's obvious they're going to make some changes."
A Los Angeles native, Young played at USC. After opting out in June, a league source said Young wanted to be made "a priority" by the Lakers over the summer in order to stay.
July, 11, 2014
Jul 11
3:25
PM PT

By Joe Kaiser
ESPNLosAngeles.com
Archive
Linsanity is coming to Los Angeles, according to
Jeff Goodman of ESPN
. Goodman reported on Twitter that Houston will send
Jeremy Lin
along with a first round pick to the Lakers in order to clear the cap space needed to sign
Chris Bosh
and match the offer sheet
Chandler Parsons
signed with Dallas.
Lin could have the chance to put up big numbers in L.A.