April, 28, 2016
Apr 28
8:05
PM PT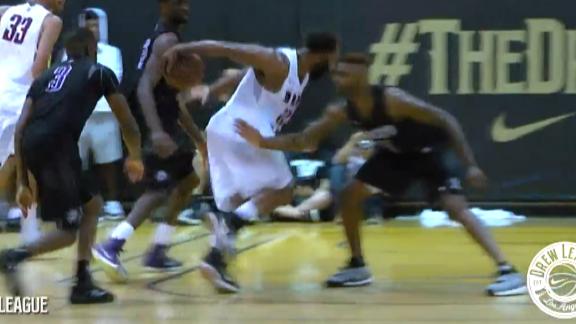 In the midst of telling a basketball story, Baron Davis became a basketball story.
A knee injury brought Davis' 13-year NBA career to a halt during a Knicks playoff game in 2012. He had already started shooting footage of the summertime Drew League, a project that intensified as Davis entered retirement. The finished documentary, "The Drew", will premiere on Showtime on Friday night at 8 p.m. in the Eastern and Pacific time zones.
For a while Davis' basketball exploits were limited to some weekend pickup runs. He'd dabble in a few games of H-O-R-S-E. He found the competitive juices were most likely to flow when he played games of Connect Four -- or sometimes when he picked up the controller and played Mario Kart.
But all of that time spent around the Drew League stirred something.
"Being in that environment and not playing?" Davis said.
That didn't sit right.
Something else didn't sit right: the way his career ended. He'd come down from the highs of the "We Believe" Golden State Warriors playoff run in 2007, to shifting among three teams (the Los Angeles Clippers, Cleveland Cavaliers and New York Knicks) in the final four years of his career. He was heckled by then-Clippers owner Donald Sterling when he played in L.A. His beloved grandmother died in 2011 while he was playing for the Cavaliers. The finish wasn't clean. It felt as if there were more to be done.
Davis hired a personal trainer and worked his way back into shape. He showed up regularly to the Sunday runs. He put out the word that he wanted back in.