June, 3, 2015
Jun 3
5:10
PM PT

By Ian Begley
ESPNLosAngeles.com
Archive
Sam Forencich/NBAE via Getty Images
Point guard Emmanuel Mudiay is scheduled to work out for the Minnesota Timberwolves, Los Angeles Lakers, New York Knicks and Philadelphia 76ers in the weeks leading up to the NBA Draft on June 25, Southern Methodist University coach Larry Brown said.
Mudiay is projected as a top five pick in the draft and will begin workouts later this month.
The Timberwolves have the top pick in the 2015 NBA Draft. The Lakers pick second, followed by the Sixers and Knicks.
It's common for teams with high first-round picks to work out multiple players in the weeks leading up to the draft.
"I think anybody that watches him play and works him out and gets to meet him is going to feel pretty good about him," Brown said by telephone on Wednesday.
Mudiay has been in regular contact with Brown in recent weeks. Mudiay originally committed to play college basketball for Brown at SMU but later decided to play this season in the Chinese Basketball Association.
The 6-5, 200-pound powerhouse guard is perhaps the biggest unknown of the top prospects in the draft.
Mudiay's size, speed and quickness lead many scouts to believe that he will be able to get to the rim frequently and defend the perimeter well in the NBA.
Brown believes Mudiay would have helped SMU compete for the national title if he decided to play for the Mustangs this season.
"I truly believe Emmanuel has a chance to be one of the great young point guards in the NBA, and I don't just say that lightly because I have a tremendous amount of respect for the guys who are playing that position," Brown said.
Mudiay's workouts were first reported by SNY.tv.
June, 3, 2015
Jun 3
8:37
AM PT

By Baxter Holmes
ESPNLosAngeles.com
Archive
Grant Halverson/Getty Images
Karl-Anthony Towns appears to be a near lock for the top overall pick, which means Jahlil Okafor would probably be the safest/most likely selection for the Lakers, who have a storied history when it comes to big men.
ESPN insider Chad Ford agrees, sending the Duke product to the Lakers in latest mock draft.

Okafor, who boasts a throwback back-to-the-basket game, has the potential to be the next great Lakers center, and he would seem to make quite a young tandem with the team's top draft choice last year, Julius Randle.
The Lakers have been hinting ever since lottery night that they would take a center, and even if the league is more guard orientated, a quality post player still has a major impact on the game. That fact isn't lost on Lakers GM Mitch Kupchak and the rest of the front office, which, like Okafor's post game, has a throwback style of thinking.
There's chatter that the Lakers could be interested in D'Angelo Russell and Emmanuel Mudiay, and no doubt the team's higher-ups will give both young guards a look. In the end, they know that you can't teach size -- especially quality size -- so expect Okafor to be taken here, unless Towns falls to No. 2, which appears to be less likely almost by the day.
June, 1, 2015
Jun 1
3:32
PM PT
LeBron James is one of the greatest athletes the world has ever seen.
The body of an NFL linebacker. The speed of a track star. The vision and precision of a marksman. The basketball mind of a computer. All rolled into one package barreling right at you on his way to the rim.
How do you defeat such a modern-day Goliath?
With a slingshot, of course.
In the NBA, they call it a 3-pointer.
In dismantling the two-time champion Miami Heat in last year's NBA Finals, the San Antonio Spurs fired up more 3-pointers (23.6 per game) than any championship team in league history and averaged more 3s than even the most 3-happy Phoenix Suns squad in the "Seven Seconds Or Less" era.
But Spurs coach Gregg Popovich is hardly proud of it.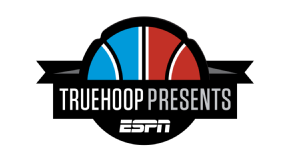 "I can't be stubborn," he explains, "just because I personally don't like it and think it mucks up the game."
He's not alone.
Pat Riley, the dominant coach of the 3-pointer's first decade in the league, called it a "gimmick." Larry Bird, one of that era's most dominant shooters, says, "I really don't like it."
But it's impossible to deny the impact of the shot on today's NBA.
This season, the league shot over 55,000 3-pointers. The average team today shoots 22.5 3-pointers a game, a rate that would have led the league in 2000-01. Stephen Curry won MVP while breaking the 3-point record. Take a look at the 10 most frequent 3-point shooting teams in NBA history and you'll see five that also made this year's playoffs.
June, 2, 2015
Jun 2
3:59
PM PT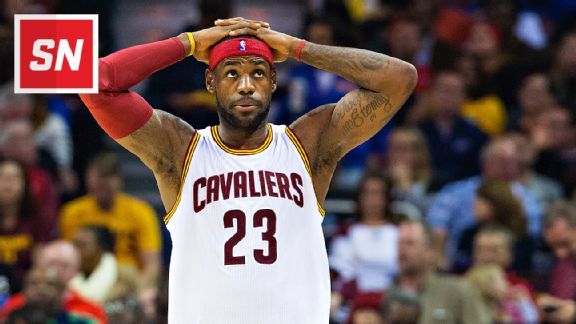 Jason Miller/Getty Imagesnull

The state in which LeBron James won two titles does not think James is better than Bill Russell or Kobe Bryant.

June, 2, 2015
Jun 2
6:07
PM PT
By Matt Walks, ESPN.com
ESPNLosAngeles.com
Archive
Mike Blake/Reuters
Robert Horry stopped by The Herd on Tuesday to promote "Clutch City," his upcoming documentary about the Houston Rockets, but the seven-time champion also discussed his place in NBA history.
As a player who found success almost everywhere he went, Horry is in the rare position of having a debate surround the best team he was ever apart of. He puts that question to rest for Colin Cowherd.
Later, Big Shot Bob describes an awkward fan encounter and the best game-winner he ever hit. (Sorry, Kings fans, but he's right. There's even a song that describes the game's play-by-play in the lyrics.)
Listen here:

June, 2, 2015
Jun 2
9:08
AM PT
Associated Press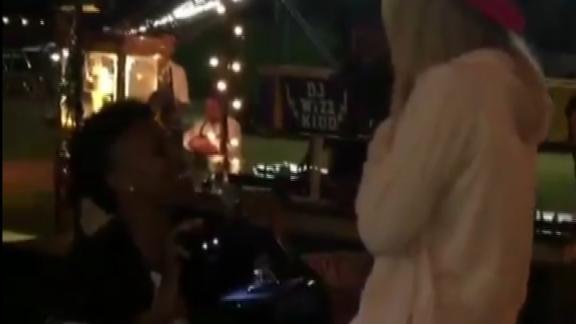 NEW YORK -- Iggy Azalea recently canceled her fall tour, so she has time to plan for a big moment in her life: her wedding.
Nick Young of the Los Angeles Lakers proposed to the rapper late Monday as they celebrated Young's 30th birthday. A short video of Azalea saying yes as Young proposed on bended knee was posted on the blog site Karen Civil. The site confirmed its authenticity via email.
Azeala's representative also confirmed the engagement.
Azalea posted a photo on Instagram of her hand, complete with diamond ring. Young wrote, "She said yes. It's over man. I'm getting married!" when he posted a photo of the couple kissing.
Azalea will be 25 on Sunday. She announced last week that she was canceling her U.S. tour for a second time.
June, 2, 2015
Jun 2
9:46
AM PT
By ESPN Stats & Information
ESPNLosAngeles.com
Archive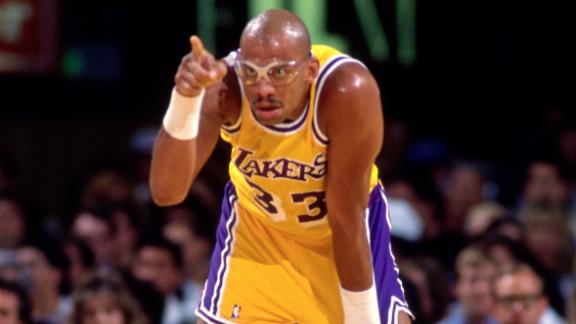 On June 2, 1985, Kareem Abdul-Jabbar of the Los Angeles Lakers became the all-time leading scorer in NBA playoffs history, surpassing Jerry West's total of 4,457 points, as the Los Angeles Lakers beat the Boston Celtics 136-111 in Game 3 of the NBA Finals.
The Lakers won the series in six games.
Michael Jordan later passed Abdul-Jabbar for total playoff points during the 1998 Eastern Conference finals.
June, 1, 2015
Jun 1
1:59
PM PT
By Jason McCallum, ESPN Stats & Info
ESPNLosAngeles.com

Getty Images
Usually around this time of the NBA season, the topic of "LeBron James vs. (insert the name of another great)" as best all-time player comes up for debate. No doubt, someone somewhere is considering that question now.
One of the angles debaters often take is, "Player X had to beat so many better players than Player Y en route to his titles."
We asked the Elias Sports Bureau to look at the postseason careers of Larry Bird, Magic Johnson and Michael Jordan and determine how many Hall of Famers each of them eliminated from the playoffs. They used the guideline that the Hall of Famer in question must have played at least one postseason game that season.
Also, players could count multiple times. For example, Jordan eliminated Karl Malone and John Stockton in both the 1997 and 1998 NBA Finals, so that counts as four Hall of Famers eliminated, not two.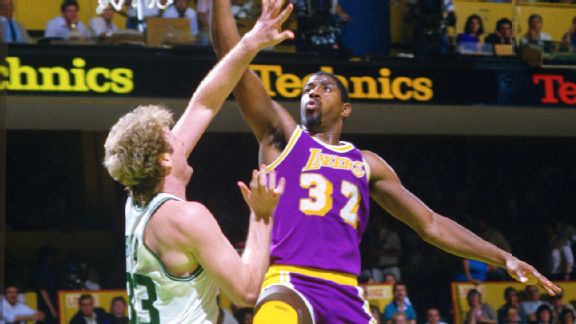 Focus on Sport/Getty ImagesOn a per-series-win basis, Magic Johnson eliminated more Hall of Famers than Larry Bird did.
Here's how Bird, Magic and Jordan compare with one another:


Some takeaways:

• Bird played an average of almost exactly one Hall of Fame player per series, and every time he eliminated an opponent, that opponent averaged almost 1.5 Hall of Famers.

• Johnson won more series than Bird or Jordan and eliminated more Hall of Famers than either of them, and for every series he won, he eliminated a little more than one Hall of Famer on average.

• Jordan won more titles than either Bird or Johnson, but he faced far fewer Hall of Famers en route to these wins. His 30 series wins eliminated 27 Hall of Famers, an average of less than one per series win.
How does LeBron stack up?
Now let's bring James into the discussion. It is obviously murkier because the opponents he is playing against aren't eligible for the Hall of Fame, much less in it. Here's where he stands:




For the purposes of this debate, how do we figure out how many Hall of Famers James has eliminated?
We conducted a highly nonscientific poll within ESPN's Production Research department on whether the players James has eliminated are bound for the Hall of Fame based on their current career track.
Understandably, a lot of liberties were taken. For instance, we assigned Kawhi Leonard as a Hall of Famer based on his current career track. We were liberal with these assessments rather than strict, just to give benefit of the doubt to James.
We in Production Research came up with 26 Hall of Famers eliminated by James, a number that obviously can grow (and that can differ from what you come up with).
So, based on the voting by Production Research, here's what an updated list comparing these NBA greats could look like:


Happy debating.
June, 1, 2015
Jun 1
10:50
AM PT
By Matt Walks, ESPN.com
ESPNLosAngeles.com
Archive
Getty Images
Among the slew of historical and statistical firsts that will accompany this week's Cavaliers-Warriors series comes this interesting tidbit from the league's stats Twitter feed:
#FunFact: Before Curry does this year, the last player to win MVP and play in his first #NBAFinals in the same season was Iverson, 2001

— NBA.com/Stats (@nbastats) May 30, 2015
Allen Iverson and the 76ers met Shaquille O'Neal and the Los Angeles Lakers, eventually losing in five games. The season prior, O'Neal accomplished the same feat -- winning MVP and playing in his first championship series, as the Lakers beat the Indiana Pacers.
Before Shaq and A.I., Karl Malone did it in 1996-'97, helping the Utah Jazz reach the Finals while breaking out with a tremendous individual season. Like Iverson, Malone also ended up losing -- to Michael Jordan and the Chicago Bulls.
May, 29, 2015
May 29
3:17
PM PT

By Baxter Holmes
ESPNLosAngeles.com
Archive
The Lakers have completed a deal to buy a five-acre El Segundo, Calif., property worth $80 million that, among other things, will house a new, independently-owned practice facility, the team announced Friday. Construction is expected to be finished by the spring of 2017.
Currently, the Lakers practice at the Toyota Sports Center, which they share with the NHL's Los Angeles Kings, but their new facility, located at the northwest corner of Mariposa Avenue and Douglas Street, will also be the home of the team's new corporate headquarters, featuring a 750-seat exhibition court and offices on the property, as part of the Elevon at Campus El Segundo development.
"With its proximity to the airport and beaches, clean air, diverse businesses, and wonderful community, El Segundo is the perfect place for us to be," said Lakers president and co-owner Jeanie Buss. "We've been here for the past 15 years with great success, and we're thrilled to secure the perfect spot to expand on that success and remain for many years as a part of this vibrant and growing area."
The new facility will also be home to the Los Angeles D-Fenders of the NBA's Development League, where the team will play their home games on the exhibition court.
May, 29, 2015
May 29
4:20
PM PT
By David Sabino
ESPNLosAngeles.com
Archive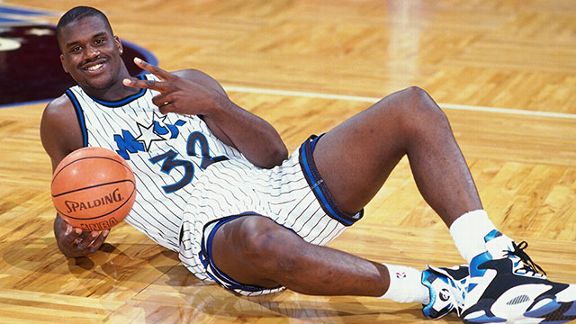 Barry Gossage/NBAE/Getty Images
From ESPN Stats & Info comes this gem:
Every championship team for the last three decades has featured a player who has spent time on a roster with Shaquille O'Neal.
The Diesel played for six different teams over his long career, and to find the last title-winning team that didn't have a player who was at some point a teammate with Shaq, you would have to go back to the 1982-1983 Philadelphia Sixers, led by Dr. J.
For instance, Danny Green -- a member of last year's champion Spurs -- was Shaq's teammate in Cleveland during his rookie season. The furthest connection is Greg Kite, a backup center for the champion 1983-84 Celtics.
In addition to the titles he himself helped the Lakers win, he also shares a link to three of the Lakers' 1980s championships by virtue of sharing a roster with Byron Scott for a brief time after he left Orlando for Los Angeles.
More from S&I:
"The only playoffs outlier between this season's Cavaliers or Warriors and the last non-Shaq-related champs was the 2010-11 Dallas Mavericks. Sasha Pavlovic started 6 games for those Mavericks during 2010-11 but was let go during the season. After a brief stop in New Orleans, he joined Shaq in Boston. (The guard was also one of three players on Mark Cuban's title team -- with Caron Butler and Shawn Marion -- who were part of the three trades that involved O'Neal throughout his career.)"
And yes, the streak will continue into 2016. Shaq played with the Cavs' LeBron James, Kendrick Perkins and Anderson Varejao, as well as the Warriors' Leandro Barbosa.
May, 27, 2015
May 27
9:50
PM PT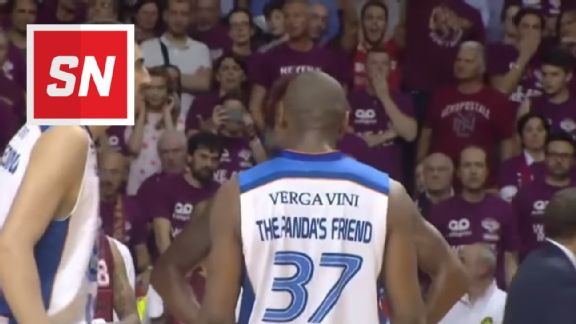 Pallacanestro Cantu Basketballnull

The basketball player formerly known as Ron Artest got an unceremonious exit from the Italian league's playoffs.

May, 28, 2015
May 28
9:56
AM PT
While our historically unlikely Finals showdown begins its massive buildup, the Los Angeles Lakers' braintrust, led by longtime general manager Mitch Kupchak, is plotting for a crucial offseason. Los Angeles is reeling from an unprecendented level of futility for the franchise.
The 61 losses last season set a franchise mark that was but one season old. The two-year total of 116 defeats is 22 more than any other two-season stretch of Lakers basketball. In missing the playoffs in back-to-back years, the current Lakers accomplished something never before seen in the franchise's 67-year history.
You get the point: The Lakers have never been this bad. However, rather than wallowing in the type of gloom and uncertainty that marked our offseason plan of the New York Knicks last week, the Lakers can revel in the prospect of brighter days ahead.
Let's take a peek at turns the Lakers' offseason might take as the NBA's glamour franchise tries to climb back to the peak of a league it's owned for so long.