January, 26, 2015
Jan 26
2:49
PM PT

By Baxter Holmes
ESPNLosAngeles.com
Archive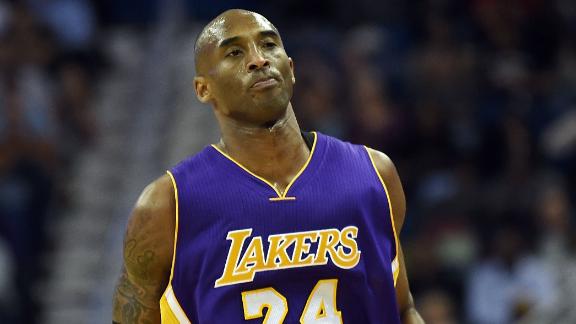 EL SEGUNDO, Calif. -- Lakers coach Byron Scott said he spoke to Kobe Bryant on Monday morning, before Bryant had his injured right shoulder examined.
Scott told Bryant that he would pray for him.
"He sounded good," Scott said. "I probably sounded worse than he did."
Not long after, it was announced that the 36-year-old Bryant would
have surgery Wednesday morning to repair a torn rotator cuff
that he suffered last week in a loss to New Orleans. A timetable for the 19-year veteran's recovery won't be known until after the procedure, though ESPN reported Friday that Bryant is expected to miss the remainder of the season.
Either way, Scott isn't holding his breath.
"Basically what we've been doing the last couple games is what we're probably going to be doing for the rest of the year, now that we know Kobe is probably not going to play," Scott said.
But Scott firmly believes that Bryant, who has one year left on his contract with the Lakers, will be back.
"I don't see Kobe as the type of guy that wants to leave his legacy on these terms," Scott said. "I think he wants to go out on his own terms."
Lakers forward Carlos Boozer agreed.
"If anybody can come back from it, it's Kobe," Boozer said. "He attacks his rehab. He's a monster with a work ethic. That's why we all know he's the player he is. I don't expect anything different from Kobe."
Lakers guard Nick Young recalled the game at New Orleans when Bryant apparently suffered his injury on a third-quarter driving baseline two-handed dunk.
Bryant then played almost entirely left-handed for the rest of the night.
"I knew something was wrong with him," Young said. "He was doing everything with his left hand, shooting shots, fadeaways.
"At the same time, I thought it was Kobe being Kobe. I didn't think he was going to have a tear or something. We'll see what happens."
Knowing that Bryant almost certainly won't be back this season, Scott reflected on what Bryant achieved during the 2014-15 campaign after coming back from Achilles and knee injuries that ended his previous two seasons, respectively.
"I think he's done everything that you can possibly do in this league," Scott said. "I think at times we don't appreciate all the stuff that he's been able to accomplish, how tough he is and all the injuries that he's played with, to be able to come back the way he's come back."
Boozer recalled training camp and how Bryant ran "suicide" running drills with the team every day and helped veterans and rookies alike.
"He had a great year," Boozer said. "Was coming out real aggressive to start. Then he started trusting us more and getting us involved. That's the thing about Kobe: He can play different styles. He can score 81, or he can have 17 assists. That's the great thing about his game. He can adjust. He's that good, especially at this level.
"I think he had a great season. We didn't get many wins this season. I don't know if it's over, but with the surgery, it's probably over for this year. ... I feel bad for him."